Fish Pie with Leeks
March 28, 2022 | Updated June 06, 2022
As an Amazon Associate I earn from qualifying purchases.
Fish pie is a British classic, and this version, fish pie with leeks, is my favorite. It easy to make and, like shepherd's pie, is topped with mashed potatoes and cheese, then baked golden.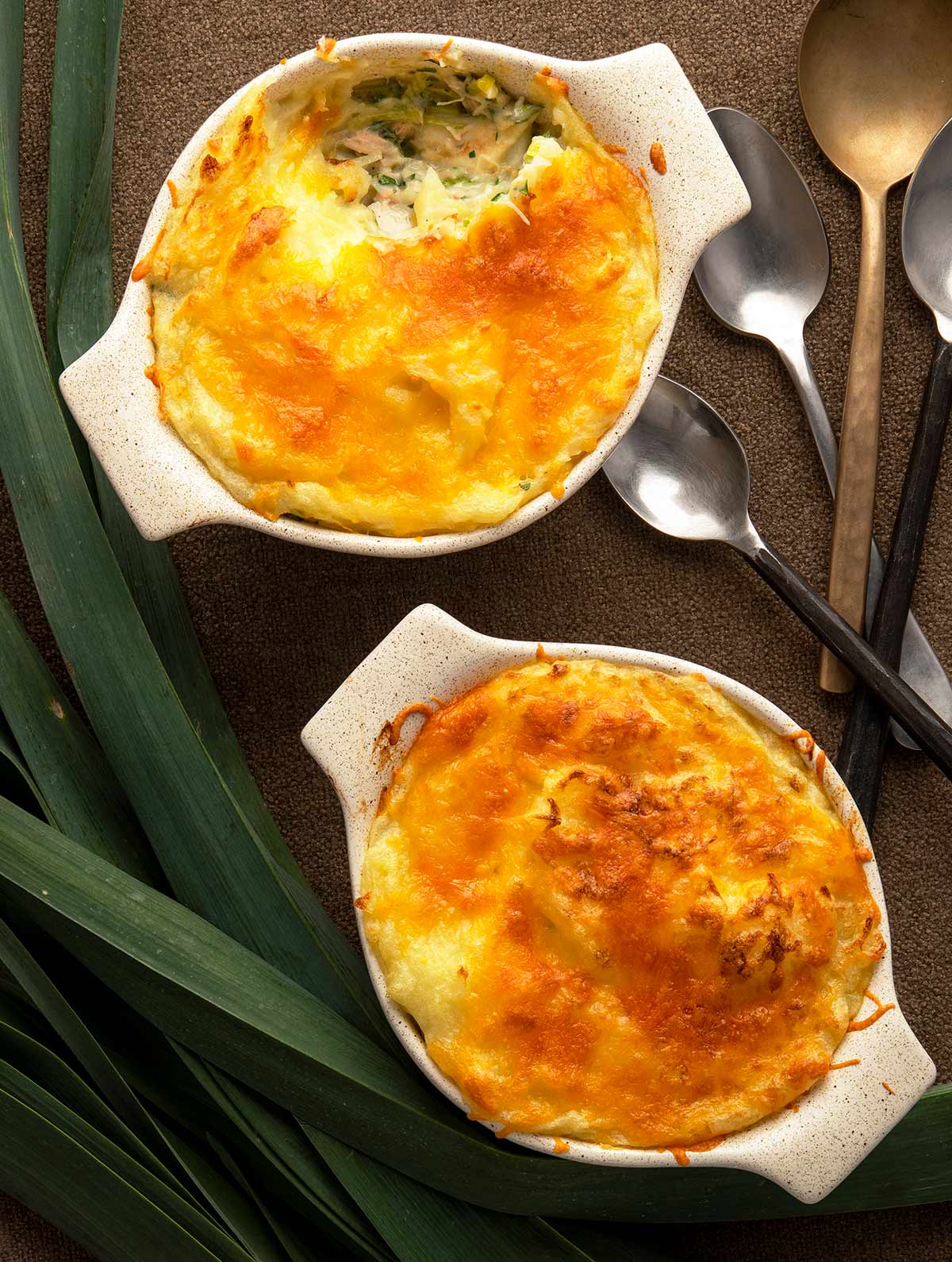 I used to have a thing against mixing cheese and fish, and I still like my fish clean, light and bright when the weather is warm. But I have to say that a hearty, British fish pie on a cold day really hits the spot.
This is British cooking at its best. Fish — one kind or many, as we shall see — lots of leeks, a rich sauce, fresh herbs and that cheesy mashed potato topping really work. It's flavorful without being brassy.
Let's start with the fish. Cod or haddock or pollock are traditional here, and any white fish works, from walleye and bass to catfish, snapper, Pacific rockfish or lingcod, halibut or perch. My favorites? Yellow perch, lingcod or tautog. But use what you have.
My fish pie with leeks is a little luxurious, however. In addition to the white fish, I will add some smoked fish, and, if I have it, some sort of shellfish, too. The smoked fish adds heft and smoke to the party, and the shellfish adds sweetness.
In the pictures, I used smoked salmon and crabmeat. Other good options would be smoked trout, smoked sablefish, or smoked mackerel. If you don't have crabmeat, use crawfish tails, chopped lobster, small scallops or hell, even small clams, or better yet, smoked oysters.
As you can see, you can play with it. But using three different sorts of fish or seafood makes this a really special fish pie.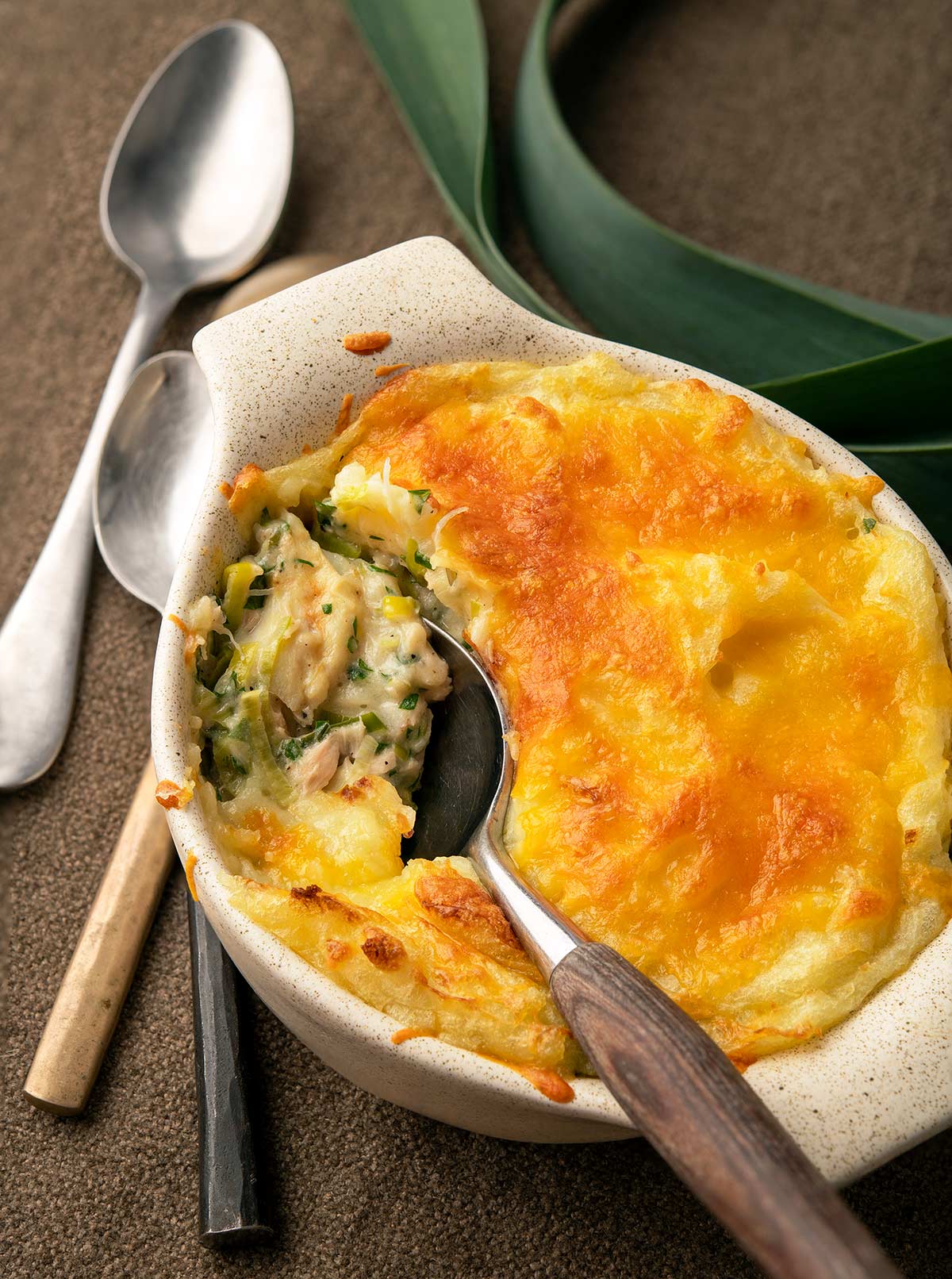 You'll see a fair bit of dairy here, too. I recommend full-fat milk, cream and full-fat cheeses because they hold up better and balance out the lean fish. The only one that needs to be full fat is the milk: Skim milk will curdle.
The best time to make fish pie is the day after you made a big batch of mashed potatoes, because they are the only thing that really takes any time in this recipe. But it's not a huge deal to make mashed potatoes just for this dish. If you have leftovers, you can make potato fish cakes, as I did.
If you want to, you could top the dishes with store-bought puff pastry instead. That's a nice alternative, and is faster than making homemade mashed potatoes. Up to you.
Since this is a fish pie with leeks, you need leeks. They play nicely with the fish and mimic the crabmeat a little — and they're traditional. But if you can't find good leeks, use 2 yellow onions sliced thinly instead.
Fish pie is basically a meal in itself, so I only serve it with a side salad, or nothing at all.
Once made, you can reheat it in a toaster oven or regular oven set at 400°F. Fish pie keeps about a week in the fridge. It doesn't freeze well as a pie, but the filling itself does freeze nicely; vacuum seal it in recipe-sized portions.
Also, sometimes you will have too much mashed potato or filling for the dishes you want to fill. If that happens, wait a day, then mix both the filling and the potatoes with beaten eggs and make potato fish cakes with them.
OTHER BRITISH CLASSICS
You might also like these other classics: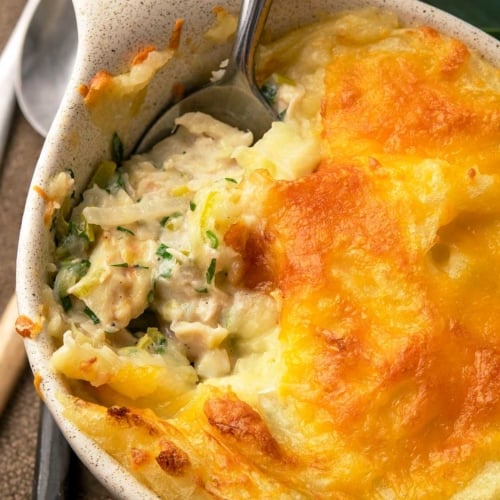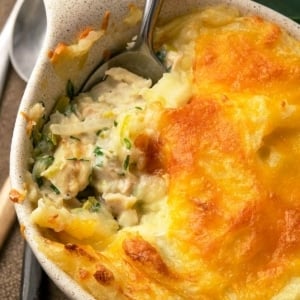 Fish Pie with Leeks
This is a simple fish pie with leeks or onions, topped with cheesy mashed potatoes. I prefer to use a variety of seafood here, but you can stick with one if you'd like. If you do, use the total weight of the fish and seafood below.
Ingredients
POTATOES
2

pounds

potatoes,

peeled and cut into chunks

1/4

cup

unsalted butter

1/4

cup

heavy cream or milk

2/3

cup

shredded cheddar cheese
FILLING
1

cup

whole milk

1

cup

heavy cream

1/2

pound

white fish,

skinless and boneless

1/2

pound

smoked fish,

skinless and boneless

1/2

pound

crabmeat

(see above for alternatives)

Salt

1/4

cup

unsalted butter

2

leeks,

split lengthwise and sliced thin

1/4

cup

flour

1/2

cup

white wine or lager beer

1

tablespoon

dry mustard

1

tablespoon

prepared horseradish

(optional)

1/4

cup

chopped parsley

2

tablespoons

minced chives or green onions
Instructions
Make mashed potatoes. Put the potatoes in plenty of water and add a hefty pinch of salt. Bring to a boil and cook until the potatoes are soft, about 20 minutes. Use this time to chop and prep things.

While the potatoes are cooking, bring the 1 cup each of milk and heavy cream to the steaming point in a medium pot, and drop the fish in to poach. Let this cook gently for 10 minutes, then lift out the fish. When it's cool enough to handle, flake it. Reserve the milk-cream mixture. Flake out the smoked fish, too.

By now your potatoes should be ready. Drain them. Set the pot back on the stove over low heat, then put the potatoes back in the pot to steam out a little. This removes excess moisture. Shake the pan a little to prevent the potatoes from sticking too much. Add the butter and mash them. Mash well, adding cream or milk as needed to make them nice and smooth. Add salt to taste, turn off the heat, and set this aside.

In a large sauté pan, add the 1/4 cup of butter over medium heat. When it's hot, add the leeks and cook, stirring often, until they're soft, but not browned.

Add the flour to the pan with the leeks, mixing well. It will seize up, and that's OK. Keep it moving for a couple minutes to cook off the raw flour taste. Slowly pour in the wine or beer, stirring constantly. It will make a paste in the pan. Now add the milk-cream mixture you cooked the fish in little by little, stirring to combine. You want a sauce that is like thick gravy. You might not need all the mixture.

Add the poached fish, smoked fish and seafood, along with the mustard, horseradish and herbs. Stir and cook this for a couple minutes to warm through, then turn off the heat.

To make the pie or pies, spoon the filling into your ramekins, baking dishes or any shallow, oven-proof pan. Top with the mashed potatoes, then sprinkle the cheddar cheese on top. Since everything is cooked, you need only brown the topping in a toaster oven set to 400°F or put the pie or pies under the broiler. Be sure to put them on a baking sheet because the cheese often spills over the sides.
Notes
Keep in mind that you can use almost any combination of fresh and smoked fish or seafood, as well as whatever shellfish you feel like — or you can leave out any of these elements.
Keys to Success
Sometimes I like to add another tablespoon of prepared horseradish to the mashed potatoes, or some roasted garlic, to kick them up a notch. 
If you don't like cheddar, any other cheese that melts will do. Muenster or Swiss or, even better, gruyere, are all good options. 
Alternate herbs could be rosemary, thyme, savory, lovage or chervil. 
Nutrition
Calories:
521
kcal
|
Carbohydrates:
13
g
|
Protein:
28
g
|
Fat:
38
g
|
Saturated Fat:
23
g
|
Polyunsaturated Fat:
2
g
|
Monounsaturated Fat:
10
g
|
Trans Fat:
1
g
|
Cholesterol:
145
mg
|
Sodium:
766
mg
|
Potassium:
532
mg
|
Fiber:
1
g
|
Sugar:
5
g
|
Vitamin A:
2070
IU
|
Vitamin C:
11
mg
|
Calcium:
239
mg
|
Iron:
2
mg
Nutrition information is automatically calculated, so should only be used as an approximation.