Braised Squirrel Aurora
October 24, 2013 | Updated October 29, 2020
As an Amazon Associate I earn from qualifying purchases.
A few years ago, I'd been working through my remaining game meats from the previous season, and I came upon a lone Western gray squirrel. For a while I was waiting to shoot another one, because as large as Western grays are, they are still pretty much a single-serving critter.
But the season ended, and with it the chance at another squirrel. So in the freezer it sat. I thought about making a hunter's stew, but I really wanted to highlight the little beast and mixing it in with other meats would defeat that. Highlight squirrel meat? You bet.
I have a thing about squirrel hunting. I wrote about it for the now-defunct magazine Meatpaper some years back. The article was about how for many who hunt the wily squirrel, squirrel hunting becomes part of their identity.
I am no different. I know many hunters, but very few who deign to hunt Mr. Bushytail. He's either too small, or too much like a rat (they are cousins, after all) or something only Those Other People (insert derogatory ethnic group here) eat. I would like to affiliate myself with Those Other People.
Squirrel hunting with a .22 rifle is exactly like deer hunting: You need to be just as stealthy and just as good a shot. Mind you I am talking about wild, forest squirrels, not those that scamper around at the Capitol or your backyard.
And squirrel meat is delicious. Squirrels can live a long time, up to 6 or 7 years, and as such can be deeply flavorful. The meat looks like rabbit, but is grayer. It has a far denser texture than rabbit, which rarely live more than a year. Squirrel also takes on flavors of what it eats — yes, you really can taste a nutty flavor in squirrels that live in a walnut grove.
Back to the lonely squirrel in my freezer. I finally decided to braise him slowly, because that's the safest thing to do when you don't know the age of a squirrel — young ones are fantastic fried like your favorite fried chicken recipe. But what sort of braise?
I immediately thought of a Spanish braise I'd made years back when I hunted squirrel in Minnesota. Squirrel Aurora is loosely based on a rabbit recipe in the late Penelope Casas' Delicioso! The Regional Cooking of Spain
, a fine cookbook. The main flavors are almonds and green olives, both of which I had lying around. But with only one lonely squirrel I added fingerlings to bulk it up; it proved a good choice.
The dish is fantastic: A rich sauce, a dense, flavorful meat, great with crusty bread. What's not to love?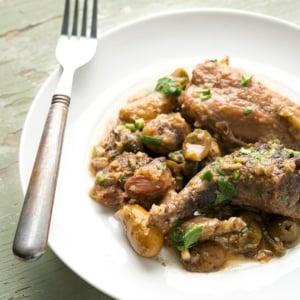 Braised Squirrel Aurora
If you have an old squirrel, which you can tell by the teeth, which are yellowy and separated, or by the ears, which are tattered, or by the feet, which look well-worn, braising is a must. Squirrels can live several years, unlike cottontail rabbits, which typically only last a year or so. This makes their meat a bit more complex and considerable denser. But an old squirrel can be tough if not braised. I almost always cook squirrels with some sort of nut sauce. Call me macabre. It's a luxurious, thick stew that cries out for crusty bread. The combination of almonds and olives is also a hit.
Ingredients
3

squirrels,

cut into serving pieces

5

cloves

garlic

1/4

cup

almonds

25

green olives

Flour for dusting

3

tablespoons

olive oil

1

large onion

1

small hot chile,

minced

1

cup

white wine

1/2

cup

chicken broth,

rabbit or other light broth

1

pound

fingerling potatoes

(optional)

Parsley for garnish
Instructions
Toast the almonds in a dry pan if they are not already roasted. Pound them with the garlic cloves and a pinch of salt in a mortar; you could also buzz them in a food processor or chop them fine by hand. Pit and slice the olives in half or chop roughly.

Pour the olive oil in a Dutch oven or brazier -- something ovenproof with a lid -- and heat it over medium-high heat. Salt the squirrel or rabbit and roll it in the flour. Brown the meat on all sides over medium heat. Take your time and do this in batches so you do not crowd the pan. Remove the meat from the pot as it browns and set it aside.

While the squirrel is browning, slice the onion in half. Grate one half through a coarse grater, and roughly chop the other half. You could also slice it in half-moons.

When all the meat is browned, add the white wine and broth and scrape off any brown bits stuck to the bottom of the pot. Bring this to a rolling boil. Here is a tricky part: You want to cook it down to the point where when you put the meat back into the pot, the liquid comes up only about halfway. You do not want to submerge your meat. How long you'll need to boil depends on the size of your pot.

When the liquid is boiling, add the almond-garlic mixture, the chile and the grated onion. Mix well and let boil for a minute. Add the squirrel back to the pot. Make sure it is not totally submerged. Halfway is ideal. Cover the pot and simmer gently for 45 minutes.

After 45 minutes, take the pot out and add the sliced onion, the olives and the potatoes. Mix everything together. If the stew looks too dry, add a little more broth -- but remember this is a "dry stew," not a soup. I eat this with a fork and a piece of bread, not a soup spoon. Add just enough broth to keep everything from drying out. Cover the pot again and return to the oven for at least another 45 minutes, maybe an hour. Check the meat and potatoes: The squirrel should be thinking about falling off the bone and the potatoes should be cooked through. When this is done, turn the heat off and let it cool -- covered -- for 10 minutes on the stovetop.

To serve, spoon out portions and garnish with parsley. I'd drink a robust, complex white wine with this, such as a white Cote du Rhone or an older Chardonnay. An Italian Grillo might be nice, too, as would a Tocai Friulano.
Notes
Figure on one Eastern gray squirrel per person. Or you can use 2 fox squirrels or Western grays to feed 3 people, or 1 cottontail for two people. If you are not a hunter, 1 domestic rabbit will feed 2 to 3 people. And yes, you can use chicken thighs and legs, too.
Nutrition
Calories:
624
kcal
|
Carbohydrates:
29
g
|
Protein:
60
g
|
Fat:
25
g
|
Saturated Fat:
4
g
|
Cholesterol:
203
mg
|
Sodium:
535
mg
|
Potassium:
1619
mg
|
Fiber:
5
g
|
Sugar:
3
g
|
Vitamin A:
98
IU
|
Vitamin C:
27
mg
|
Calcium:
99
mg
|
Iron:
10
mg
Nutrition information is automatically calculated, so should only be used as an approximation.