Pheasant, Quail, Cottontail
Hank Shaw's latest cookbook is an award winner!
Pheasant, Quail, Cottontail: Upland Birds and Small Game from Field to Feast
is the most comprehensive book on cooking upland birds and small game ever produced. Far beyond the three title species, this book covers everything from turkey to squirrel to grouse and woodcock. It won a cookbook award in 2019 from the International Assn. of Culinary Professionals.
It will take you around the world, from beak to feet.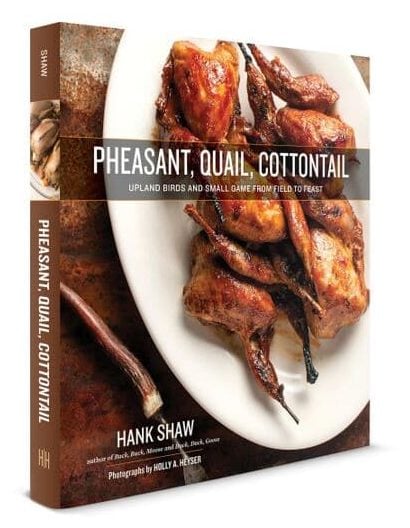 Within these pages is everything you need to know about preparing and cooking every sort of small game, from pheasants and turkeys to rabbits and squirrels — all from the author of the James Beard Award-winning website Hunter Angler Gardener Cook.
Game birds have always held a high place at the table, whether it's a hunter's prize of roast grouse or the turkey we all eat at Thanksgiving. Pheasants, quail, rabbits, doves, grouse and more – these are singular species with grand culinary traditions that offer the cook an unmatched range of flavors.
Pheasant, Quail, Cottontail shows you how to cook small game like a pro: perfectly crisp skin over tender breast meat, melt-in-your-mouth braises, barbecue, stews, sausages, and more.
Being in the outdoors and hunting my own food is a big part of my life. Hank Shaw has written yet another superb book sharing that same passion, this time for upland birds and small game. The learning is deep, the recipes are superb, and next to being in the field with Hank and Holly (whose superb photos grace nearly every page), this is the best way to enjoy a long walk looking for a great meal. If you love food — real food — this book belongs in your kitchen.
- Andrew Zimmern, hunter, chef, author, and host of Travel Channel's "Bizarre Foods"
Hank writes with a passion for game that few other writers can approach. Pheasant, Quail, Cottontail is a joy to read and cook from. It is entertaining, well organized and crazy smart — the new gold standard for small game cookery.
- John Currence, quail hunter and James Beard Award winning chef of City Grocery in Oxford, MS
Americans have devoted an extraordinary amount of time, money and hard work preserving the habitat of upland game birds. Now, in Pheasant, Quail, Cottontail, Hank Shaw has matched this zeal, carrying our organization's habitat mission and passion for these autumn harvests from the field onto the plate.
- Howard K. Vincent, president and CEO of Quail Forever and Pheasants Forever
I have long been a fan of Hank Shaw. His cookbooks are invariably information rich and chock full of fantastic recipes. His newest book, Pheasant, Quail, Cottontail, does not disappoint, From field preparation tips to unique recipes for a large variety of species, this book is a must have for any bird and small game hunter. I for one am looking forward to getting it on my kitchen shelf! Thank you for knocking it out of the park, Hank Shaw!
- Kirstie Pike, grouse hunter and founder of Prois Hunting Apparel for Women
About Hank
A former restaurant cook and newspaper journalist, Hank Shaw is one of North America's foremost experts on wild foods ranging from game to fish to wild edible plants and mushrooms.
His website, Hunter Angler Gardener Cook, won the James Beard Award – considered the Oscars of the food world – in 2013, and has won numerous other awards in recent years.
Shaw has been featured in publications ranging from the New York Times to CNN, the Chicago Tribune, Field & Stream and the Washington Post, and he has appeared on numerous television shows, including Steven Rinella's "Meateater," Mike Rowe's "Somebody's Gotta Do It" and Andrew Zimmern's "Bizarre Foods."
His work has appeared in magazines such as Food & Wine, Garden & Gun, The Art of Eating, Field & Stream, Petersen's Hunting and more.
Shaw hunts, fishes and forages near Sacramento.