As an Amazon Associate I earn from qualifying purchases.
If you like Mexican food, or really American Southwestern food, this chorizo burger is for you.
A mash-up of border cuisines, the burger itself is the star, loaded with flavor and super easy to make at home — but there are a few tricks you need to know first.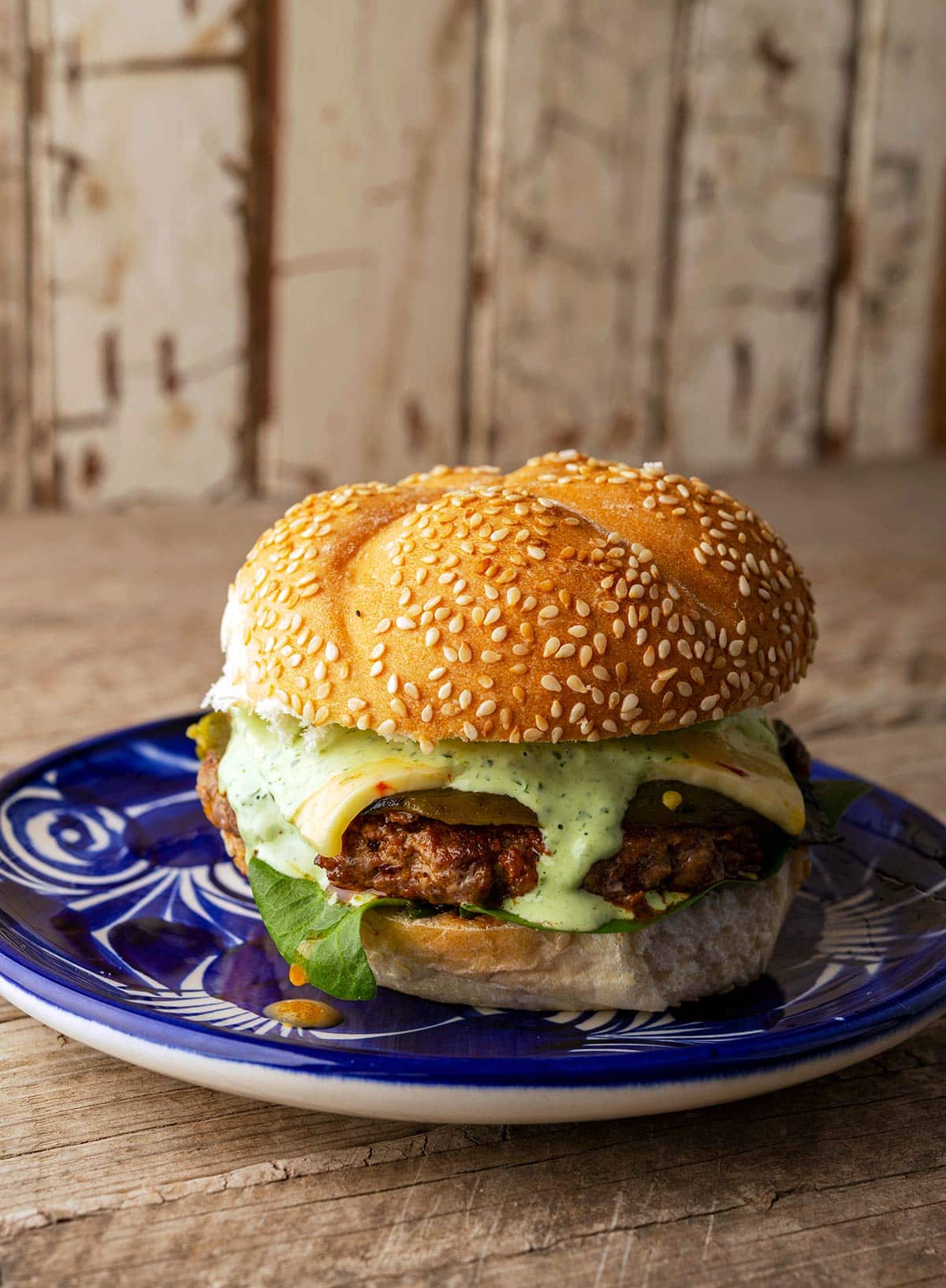 I experimented with a wide variety of different ways to make a chorizo burger, ranging from 100 percent chorizo to different types of chorizo to smaller proportions of the spicy sausage.
For starters, you cannot use Spanish chorizo for this recipe; it's a dry cured salami, basically, and won't work. You need fresh chorizo for a chorizo burger. Mexican chorizo is what most people will work with, but freshly made chorizo Argentino is excellent, too. Even green chorizo works, and is a fun change of pace.
Let's assume for a moment that you are not using your own, homemade chorizo. It will be better if you do, but I know that's asking a lot for a simple chorizo burger.
OK. Store-bought Mexican chorizo. If you are using the stuff in the tube, which is the most widely available form of Mexican chorizo, know that it is very wet and will not form patties all by itself. And even chorizo you buy freshly made from a carniceria will be too loose to go 100 percent chorizo.
After experimenting, I find that about 1/4 to 1/3 supermarket chorizo to ground beef or venison is about right. You can go as high as 1/2 chorizo if you use the freshly made stuff from the MexiMart, because it will hold its shape better.
Also, since chorizo is both finely ground and fatty, I prefer to use fairly lean and also finely ground beef, bison or venison. This is a great use for that venison burger with no added fat you might have in your freezer. If you are buying ground beef to go with this, go with the 10 percent fat variety if you can find it. Don't go too much higher or your chorizo burger will be a fat bomb.
Making a chorizo burger is as easy as mixing the two meats and making patties. You can make them as regular homemade burgers, which is what I do when grilling, or as smashburgers if you are cooking inside. If you happen to have a comal, use that because it's easier to slide the patty off the iron with no sides that it is when using a frying pan. But both work.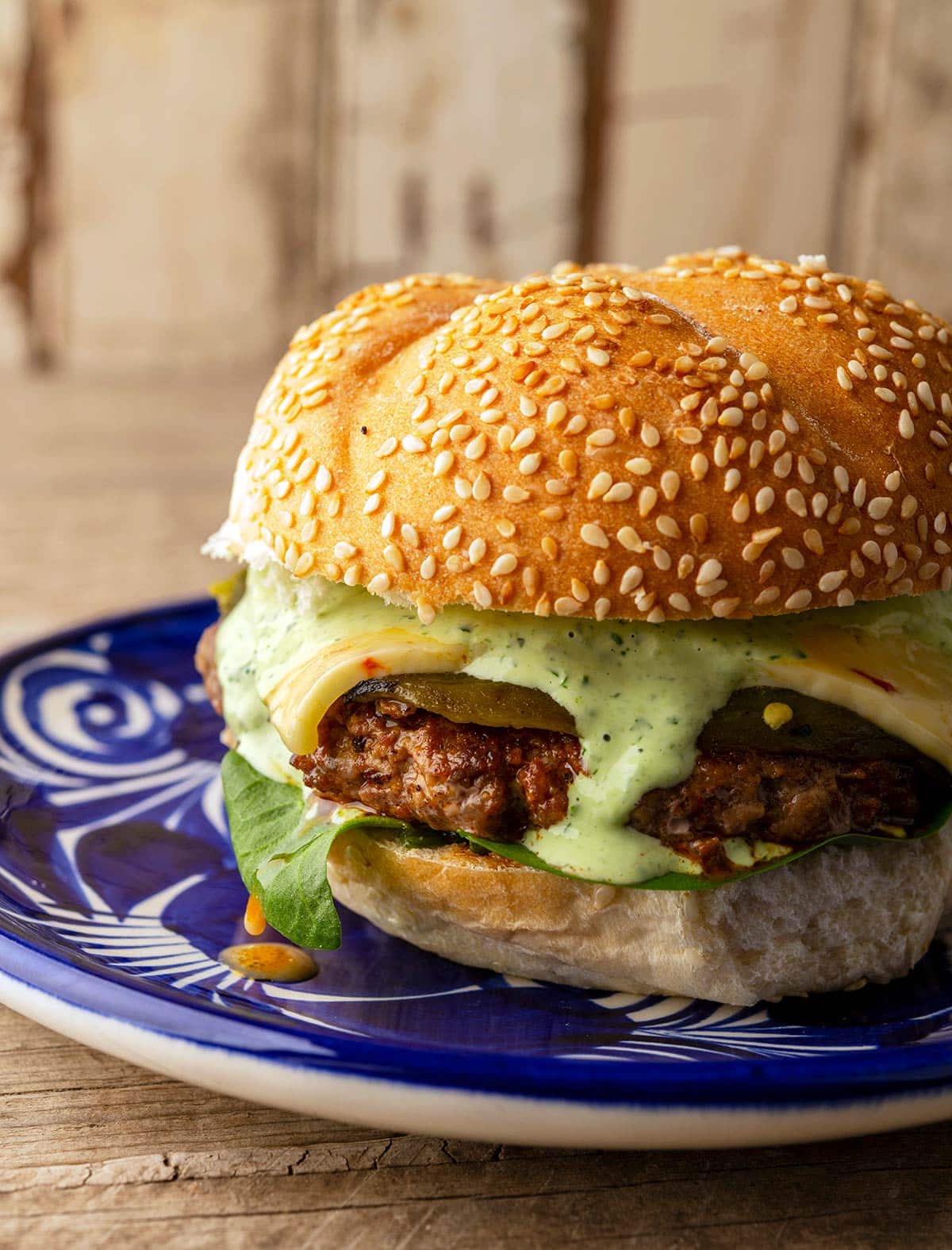 To make a proper smashburger, you need another heavy pan or a bacon press to squash the patty. Just have one or the other handy.
Now, on to toppings. They are, of course, up to you. But I really like the combination you see in the pictures. Lettuce, or in my case sorrel leaves from the garden, slabs of roasted green Hatch chiles, pepper jack cheese, and a special mayo. Chopped, caramelized onions are a really good addition, too.
You make the mayo by putting fresh cilantro, mayonnaise and some more roasted green chiles in a blender. Puree and add salt to taste.
So yeah, this is a pretty decadent chorizo burger. But it's totally worth it.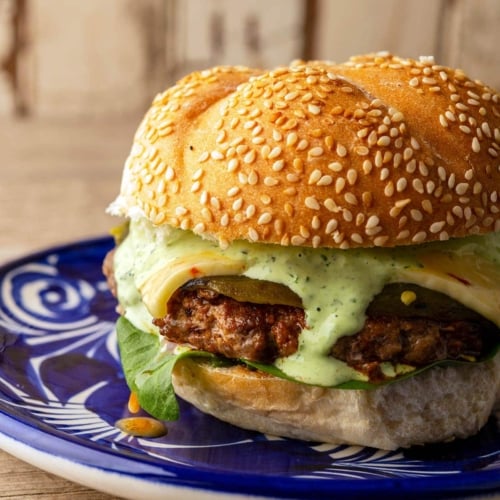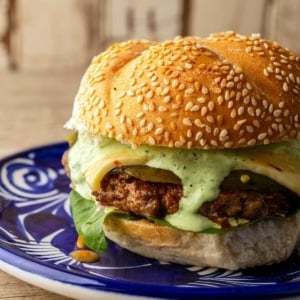 Chorizo Burger
I normally use homemade Mexican chorizo and home ground venison for this, but store-bought ground beef, bison, turkey or pork will work, as will store-bought chorizo.
Ingredients
TOPPINGS
3

tablespoons

vegetable oil

2

large onions, minced

4 to 8

roasted green chiles,

Hatch, Anaheim or poblano

4

burger buns

4

slices

pepper jack cheese

Lettuce leaves
BURGERS
1

pound

ground venison,

or beef, turkey, bison, etc.

1/3

pound

chorizo,

only 1/4 pound if it's the stuff in a tube

Salt

1

tablespoon

vegetable oil
MAYO
2

cups

mayonnaise

1/2

cup

chopped cilantro

2

roasted green chiles

Salt to taste
Instructions
Start by heating the 3 tablespoons of vegetable oil in a pan over medium-high heat. Add the minced onion and let this cook, stirring often, until the onion has nicely browned. Turn off the heat and set aside when it's ready.

If you are starting from fresh peppers, you will need to roast, peel and deseed them. This is a good tutorial on that, or you can use canned or pre-frozen roasted chiles.

Add all the ingredients for the mayo and puree. Add salt to taste. You will have some left over, so keep it in a container in the fridge, where it will last a couple weeks.

Mix the ground meats together and knead well so they combine cohesively. Form into balls and slightly flatten them. If you are grilling, just form normal patties and grill. What follows is for a smashburger.

Get a comal or griddle or large frying pan hot. Add the 1 tablespoon of vegetable oil. Set one of the balls of meat in the center of the oil, and use it to spread the oil around a little. Slick the underside of a bacon press or other pan with some oil. Press the meat into a patty of about 1/2 inch thick, more or less. Hold the pressure for about 30 seconds, then slide the bacon press off the patty to the side. Don't lift straight up or the patty will break. Salt the patty as it cooks.

Let the meat cook for about 90 seconds more, then flip. Salt the other side. Add some onions to the middle of the patty and top with a slice of cheese. I like to put a metal bowl over the burger now to melt the cheese. Let this sit for another minute to 2 minutes, depending on how well cooked you like your burgers. While this is happening, lay the lettuce leaves on your buns and top with a little of the mayo.

To build the burger, set the patty on the bun, then top with some of the roasted chiles and some more mayo. Serve at once. You can also layer like this: patty, onions, green chiles, then cheese. The greenery always touches the bun, and the mayo or other sauce goes on between lettuce and burger. °
Notes
NOTE: If you are making a lot of these, set a cooling rack over a baking sheet in the oven and turn the oven to 200°F. You can put the buns in there, too to stay warm. 
Nutrition
Calories:
641
kcal
|
Carbohydrates:
30
g
|
Protein:
40
g
|
Fat:
40
g
|
Saturated Fat:
23
g
|
Cholesterol:
133
mg
|
Sodium:
1194
mg
|
Potassium:
591
mg
|
Fiber:
2
g
|
Sugar:
5
g
|
Vitamin A:
694
IU
|
Vitamin C:
23
mg
|
Calcium:
273
mg
|
Iron:
6
mg
Nutrition information is automatically calculated, so should only be used as an approximation.