Oklahoma Onion Burger
November 21, 2019 | Updated October 18, 2022
As an Amazon Associate I earn from qualifying purchases.
An Oklahoma onion burger, if you've never heard of one, is one of America's great regional burger styles. A smashed patty, grilled onions, sometimes pickles, cheese and mustard, these are great with beef or venison.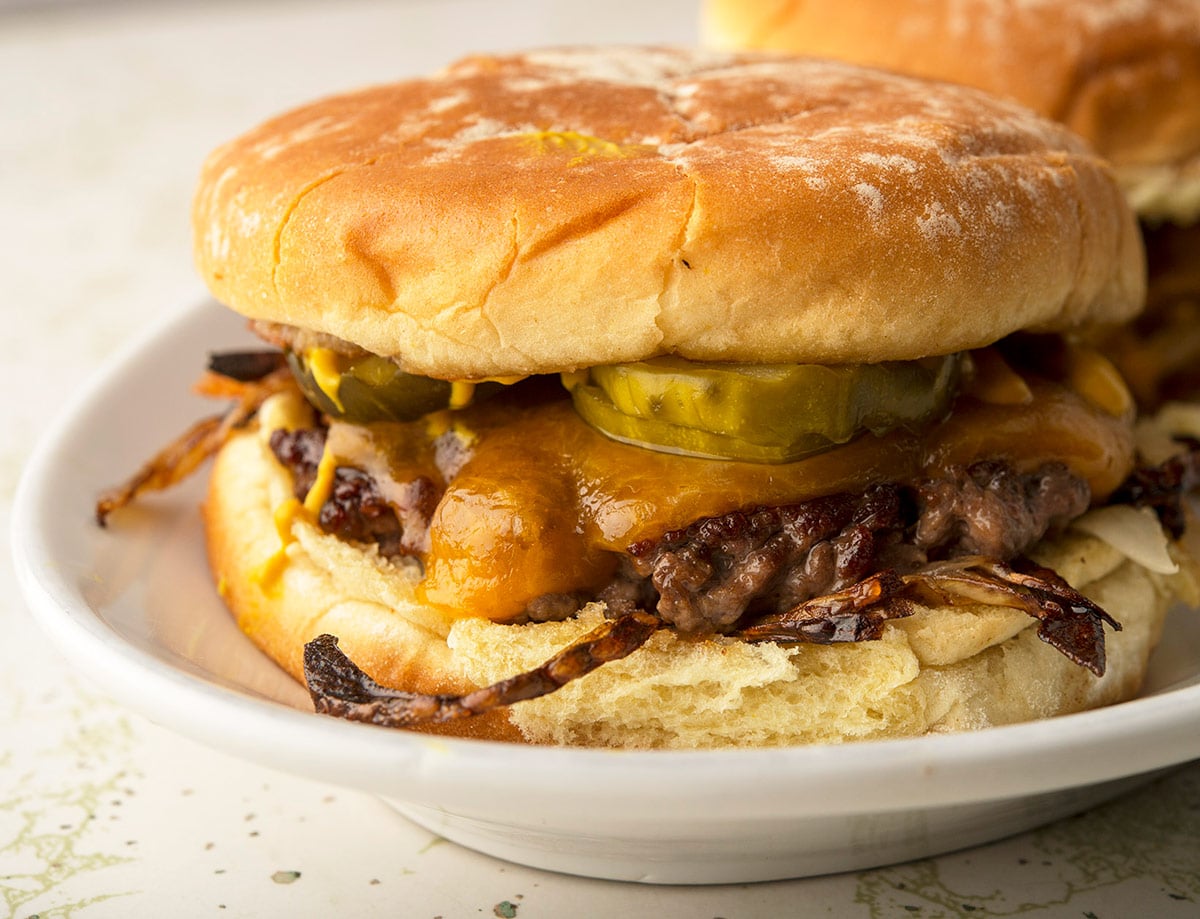 This is no fancy restaurant burger. No, this is diner food. Sid's Diner, to be exact. Many places make onion burgers, but Sid's in El Reno, Oklahoma is widely regarded as one of the premier place to get this mystical concoction. An onion burger consists of a finely ground patty, smashed on a flat top, topped with finely sliced onions, then cheese (for a cheeseburger), topped with pickles and mustard, all on a potato bun.
Every element plays a role. A rich patty, seared hard but still cooked medium at the center. Lots of tender-to-crispy-to-burnt onions. Melty cheese, usually American, although I use cheddar slices. Sharp pickles, ideally sweet-hot bread-and-butter pickles. A little ballpark yellow mustard, and that potato roll — a soft, welcoming, smushable bun that links all this amazing together.
This is dirty food, folks. Late night diner food. Comforting, craveable food that makes you want to eat a second, or even a third patty. One is not enough. But then you eat a second, and you like that one, too… but you immediately feel guilty about it. Onion burgers are that kind of food.
I've mentioned a few key details already: potato buns, yellow mustard, zippy pickle slices. The cheese needs to be able to melt quickly, so get the pre-sliced kind. True Oklahoma onion burgers use American cheese, but I hate the stuff, so I use pre-sliced cheddar slices.
The onions need to be sliced very thin, with a knife if you have good knife skills, or a mandoline or even a meat slicer. But watch your fingers if you use these last two!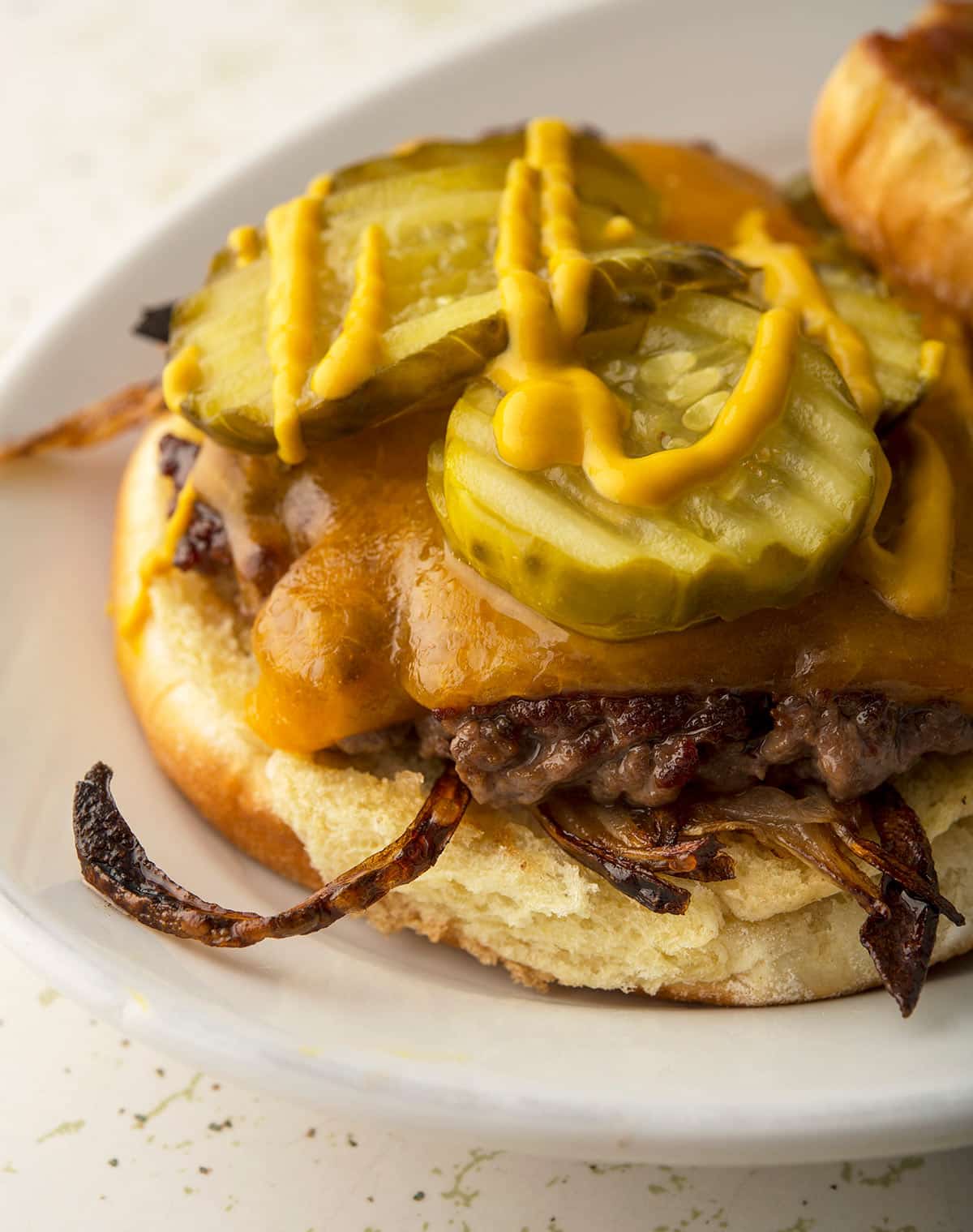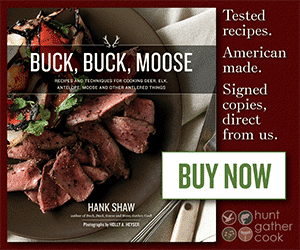 The meat, whatever it's made of, needs to be fatty and fine. I used venison — a doe I shot in Oklahoma, thus this post — ground in a 4.5 mm die (the "fine" die in most home set-ups), with beef fat, pork fat or bacon ends to a ratio of 85 percent lean to 15 percent fat. You can't really go too much lower than this because the fat in the patty keeps it from sticking to the pan. Anything more than about 20 percent gets too fatty.
If you are using pre-ground meat, just make sure it's got that 15 percent fat or thereabouts.
You need something to smash your patties. I use either a bacon press
or a stiff, diner-style spatula
. Both work fine. In a pinch you can use a small pan to squash your patty.
These come together quickly, so have all your ingredients at the ready, and bang 'em out for your friends and family!
This is only one of many styles of venison burgers I have here on Hunter Angler Gardener Cook. I have a standard, classic venison burger, a green chile elk burger that's fine with deer meat, a chorizo burger where you mix Mexican chorizo with ground beef or venison, and a mushroom-Swiss venison burger. Hope one of these interests you!
If you liked this recipe, please leave a ⭐️⭐️⭐️⭐️⭐️ rating and a comment below; I'd love to hear how everything went. If you're on Instagram, share a picture and tag me at huntgathercook.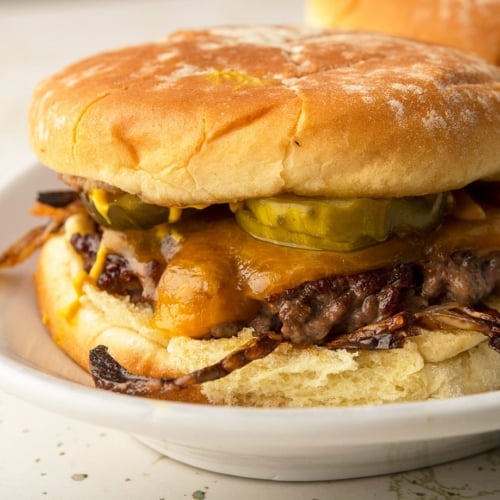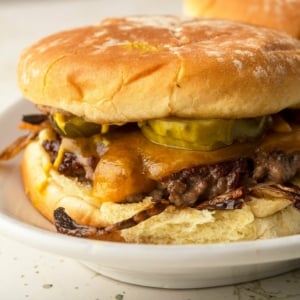 Oklahoma Onion Burgers
This is a classic Oklahoma onion burger, with sliced onions, cheese and maybe some pickles and mustard. Damn good, and easy to make.
Ingredients
1

large yellow or white onion,

sliced very thin

Salt

1

pound

finely ground venison or beef

1

tablespoon

canola oil

Black pepper

4

slices

cheddar, American or other cheese

Pickles, mustard and burger buns
Instructions
Slice the onion very thinly, then toss it with a little salt in a bowl and set aside for a few minutes. Divide the meat into four patties.

Heat a large frying pan or flat top over medium high heat for a few minutes. When it's hot, add the canola oil. When it's hot, place a patty on the pan and smash it with a spatula or bacon press. Hold for 30 seconds. Sprinkle black pepper on the patty, then cover the patty with onions. It's OK if a few spill onto the hot pan. Cook like this for 2 minutes.

Carefully flip the burger. You want to scrape the pan to get everything, in case you have some spots that have stuck. I use my off hand to hold the onions onto the patty as I flip. Once flipped, Press down on the patty to sink the onions into the meat.

Add salt and pepper to the patty and lay a slice of cheese onto it. Let this cook for 2 to 4 minutes, depending on how cooked you want your meat. Two minutes will give you a nice medium.

To get everything off the pan, place the bun on the cheese and use the spatula to lift the burger off the pan. Set it on the bottom bun. Add pickles and mustard if you want. Optional: Get another pan hot and melt some butter in it to toast the buns before you use them. About 30 seconds should get you a nice toasty brown.
Notes
Potato buns are traditional for an Oklahoma onion burger, but any burger bun will do. Pre-sliced American cheese is also traditional, but I personally prefer slices of cheddar. 
Nutrition
Calories:
333
kcal
|
Carbohydrates:
3
g
|
Protein:
32
g
|
Fat:
21
g
|
Saturated Fat:
10
g
|
Cholesterol:
120
mg
|
Sodium:
260
mg
|
Potassium:
442
mg
|
Fiber:
1
g
|
Sugar:
1
g
|
Vitamin A:
281
IU
|
Vitamin C:
2
mg
|
Calcium:
221
mg
|
Iron:
4
mg
Nutrition information is automatically calculated, so should only be used as an approximation.