Chinese Lettuce Cups with Minced Meat Stir Fry
As an Amazon Associate I earn from qualifying purchases.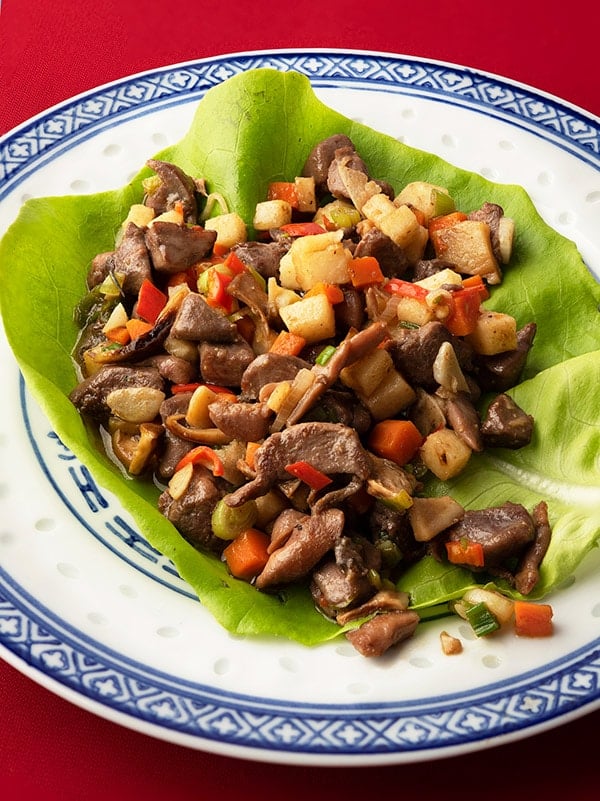 Easy to make, great for hot weather, and traditionally done with squab, these lettuce cups are a fantastic way to cook your doves this season.
I came across this recipe in Grace Young's wonderful book Stir-Frying to the Sky's Edge
, where she uses pork instead of squab. Squab is just a young pigeon, and doves are very, very close to that, culinarily speaking.
What's more, this is fantastic supper or lunch when it's hot out, as it is on the traditional Labor Day dove opener. The toughest part of making these lettuce cups is chopping and slicing. The stir-fry itself comes together in about 5 minutes.
Not a hunter? Use ground pork, as Grace Young does. Or really any meat. I do prefer it minced by hand and not ground, but that is a personal preference.
None of the ingredients here are tough to find except for the fresh water chestnuts. They will only ever be in Asian markets, and even then they are seasonal. Young offers jicama as a substitute, which I used, and it was great. Her second option is an Asian pear over canned water chestnuts. The point is something crunchy.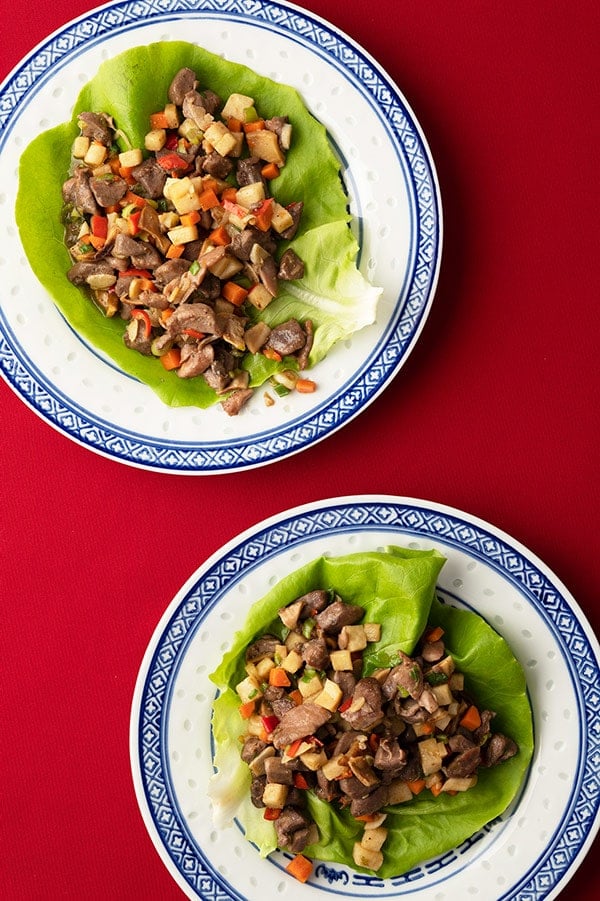 Texture is one of the beauties of this recipe. You have lots of crunch from the barely cooked carrot and jicama, tender meat, enough garlic and chiles to wake you up a bit, a hit of scallion — all underpinned by hoisin sauce, which is basically a Chinese barbecue sauce.
You spoon some onto Boston or butter lettuce leaves and eat them like a taco.
Normally these lettuce cups are a first course in a Chinese banquet, like for a wedding. But I see no reason not to move them outside for your Labor Day festivites, or, for that matter, any weeknight supper on a hot day.
If you want to make this as part of a larger Chinese meal, you can add dishes like fish stir fry, Chinese braised mushrooms or scallion pancakes.
OTHER GREAT DOVE RECIPES
I have 25 dove recipes here on Hunter Angler Gardener Cook, ranging from Moroccan-inspired bacon-wrapped doves to grilled doves Cajun style. Some great Labor Day grilling or barbecue options include: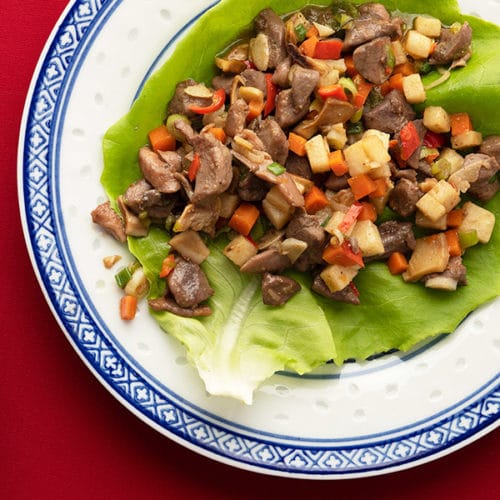 Chinese Lettuce Cups with Minced Meat Stir Fry
I am using minced pigeon or dove meat here, which is traditional, but really any meat will work. Grace Young, whose book Stir Frying to the Sky's Edge is the inspiration for this recipe, uses ground pork.
Ingredients
1

ounce

dried mushrooms

(shiitake or porcini)

1

pound

dove breasts or other meat, diced small

1

tablespoon

Shaoxing wine or sherry

1

teaspoon

corn, potato or tapioca starch

2

tablespoons

peanut oil

4

cloves

garlic, sliced

1 to 6

Thai chiles, sliced thin

(depending on your heat tolerance)

1 1/2

cups

diced jicama or water chestnuts

1

cup

diced carrot

Salt and white pepper

4

scallions, sliced thin

1

tablespoon

sesame oil

Boston or bibb lettuce leaves

Hoisin sauce to taste
Instructions
Put the dried mushrooms in a small bowl and pour boiling water over them. Cover and let them rehydrate while you cut everything else, starting with the meat.

Mix the corn starch and the Shaoxing wine together in a bowl. Once the meat has been cut, add it to the bowl and mix well. Set aside while you cut everything else. Dice the mushrooms, too.

Heat a wok set over high heat for a minute or so. Add 1 tablespoon of the peanut oil to the wok and swirl it around. The moment you see a wisp of smoke rise, add the meat. Spread it out in the wok in one layer and let it sit undisturbed for 1 minute. Now stir fry it for another minute or so, until almost all the pink color is done. Remove the meat from the wok and set it aside.

Add the other tablespoon of peanut oil to the wok. The moment it starts to smoke, add the garlic and chiles and stir fry a few seconds, until you can smell them. Add the diced jicama, mushrooms and carrot and stir fry for 2 minutes. Add the meat and any collected juices back to the wok. Sprinkle everything with salt and white pepper and stir fry 1 more minute.

Mix in the chopped scallions and turn off the heat. Drizzle the sesame oil over everything.

Lay down a little hoisin sauce on each lettuce leave, then spoon some of the stir fry on it. Eat them like tacos.
Nutrition
Calories:
328
kcal
|
Carbohydrates:
15
g
|
Protein:
36
g
|
Fat:
13
g
|
Saturated Fat:
3
g
|
Cholesterol:
90
mg
|
Sodium:
92
mg
|
Potassium:
781
mg
|
Fiber:
4
g
|
Sugar:
3
g
|
Vitamin A:
5466
IU
|
Vitamin C:
17
mg
|
Calcium:
37
mg
|
Iron:
5
mg
Nutrition information is automatically calculated, so should only be used as an approximation.