As an Amazon Associate I earn from qualifying purchases.
Teriyaki mushrooms is a drop-dead easy recipe that pretty much everyone loves, and it works with a wide variety of mushrooms, from common white button mushrooms to fancy porcini.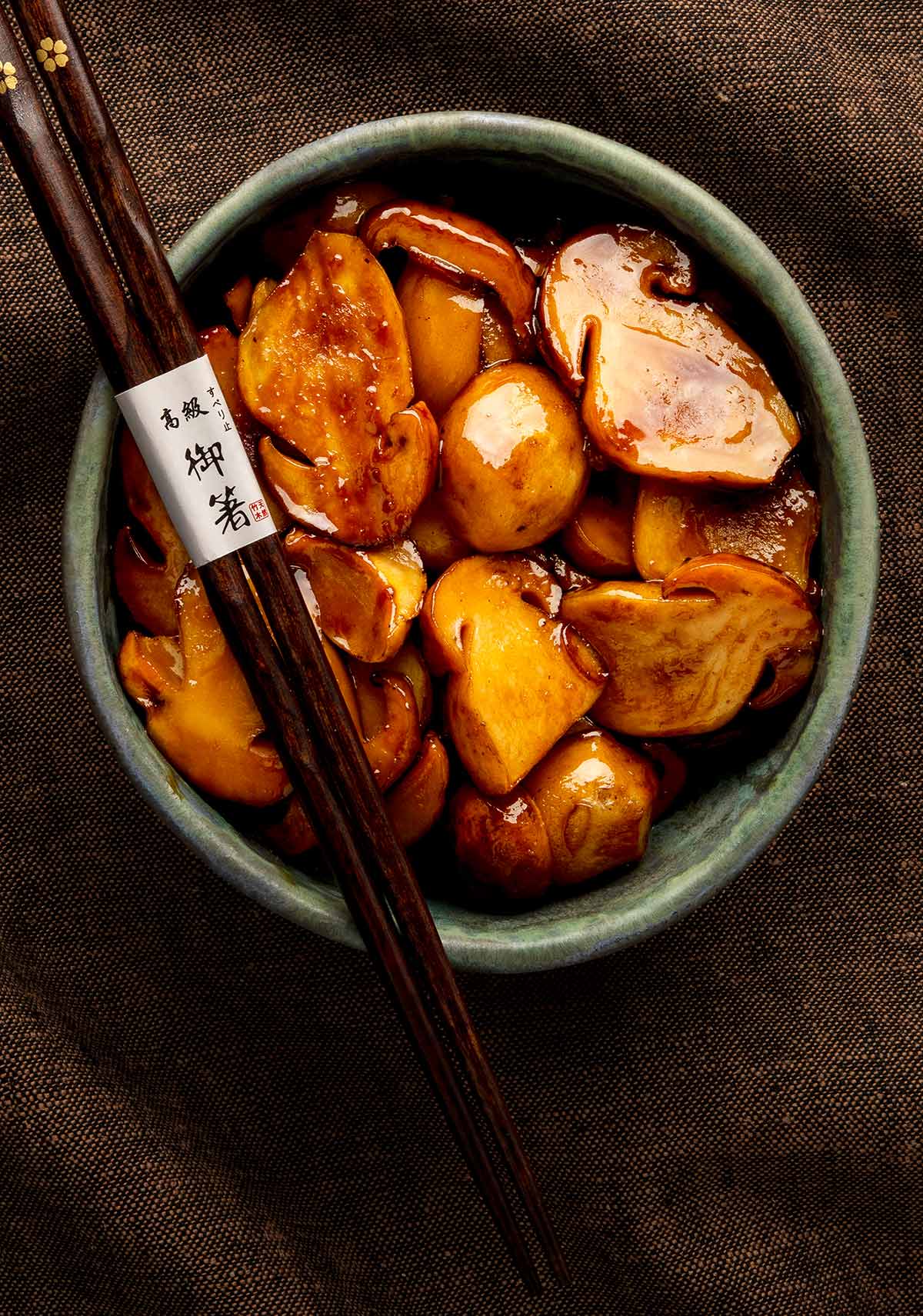 You will see teriyaki mushrooms as a Japanese side dish, or served atop simply steamed rice, where the richness of the sauce really shines.
To make this well, please avoid premade teriyaki sauces, or at least those made for the Anglo-American market, because they are often overly sweet and contain thickeners. If you use one of these thick sauces for teriyaki mushrooms, you will end up with a gloppy mess.
Thankfully, making your own teriyaki sauce is super easy. All it is is soy sauce, mirin (a Japanese sweet wine), and sake. The mirin provides all the sweetness you need in this recipe, although you could add a little more sugar if you want to.
And because you boil everything down while cooking the mushrooms, you still get that nice glaze at the end.
The only other ingredient in these teriyaki mushrooms is sesame oil, which I think adds a nice touch.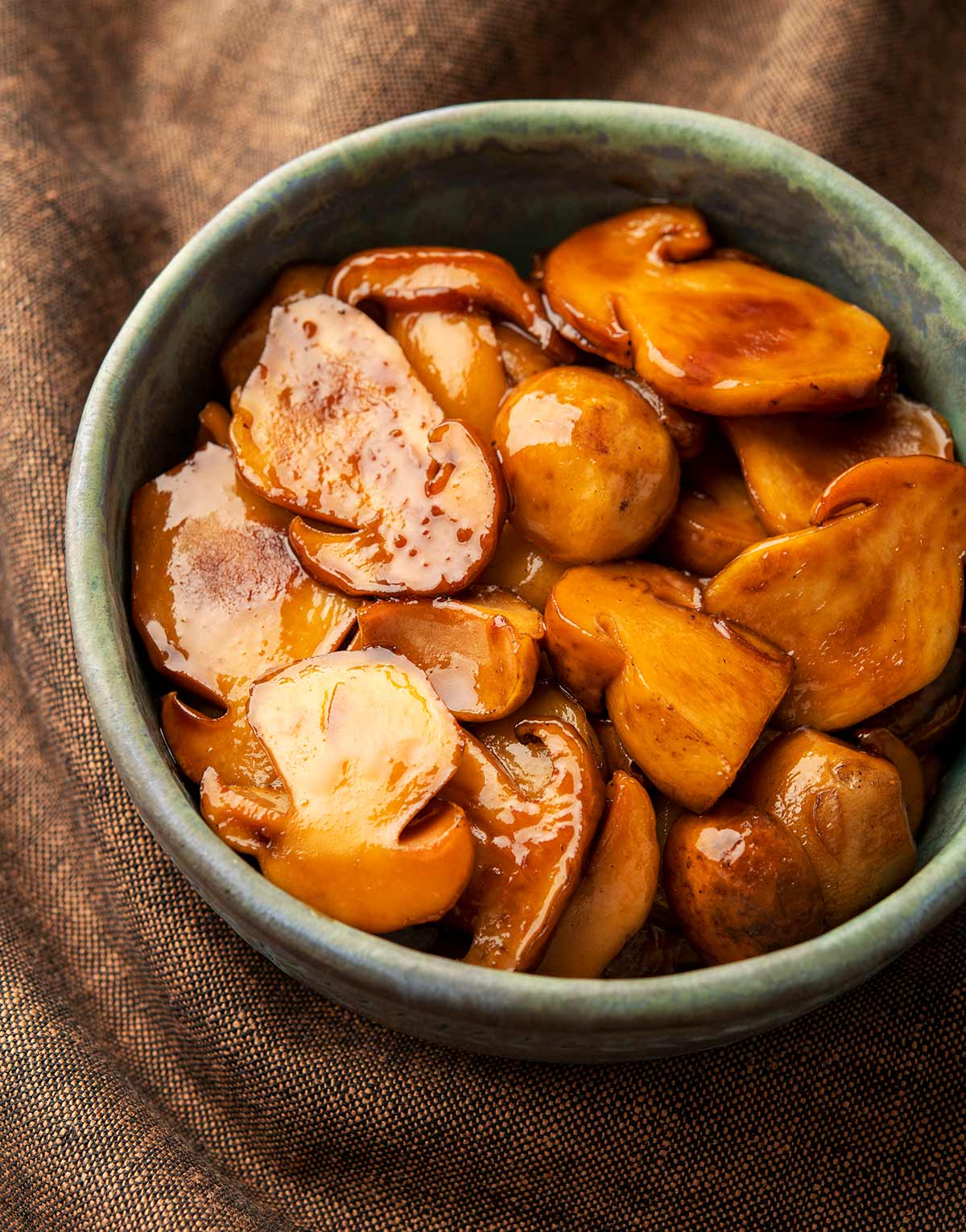 Basically you slice and clean the mushrooms, dry cook them until they release their water, add sesame oil and sauté, then add the teriyaki sauce and boil it all down until it's a glaze. Start to finish it takes about 20 minutes — the same time it takes to make your rice.
My teriyaki sauce is from the excellent book Japanese Cooking: A Simple Art, by Shizuo Tsuji. Super simple.
I like to use porcini or other boletes, like butter boletes, for teriyaki mushrooms, but anything meaty works well. Some options include:
Common white buttons or their brown version, the cremini. Any edible agaricus will work, too, like meadow mushrooms
Chunks of portobello, which are just large cremini
Blewits are a great option
Big chanterelles or hedgehog mushrooms
Porcini in all its forms, from queen boletes to butter boletes, and so on. Leccinum boletes might not be a great choice because they turn very dark when cooked
Maitake (hen of the woods mushrooms) or chicken of the woods mushrooms
I've never tried to make teriyaki mushrooms with morels, but it should work.
Once made, these are good at room temperature, and they will keep a few days in the fridge. I have not tried to freeze them, though.
If you want to go full-on teriyaki fest, I also have recipes for teriyaki meatballs, and teriyaki grilled doves, too. Or, if you want to include this in a nice Japanese meal, serve the teriyaki mushrooms alongside something like Japanese clam soup or salmon miso soup, or with ginger pork.
If you liked this recipe, please leave a ⭐️⭐️⭐️⭐️⭐️ rating and a comment below; I'd love to hear how everything went. If you're on Instagram, share a picture and tag me at huntgathercook.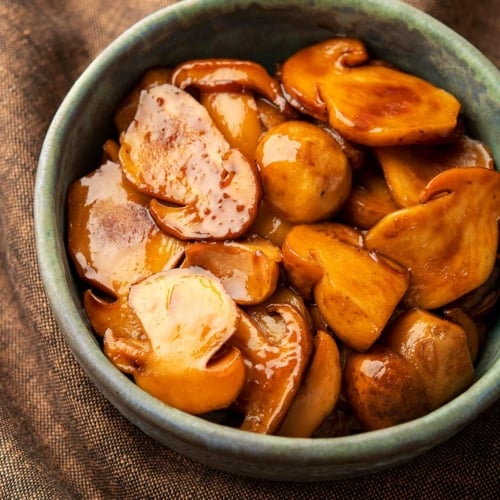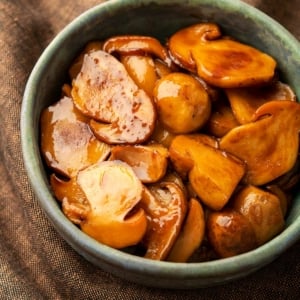 Teriyaki Mushrooms
This is a quick and easy recipe that works with most mushrooms. Use it over rice or as a side dish.
Ingredients
1

pound

mushrooms,

sliced about 1/4 inch thick

2

tablespoons

sesame oil

1/2

cup

soy sauce

1/2

cup

sake

1/2

cup

mirin

1

tablespoon

sugar

(optional)
Instructions
Heat a sauté pan over high heat, and when it's hot, add the mushrooms. As they sizzle, toss them often. At some point the mushrooms will give up their water. Let this boil furiously until the water has mostly evaporated. Add the sesame oil and toss to combine.

Let this sear for a minute or two, then add the remaining ingredients, tossing to combine thoroughly. Let this boil down hard, tossing to keep the mushrooms coated, until it's a glaze, about 5 to 10 minutes. Serve hot or at room temperature.
Nutrition
Calories:
199
kcal
|
Carbohydrates:
22
g
|
Protein:
7
g
|
Fat:
7
g
|
Saturated Fat:
1
g
|
Polyunsaturated Fat:
3
g
|
Monounsaturated Fat:
3
g
|
Sodium:
1852
mg
|
Potassium:
430
mg
|
Fiber:
1
g
|
Sugar:
13
g
|
Vitamin C:
2
mg
|
Calcium:
11
mg
|
Iron:
1
mg
Nutrition information is automatically calculated, so should only be used as an approximation.