As an Amazon Associate I earn from qualifying purchases.
Whether you call it turkey schnitzel, cutlets, scaloppini, or even chicken fried turkey, pounding a turkey breast thin, breading it and frying it crispy is an ideal way to cook turkey breast.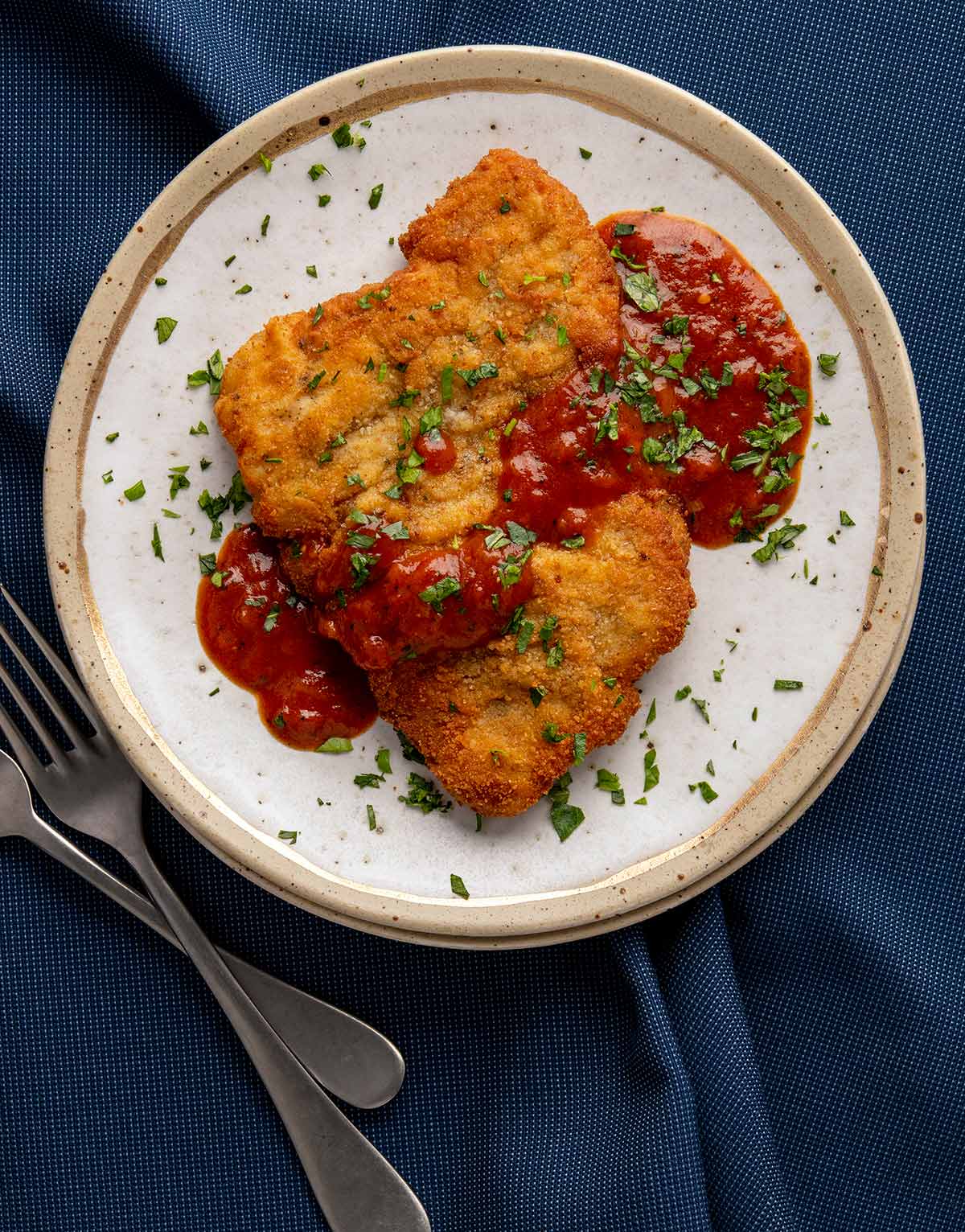 Especially wild turkey breast. Unlike farmed turkeys, which are rarely older than nine months, a nice tom will be three or four years old — and even a jake is a year old. Tougher birds that work for a living.
This means that even the breast meat can be tough. Slicing it into turkey schnitzel is a way to get around that.
Think of this as less of a recipe and more of a method, because once you can make a nice turkey schnitzel, it can be anything you want after that. The sauce determines the vibe.
This method leans on the same technique as classic Austrian wiener schnitzel, which is normally done with veal. Lots of other schnitzels exist, some with the same breading, some just dusted in flour, some with no coating at all.
I find that a full flour-egg wash-breading works best with wild or farmed turkeys because it keeps the meat juicy.
Making Turkey Cutlets
Turkey schnitzel starts with cutlets. You make these in one of two ways.
Wild turkey breasts are shaped like a teardrop and have a thick end and a thin one. I always slice my wild turkey breasts in half to make a cylindrical fat end and a triangular thin end. Farmed turkey breasts are more universally thick.
I will either pound the entire thin end flat, then cut portions, or cut portions and then pound each one flat. Either way works.
For the fat end, or for farmed turkeys, you will want to slice the breast in half crosswise so you are starting with a thinner piece. Then cut those pieces in two, giving you four pieces to make into turkey cutlets.
Put the meat between two pieces of plastic wrap and pound it thin with a rubber mallet, meat mallet, rolling pin or empty wine bottle. I like my turkey schnitzel really thin, so I shoot for about 1/8 inch thick. If you're new to turkey cutlets, leave them a little thicker because the thinner they are, the easier it is to tear them up accidentally.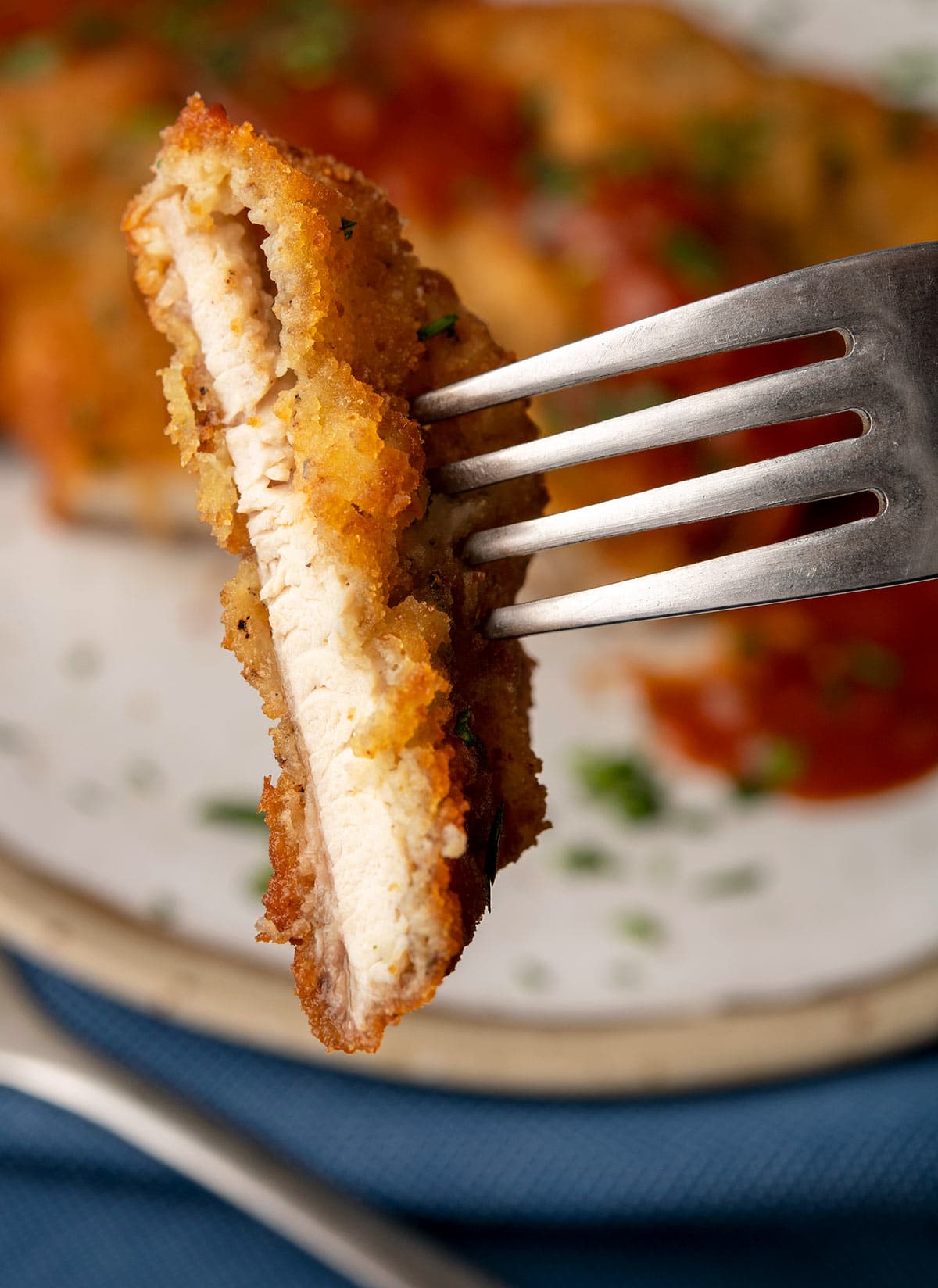 Cutlets to Turkey Schnitzel
I've honed this method for schnitzel over the decades, and it works well. Salt and pepper your turkey cutlets, then dust them in flour. Set them in the fridge for at least 15 minutes and up to a couple hours; this helps the flour stick to the meat.
Then, get enough oil or lard hot in a pan so your turkey schnitzel will be floating when it cooks. This is usually about 1/2 inch. You want it to be 350F.
Whisk a few eggs with milk or cream, and get fine breadcrumbs ready. Panko is no good here. You want at the very least standard supermarket breadcrumbs.
But if you want a better turkey schnitzel (or any schnitzel, for that matter), put about half your breadcrumbs into a blender and blast them almost to the point where they are like flour, about 30 seconds to 1 minute.
Why? Once the cutlets, coated in flour-egg-breadcrumbs, hit the hot oil, the fineness of the breadcrumbs mixed with the egg wash forms an almost instant seal. This gives you a crispier crust that can puff up, and your meat will not be greasy.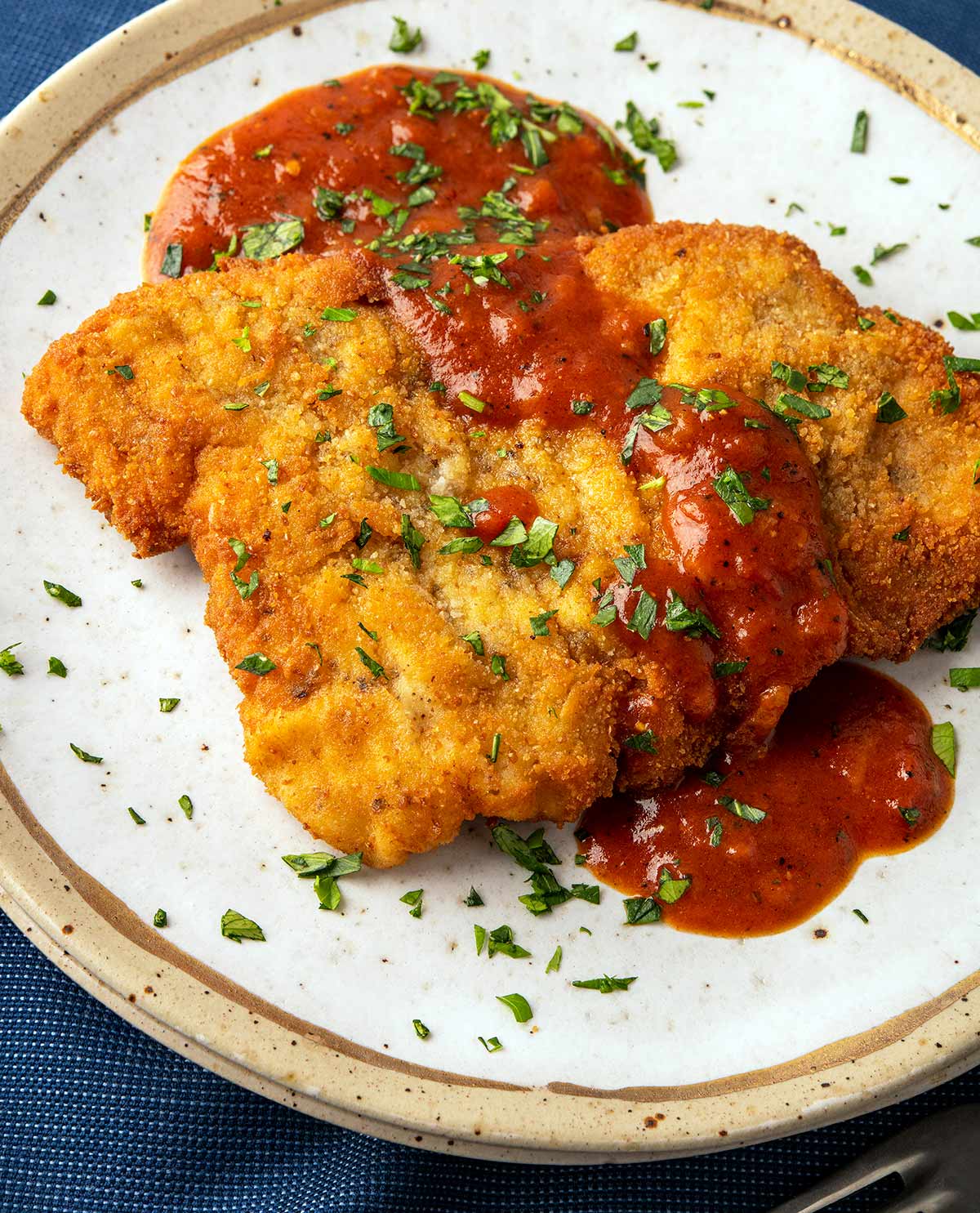 Finishing
Once you have some nice schnitzels, top with whatever makes you happy. A classic wiener schnitzel is garnished only with lemon wedges, and this is very nice.
I poured over my Southern tomato gravy in these pictures. If you're not familiar with it, tomato gravy uses a roux, and has a touch of sweetness from brown sugar or sorghum syrup, plus enough black pepper to taste it.
Regular brown gravy, red eye gravy or sawmill gravy are all good choices. You can use your turkey schnitzel as the basis for turkey parmesan, although technically that dish requires grated Parmigiano-Reggiano cheese in the breading.
Or put them between bread for a killer turkey schnitzel sandwich, like the famed pork loin sandwiches of Iowa. Have fun with it!
Oh, and should you have leftovers, they are amazing eaten cold, right out of the fridge.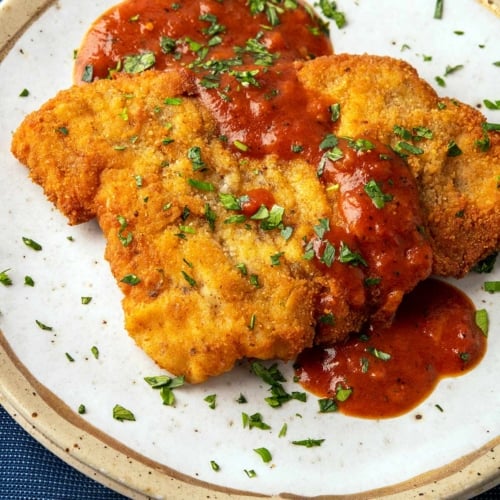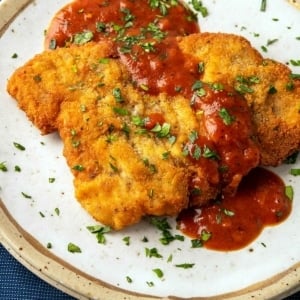 Turkey Schnitzel
This is a general method that will make a really good schnitzel of any meat, not just turkey. Chicken, grouse, pheasant, pork, or veal all work well here. Here's the recipe for the Southern tomato gravy.
Ingredients
1

turkey breast,

skinless and boneless

Salt and freshly ground black pepper

1

cup

flour

3

eggs,

lightly beaten

1/4

cup

milk

2

cups

fine breadcrumbs

oil for frying
Instructions
Slice the turkey breast as described above, then cut into pieces roughly 6 inches long and maybe 3 to 4 inches wide. Use this as a rough guide, not gospel. Put the meat between two pieces of plastic wrap and pound them thin with a mallet, empty wine bottle, etc. You are looking for about 1/8 inch thick. I like to flip the meat over several times when pounding to make sure the cutlets are even.

Salt and pepper the cutlets, then dust in flour. Shake off the excess, then set the cutlets in the fridge for at least 15 minutes, and up to a couple hours.

Pour oil to about 1/2 inch deep in a large frying pan. Heat it to 350°F. Put a cooling rack over a baking sheet in your oven and set the oven to 200°F.

While the oil is heating, beat the eggs and milk together, then dredge one or two cutlets — whatever will fit in the pan — in the egg, then the breadcrumbs. Fry until golden, about 90 seconds to 2 minutes per side. Set the finished cutlets on the rack in the warm oven while you do the rest. Repeat with the rest of the cutlets.

Serve hot with your favorite gravy, or cold in a sandwich.
Notes
Keep in mind that this method works with any meat you can cut and pound thin. 
Keys to Success
Your oil needs to be hot. Don't fry at less than 325

°F, and you really do want 350°F. Too much higher, however, can burn the breading. 

Let the oil return to 350

°F in between batches. 

If you are doing a lot of schnitzels, like double this recipe, you might want to strain your oil halfway because burnt breading bits will accumulate, and they can add an off flavor to the last few schnitzels. 
Any extra seasoning you want needs to go on the meat or in the flour, not the breadcrumbs. If you put spices in the breadcrumbs, you run the risk of them burning, which will taste acrid. 
Nutrition
Calories:
290
kcal
|
Carbohydrates:
32
g
|
Protein:
29
g
|
Fat:
5
g
|
Saturated Fat:
1
g
|
Polyunsaturated Fat:
1
g
|
Monounsaturated Fat:
1
g
|
Trans Fat:
1
g
|
Cholesterol:
115
mg
|
Sodium:
425
mg
|
Potassium:
340
mg
|
Fiber:
2
g
|
Sugar:
2
g
|
Vitamin A:
121
IU
|
Calcium:
84
mg
|
Iron:
3
mg
Nutrition information is automatically calculated, so should only be used as an approximation.