As an Amazon Associate I earn from qualifying purchases.
A simple, quick and easy recipe for mushroom fried rice. This recipe works with any fresh mushroom, from buttons to morels, and whatever vegetable is in season when you make it.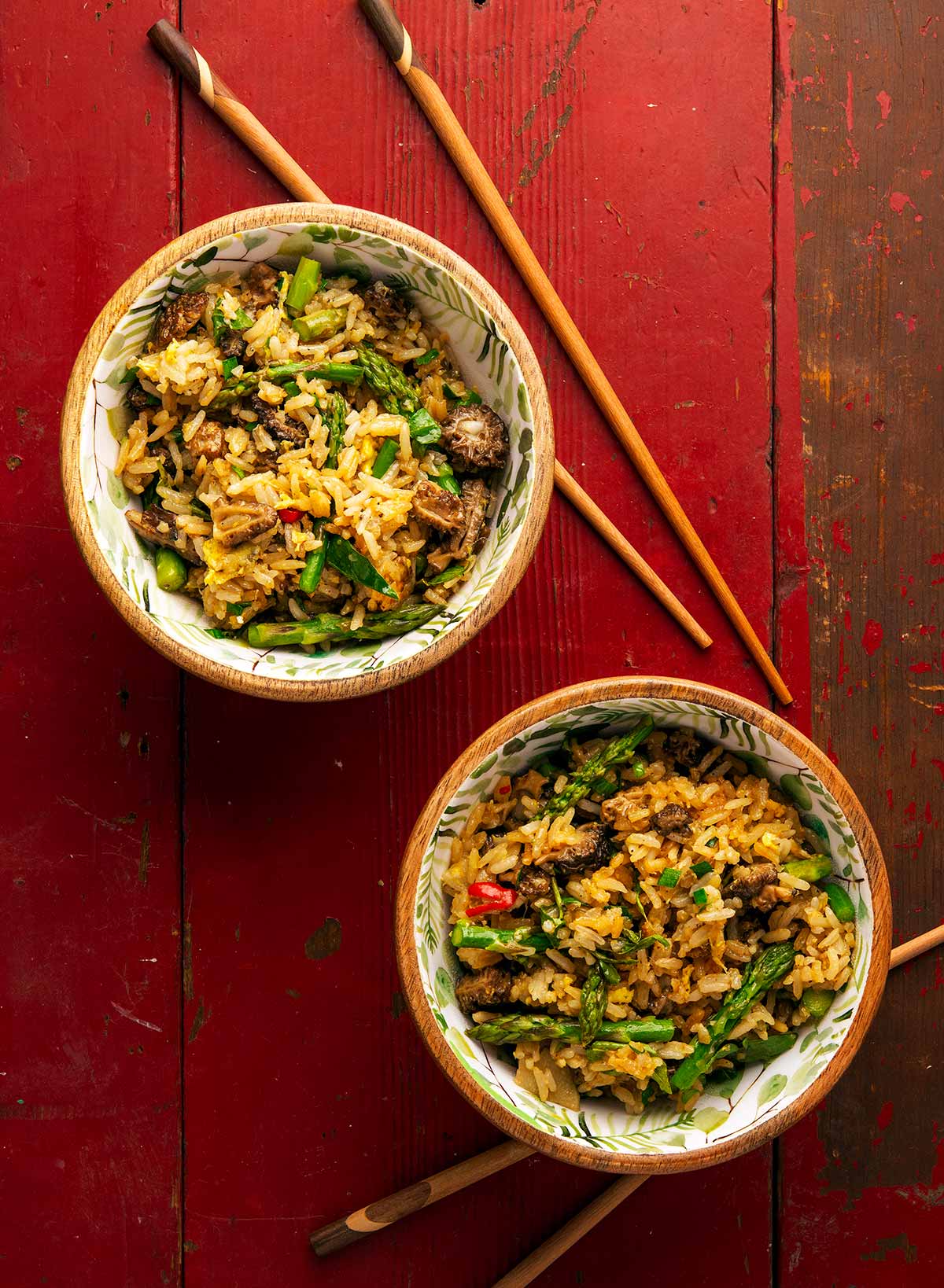 Pretty much everyone has eaten fried rice, but not everyone knows its place in Asian cooking: Generally speaking, fried rice is a comfort food, leftover user dish that you make when you are in a hurry or just don't feel like something elaborate.
So a mushroom fried rice would be something you'd make when you had lots of mushrooms around — or, conversely, when you wanted to use some dried mushrooms from the pantry.
I vastly prefer to make mushroom fried rice with fresh mushrooms of any sort, but you can make it with dried mushrooms — just rehydrate them for 30 minutes before you begin.
Extra Mile Option. Rehydrate the mushrooms, strain the water they soaked in, then use that to cook the rice. Not traditional, but good.
I used morels in this recipe, because we had a banner morel year, so why not? But plain ole' button mushrooms are OK, too, although most supermarkets sell shiitakes, and they are the kings of supermarket mushrooms in my book. But like I said, any edible mushroom is fine.
The Rice
Rice in any fried rice recipe needs to be long grain and it needs to be pre-cooked and cold. Making fried rice with freshly cooked rice won't work — it gets all gunky.
Mostly you will be using leftover rice from a previous dish for your mushroom fried rice, but if rice is not in your regular rotation, you can make it up to a few days before and leave it in the fridge.
In a pinch, you can make your rice a couple hours before, and lay the finished rice out on a baking sheet in a thin layer to dry. Stir it around with to separate the grains as it does.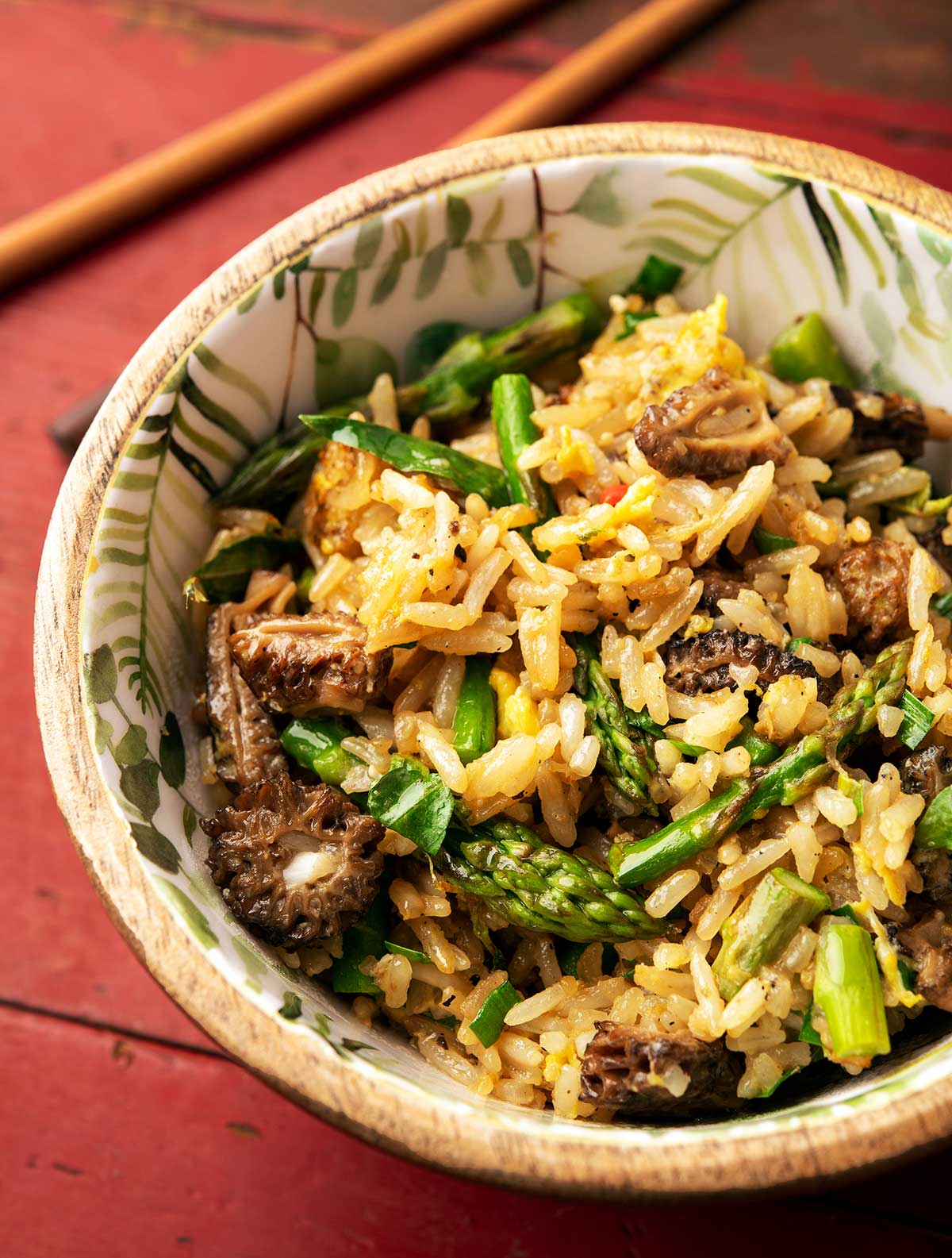 Vegetables and Variations
My mushroom fried rice has morels and asparagus because they are a perfect match. But the spirit of fried rice is to use what's around, so you could pair chanterelles with summer squash or peppers, or porcini and carrots, or hell, just go with the standard mix of peas and carrots from the freezer section.
Beyond that, I use the "holy trinity" of Chinese cuisine — garlic, ginger and chiles — as well as green onions and cilantro.
I also like to do the scrambled egg thing in my mushroom fried rice, for added protein.
Other Fried Rice Recipes
Other than mushroom fried rice, you will find a host of other fried rice recipes here on Hunter Angler Gardener Cook:
Once made, mushroom fried rice will keep a couple days in the fridge. Reheat it over low heat in a pan with a lid. It usually takes 10 minutes or so.
If you liked this recipe, please leave a ⭐️⭐️⭐️⭐️⭐️ rating and a comment below; I'd love to hear how everything went. If you're on Instagram, share a picture and tag me at huntgathercook.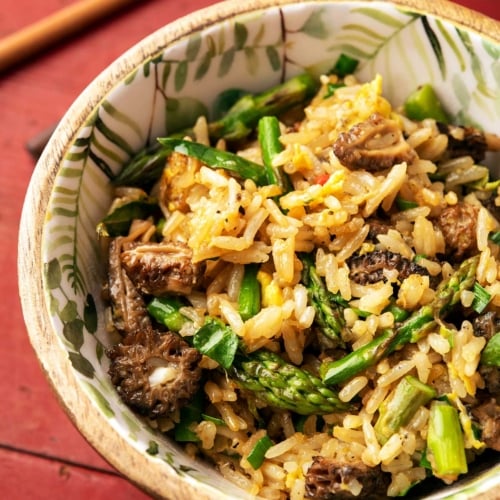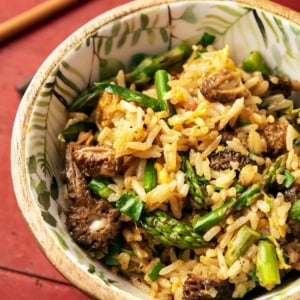 Mushroom Fried Rice
This is an easy recipe you can adapt to what you have around. Any fresh mushroom is good, and you can use rehydrated dried ones, too. And while I like asparagus, use whatever fresh vegetable you like that's in season.
Ingredients
1/2

pound

fresh mushrooms

(see above)

2

cloves

garlic, sliced thin

1 to 3

small, hot chiles,

like Thai, pequin, arbol or Tabasco

1

tablespoon

grated ginger

3

tablespoons

lard, peanut oil or rice bran oil

3

cups

cooked, cold rice

2

eggs,

lightly beaten

2

tablespoons

chopped chives or green onions

1/2

pound

asparagus,

sliced on the diagonal into bite-sized pieces

2

tablespoons

cilantro or rau ram

2

tablespoons

soy sauce

1

tablespoon

sesame oil

(optional)
Instructions
Slice or break apart the mushrooms into bite-sized pieces. Heat a wok or large pan over very high heat until the pan is quite hot. Add the mushrooms and stir fry until they give up their water, which will take a couple minutes. NOTE: If you are using rehydrated mushrooms, this won't happen, so move to the next step after 30 seconds or so.

As the mushroom water boils away, add the ginger, chiles and garlic and mix well. When the water is almost gone, add the oil or fat and stir fry until you get some browning. You want to keep things moving and use really high heat here.

Add the cooked rice, breaking up any clumps. Stir fry 1 minute, then move everything to the side of the wok or pan. Drop the beaten eggs in the space you just made, stirring them to cook. When they are mostly set, mix everything all together. Stir fry another 30 seconds.

Add the remaining ingredients except for the sesame oil, and stir fry 1 minute. If you want, after you mix everything together, let it sit in the pan for 1 minute undisturbed: This gets you some serious browning that's delicious.

Turn off the heat and drizzle over the sesame oil, if using.
Notes
If you are using dried mushrooms, you'll want closer to 3 ounces, maybe even just 2 ounces. Rehydrate them by pouring boiling water over them and letting the mushrooms steep for 30 minutes.  If you can't find small, hot chiles, use 1 serrano, minced. Or skip it. 
Nutrition
Calories:
343
kcal
|
Carbohydrates:
39
g
|
Protein:
10
g
|
Fat:
17
g
|
Saturated Fat:
3
g
|
Polyunsaturated Fat:
6
g
|
Monounsaturated Fat:
6
g
|
Trans Fat:
0.01
g
|
Cholesterol:
82
mg
|
Sodium:
540
mg
|
Potassium:
407
mg
|
Fiber:
2
g
|
Sugar:
3
g
|
Vitamin A:
635
IU
|
Vitamin C:
8
mg
|
Calcium:
46
mg
|
Iron:
2
mg
Nutrition information is automatically calculated, so should only be used as an approximation.