As an Amazon Associate I earn from qualifying purchases.
A Chinese squid stir fry with chiles, garlic, ginger, sesame oil and fresh herbs. Stir-fried squid comes together very fast, so it's great for weeknights.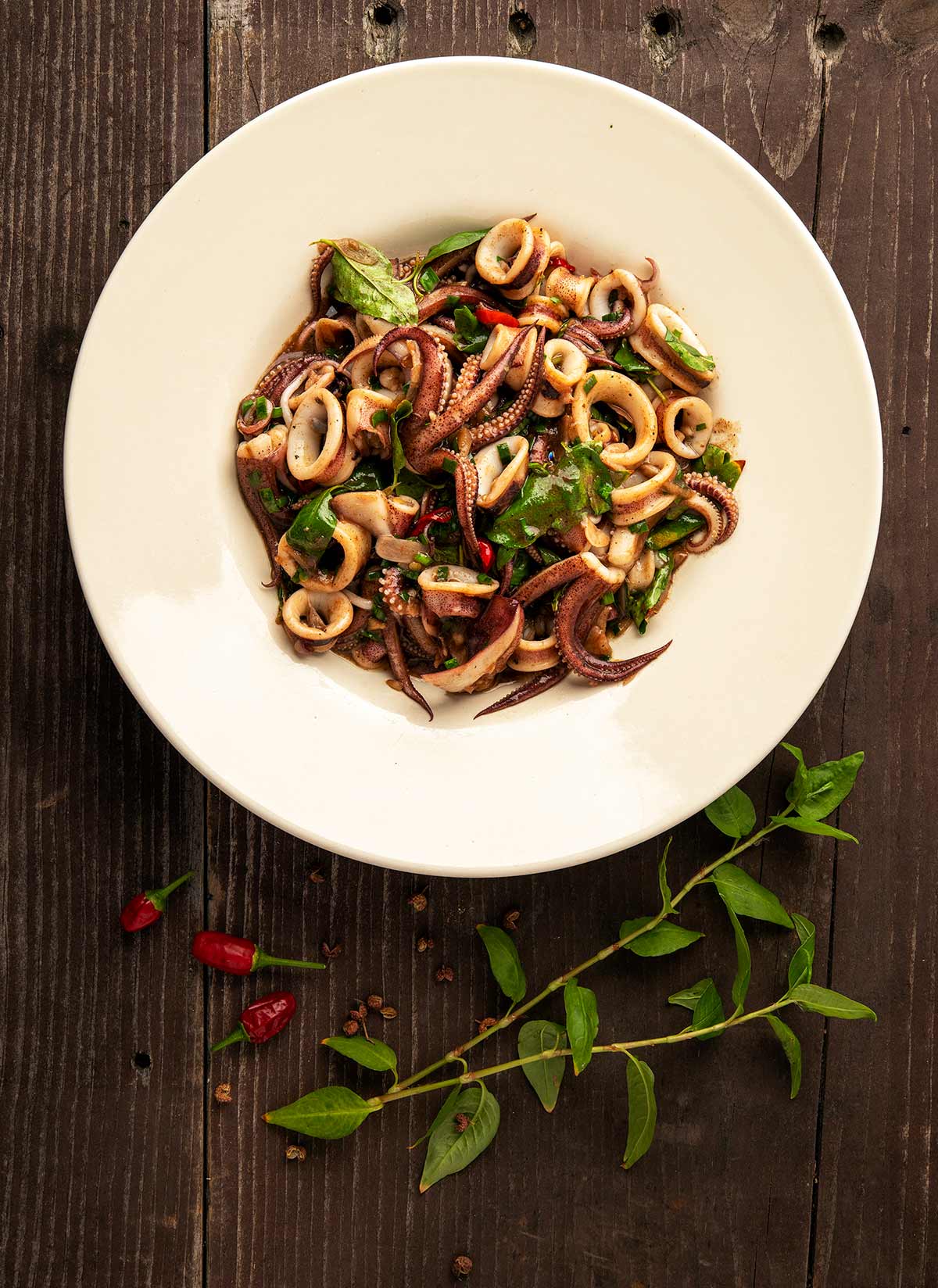 For the record, squid and calamari are the same thing; calamari, the Italian word for squid, is more common in the US.
Any sort of squid works here, but 99 percent of the time you will be buying "market squid," Doryteuthis opalescens. They're all similar: Small, tender and easy to cook. You can easily buy pre-cleaned squid, which may or may not have the skin still on. It doesn't matter either way, and I like the way the skin turns a pretty purplish-red.
The easiest way to cut the squid for stir fry is to slice "calamari rings" and then use the tentacles, too. Sometimes you will see stir-fried squid where the mantle, the body of the squid, is cross-hatched and then cut into bits. This cross-hatching causes the squid to roll up into a pretty little tube.
As with most stir fries, a squid stir fry comes together in just a few minutes, so have your steamed rice ready to go before you start.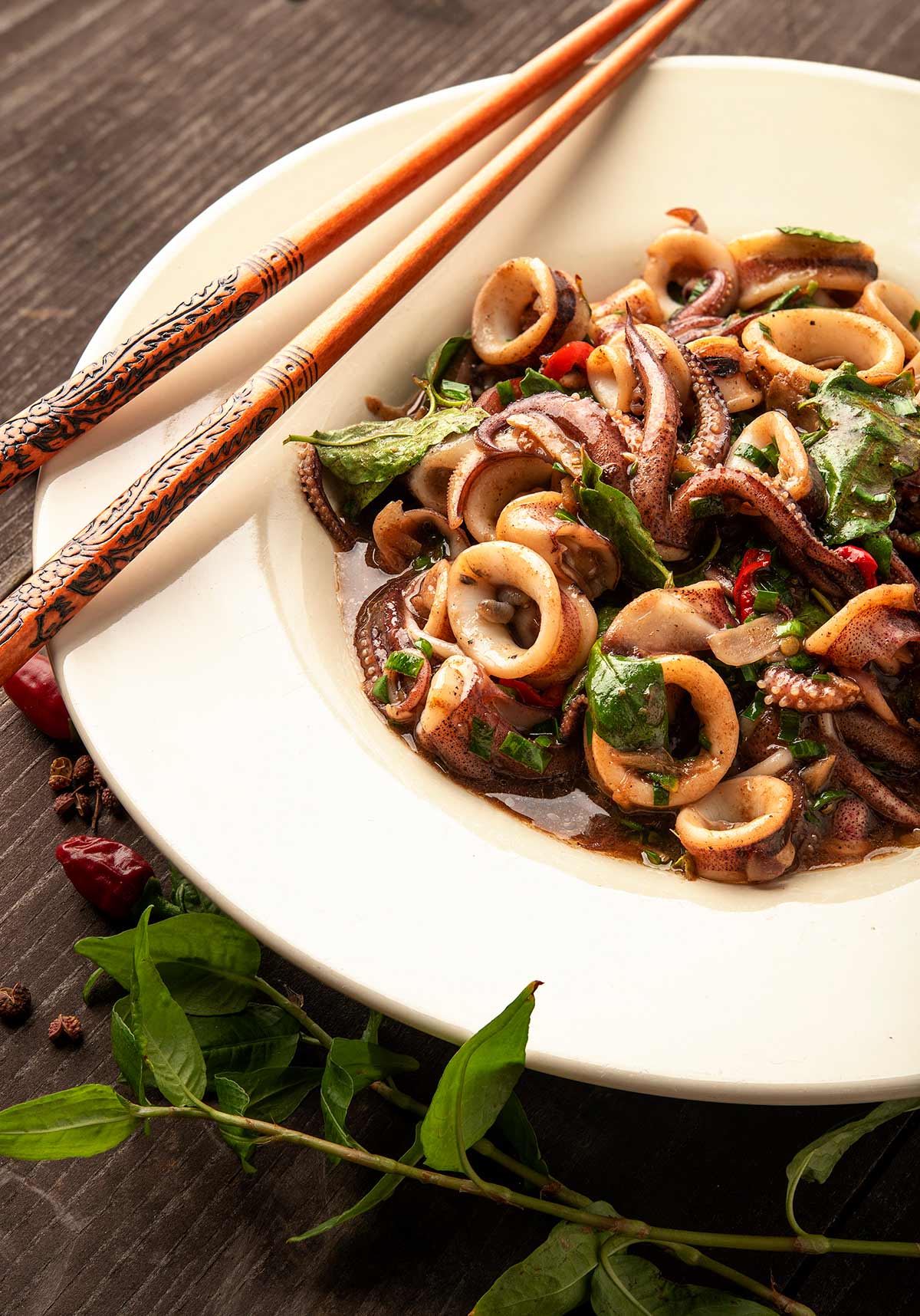 There are a few fun ingredients to make your stir-fried squid better, but they are not 100 percent needed.
I use green Sichuan peppercorns, which are phenomenal with fish and seafood. Regular Sichuan peppercorns are fine, and you can skip them or use regular black pepper instead.
I also use Chinese Shaoxing wine, which is a nice touch, but Japanese sake will do, and you could even use a dry white wine… but I wouldn't.
I happen to grow an herb called rau ram, which is a Southeast Asian herb that tastes like cilantro. Obviously cilantro is a fine alternative.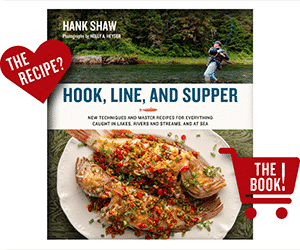 Cooking squid stir fry, or any stir fry for that matter, really hinges on super high heat, and, to be authentic, a wok. A good wok can get very hot and you can stir fry in minimal oil.
In a perfect world, you'd have a steel wok set over one of those "turkey fryer" burners. You want to hear the gas roar — it's called the breath of the dragon. But lacking that, just use your most powerful burner.
High heat matters more with stir-fried squid because squid really only wants to be cooked for a minute or two — too much longer and it can get rubbery.
So, if you lack an ultra-powerful burner, my advice is to stir fry the squid all by itself, in two batches, then remove it from the wok, stir-fry everything else, then return the squid to the wok for 30 seconds right at the end.
It's best to eat squid stir fry right after you make it. It does not keep well.
Serve this with steamed rice, and, if you want to make a Chinese seafood feast, make my recipe for salt and pepper fish, or sweet and sour fish for another entrée. Neither takes more than 30 minutes to make.
If you liked this recipe, please leave a ⭐️⭐️⭐️⭐️⭐️ rating and a comment below; I'd love to hear how everything went. If you're on Instagram, share a picture and tag me at huntgathercook.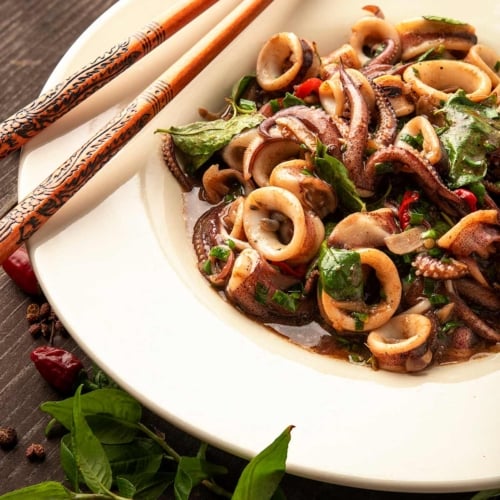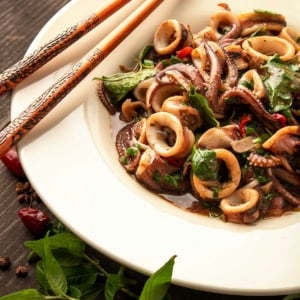 Squid Stir Fry
I use a few unusual ingredients in this recipe, but there are common alternatives if you can't find them.
Ingredients
1

pound

squid,

cut into rings, plus tentacles

2

tablespoons

Shaoxing wine,

or sake, or dry white wine

1

tablespoon

white pepper

1

tablespoon

salt

2

tablespoons

peanut oil,

or other vegetable oil

2

cloves

garlic,

sliced thin

2 to 4

small, hot chiles,

sliced thin

1

tablespoon

minced ginger

2

tablespoons

water or seafood stock

1

teaspoon

corn, potato or tapioca starch

2

tablespoon

minced chives

1/2

teaspoon

freshly ground Sichuan peppercorns

(optional)

3

tablespoons

chopped fresh rau ram or cilantro

A splash of vinegar
Instructions
Mix the squid, white pepper, salt and Shaoxing wine together in a small bowl. Massage it all in. Let this sit for 20 minutes, while you chop everything else and get the oil hot.

If you don't have a mega-burner, and most people don't, get the wok very very hot, and add 1 tablespoon of the peanut oil. The second you see a wisp of smoke rise from it, add half the squid and stir fry 1 minute. Remove it from the wok and set it aside. Add the second tablespoon of oil, and when that just barely smokes, add the second half of the squid and repeat the process.

Mix the water and the starch into a slurry.

If there's no oil left in the wok, add another tablespoon and stir fry the ginger, garlic and hot chiles for 30 seconds. Stirring the slurry constantly, add the starch to the wok, along with the squid, and stir fry another 90 seconds.

Add the remaining ingredients and stir fry another 30 seconds. Serve over steamed rice.

IF YOU DO HAVE A SERIOUS BURNER. If you can create "the breath of the dragon," add the oil to the wok, get it hot, add all the squid with the garlic, chile and ginger and stir fry 1 minute to 90 seconds, then proceed.
Notes
You could do this same recipe with small, peeled shrimp, crawfish tails, chunks of lobster or even small clams or scallops. 
Nutrition
Calories:
188
kcal
|
Carbohydrates:
7
g
|
Protein:
18
g
|
Fat:
9
g
|
Saturated Fat:
2
g
|
Polyunsaturated Fat:
3
g
|
Monounsaturated Fat:
3
g
|
Cholesterol:
264
mg
|
Sodium:
1795
mg
|
Potassium:
307
mg
|
Fiber:
1
g
|
Sugar:
0.2
g
|
Vitamin A:
141
IU
|
Vitamin C:
11
mg
|
Calcium:
47
mg
|
Iron:
1
mg
Nutrition information is automatically calculated, so should only be used as an approximation.