As an Amazon Associate I earn from qualifying purchases.
Ceviche tostadas is almost redundant in Mexico: It's the most common way you see the dish served. Here's how to make them, with a mahi mahi ceviche, so they don't shatter all over the place.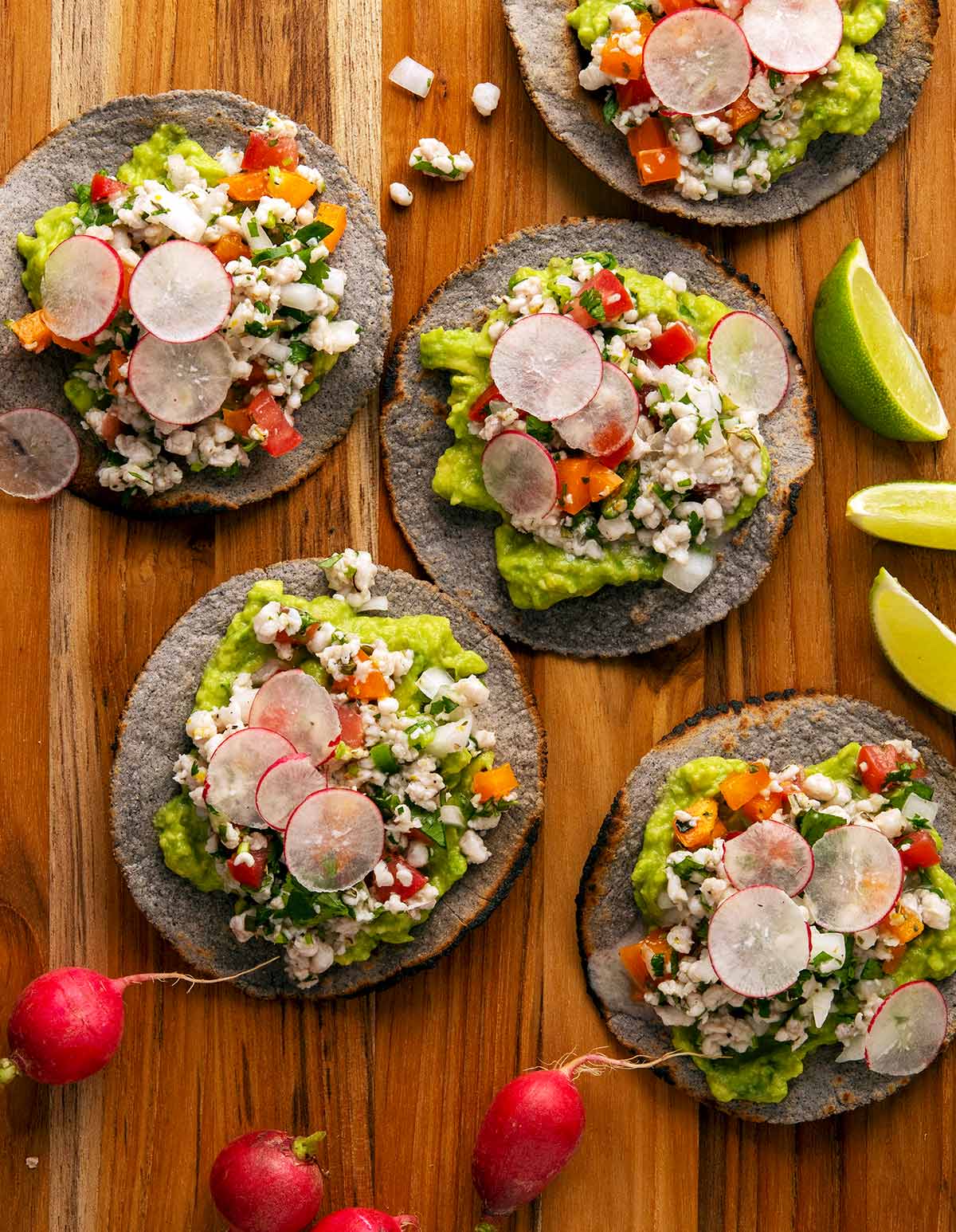 A few things to start. First, while I am using mahi mahi ceviche for these tostadas, it can be any ceviche.
Second, you'll notice that this ceviche is really small. It's a cool style I ate in Ensenada, in Baja, where you run the fish through a meat grinder fitted with a coarse die. While that sounds like you'd get a mush, you don't if the fish is cold enough. It's a great method.
Third, you'll notice the guacamole on the bottom. This is important, if not 100 percent necessary. In Mexico, I see this done a lot because the guacamole serves as a tasty "glue" for whatever is on top — not just ceviche — so it doesn't slide all over the place when you try to eat it.
Now, about making better ceviche tostadas.
There are a few things to know about making a good tostada. And if you've ever eaten a bad tostada — one bite and it shatters, dumping all your toppings into your lap — you know what I mean by a bad tostada.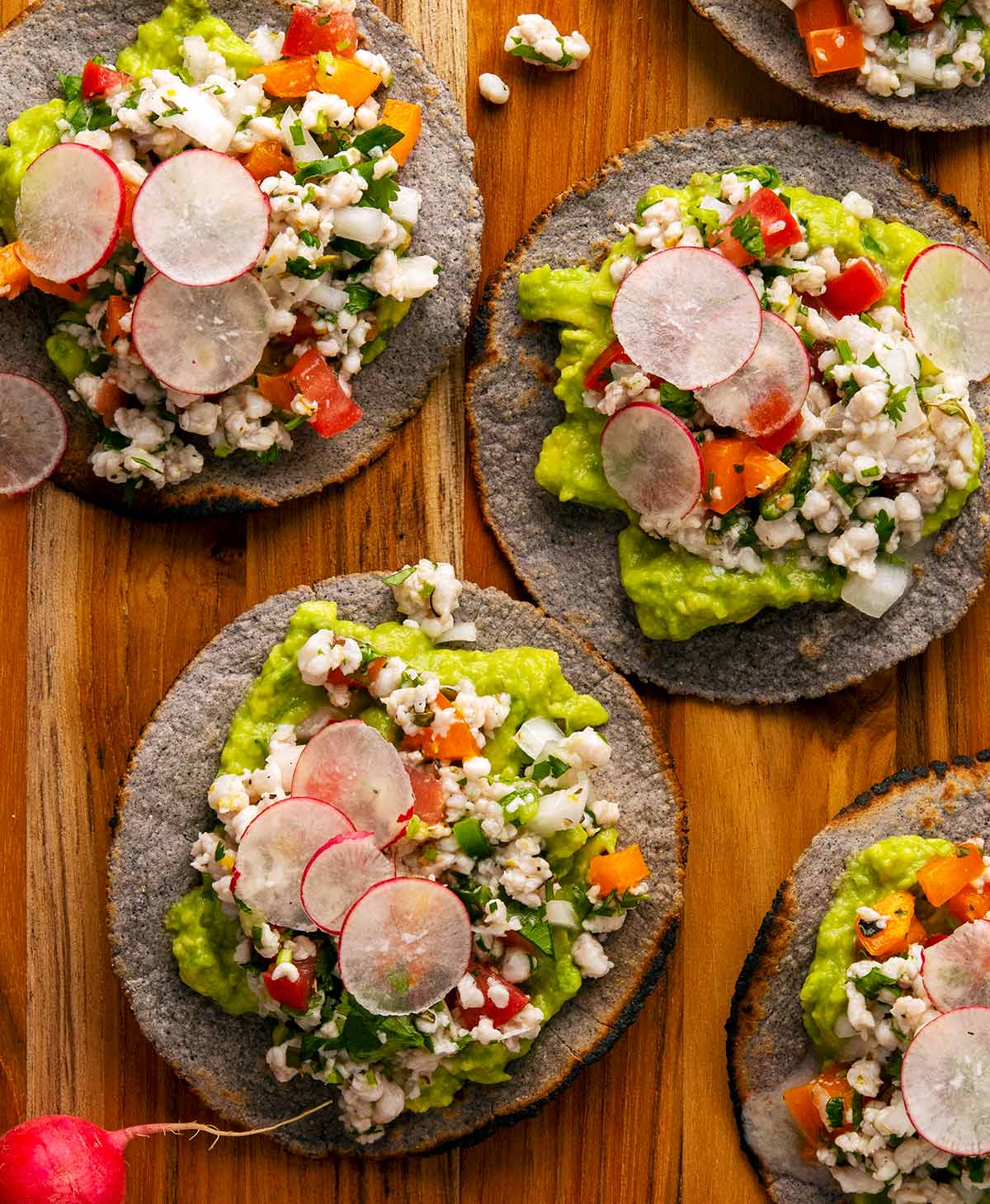 Tostadas are one of the many wonderful things you can make with stale tortillas, store-bought or homemade; here's how to make corn tortillas at home, if you are interested. Basically you fry or toast tortillas until they are crispy, then top them with whatever.
The best ceviche tostadas are made from tortillas that were a bit more coarsely ground than normal. My homemade ones are perfect for this. If you are buying tortillas, look for "stone ground" ones, or any that look a bit thicker and coarser than usual.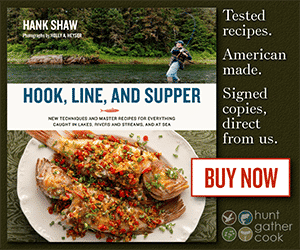 Unless you have a known and trusted brand of pre-made tostadas, I do not recommend buying pre-fried ones because they almost always seem to shatter on me. Something about frying your own seems to help them hold together better.
When you fry tortillas for tostadas, make sure the oil is hot, and the tortillas fry until most of the bubbles die down. Flip them a couple times, and use tongs to press down on any spots where the tortilla balloons up.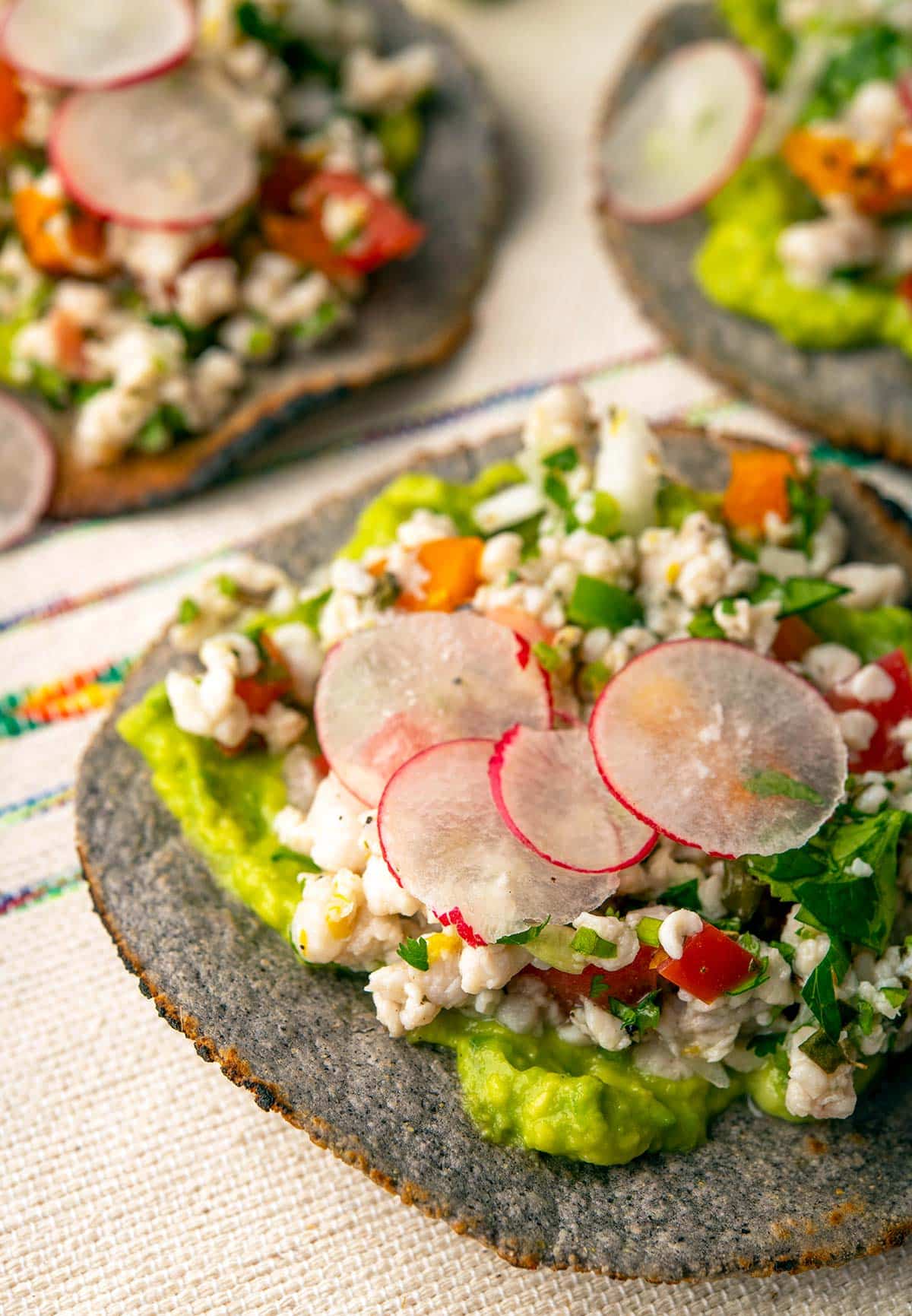 And you don't have to fry ceviche tostadas. As you can see in the pictures, these I cooked directly on the burner, flipping them over and over (and blowing out any flare-ups) until they were very crispy. You can also toast them on a comal or griddle, but this takes longer.
The comal method works much better with stale corn tortillas. If you only have fresh, I recommend the gas burner method. Toasting over a grill is great, too.
Ceviche for Ceviche Tostadas
It's kind of anything goes. Below you'll see my recipe for mahi mahi ceviche, but you can go with what you have or want. Shrimp is very common for ceviche tostadas.
I have a very basic recipe for ceviche here that includes safety tips about eating raw fish, as well as specialized recipes for salmon ceviche, squid ceviche and crab ceviche.
I also make a similar dish called aguachile, along with its variant aguachile negro, that are both great with tostadas.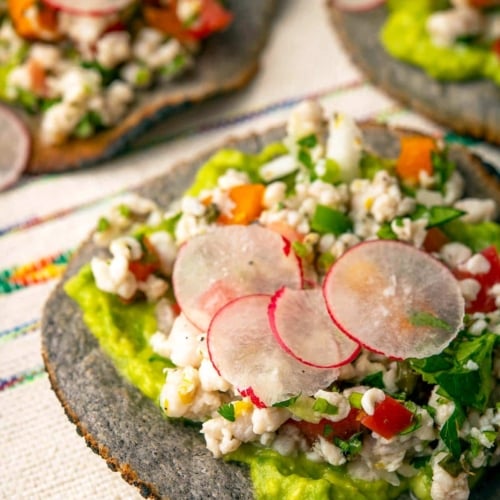 Ceviche Tostadas with Mahi Mahi
Keep in mind that any ceviche you like can go on your tostadas. Instructions for the tostadas and the ceviche are below.
Ingredients
CEVICHE
1 1/2

pounds

skinless, boneless mahi mahi

(or other fish)

Salt

1

cup

lime juice

1

medium white onion,

minced

1 to 4

serrano chiles,

minced

1

yellow or orange bell pepper,

diced small

1

teaspoon

dried Mexican oregano

(optional)

4 to 6

Roma tomatoes,

diced small

1/2

cup

chopped cilantro,

or more if you want

sliced radishes,

for garnish
GUACAMOLE
Salt

1/4

cup

minced white onion

1

serrano,

minced

3

tablespoons

lime juice

2

tablespoons

minced cilantro

(optional)

2

avocados
Instructions
To make the ceviche, chop the fish small, or run it through a meat grinder with a coarse die, about 6.5 mm if you have a choice. Put it in a bowl and mix in the lime juice, Mexican oregano, minced onion, bell pepper and serranos. Sprinkle some salt over everything and set this in the fridge for at least 30 minutes.

Meanwhile, make the guacamole. If you have a molcajete, a basalt mortar and pestle, use that. If not, use a regular mortar and pestle. If you don't have that, use a food processor. Start by adding the onion and serrano and some salt. Pound or grind that together into a paste. Add the lime juice and cilantro and grind that in, then pound and grind in the avocado. Adjust the seasoning with salt and lime if needed. If you only have a food processor, toss everything in at once.

After you've done that, toast or fry the tortillas to make tostadas. If they are stale, you can toast them on a comal or griddle until they are crispy, turning them from time to time. You want to do this over high heat. You can also fry them in a little vegetable oil or lard. Get the oil hot, about 350°F, and fry the tortillas, turning them a few times, until the bubbles die down, about 5 minutes. Use tongs to press down any spots that balloon up.

If your tortillas are not stale, the best way to make tostadas is to set them directly over a gas burner or charcoal grill that's hot but not blazing. Turn them frequently until they are crispy. Some spots may catch fire. Blow them out.

When you are getting ready to serve, mix the tomatoes and cilantro into the ceviche.

To finish, spread some guacamole on the tostadas, top with the ceviche — drain it with a slotted spoon — and garnish with the radishes.
Nutrition
Calories:
353
kcal
|
Carbohydrates:
38
g
|
Protein:
26
g
|
Fat:
12
g
|
Saturated Fat:
2
g
|
Polyunsaturated Fat:
2
g
|
Monounsaturated Fat:
7
g
|
Cholesterol:
83
mg
|
Sodium:
134
mg
|
Potassium:
1144
mg
|
Fiber:
10
g
|
Sugar:
5
g
|
Vitamin A:
1416
IU
|
Vitamin C:
55
mg
|
Calcium:
92
mg
|
Iron:
3
mg
Nutrition information is automatically calculated, so should only be used as an approximation.