As an Amazon Associate I earn from qualifying purchases.
Mexican aguachile is something of a hybrid between sashimi and ceviche, although the closest thing to it is really Peruvian tiradito, but that is a lesser known dish. And while aguachile is normally green (I have a recipe for that here), this is a black aguachile: aguachile negro.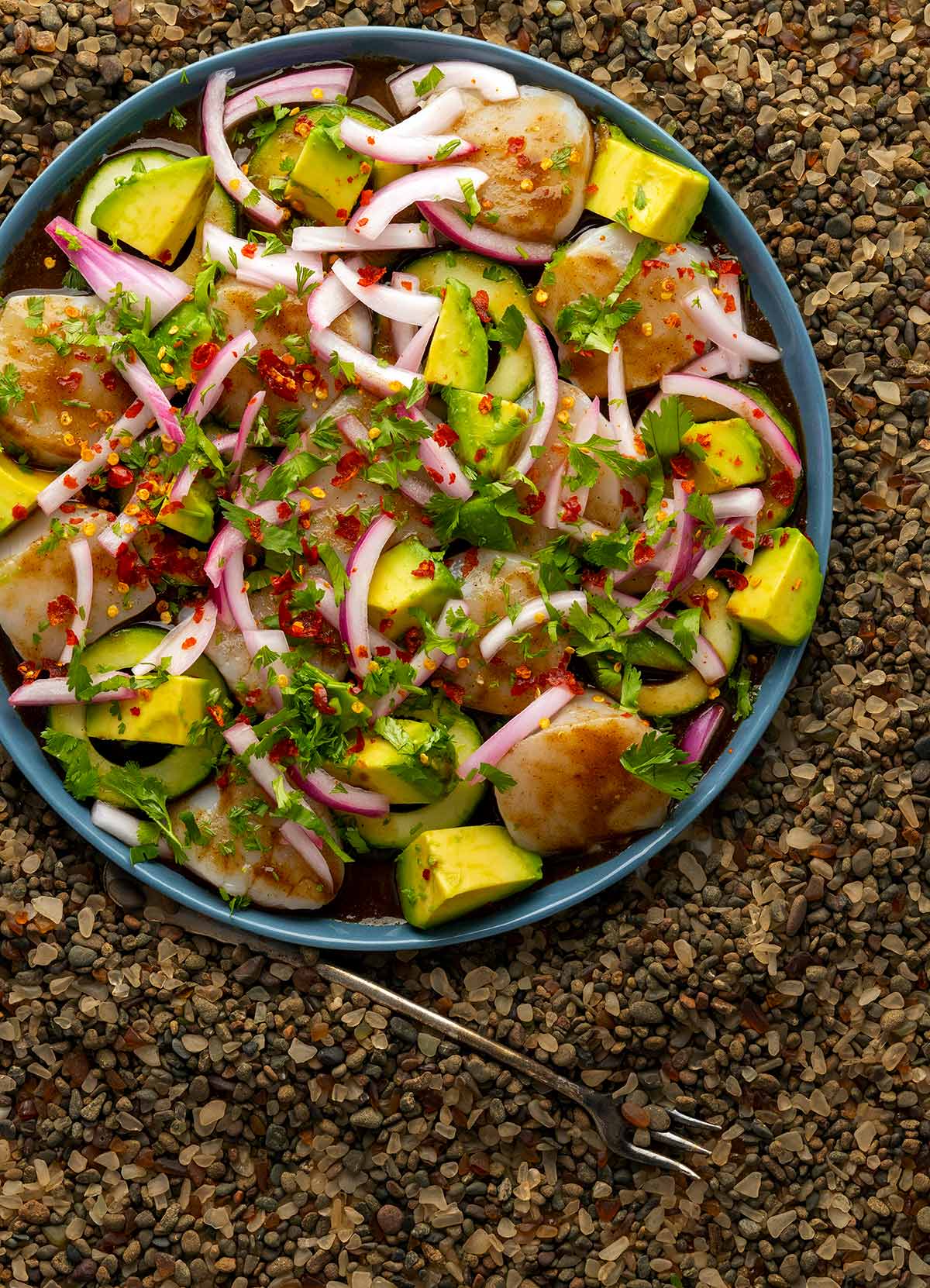 There are a few ways to make aguachile negro, some involving charred onions, some using a spice mix called recado negro, but most, including this recipe, use soy sauce and Maggi.
Both sound like not-so-Mexican ingredients, and, strictly speaking, they're not. But both sauces have been used in Mexican cooking for generations. Soy, especially, came with Asian immigrants as far back as the Spanish galleon days.
It may be hard to tell from the pictures, but aguachile is essentially a ceviche served immediately, so the seafood is still very much raw. You'll definitely want to brush up on your raw seafood safety (I have an article that covers the basics here), but suffice to say that most seafoods need to be pre-frozen to kill potential parasites.
This is enormously important with shrimp, which is the normal seafood used in aguachile negro and its other versions, because truly raw, never-frozen shrimp can carry parasites that will give you liver flukes. No bueno.
I used some pretty scallops here that I got from Togue over at Downeast Dayboat, and they are pretty damn spectacular. Sweet, big and meaty. Any nice scallop will do, as will the aforementioned thawed shrimp, or fresh clams or oysters. Fish is common, too, especially tuna and the various jacks like yellowtail. Tuna especially are almost never parasitized, so they are safe to eat never frozen.
Some advice for inlanders: Do this with fish, but be sure to freeze it at -4°F for a week first. Or use cooked crawfish tails. Or just buy seafood from a really good market.
Aguachile negro can be as picante as you want it, both by adding chiles to the sauce itself, and by sprinkling dried chiltepin chiles over the top. My advice is to go with the chiltepins or chile pequins if you can get them — Latin markets almost always have them — and skip the chiles in the sauce. But either way works.
Lime-soaked onions, cooling cucumbers, avocado, and cilantro round things out. The result is a barrage of strong flavors: Salty-savory aguachile negro sauce, creamy-meaty raw seafood, lush avocado, zippy pickled onions and that picoso swat of the chiles.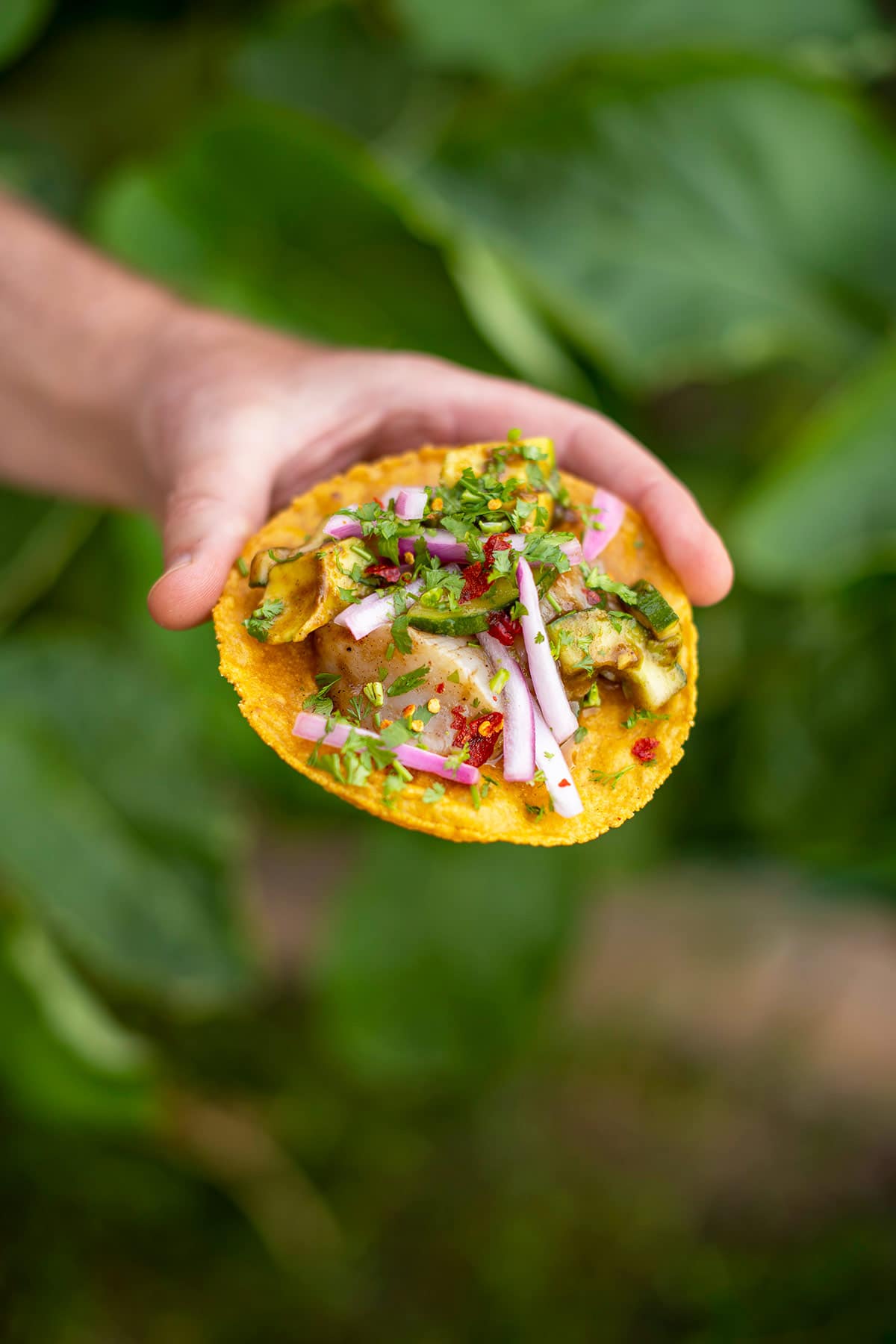 Normally aguachile negro is served on tostadas, and that's how I recommend it. All by itself is nice, too, but you will find yourself looking for the tortilla chips to offset the flavor bombs.
Make your aguachile and eat it. It does not store well.
If you want to do a Mexican seafood feast, serve your aguachile negro as the first course, then caldo de camaron as a soup, then lobster tacos.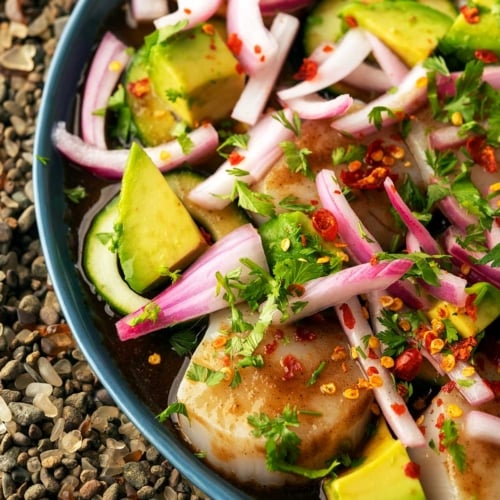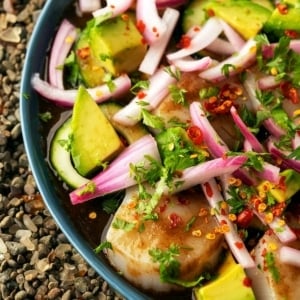 Aguachile Negro
This is a variation on the classic Mexican aguachile, which has a green sauce. I use scallops here, but shrimp, fish, clams or oysters would all be good options.
Ingredients
1

white onion,

quartered

1

clove

garlic,

unpeeled

1

red onion,

sliced thin

2/3

cup

lime juice,

divided

Salt and black pepper

3

tablespoons

Maggi seasoning

3

tablespoons

soy sauce

2

black garlic cloves

(optional)

1/4

cup

water

1

pound

scallops

1

English cucumber,

sliced

1

avocado,

diced

3

tablespoons

chopped cilantro

Chiltepin chiles,

to taste
Instructions
Heat a comal or griddle or cast iron skillet over high heat. When its hot, char the onion and the garlic clove well. When both cut sides of the onion quarters are blackened, roughly chop and put unto a blender. Peel the garlic and put the clove in the blender.

While the onion is charring, mix in some salt with the sliced red onion and toss with about 1/4 cup of the lime juice. Let this sit in a bowl until you are ready to serve. Doing this quick pickles the onion and removes any sulfur bite to it.

Add the rest of the lime juice, Maggi, soy, about 1 teaspoon black pepper, the black garlic cloves, if using, and the water to the blender and puree everything.

Toss the scallops and cucumber with the sauce and put some on everyone's plates. Add the avocado, the red onions, the cilantro and crushed chiltepin chiles. Serve at once.
Notes
You can find black garlic in some supermarkets, Trader joe's tends to carry it, or you can buy black garlic online. Or just skip it. 
Keys to Success
Use high quality seafood. Sushi grade. Make sure you read the headnotes for food safety issues with raw seafood.
If you can't find the dried chiltepin or chile pequins, you can use any crushed hot pepper, or you can add serranos or some other fresh hot chile to the blender. 
Serve this with tostadas or tortilla chips ideally, but you could also eat it by itself. 
Really blacken the cut sides of the quartered onion. It makes a difference in flavor. 
If you happen to have Yucatecan recado negro around, unlikely but possible, add a couple spoonfuls of that to the blender. You'll thank me later. 
Nutrition
Calories:
214
kcal
|
Carbohydrates:
21
g
|
Protein:
18
g
|
Fat:
8
g
|
Saturated Fat:
1
g
|
Polyunsaturated Fat:
1
g
|
Monounsaturated Fat:
5
g
|
Trans Fat:
1
g
|
Cholesterol:
27
mg
|
Sodium:
1208
mg
|
Potassium:
753
mg
|
Fiber:
5
g
|
Sugar:
5
g
|
Vitamin A:
197
IU
|
Vitamin C:
24
mg
|
Calcium:
51
mg
|
Iron:
1
mg
Nutrition information is automatically calculated, so should only be used as an approximation.