Salmon Ceviche
August 17, 2020 | Updated March 25, 2021
As an Amazon Associate I earn from qualifying purchases.
Salmon ceviche is one of the many variations on ceviche you can find in Chile; after all, they farm salmon there.
Chile, like its neighbor Peru, is one of the many places that claim ownership of ceviche, and without a doubt the dish is varied and excellent there. And while ceviche varies from cook to cook, and region to region, ceviche Chileno tends to be cut small, almost like a tartare.
To be sure, this is a salmon ceviche recipe inspired by Chilean ceviches that I designed after reading a few dozen recipes from Chile in English and in Spanish. It tastes amazing, and is very different from my recipe for Mexican tostadas de ceviche, as well as my recipe for a simple, basic ceviche.
That last recipe is important, as it also includes a discussion on food safety, which you have to care about if you want to safely eat salmon ceviche. Why? Raw, never frozen salmon — at least wild salmon — can carry anisakis worm larvae, which will make you sick. It is very rare, but it's not impossible. If you don't feel like reading the whole discussion, the short version is that you need to freeze salmon for a week or more at -4°F or colder before eating it raw.
I always use wild salmon for my ceviche, not only because, well, this is a wild foods website, but also because I catch a lot of king salmon here in California — and I occasionally fish all species of Pacific salmon commercially up in Alaska.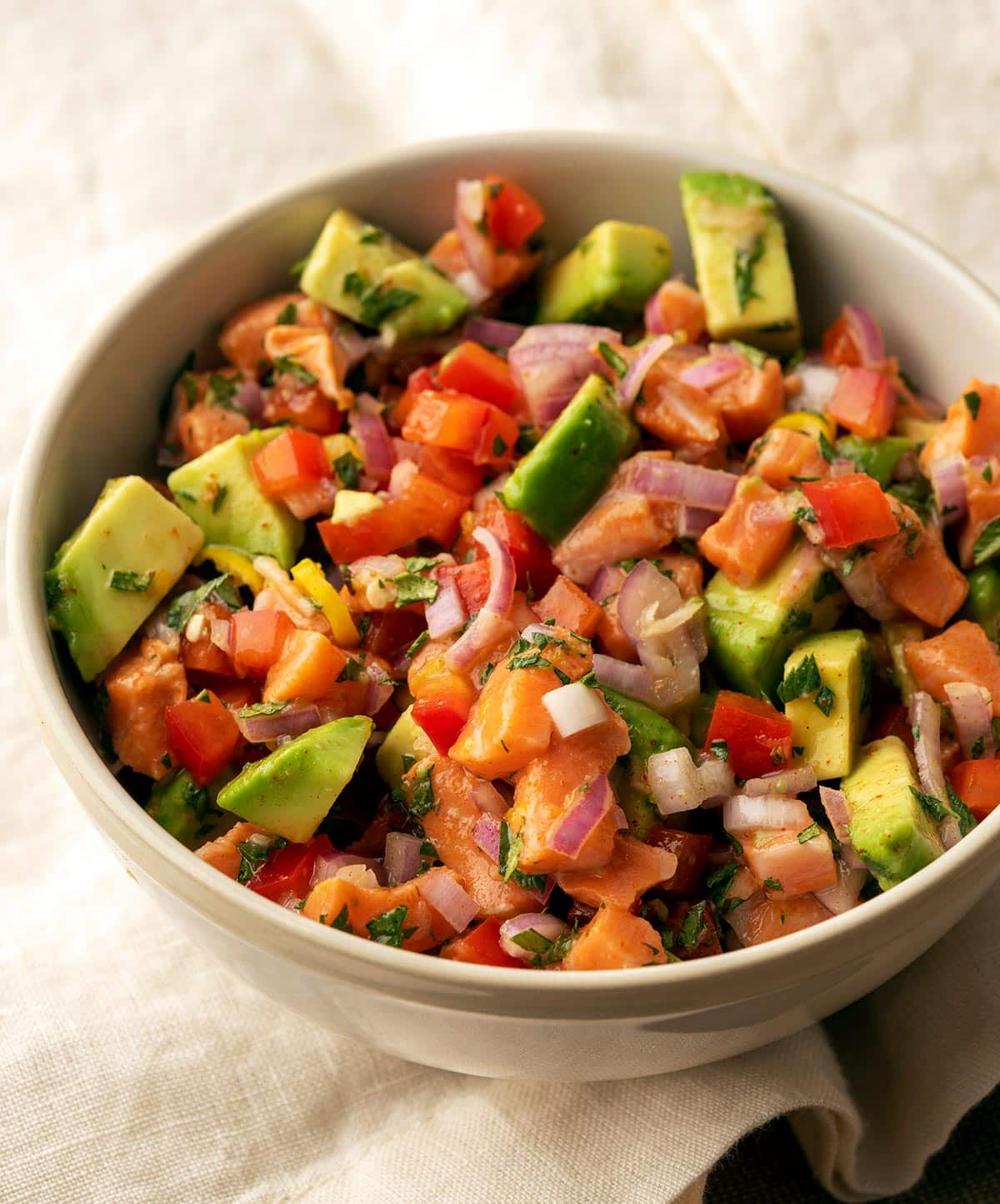 There are a few decent salmon farms on this planet, but you will have to do your research. Most farmed salmon is pretty horrendous for the environment. And if you don't have access to good salmon, most other fish will do, so long as they are pre-frozen first for safety.
Back to the ceviche.
What makes this ceviche different from many others is the presence of spices. In Chile, there is a spice mix called merken that is a mixture of smoked peppers, coriander and salt, sometimes with cumin, too. I added those elements to this ceviche.
I also used huacatay instead of cilantro here because it is a common herb used in that part of the world, and, well, I happen to be growing it. Just use cilantro if you don't happen to have this odd herb lying around.
The result is smoky, bright, crunchy and silky. Definitely worth your time.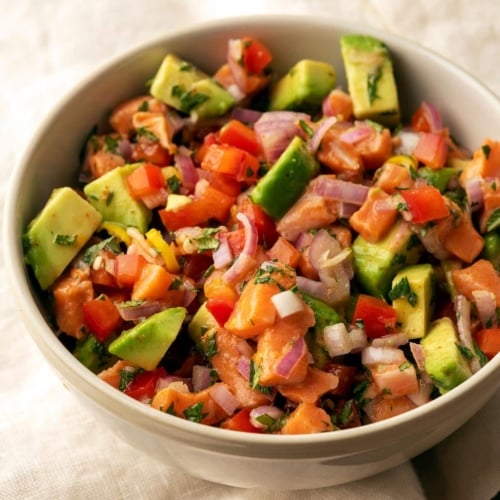 Salmon Ceviche
This recipe is inspired by the way they make ceviche in Chile: often small pieces, and with the presence of spices. Salmon is farmed in Chile, and there are salmon ceviches there.
Ingredients
1

red onion, minced

1

Lemon, juiced

1/2

cup

lime juice

1

grapefruit, juiced

1

pound

salmon, diced small

1

clove

garlic, minced

1

sweet bell pepper, diced

1

avocado, diced

1/4

teaspoon

ground cumin

1/4

teaspoon

ground coriander

1/2

teaspoon

smoked paprika

(use regular paprika if you can't find smoked)

1/2

cup

chopped cilantro or huacatay

Salt to taste
Instructions
Mix all the citrus juice in a bowl and add the minced onion. Let this sit while you chop all the other ingredients.

Add each ingredient to the bowl when you finish chopping it, leaving the cilantro for last. Mix well, and either eat right away, or refrigerate for up to 30 minutes before serving.
Notes
NOTE: I like to zest each citrus fruit with a microplane grater and add that to the ceviche as well. You can also drizzle a little olive oil over the ceviche when you serve it if you want. 
Nutrition
Calories:
307
kcal
|
Carbohydrates:
21
g
|
Protein:
25
g
|
Fat:
15
g
|
Saturated Fat:
2
g
|
Cholesterol:
62
mg
|
Sodium:
58
mg
|
Potassium:
1072
mg
|
Fiber:
6
g
|
Sugar:
8
g
|
Vitamin A:
2059
IU
|
Vitamin C:
89
mg
|
Calcium:
51
mg
|
Iron:
2
mg
Nutrition information is automatically calculated, so should only be used as an approximation.