Squid Ceviche
June 09, 2017 | Updated June 12, 2020
As an Amazon Associate I earn from qualifying purchases.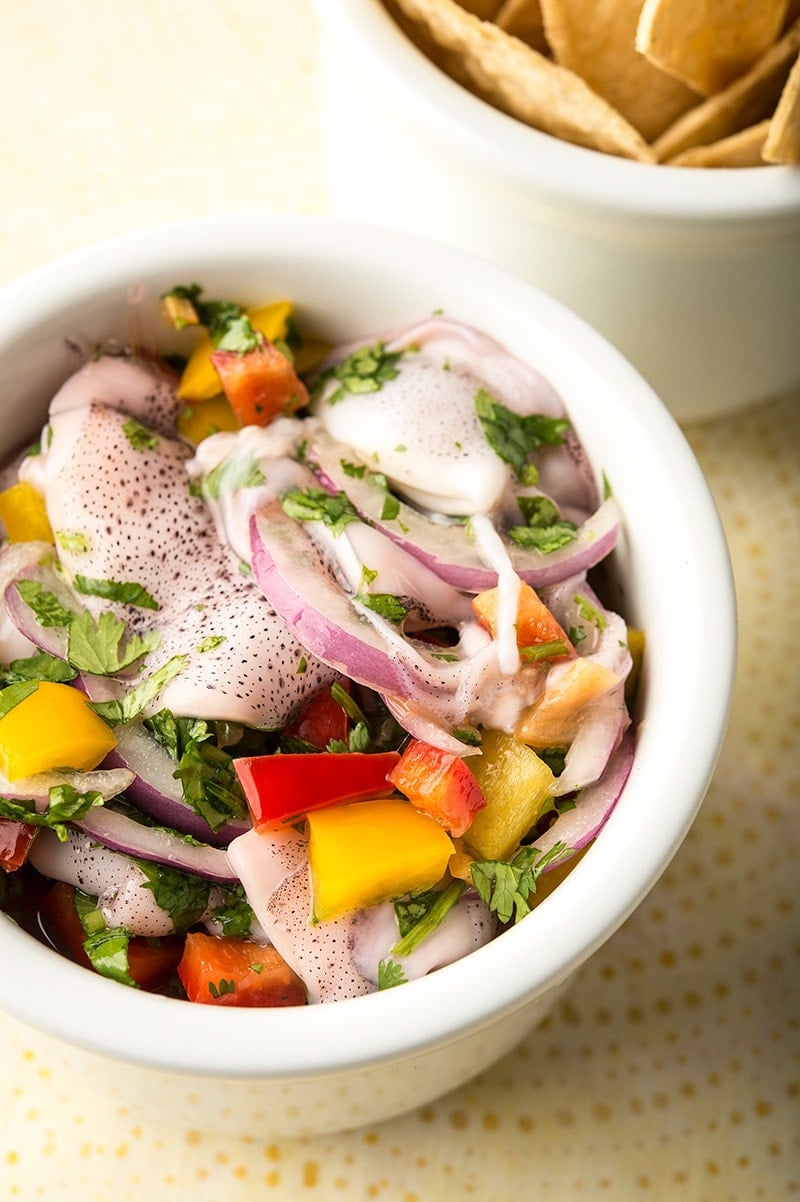 This is the first squid recipe on this website, not because I don't like calamari, but because I'd not caught them myself until now.
How did I catch my little squiddies? Not with a jig on a dock in the Pacific Northwest — I still need to do that someday — but in a recreational shrimp net in Mobile Bay, Alabama.
I had no idea you could still do this, but my friend Joe Baya from the magazine Great Days Outdoors showed me around his turf recently, and one of the things he was most eager to show me was recreational shrimpin'; even though I don't normally drop my "g's" on gerunds, I can't bring myself to say "shrimpin-g." Just seems wrong somehow.
Look for a full account of our trip soon, but suffice to say that among the many shrimp we caught, there were quite a few little squid. I am not totally sure of the species, but if I had to guess it would be Lolliguncula brevis, the brief squid. Anyway, this is what they look like: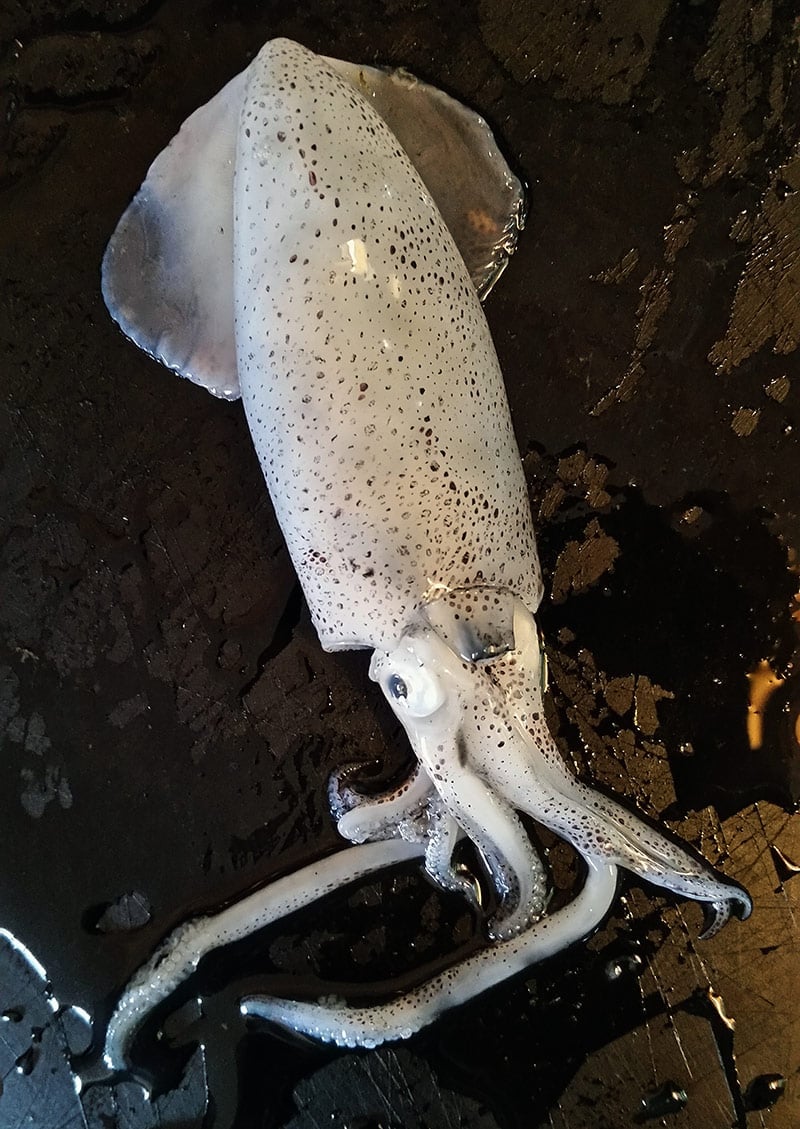 I wasn't initially sure how I'd cook them, as there are so many ways. But I took them back to California with me, and since it's been hot here, I chose ceviche. Yep. Squid ceviche, or as it's called in Mexico, ceviche de calamar. Far more popular there than here, it's raw squid "cooked" by citrus juice. (For discussions of ceviche safety, read this article)
You can find frozen squid in most supermarkets, and if you have an exceptional fish market near you, you can sometimes find them fresh. If they are fresh (or, likely, thawed) look at the eyes: They need to look clean and clear, not like they have cataracts; this is a sign of age. The calamari should be wet and happy looking, not dried out. And there should be just an oceanic aroma, not a bait stink.
As for the ceviche itself, you'll need lots of citrus. Lime juice is traditional, but I like a mix. Some fresh hot chiles is a good idea, and red onion is essential. Cilantro goes in when you serve.
Calamari as ceviche is fun and different. Slightly slippery, a bit crunchy almost. It really goes well with diced sweet peppers, which is an ingredient I don't normally put in my ceviche. Served on crackers or tortilla chips, it's a great summer appetizer or light supper.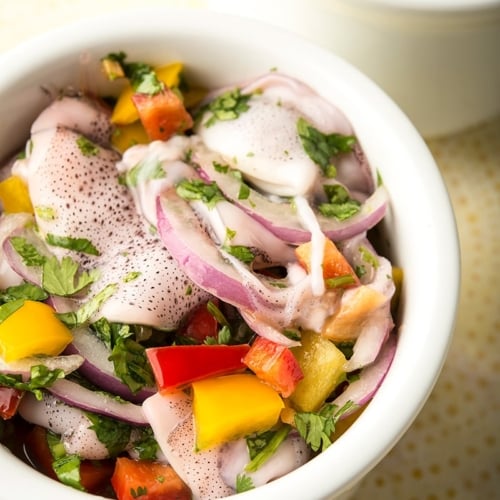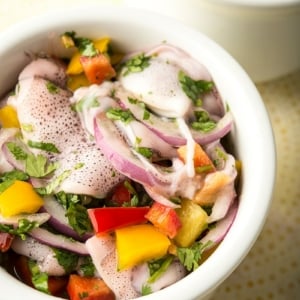 Ceviche de Calamar, Squid Ceviche
Any kind of squid you can find will work here, and of course you can substitute many kinds of fish, too. Just be sure to flash freeze your fish first, as some species can carry parasites that can make you sick if you eat them raw.
Ingredients
1

pound

squid,

cleaned and diced

5

limes,

zested and juiced

1

grapefruit,

juiced

1

orange,

juiced

2

lemons,

juiced

1

small red onion,

sliced thin

2

sweet red peppers,

diced

1 or 2

hot chiles, such as habanero or serrano,

minced

1/4

cup

chopped cilantro
Instructions
Mix all the ingredients together except the cilantro and refrigerate at least 1 hour, and up to overnight. When you're ready to serve, mix in the cilantro and serve cold with tortilla chips.
Nutrition
Calories:
220
kcal
|
Carbohydrates:
35
g
|
Protein:
21
g
|
Fat:
2
g
|
Saturated Fat:
1
g
|
Cholesterol:
264
mg
|
Sodium:
57
mg
|
Potassium:
774
mg
|
Fiber:
7
g
|
Sugar:
14
g
|
Vitamin A:
2891
IU
|
Vitamin C:
185
mg
|
Calcium:
116
mg
|
Iron:
2
mg
Nutrition information is automatically calculated, so should only be used as an approximation.