Mexican Aguachile
June 17, 2019 | Updated March 22, 2021
As an Amazon Associate I earn from qualifying purchases.
Aguachile, meaning "chile water," is basically Mexican sashimi. Commonly done with shrimp, this aguachile recipe is basically a cousin of ceviche.
What makes an aguachile recipe different from ceviche? It is very much like ceviche in that it is raw fish or seafood marinated in citrus and chile, but unlike ceviche, aguachile is only doused with the zippy marinate a few minutes before serving, so it is quite raw.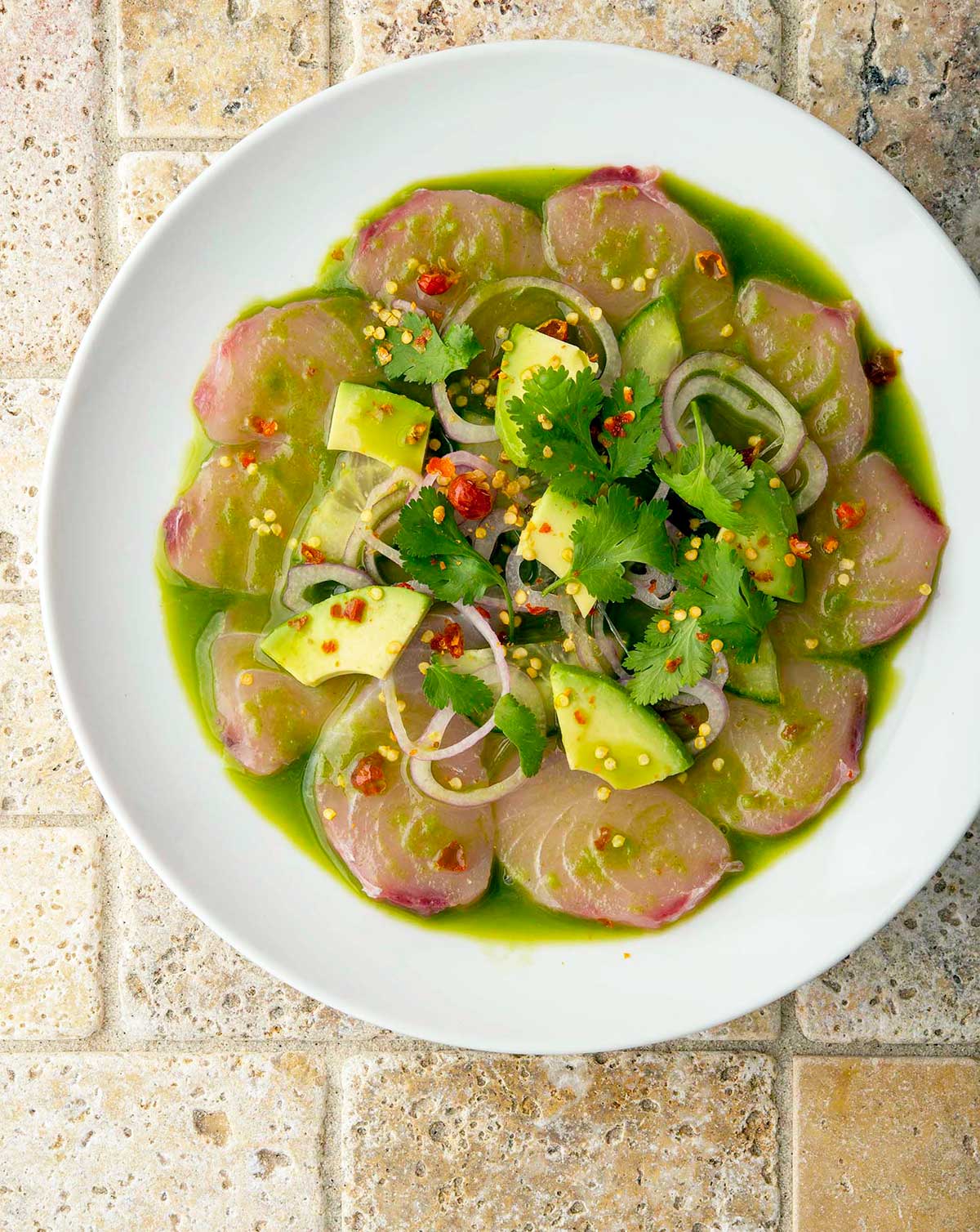 Most often you will see it with raw shrimp, but I prefer it with the sorts of fish you see at a sushi bar, ideally tuna or yellowtail, which is what you see in the pictures. Yellowtail is also known as hamachi, and it may just be my favorite fish. I caught this one down in SoCal aboard the Pacific Mistress recently.
Aguachile as we know it is not an old dish, and most sources think it only took its current form in Sinaloa during the late 1970s. Most people north of the border know only that Sinaloa is home to the infamous drug lord El Chapo, but it is a beautiful state in northwest Mexico — one with a lot of shoreline.
West Coasters may know of the Sinaloan city of Mazatlan, which has been a prime destination for spring break for decades. It is likely there that the current incarnation of aguachile came about.
Before that, no aguachile recipe had fish or seafood. It was a humble dish of wild chiltepin chiles, raw onions and fresh cheese. Eater wrote a fantastic article about this here.
My aguachile recipe is close to what you would see in Sinaloa, although again, most cocineros there use shrimp. Mine has hot green chiles, cilantro stems and cucumber buzzed with lime juice, very thinly sliced red onions or red shallots, fresh cilantro, avocado and, most importantly, crushed wild chiltepin chiles. You will also often see cucumbers as a garnish.
Chefs have taken the concept and run with it, making aguachile in a variety of colors other than the traditional green.
What fish to use? Well, my advice is to buy anything sold for sushi or sashimi, including shrimp. You should know that eating fresh, raw shrimp is actually pretty risky, which is one reason I went with yellowtail here. Any number of studies have shown that a significant percentage of raw shrimp have harmful bacterial or parasites that are invisible to the naked eye.
Freezing beforehand solves this problem with shrimp, as well as many other fish.
If you are catching your own fish, stick to tuna and its cousins, or freeze your fish for a week or two first, to kill any potential wee nasties. I wrote an article on making ceviche safely here that you might want to look at.
Follow the basic structure of this aguachile recipe, and then have fun playing with it!
Interested in exploring a similar dish from Italy? Consider tuna crudo.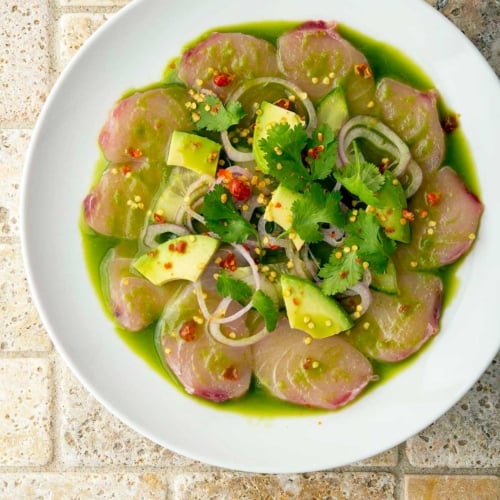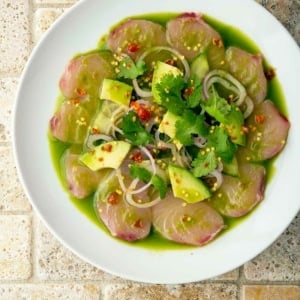 Mexican Aguachile
Aguachile is a cousin of ceviche, and I am using yellowtail here. You can use any fish or seafood that is safe to eat raw. Serve this cold as an appetizer or light supper. It's very good on tostadas.
Ingredients
Marinade
1

celery stalk, chopped roughly

1/2

cucumber, seeded but not peeled

2

serrano or jalapeno chiles, sliced

1/2

cup

cilantro

(stems are fine)

1/2

cup

lime juice

1/4

cup

water
Aguachile
1

pound

skinless yellowtail fillet, or other piece of fish you can slice thinly

1

avocado, sliced thin

2

large shallots or 1 small red onion, sliced thin

Chopped cilantro, for garnish

Crushed, dried chiltepin chiles, for garnish
Instructions
Put the marinade ingredients in a blender and puree. Set a fine strainer over a bowl and pour the contents of the blender into it. Let this drain 20 minutes. Do not push anything through, as you want this liquid to be clear. Salt it to taste.

Once you've sliced the shallot or red onion, douse it with some lime juice to take away its raw sharpness.

Slice your yellowtail or other fish into pieces about 1/4 to 1/8 inch thick. Not super thin, but fairly thin.

Pour some marinade on a plate or shallow bowl, arrange the fish on top and garnish with the sliced avocado, cilantro, shallot and chiles.
Notes
NOTE: If you can't find dried chiltepin chiles, use any hot dried chile you can crumble up. Or skip it. 
Nutrition
Calories:
267
kcal
|
Carbohydrates:
11
g
|
Protein:
28
g
|
Fat:
13
g
|
Saturated Fat:
3
g
|
Cholesterol:
43
mg
|
Sodium:
53
mg
|
Potassium:
681
mg
|
Fiber:
4
g
|
Sugar:
3
g
|
Vitamin A:
2766
IU
|
Vitamin C:
18
mg
|
Calcium:
30
mg
|
Iron:
2
mg
Nutrition information is automatically calculated, so should only be used as an approximation.