Tostadas de ceviche, is, in a lot of ways, just a wordy way to say ceviche, since ceviche is so often served on the crunchy corn tortillas.
Ceviche, as you probably know, is a dish of fish or seafood "cooked" in citrus and, at least in Mexico, served with a lot of the same elements of your standard pico de gallo salsa. Avocado often makes an appearance, as does hot sauce.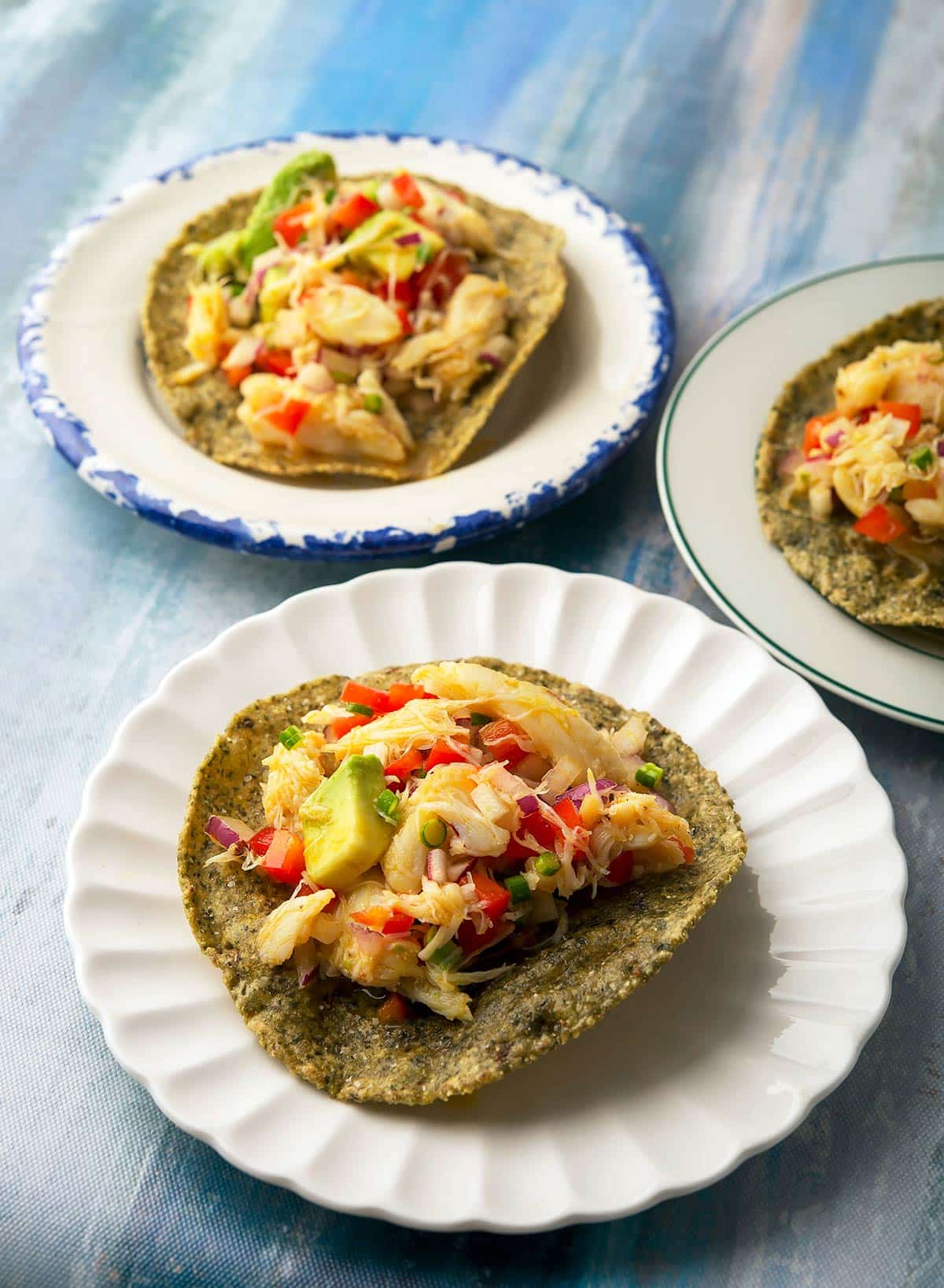 Tostadas are one of the many wonderful things you can make with stale tortillas, store-bought or homemade; here's how to make corn tortillas at home, if you are interested. Basically you fry or bake tortillas until they are crispy, then top them with whatever.
There are a few things to know about making a good tostada. And if you've ever eaten a bad tostada — one bite and it shatters, dumping all your toppings into your lap — you know what I mean by a bad tostada.
The best tostadas de ceviche are made from tortillas that were a bit more coarsely ground than normal. My homemade ones are amazing for this: I am taking the disadvantage of not being able to grind my masa dough as fine as store-bought, and making it an advantage with tostadas. If you are buying tortillas, look for "stone ground" ones, or any that look a bit thicker and coarser than usual.
Unless you have a known and trusted brand of pre-made tostadas, I do not recommend buying pre-fried ones because they almost always seem to shatter on me. Something about frying your own seems to help them hold together better.
As for the toppings, I am going with a crab ceviche here. Why? Well, tostadas de jaiba is a common sight in coastal Mexico, and I just love eating crab whenever I get the chance. There is no reason not to substitute shrimp, crawfish, any firm, white fish or even lobster or octopus. Hell, I even make a squid ceviche.
And while it is not traditional in Mexico, salmon ceviche is a really good topping. If you are using raw fish, you will want to read my article on how to make ceviche safely.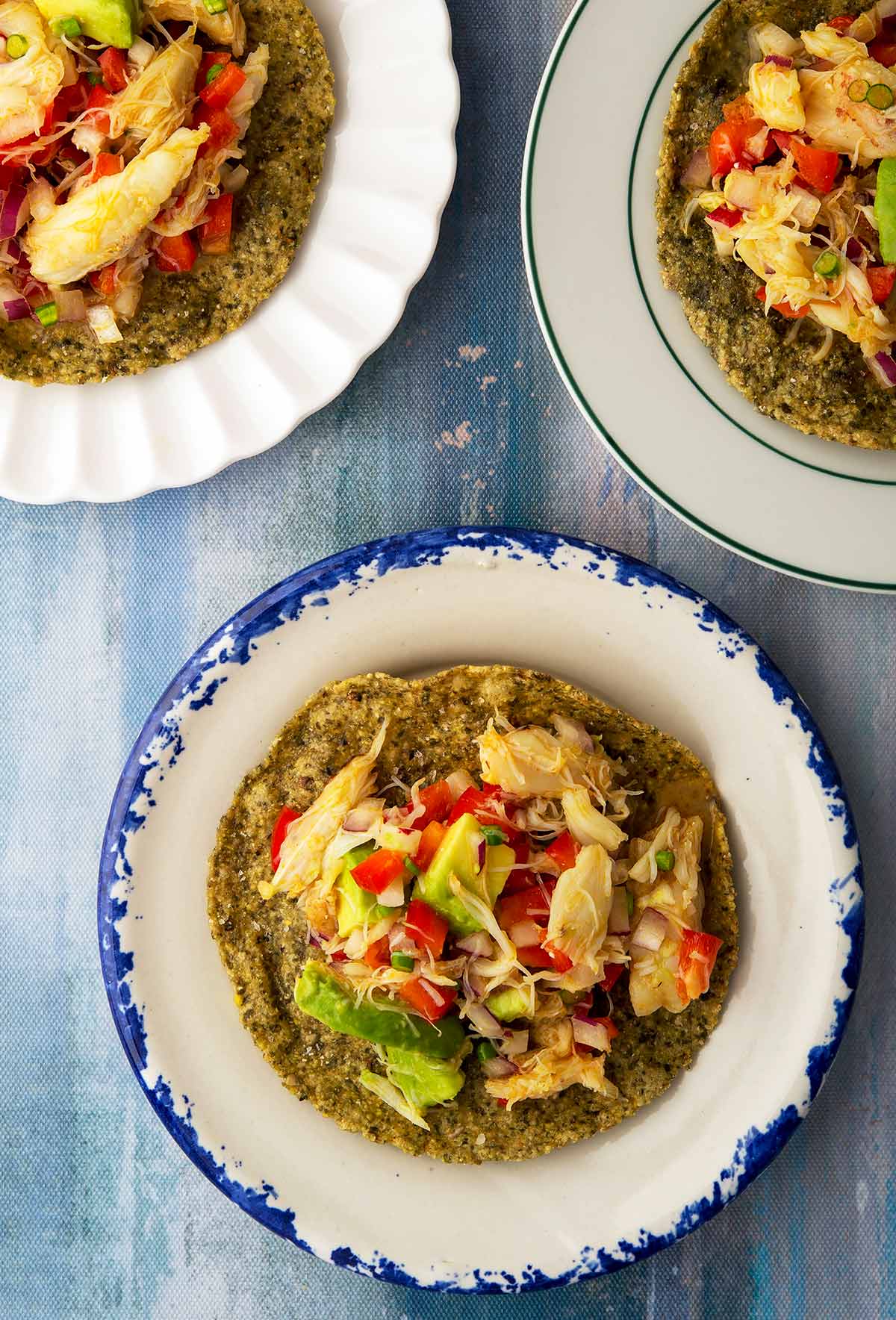 Keep in mind that when you make crab ceviche, you are making it with pre-cooked crab, so it doesn't need to marinate in the citrus all that long.
One important thing when you are serving your tostadas de ceviche: Drain the ceviche! Put it on the tostada with a slotted spoon or somesuch, after allowing most of the citrus to drain out. Fail to do this and you get soggy tostadas. Nada bueno.
Crab Ceviche Tostadas
You can substitute all sorts of things if you don't have cooked crab on hand. In order of preference, I'd choose crawfish, lobster, shrimp, octopus or regular fish. This is best eaten soon after it's made, although it will keep a day or so in the fridge.
Ingredients
12 to 16

ounces

cooked, cleaned crabmeat

1/3

cup

lime juice, fresh squeezed if possible

1/2

red onion, minced

1

large radish, minced

1

red bell pepper, minced

4

garlic scapes, or 3 garlic cloves, minced

1

avocado, diced

2

tablespoons

olive oil,

use the good stuff

Salt and black pepper

6 to 10

tostadas
Instructions
Gently mix the crab with the lime juice. Mince the onion first and fold that in before you chop the other vegetables; this helps take the sting out of the raw onion.

Fold in the remaining ingredients and serve on the tostadas. It is important to not let them sit around, or the tostadas will get soggy.
Notes
NOTE:
If you are making your own tostadas, fry them in 350°F oil until they mostly stop bubbling, about 2 minutes. Drain on paper towels and salt lightly when they come out. Keep them on a wire rack in the oven set to "warm."
Keys to Success
Ceviche as a sweet spot in terms of marinating time. For most of us, that's 30 minutes. Shorter, and you have a different dish, Mexican aguachile. Longer, and you've basically pickled your seafood. It'll still be OK after a long marination, but it will adversely affect the other ingredients. 
Definitely make your own tostadas if you can -- they will be a lot sturdier. I find store bought tostadas to shatter on the first bite.
I prefer blue crab or Dungeness for this recipe, but really any crab will do. 
Nutrition
Calories:
235
kcal
|
Carbohydrates:
17
g
|
Protein:
12
g
|
Fat:
14
g
|
Saturated Fat:
3
g
|
Cholesterol:
24
mg
|
Sodium:
587
mg
|
Potassium:
388
mg
|
Fiber:
4
g
|
Sugar:
2
g
|
Vitamin A:
684
IU
|
Vitamin C:
38
mg
|
Calcium:
47
mg
|
Iron:
1
mg