As an Amazon Associate I earn from qualifying purchases.
Brisket tacos are a Texas tradition that extends into Northern Mexico. Chopped, smoked brisket, served on a flour tortilla with all the fixins. What's not to love? Beef or bison brisket work well here.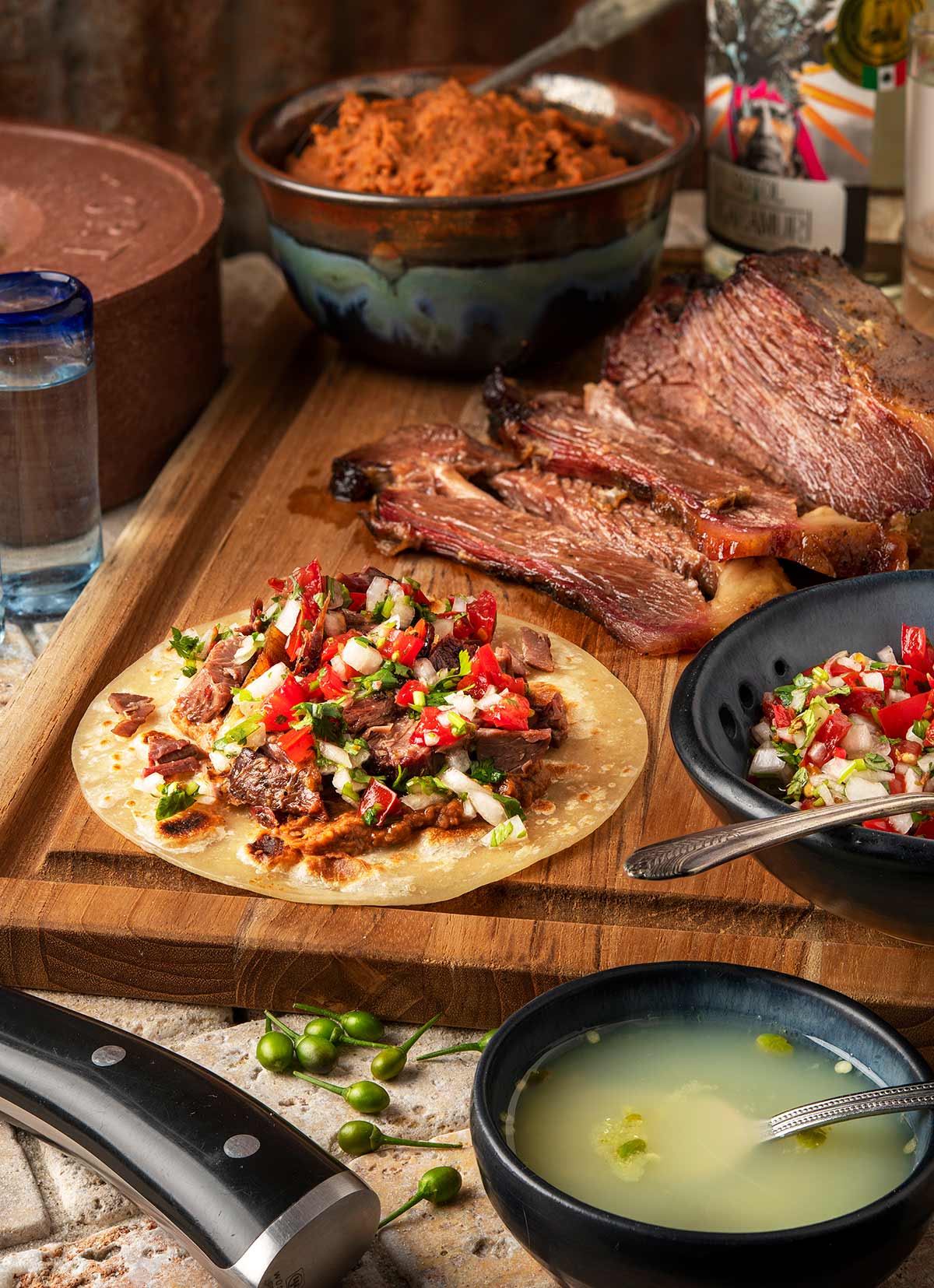 While you absolutely can smoke a brisket just for this recipe, mostly you will be eating brisket tacos either after you've sliced some primo parts off for barbecue, or the next day.
So yeah, this recipe starts with a finished, smoked brisket. Here's how to smoke a brisket, if you need a refresher.
Me being me, I use bison brisket. Obviously beef will be more common, however, and will render out a lot more fat. You'll use that smoky fat to sear your brisket, so you have some tender and some crispy bits.
My brisket tacos recipe is strongly influenced by the flavors of north central Mexico, namely the states of Nuevo Leon, Coahuila and Chihuahua. Brisket tacos exist there, and, like in Texas, you'll see them in lots of configurations.
So for me, a brisket taco should be on a flour tortilla, the same way a carne asada taco should be. Flour is the tortilla of Mexico's north, and is almost always paired with beef.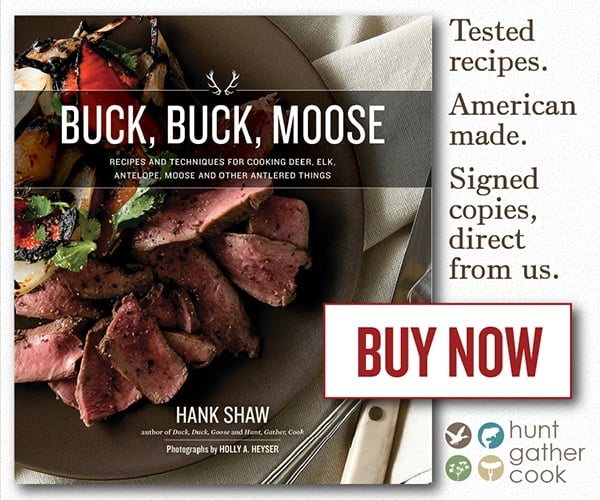 Brisket Taco Tips
The taco should have some backbone. What I mean by that is there should be something underneath the meat. You generally have three main options:
Guacamole. The thick, chunky stuff in this case.
Refried beans. For this taco, you'll want to use pinto, bayo or tepary beans. And if you're not frightened by it, cook those refried beans in beef lard.
Melted, grilled cheese. You see this in northern-style tacos a lot. You lay some shredded cheese on the comal or griddle, let it start to melt, lay the tortilla on it, press it down, then sweep the whole shebang off with a steel spatula (or your fingers) when the cheese has caramelized.
This last trick I learned from my friend Patricio Wise of Nixtaco, a restaurant near where I live in NorCal. Patricio is from Nuevo Leon, where this is a common practice with tacos. It works very, very well with brisket tacos.
The reason for all this is because you don't want the brisket to move around in the taco when you eat it. No one likes having meat slip out the back of the tortilla when eating!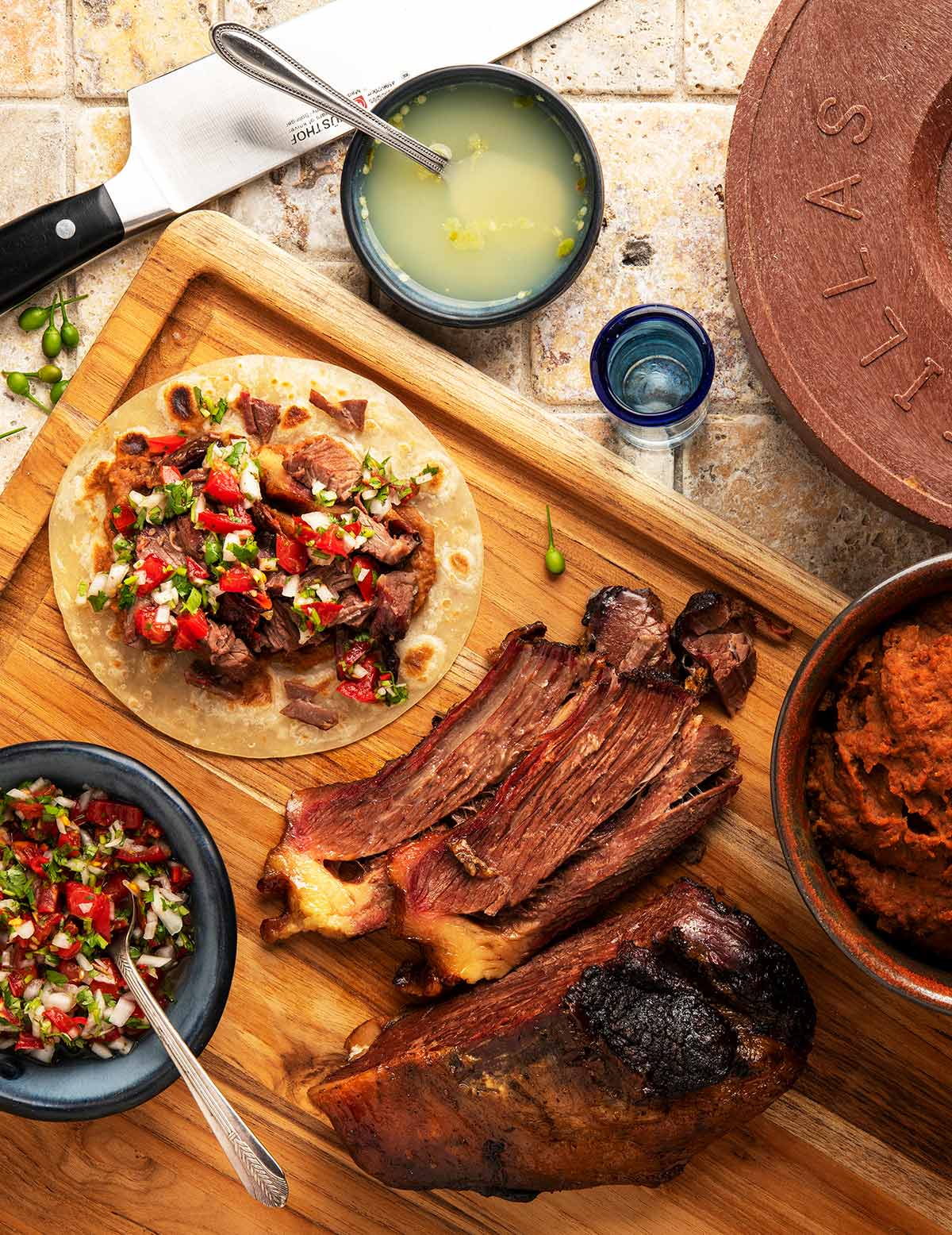 Reheating the Brisket
Like I mentioned, you start making brisket tacos with already smoked brisket. Could you use leftover brisket pot roast? While I've never done it, I don't see why not.
Either way, you want to get a little crisp on the brisket. I do that by trimming excess fat off the brisket and rendering it for the tallow — save the crispy bits for the brisket tacos! (You're welcome.) Then I cut thick slices of brisket and crisp them in the tallow.
Chop and serve in a tortilla.
Salsas for Brisket Tacos
Brisket tacos are rich, especially if you are backing them up with the guacamole, refried beans and/or grilled cheese on the tortilla.
So that means your salsa should be sharp and, if you can stand it, spicy.
The number one best salsa for brisket tacos is a traditional one in Nuevo Leon. It's simple: Grind green chile pequins in a molcajete or mortar with a little salt, then add lime juice and a splash of water. That's it.
This is an acidic, picante salsa that really balances all that richness. If you can't find the little hot pequins or green chiltepins, find the smallest, hottest green chile you can and use that.
You other option — and I use both on brisket tacos — is good ole' pico de gallo. The standard "a la bandera" salsa of cilantro, white onion, tomato, jalapeno or serrano, and lime juice is excellent here.
Bottom line: Make brisket tacos however you want. This is just a guide. If you prefer corn tortillas, go for it. You want lots of yellow cheese and sour cream? That's OK, too, especially here because this is largely a Texas taco. You do you.
If you liked this recipe, please leave a ⭐️⭐️⭐️⭐️⭐️ rating and a comment below; I'd love to hear how everything went. If you're on Instagram, share a picture and tag me at huntgathercook.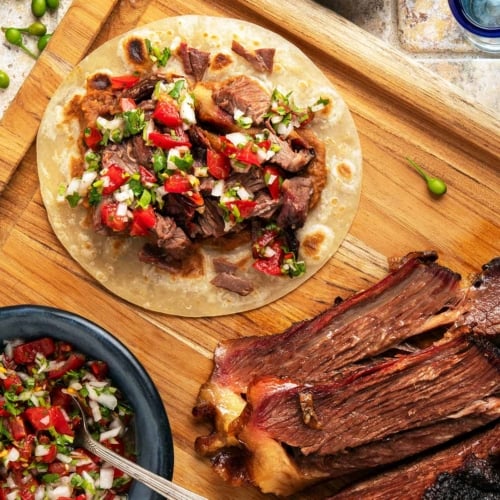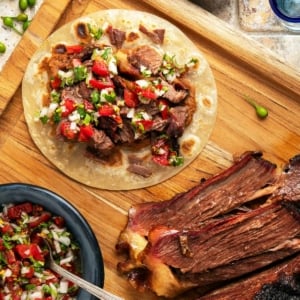 Ingredients
2

pounds

smoked brisket

3

tablespoons

beef fat, lard or oil

1/2

pound

shredded cheese

(Oaxaca, jack, asadero, Chihuahua, "Mexican blend")

16

flour tortillas

1

batch

guacamole

(see below)

1/3

cup

minced cilantro
PEQUIN SALSA
Salt

3 to 10

chile pequins,

or other small, hot, green chile

Juice of a lime

Water
Instructions
Slice the brisket thick, like 1/2 inch. Heat the beef fat or other cooking fat in a large pan, like a cast iron pan, and get it hot. Sear the slices of brisket on one side to crisp it up. Chop it all small enough to be a nice taco meat and keep it warm.

Heat a comal or griddle over medium-high heat. When it's hot, lay down some shredded cheese in a pile, somewhere around 2 or 3 tablespoons, depending on the size of your tortillas. When it starts to melt, set the tortilla over it and press down. Keep pressing down until you see the cheese reach the edges of the tortilla, or when cheese grease seeps out the sides. Let this cook for a minute or two, then, either using your hands or a metal spatula, remove the tortilla with the grilled cheese attached. This takes a little practice to perfect.

Now spread some guacamole over the cheese, then top with the brisket. Add the salsa of your choice and some cilantro and you're ready to rock!
PEQUIN SALSA
To make this, you grind the chiles and salt in a mortar or molcajete into a paste, then stir in the lime juice. If it's way too sharp and spicy for you (it's supposed to be both), add a splash of water.
Nutrition
Calories:
491
kcal
|
Carbohydrates:
30
g
|
Protein:
35
g
|
Fat:
25
g
|
Saturated Fat:
9
g
|
Polyunsaturated Fat:
3
g
|
Monounsaturated Fat:
10
g
|
Trans Fat:
0.02
g
|
Cholesterol:
93
mg
|
Sodium:
709
mg
|
Potassium:
475
mg
|
Fiber:
2
g
|
Sugar:
3
g
|
Vitamin A:
205
IU
|
Vitamin C:
3
mg
|
Calcium:
237
mg
|
Iron:
4
mg
Nutrition information is automatically calculated, so should only be used as an approximation.