Italian Wild Boar Liver Sausages
August 27, 2008 | Updated October 29, 2020
As an Amazon Associate I earn from qualifying purchases.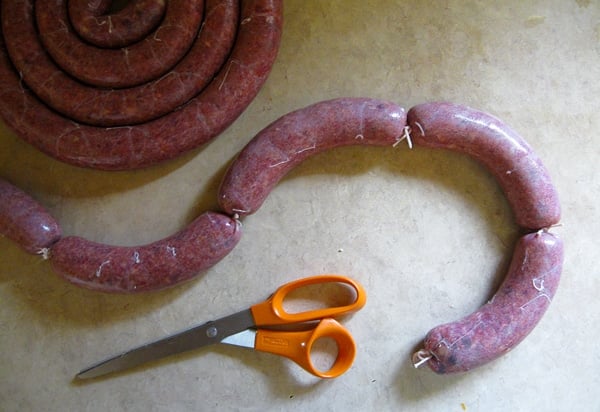 This is what I do with the livers of the deer and wild pigs I shoot. Mazzafegati is a soft, sweetish liver sausage from Umbria, in central Italy. Think of it as a mild-tasting version of Mexican chorizo.
I first made a version of this in 2006 when I shot my first wild boar, and it was good, but not great. So I researched the sausage a bit more and found that a) it was supposed to be soft; and b) it cries out for wood smoke.
If you've ever worked with liver before, you may have noticed that the organ is very, very moist. Wet, even. And while moisture is critical in sausage-making, too much will ruin a batch. One way to deal with the extra moisture is to whip a sausage into an emulsion, like a hot dog. Another is to just go with it, which is what I did.
One of my great epiphanies as a cook over the years has been to bend to the will of the food.
Cooks — chefs, mostly — who expend great effort and time to make food submit to their will are the same sort of people who think you can force right angles on Nature. You can, for a time, and the results can look pretty. But Nature always wins in the end, so I find it a more natural thing to work with Nature, not against her. The food knows what it wants to be; it's your job to bring out what lies within.
Flavorwise, they are rich. I used a fair bit of pork fat to cut the lean wild boar meat and the liver, then I added pine nuts to the mix, which made them even richer. But the black pepper, ground coriander seeds and a lot of orange zest — I actually used the zest from mineola tangerines — cut into that richness.
This liver sausage is wonderful simply skewered and grilled over almond wood, then served as is, or served with sautéed honeyed onions. They would also go well as a bruschetta topping, or crumbled with  mustard greens and pasta.
New to making sausage? You can find my detailed tutorial on how to make sausages at home here.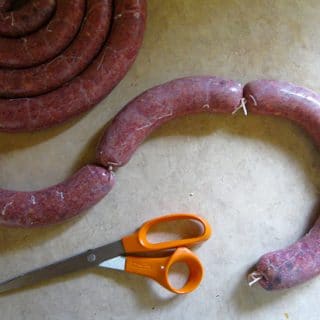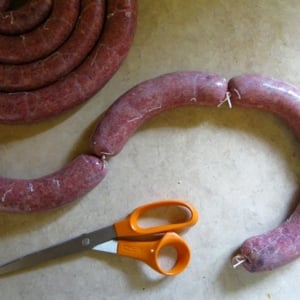 Mazzafegati, Italian Liver Sausage
This is what to do when life gives you livers. Mazzafegati are an unusual fresh sausage from Umbria, in central Italy, and they are delicious roasted over an open fire, especially a wood fire. You can use domestic pork and and pork liver for this, but I use wild boar; it gives the sausages an extra punch. Make sure everything is very cold when you make these sausages — liver is very moist, and will bleed when ground.
Ingredients
1

pound

pork liver,

partially frozen

1

pound

pork fat

3

pounds

pork shoulder

36

grams

kosher salt,

about 3 level tablespoons

55

grams

pine nuts,

about a half cup, toasted

30

grams

sugar,

about 2 level tablespoons

15

grams

ground coriander seed,

about 2 teaspoons

5

garlic cloves,

chopped

5

grams

black pepper,

about 1 tablespoon

Zest from 3 tangerines or oranges

1/2

cup

sweet white wine,

such as Muscat

Hog casings
Instructions
Chill the meat until it is almost frozen by putting it in the freezer for an hour or so. Take out some hog casings and set in a bowl of warm water.

Chop meat and fat into 1 inch chunks. Combine all the spices with the meat (except the wine), mix well with your hands and let it rest in the fridge for about an hour.

Grind through your meat grinder (you can use a food processor in a pinch, but you will not get a fine texture) twice, first using the coarse die, then the fine one. If your room is warm, set the bowl for the ground meat into another bowl of ice to keep it cold.

Add the sweet wine and mix thoroughly either using a Kitchenaid on low for 60-90 seconds or with your (very clean) hands. Mixing is important to get the sausage to bind properly. Once it is mixed well, put it back in the fridge.

Stuff the sausage into the casings all at once. Twist off links by pinching the sausage down and twisting it, first in one direction, and then with the next link, the other direction. (This video shows how I do it.) Or you could tie them off with butcher's string.

Hang the sausages in a cool place for up to a day (the colder it is, the longer you can hang them). If it is warm out — warmer than 70F — hang for one hour. Once they have dried a bit, put in the fridge until needed. They will keep for at least a week in the fridge.

If you are freezing the sausages, wait a day before doing so. This will tighten up the sausages and help them keep their shape in the deep-freeze.
Nutrition
Calories:
330
kcal
|
Carbohydrates:
3
g
|
Protein:
14
g
|
Fat:
28
g
|
Saturated Fat:
10
g
|
Cholesterol:
118
mg
|
Sodium:
750
mg
|
Potassium:
240
mg
|
Fiber:
1
g
|
Sugar:
2
g
|
Vitamin A:
4910
IU
|
Vitamin C:
6
mg
|
Calcium:
16
mg
|
Iron:
6
mg
Nutrition information is automatically calculated, so should only be used as an approximation.