German Braised Duck
January 17, 2019 | Updated August 11, 2022
As an Amazon Associate I earn from qualifying purchases.
Rich, tender braised duck bathed in comforting flavors: sauerkraut, root vegetables, even a little sausage. For duck or goose legs, braising is the way to go. It's an easy weekend supper.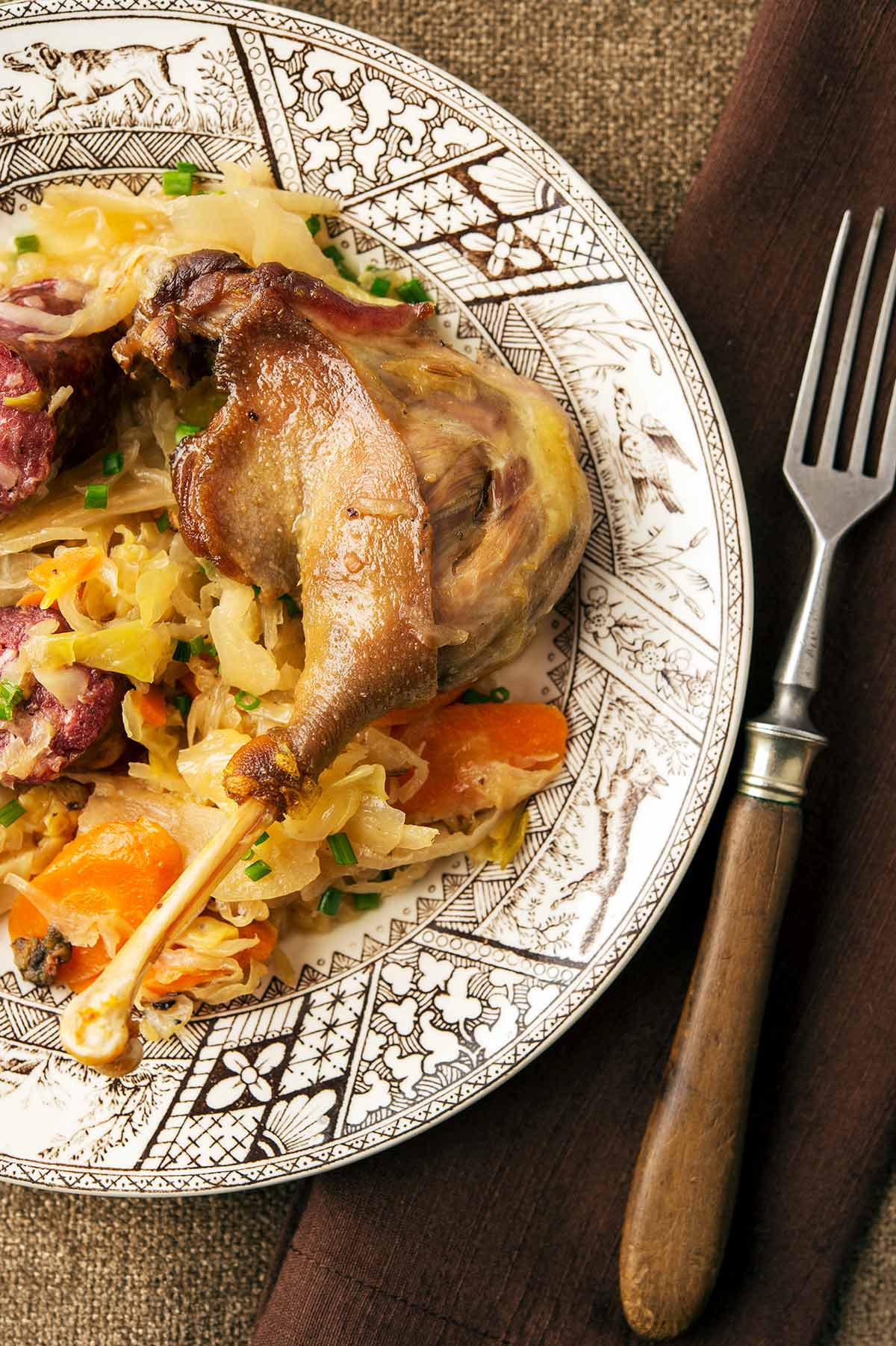 Pretty much every culture that eats duck makes braised duck, and this is a venerable recipe from Germany called braised duck Niederwald. It seems like ages since I first wrote about this recipe, and it has been — at least in blogging time. I first posted a version of this braised duck back in early 2008, and it was so popular it even got written up in Field & Stream. But time marches on, and now I look back at that original recipe and cringe.
This is the upgrade. It is basically the same German braised Duck Niederwald that I first found in the pages of the The Derrydale Game Cookbook (which, incidentally, was designed by my sister!), only streamlined, improved and generally made better than the old version.
At it's core, this is a German pot roast, made with duck or goose legs. It has all the familiar German ingredients: sausage, sauerkraut, cabbage, caraway, onions, juniper.
It is uncomplicated and homey, and it cries out for German bread or potatoes and either a wiezenbock, Maibock or even a hearty doppelbock like Spaten Optimator, which is what I drank when I ate this last version. You could of course drink a nice dry Austrian Riesling, too.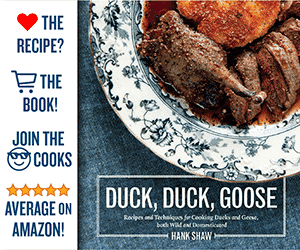 Why Make Braised Duck?
Braising tough parts of any animal is the best way to enjoy them: They remain whole, more or less, but are cooked slow and low in a broth until meltingly tender. The only thing braised duck, or really any braise, asks of you is time. You need a few hours to make this recipe.
Unless you decide to pressure cook the duck legs, in which case you can make this braised duck via Instant Pot in less than an hour. After the sauté steps, put the duck in with everything except the smoked sausage and set it to manual high pressure for 25 to 30 minutes — 30 minutes is best for wild duck. Let it naturally release pressure.
You can also braise duck in a slow cooker. Again, after the sauté steps, put everything in a slow cooker on high for about 6 to 8 hours. This way, you could get your braised duck going before work and it will be ready when you come home. Don't worry if it cooks an extra hour or two; this recipe is forgiving.
Crispy Skin Trick
If you cook this recipe traditionally, in a lidded pot, and keep the browned duck skin up out of the braising liquid, it will stay pretty crispy. But if you want to take things to another level of crispiness, cook this braise in a 300°F oven until the meat is tender, then jack up the heat to 400°F and remove the lid for the last 15 minutes to get the skin extra crispy.
One thing that fascinates me with this recipe is the name: Niederwald. I know it happens to be a small town near Frankfurt in Germany, but beyond that I can find absolutely no reference to this dish other than the one in the Derrydale book. (And it doesn't help that all I can think about when I say the name is Dean Wormer talking about Douglas Niedermeyer in "Animal House"… )
I have some other braised duck recipes, such as braised duck with leeks, and Peruvian ceviche de pato, which is braised legs with a chile and citrus sauce.
German Braised Duck Niederwald
I have done this recipe with all kinds of wild or store-bought ducks and geese, but I prefer it with the legs from specklebelly geese, which is what I used in these pictures. I also prefer to use skin-on legs, because the skin adds a lot of flavor.
Ingredients
2 to 3

pounds

duck or goose legs and/or wings

2

tablespoons

duck fat,

lard or vegetable oil

3

cups

shredded cabbage

1

small onion,

sliced thin from root to tip

3

medium carrots,

sliced thin

1 28

ounce

jar of sauerkraut

1

cup

white wine

(Riesling would be good)

1

cup

chicken,

duck or other stock

2

bay leaves

3 cloves

1

teaspoon

coarsely cracked black pepper

10

juniper berries,

mashed but whole

1

teaspoon

caraway seeds

2

smoked sausages,

such as kielbasa or red bratwurst

Salt

Freshly chopped chives for garnish
Instructions
Heat the duck fat in a large, lidded pot like a Dutch oven set over medium-high heat. Brown the duck or goose legs well, especially on the skin side. Salt the legs as they are cooking. Once each leg browns well, remove it to a plate for now. The whole process may take 10 to 15 minutes.

When the duck has all been browned, add the onion, cabbage and carrot and sauté until the vegetables get just a little browning on the edges, about 3 to 5 minutes. Add the sauerkraut, wine, stock, herbs and spices. (Leave out the sausages for now.)

Nestle the duck or goose legs into the kraut mixture and baste with a little of the liquid. Cover the pot and simmer very gently over low heat until the meat yields easily to the tip of a knife. How long? Anywhere from about 90 minutes for store-bought ducks to 3 1/2 hours for an old goose.

About 15 minutes before you think the goose or duck legs will be done -- you need not be precise, as the legs are pretty forgiving in terms of overcooking them -- slice the sausages and nestle them into the pot, too. Cover and heat through. You don't want to cook the sausages too long or all the fat will drain out and they will be dry and unpleasant.

When you're ready to serve, add salt to taste and sprinkle the chives over the dish. Serve with good rye bread, potatoes in some form (mashed, boiled, roasted, etc) or with dumplings. I particularly like the bread dumplings in my venison roast recipe.
Notes
I always use either homemade sauerkraut or the refrigerated kind; it tastes better than the pressure-canned, shelf stable kraut. Juniper berries are easily available in larger supermarkets, on nearby bushes, or you can buy them online.
For the sausage, I prefer smoked red bratwurst, but kielbasa is another excellent choice. If you don't want a smoked sausage, bockwurst is a good one here. 
Nutrition
Calories:
300
kcal
|
Carbohydrates:
9
g
|
Protein:
20
g
|
Fat:
17
g
|
Saturated Fat:
5
g
|
Cholesterol:
85
mg
|
Sodium:
324
mg
|
Potassium:
296
mg
|
Fiber:
2
g
|
Sugar:
4
g
|
Vitamin A:
5130
IU
|
Vitamin C:
18
mg
|
Calcium:
40
mg
|
Iron:
2
mg
Nutrition information is automatically calculated, so should only be used as an approximation.