Braised Duck Legs with Leeks
December 04, 2011 | Updated August 30, 2022
As an Amazon Associate I earn from qualifying purchases.
Braised duck legs are, arguably, my favorite way to eat duck legs: falling-off-the-bone tender meat with crispy skin. This super easy recipe pairs them with leeks, mushrooms and a little brandy.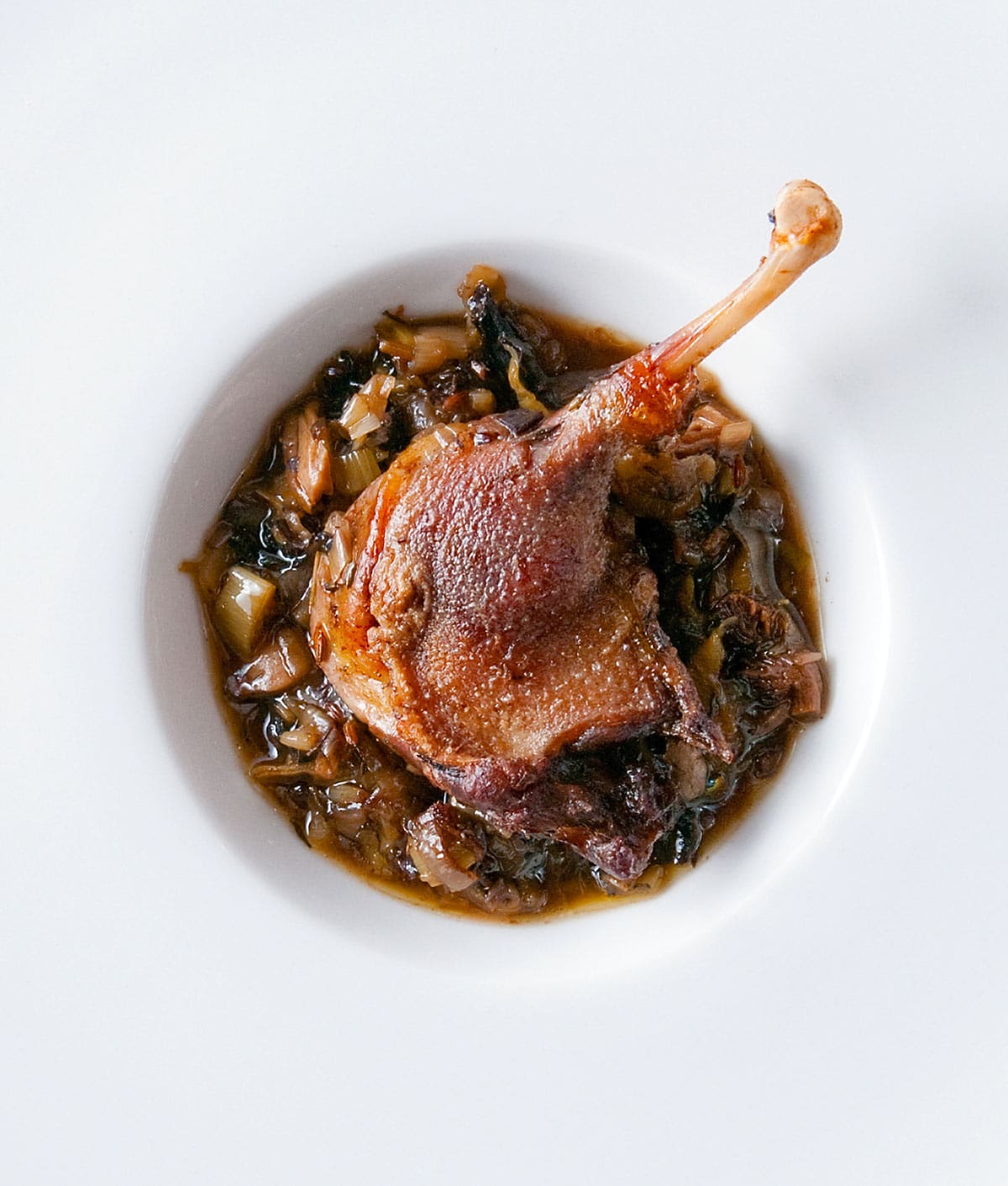 Duck legs, especially wild duck or wild goose legs, can be pretty tough compared to those of a domestic duck or goose. After all, wild birds work for a living. So while I will sometimes roast ducks whole, I will also make a lot of braised duck legs, which gives you much more tender meat.
And if you use the wings of your birds, you absolutely, positively need to braise duck and goose wings, which are always tough even on farmed birds.
No matter if you are a hunter or if you are buying domestic ducks, do yourself a favor and cut up your ducks before you freeze them (click for instructions on how to break down a duck or goose). This way you will have lots of legs and wings to play with without having to defrost lots of birds. You can now buy just duck legs at some supermarkets, too.
And besides, if you have whole birds you are breaking down, you can use the breasts for quick recipes, the legs and wings for recipes like this one, and save the carcasses for duck stock.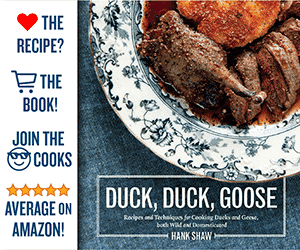 Braised Duck Legs with Leeks
I love leeks. They are something of a pain to grow because they require almost a full year in the ground and need to have dirt hilled up around them so their shanks are long, and white instead of green. But it's worth it.
A leek's flavor is more refined than that of onions, and, sliced into delicate ribbons, offers an entirely different experience than onions or shallots. Use the longest-shanked leeks you can find for this recipe; they need not be overly fat. And yes, in a pinch you can substitute yellow onions.
I developed this recipe for braised duck legs in a kind of Alsatian-French-Belgian-German way, although it would not be out of place in the Alpine regions of Italy or Austria.
Basically you brown the duck or goose legs well in duck fat, then sauté the leeks and some reconstituted dried mushrooms in that fat, then make a nest with the leeks. The legs go on top of the "nest" and you braise everything until the meat wants to fall off the bone.
Done properly, this recipe results in meltingly tender meat with a crispy skin on top. The key here is to never let the braising liquid get higher than the skin on the duck legs. That's why there is no exact amount of stock listed in the recipe; you will need at least 1/2 cup, but possibly a lot more depending on your pot.
Variations
I normally used dried porcini mushrooms for this recipe because I gather them every year. But any dried mushroom will do.
If you want to use fresh mushrooms, use about 1/2 pound of cremini, shiitake, oyster, maitake or a good wild mushroom like porcini, morels or black trumpets. Cook the fresh mushrooms with the leeks.
I prefer French Armagnac here, but any "brown liquor" will do, so if you don't have a brandy handy, use bourbon or whiskey. If you can't do alcohol, add more stock to the pot.
This is something of a master recipe for braised duck legs. I have other recipes using more or less the same technique with different flavors, such as Peruvian ceviche de pato and German braised duck with sauerkraut.
If you liked this recipe, please leave a ⭐️⭐️⭐️⭐️⭐️ rating and a comment below; I'd love to hear how everything went. If you're on Instagram, share a picture and tag me at huntgathercook.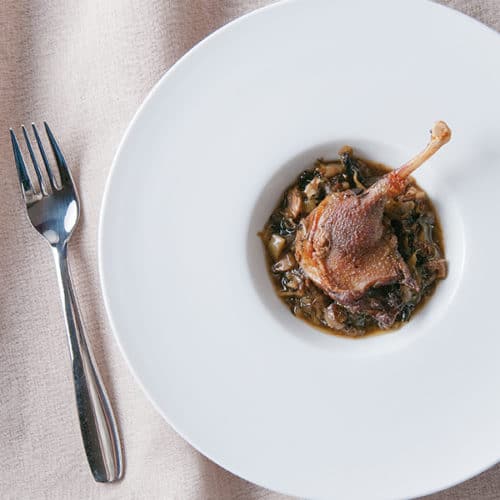 Braised Duck Legs with Leeks
I normally braise wild duck legs, but this will work with store-bought duck legs, too. This dish is best served with something mashed or soft. My favorite is either garlicky mashed potatoes or polenta with a little pecorino grated into it. I like a heavy white wine here, like a buttery Chardonnay.
Ingredients
A small handful of dried mushrooms,

broken into pieces

1

tablespoon

butter

2

pounds

duck or goose legs

Salt

4

leeks,

sliced thinly (use only the shanks - light green is OK, dark green is not)

2

teaspoons

dried thyme

2

teaspoons

caraway seed

2

bay leaves

1-2

shots of Cognac or Armagnac

Duck stock

(use chicken stock if you don't have any)

Some good quality balsamic vinegar,

for garnish
Instructions
Preheat oven to 325F. Get your tap water as hot as it will go and fill a small bowl with the hot water. Add the dried mushrooms, cover the bowl and let soak for 30 minutes. Salt duck legs and let them sit out at room temperature for 15 minutes.

Heat the butter in a Dutch oven, brazier or a deep, oven-proof frying pan with a lid. Brown the duck or goose legs over medium-high heat. Take your time and get a good browning here. Once the legs are done, remove and set aside.

While the duck legs are browning, remove the mushrooms from the soaking water and squeeze them dry. Chop finely. Pour the mushroom water through a paper towel into a bowl -- this filters out any dirt or debris. Save the mushroom water.

Add the sliced leeks to the pan, which should now have lots of duck fat in it. Saute for 2 minutes, stirring often. Add the chopped mushrooms and cook over medium heat until you get a little color; you don't want anything charred. Add the bay leaves, thyme, caraway and a little salt.

Add the brandy. You can flame it if you'd like, or just cook it down by half. Once it is reduced, nestle the duck legs on top of the bed of leeks, skin side up. Pour in the stock (HINT: Heat it first so it does not drop the temperature in the braising pan.) up to the level of the meat, but do not cover the skin sides of the legs. Cover the pan and cook it in the over for at least an hour, or until the meat yields when pierced with a sharp knife. This could take up to 2-3 hours for very old, wild geese.

Once the meat is tender, uncover the pot and cook for another 30 minutes, or until the skin of the ducks is crispy.

To serve, lay down mashed potatoes or polenta fairly flat on the plate, then add the braised leeks in the center. Adorn with two or three duck legs and sprinkle a little balsamic vinegar over it. Serve at once.
Nutrition
Calories:
424
kcal
|
Carbohydrates:
13
g
|
Protein:
43
g
|
Fat:
21
g
|
Saturated Fat:
7
g
|
Cholesterol:
186
mg
|
Sodium:
215
mg
|
Potassium:
174
mg
|
Fiber:
2
g
|
Sugar:
3
g
|
Vitamin A:
1590
IU
|
Vitamin C:
13
mg
|
Calcium:
85
mg
|
Iron:
6
mg
Nutrition information is automatically calculated, so should only be used as an approximation.