As an Amazon Associate I earn from qualifying purchases.
Ceviche de pato is a misleading name for what is really Peruvian braised duck with a zippy, citrusy sauce — not raw duck in lime juice!
It is a fantastic way to eat duck legs (or wings), and the sauce, which hinges on hot (but not too hot) chiles, garlic, cumin and lots of citrus, is such a winner you'll want to make it and serve it on pretty much anything.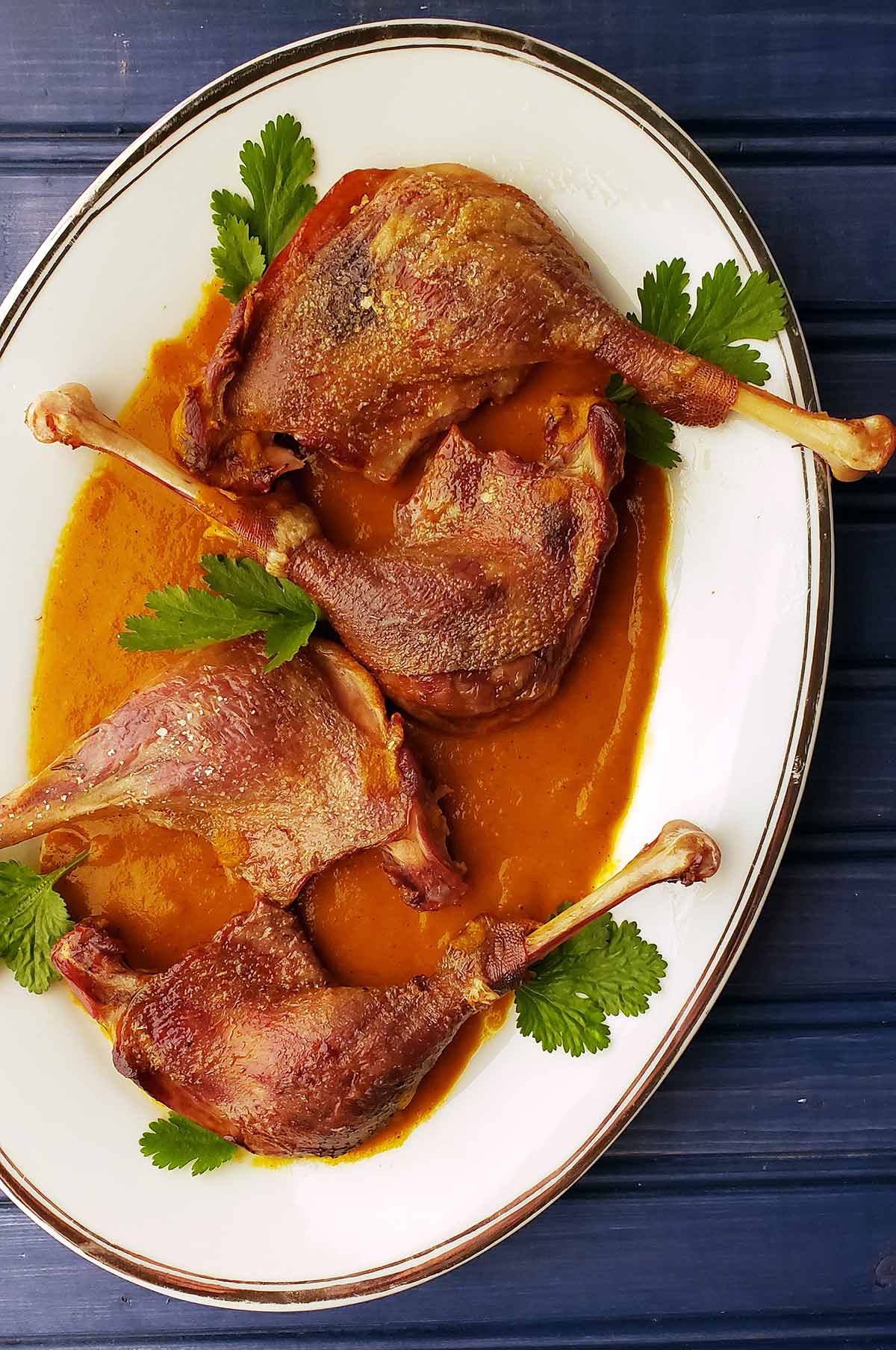 I should state at the outset that my rendition of this homey dish is a little different from the traditional.
Normally, you will see ceviche de pato as a one-pot stew, where a whole duck, cut into pieces, will simmer with the sauce, and often chunks of yuca root, a/k/a manioc, lots of onion, and sometimes carrots.
This is nice, but I really don't like braised duck breast. It gets chalky and livery, at least to me. So I could have simply used a bunch of duck or goose legs and wings and braised the lot. That will work, and it's a great way to go if you have skinless legs lying around your kitchen. (It is also the way I might do this with chicken or pheasant.)
But, if you have skin-on legs — store-bought, or from geese like specklebellies, or fat mallards — it would be a crime to not enjoy that skin crispy, no?
So in this case, I break from tradition and roast the legs in an open pan until they are tender, make the sauce separately, then join them together on the plate. Not traditional, but very, very good.
The sauce is vaguely similar to the marinade in another Peruvian dish I make, anticuchos de corazon, marinated, grilled hearts. If you can find Peruvian chiles, which are increasingly common in Latin markets sold either jarred, in puree, or pickled, by all means use them.
You'll want both aji amarillo, which is a golden orange, as well as aji panca, which is a brick red.
If you can't find these, which is entirely possible, use guajillo or New Mexican or California chiles, which are a bright crimson when rehydrated, and not too spicy. All are easily found either in Latin markets or in larger mainstream supermarkets.
To use them for this recipe, you will want to remove the seeds and stems from 4 or 5 dried chiles. Put them in a bowl and pour boiling water over them. Let them soften about 20 minutes. Add the rehydrated chiles to the sauce as per the instructions below, then puree as normal. The color will be different, but it will get you close.
As for the citrus, my first choice would be Seville orange juice, which is a bitter orange. Hard to find. Easier is a 50-50 mix of lime juice and either orange juice or tangerine juice. If you happen to have some grapefruits, they are nice, too, but not traditional.
You will want to serve your ceviche de pato with either simple steamed rice, or boiled yuca root, which is increasingly available in supermarkets. Potatoes are another good, and very Peruvian, option.
Ceviche de Pato
This is an untraditional take on the Peruvian classic. I do this so you have crispy skin and the sauce is brighter and more flavorful than it would be if it were long simmered. Feel free to sub in chicken legs or pheasant thighs here.
Ingredients
2

pounds

duck or goose legs

Salt

2

cups

duck stock or chicken stock
SAUCE
2

tablespoons

duck fat or olive oil

1

small red onion, chopped

3

cloves

garlic, chopped

1

teaspoon

cumin

1

teaspoon

black pepper

1

teaspoon

oregano

(see below)

1/4

cup

orange juice

1/4

cup

lime juice

1/4

cup

pisco, mezcal or tequila

1/4

cup

duck or chicken stock

2

tablespoons

aji panca paste

(see above)

2

tablespoon

aji amarillo paste

(see above)
Instructions
Preheat the oven to 325°F. Salt the duck well and set them, skin side up, in a casserole or baking dish that just about fits them. Pour in the 2 cups stock only to the point it comes up to the skin of the legs. You don't want them submerged. Pop everything in the oven and let this bake for at least 90 minutes, or until the legs are tender.

Meanwhile, make the sauce. In a smallish pot or deep-sided pan, heat the duck fat over medium-high heat. Add the chopped onion and sauté for a few minutes, until it is translucent but not browned. Add the garlic and cook another minute or two. Add all the remaining ingredients, stir well and bring to a simmer. Cook gently for about 15 minutes.

Move the sauce to a blender and puree. Pour back into a small pot and leave it alone for the moment.

When the legs are tender, bring the sauce back to a simmer and spread some on everyone's plate. Top with the legs and garnish with cilantro. Serve with rice and/or boiled potatoes or yuca.
Notes
NOTE: If for some reason you happen to have the herb huacatay, which is common in Peruvian cooking, use it instead of the oregano. 
Nutrition
Calories:
504
kcal
|
Carbohydrates:
13
g
|
Protein:
46
g
|
Fat:
26
g
|
Saturated Fat:
6
g
|
Cholesterol:
178
mg
|
Sodium:
218
mg
|
Potassium:
293
mg
|
Fiber:
1
g
|
Sugar:
4
g
|
Vitamin A:
89
IU
|
Vitamin C:
20
mg
|
Calcium:
53
mg
|
Iron:
4
mg
Nutrition information is automatically calculated, so should only be used as an approximation.