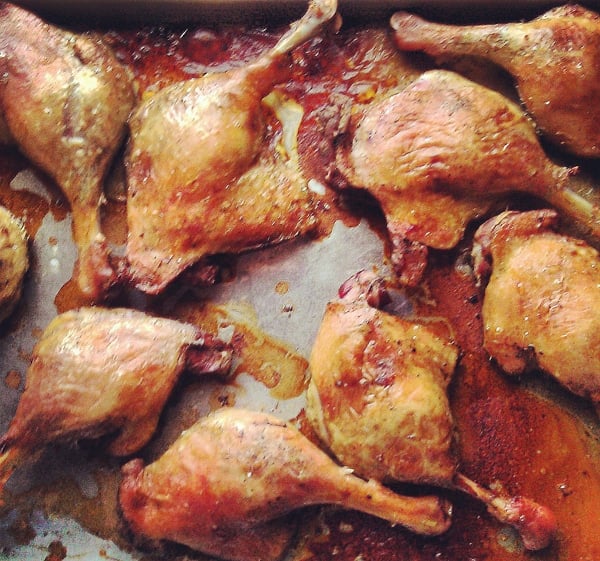 Duck confit is an old French method of slightly curing meat, then poaching it gently in fat until it is meltingly tender.
This is perhaps the best way to preserve and eat the legs and wings of wild geese, which can be tough; this also works well with wild ducks, but they are often more tender than goose legs — and they are far smaller.
Once the meat is almost falling off the bone, you can either shred it and use it in all sorts of ways, from topping salads to filling a taco. Or you can leave the legs whole and crisp them up in a pan before you serve. Confit is also a requirement if you want to make a real-deal, classic French cassoulet.
A cold, confited goose leg is also a helluva thing to bring into the duck blind for a snack…
Do not use breasts for this recipe. While you can technically confit duck or goose breasts, I don't recommend it. I like my breasts cooked medium-rare, not slow-cooked. Even in fat.
In my kitchen, I confit my ducks and geese in a SousVide Supreme Water Oven because it uses less fat than the traditional method, which involves submerging the goose in 4 or 5 cups of fat. You can also vacuum-seal your legs with some fat and cook them in a large stock pot with steaming — not simmering, and definitely not boiling — water. That technique requires a little more attention so the water doesn't get too hot.
And of course you can do this the traditional way, but you will need a lot of duck fat. You can buy duck fat online, however, or at really good butcher shops.
Once made, this confit will last — sealed in its bag — for a month in the fridge. It can also be frozen.
Duck Confit
This is a standard French duck confit recipe, one I've adapted from experts like Paula Wolfert and Kate Hill. They would not use curing salts with their confit, but some people like that rosy, ham-like effect you get when you use them. If you want that, you'll need a bit of curing salt No. 1, which you can buy online.
Ingredients
2

to 3 pounds of legs or wings of wild or domestic geese or ducks

1

cup

salt

1/2

cup

sugar

1

teaspoon

pink salt,

A/K/A Instacure No. 1 (optional)

1

tablespoon

dried thyme

2

tablespoons

fresh ground black pepper

1

cup

goose,

duck or pork fat (or 5-6 cups for traditional method)

3

bay leaves
Instructions
Mix the salt, curing salt, sugar, thyme and black pepper together. A word on the pink salt. This is for color and preservation. It also is an extra dose of prevention during cooking, as you will be poaching in 150-170 degree water. I use it, but if you have a morbid fear of nitrates, skip it.

Pack the legs and wings with the mixture. Press it into the skin and exposed meat, and make sure every part has some on it. Refrigerate for no more than 24 hours, or as little as 6 hours. The longer you go, the saltier it will get -- and the longer it will preserve. If you are going for a long preservation, go for 24 hours. I typically do 8 hours.

When you have cured the meat to your liking, rinse it off, then dry well. Put on a rack to dry further while you make the vacuum bags. Make 3 vacuum bags each large enough to hold 2 legs or wings for geese, or as many as duck legs as you can get in one layer. It is very important the meat is only in one layer. Divvy up the fat into the bottom of each vacuum bag. Divide up the bay leaves into each bag. A word on the fat: I use goose fat, or wild duck fat. I have enough. If you don't you can buy duck or goose fat, render your own, use fresh lard -- or even olive oil.

Seal the bags and and cook sous vide at 180°F for 8 hours or more. If you think you have old ducks or geese, you can cook these as long as 24 hours -- but that's a little excessive. If you don't have a sous vide water oven, place the sealed bags in a large pot (the largest you have) two-thirds filled with water that is somewhere around 175°F, which almost a simmer. Poach the legs in this stockpot for 6 to 12 hours, flipping every half hour or so if they float, which they probably will.

Remove the bags from the water and plunge into an ice water bath to cool. Remove them to a rack to dry, and when they're dry on the outside, store in the fridge.
It helps to have a vacuum sealer for this recipe. If you don't have one, you should -- they're really useful! But alternative directions follow at the end of these instructions.
IF YOU DON'T HAVE A VACUUM SEALER:
Rinse the cure off as above, then pat dry very, very well.
Totally submerge in fat — you will need 5 to 6 cups — and put, uncovered, in an oven set on "warm," or not hotter than 200°F. Alternatively, you can do this on a stovetop with a weak burner set on low, or with a flame tamer. Watch that the oil never sizzles.
Cooking time will be about the same.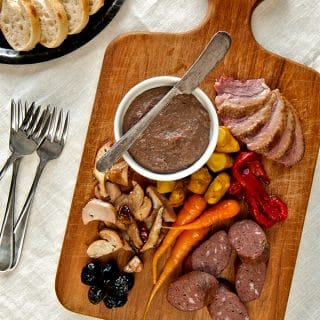 You can find all sorts of recipes for cured and smoked meats and fish, as well as fresh sausages, here on Hunter Angler Gardener Cook!