Duck Gizzards Confit
March 02, 2011 | Updated September 03, 2021
As an Amazon Associate I earn from qualifying purchases.
Duck gizzards confit has become one of my go-to recipes every winter for more than a decade now. It is my favorite gizzard recipe because it results in soft, meaty gizzards that resemble roast beef more than the fried, crunchy things you get at bars.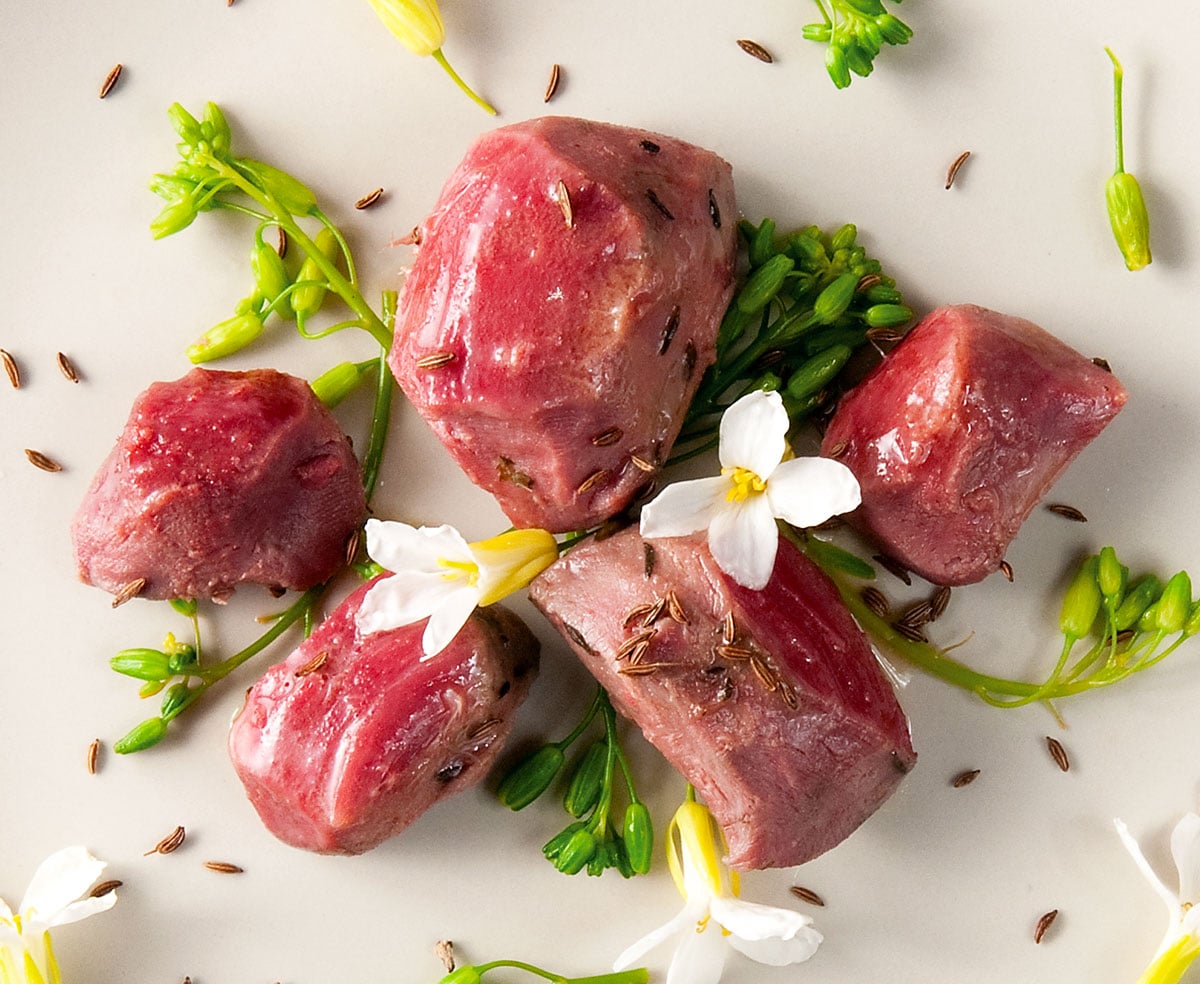 Duck gizzards and other giblets are probably the least-used parts of the ducks and geese we bring home, and this is a shame. Even many who happily eat chicken or turkey giblets at the holidays, or as a bar snack, wrinkle their noses at eating the heart, liver and gizzard of their wild birds. I have no idea why this is, because it sure ain't because of flavor.
Allow me to give you an iron-clad, no-fail recipe for gizzards that will turn haters into lovers.
I'm talking about corned, confit gizzards. Yep. Corned, as in corned beef. A simple brine followed by a simple bath in a crockpot will turn out some of the finest meat in the waterfowl world. The flavor is virtually identical to corned beef, and you can control the normally crunchy texture of the gizzard by how long you cook them.
This is my favorite way to eat duck or goose gizzards. Sliced thin or kept whole, and tossed with a simple sauté of wild mushrooms, a bitter greens salad, or with sauerkraut and German spätzle — it's a really killer dish!
Cleaning a gizzard is easy. Technically, a gizzard is a muscular stomach: Two half-moons of meat powering a nasty, leathery sack full of grit. The bird uses those muscles and that grit to grind things like fibrous plants and tough seeds. You don't eat the sack and the grit, of course. You slice the two lobes of meat off each end of the gizzard and call it a day. You don't need to ever see the inside of the sack at all.
It's as easy as I just made it out to be. Take a short, sharp knife (a penknife is perfect) and look at the gizzard: Slice what's obviously meat away from the gushy stuff at the center. The more you do, the closer to the edge you can get, and the more meat you will come away with.
Here's a post on how to clean a gizzard.
I like to slip the tip of the knife under that silverskin on the sides of the meat to remove it, but in this preparation you don't even need to do that. You can clean a gizzard in literally 10 seconds.
Which birds to use? All geese, some of which can have gizzards that weigh a half-pound or more, and big ducks like mallards, canvasbacks, redheads, gadwall and pintail. Interestingly, coots have giant gizzards for their size – about the same size as a mallard's – so if you shoot coots take the gizzards; that's a Cajun tip, by the way. (Ditto for pukekos, if you happen to live in New Zealand.)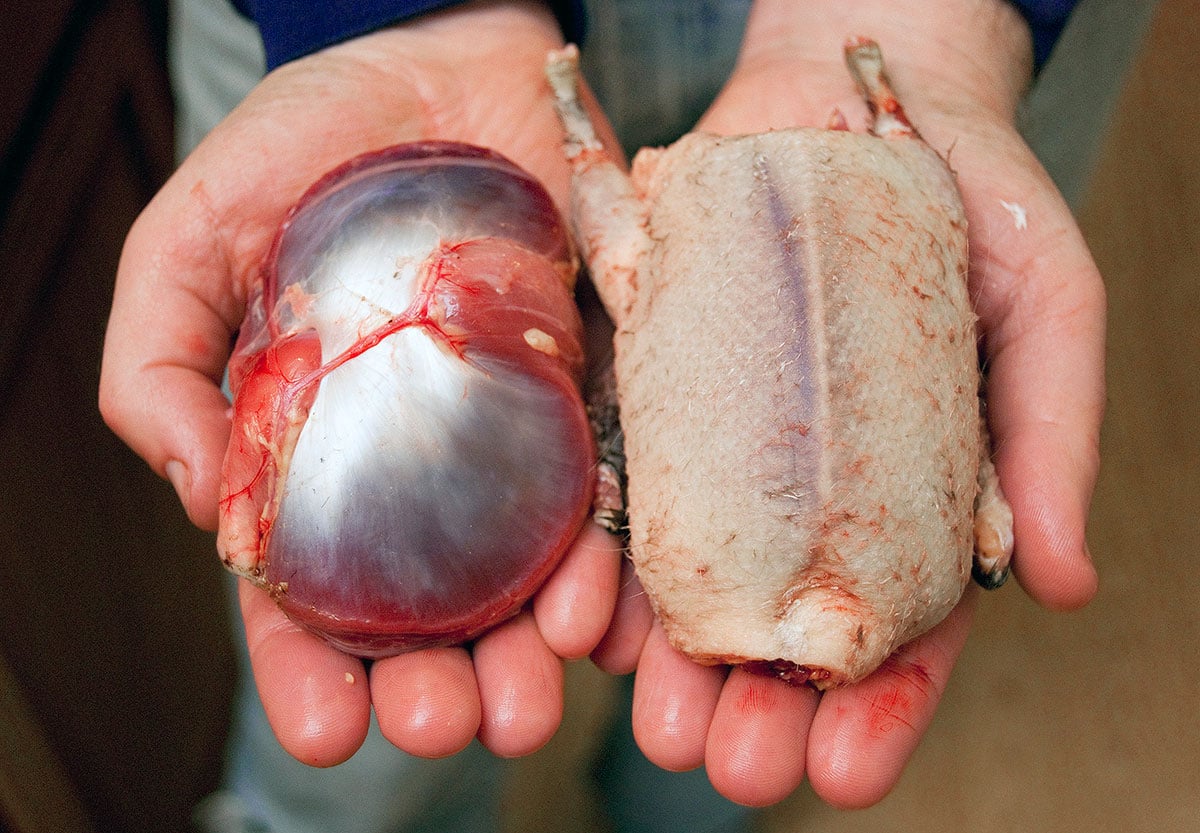 Once you have your cleaned duck gizzards, you brine them like corned beef in the fridge for a day, then put them in a crockpot with some broth and maybe a bay leaf or two, turn it on and walk away. You can eat them as little as 6 hours later, but the real magic happens a day later.
Yep, you heard right: If you crockpot the duck gizzards for a full 24 hours, they come out looking exactly like corned beef and so tender you can squash them with a fork.
Give this a go and you will be become a believer.
A word on the salt. You will need to measure your meat here, as the salt is added in proportion to its weight. Weigh your gizzards in grams and then measure out 2 percent of that weight in sea salt or kosher salt. This method of curing will prevent your gizzards from getting too salty no matter how long it is in the cure.
Your best bet is to massage the salt and spices into the duck gizzards, then vacuum seal it and set it in the fridge for a few days before proceeding.
Duck Gizzard Confit
Everything in here is pretty easy to find, with the possible exception of the pink curing salt. I buy mine in bulk online, but some butcher shops will have it. You can also use Morton's Tenderquick in a pinch; follow that product's instructions for corned beef to know how much of the stuff you should use. You can also skip the curing salt altogether, but the gizzards will not be that pretty rosy color.
Ingredients
1

pound

cleaned gizzards

9

grams

kosher salt,

about 1 tablespoon

3

grams

curing salt (Instacure No. 1)

about 1/4 teaspoon

1

quart

chicken or duck broth

2

bay leaves
Instructions
Mix the salt and curing salt and coat the cleaned gizzards with it. Make sure there is some salt on every piece. Vacuum seal this or put into a closed container in the fridge for 24 to 72 hours. 

When you are ready to cook, remove the gizzards from the salt and rinse. Put the gizzards in a crockpot and cover with the broth. Add water if they are not completely submerged. Add the bay leaves and set the crockpot to high. My crockpot will never hit a simmer even at high, and this is what you want: So set your slow cooker at whatever setting will be nice and hot, but not simmering. Cook the gizzards for at least 6 hours (they'll still be crunchy though), and as many as 24 hours if you want silky, tender meat.
ALTERNATE METHOD
If you have lots of duck fat handy, or olive oil, you can cook the gizzard in this instead of broth to make a proper confit. Follow the same curing step, but then rinse and submerge in fat, or, alternatively, put the cured gizzards into a sous vide bag, add lots of duck fat, seal, and cook in a hot water bath at about 160°F for the same amount of time you would in a crockpot.
Notes
Once the gizzards are corned, they will keep up to 2 weeks in the fridge, so long as you keep them in the broth you cooked them in.
Keys to Success
Make sure the gizzard are well cleaned. Here's how to clean a gizzard. 
Any gizzard will work here. 
I do prefer the sous vide fat method here, as it makes silky, soft gizzards. I include the other methods to give you some flexibility.
24 hours is not too long to cook these things. The result is that you can squash them with a fork afterwards. 
Nutrition
Calories:
82
kcal
|
Carbohydrates:
1
g
|
Protein:
13
g
|
Fat:
3
g
|
Saturated Fat:
1
g
|
Cholesterol:
154
mg
|
Sodium:
555
mg
|
Potassium:
207
mg
|
Sugar:
1
g
|
Vitamin A:
87
IU
|
Vitamin C:
4
mg
|
Calcium:
14
mg
|
Iron:
2
mg
Nutrition information is automatically calculated, so should only be used as an approximation.