Easy Roast Duck Legs
December 17, 2015 | Updated November 11, 2021
As an Amazon Associate I earn from qualifying purchases.
If you want to learn one duck leg recipe, this is it. Easy roast duck legs, and when I say easy, I mean so easy it's barely cooking.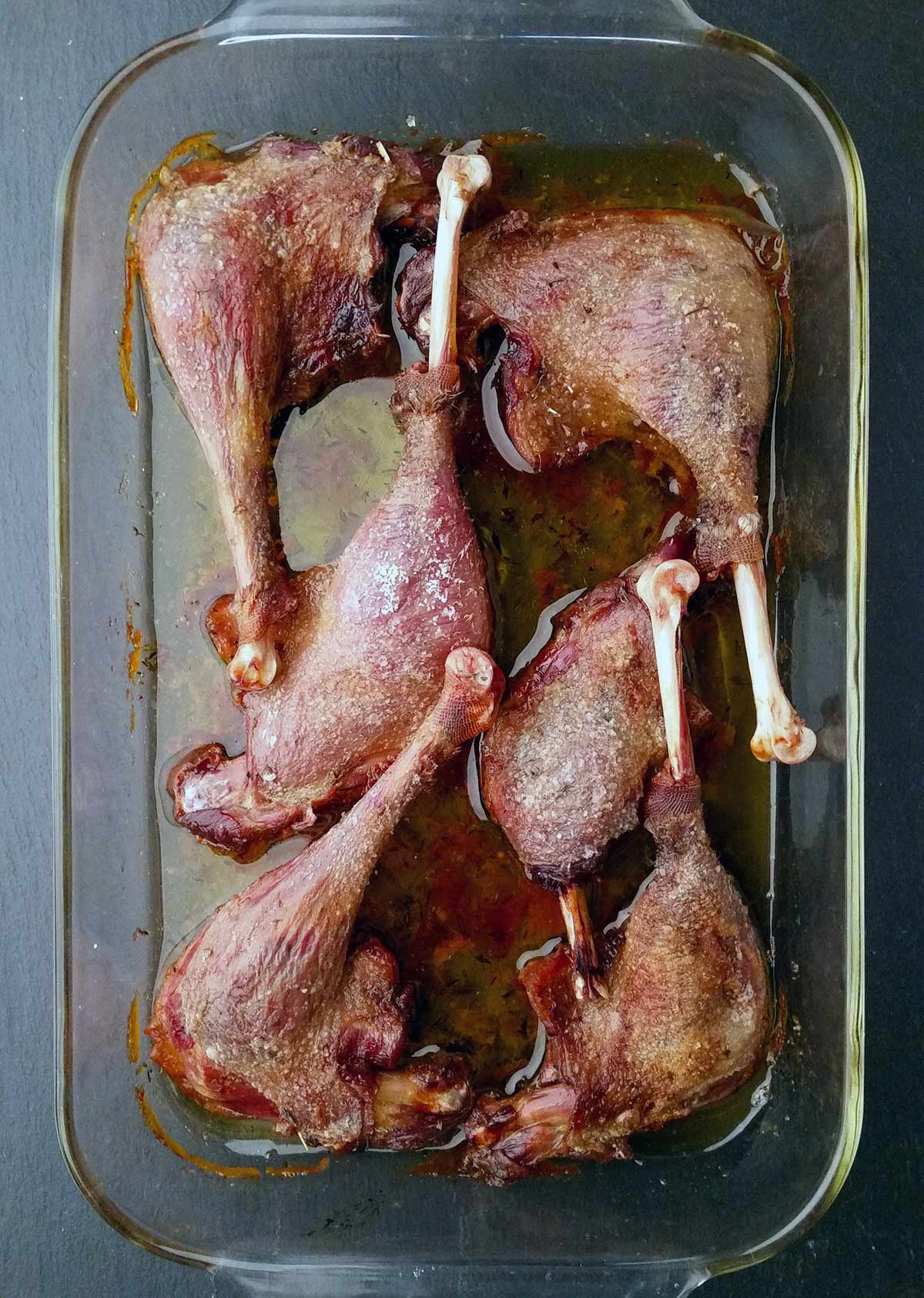 This duck leg recipe is intended to get you close to the luxury that is confit: tender, melt-in-your-mouth meat with crispy skin. It will work with all store-bought duck legs, as well as with wild ducks and especially wild geese.
I love duck confit, but it can be a project. These easy roast duck legs are very much like it, but it's a far easier way to roast duck legs than traditional confit, which requires salt and time.
Confit, pronounced "con-fee," is a French method of preserving meats by salting them down to remove moisture and then cooking very slowly in their own fat. It's wonderful stuff, and I have a recipe for duck confit here. Why is it wonderful? because you get meltingly tender meat topped with cracker-crispy skin. It's salty, meaty, easy to eat with a bonus of crisp — and humans are hard-wired to like crisp.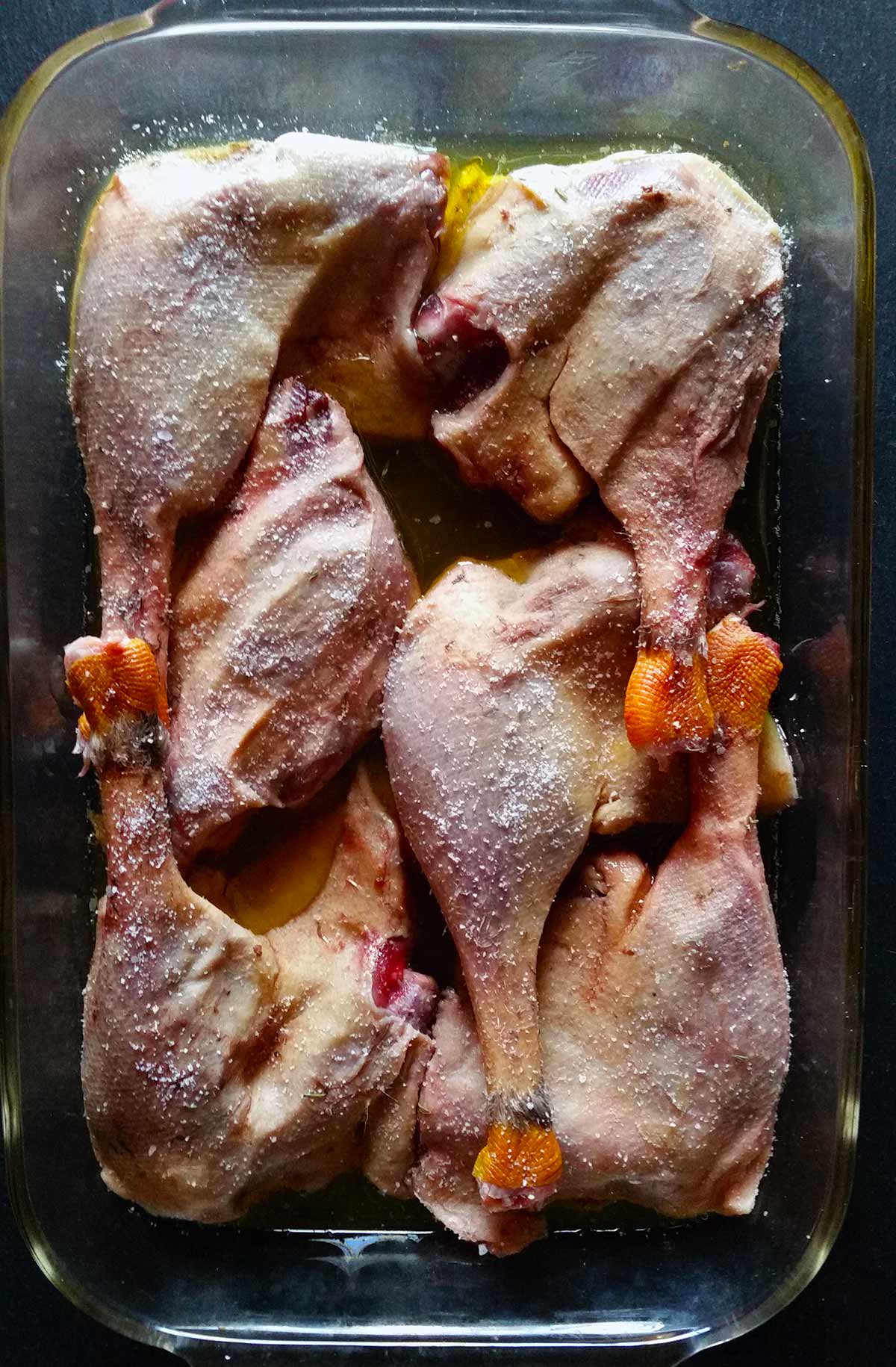 This method will get you close to the original, and it will take you a fraction of the time. The trick is to roast the legs in fat, in a small container that will just barely hold however many legs you happen to be cooking. This, more or less, will ensure that your legs are cooking in a bath of fat, not in the hot, dry air which will desiccate a wild duck or goose leg.
I used the legs from specklebelly geese in these pictures, and I recommend them highly. Canada geese, snow geese, and the legs from big ducks like mallards, canvasbacks, pintails etc. are also good choices, and of course you can do this with store-bought ducks and geese.
You want the skin on them, however. If, for some reason you have skinless legs, you will need to totally submerge them in the fat — and skip the crisping part in Step 3 of the recipe below. Snow goose legs cooked this way, then shredded, are amazing.
Try this duck leg recipe the next time you come across duck legs in the market, or have a good day duck or goose hunting. You will not be sad.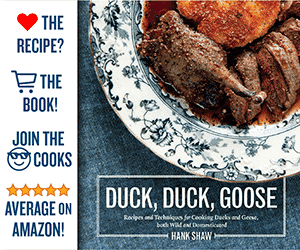 What do you do with your duck legs once they're cooked? Eat them as is. So damn good. Crispy skin, meltingly tender meat, all they need is a bit of citrus or vinegar to balance them out.
Or you can shred the meat and put it into pasta or a salad, or in a tortilla, or in a sandwich like pulled pork BBQ. It's incredibly versatile.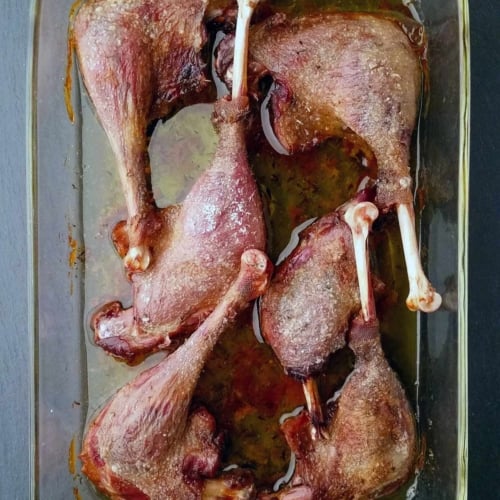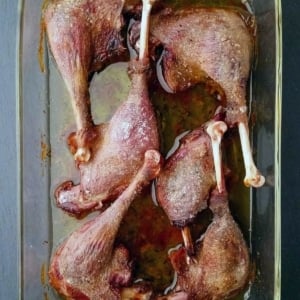 Easy Roast Duck Legs
This method can be done with really any small game leg. Duck and goose is a natural because they often have a lot of fat under the skin. But you can do this with pheasant legs, grouse legs, turkey legs, or even rabbit and squirrel legs. Obviously you'll need some extra fat with the skinnier animals, though. (Here's how to render your own duck fat) Butter or lard are good substitutes if you can't get duck or goose fat. And yes, olive oil works, too.
Ingredients
2 to 3

pounds

duck legs

(or goose legs)

Salt

Duck fat,

butter or lard
Instructions
Pat the duck or goose legs dry with paper towels. If you have store-bought duck legs, prick the skin of the duck all over with a needle or the point of a sharp knife. Do not pierce the meat itself. Piercing the skin gives the fat a place to seep out. Salt your duck legs well and set them aside, skin side up. Let them come to room temperature for at least 30 minutes and up to 90 minutes.

Put the legs in a small casserole. How small? You want the casserole to be just big enough to hold the legs. Now you need some fat. If the legs themselves are fatty, you will only need to pour a thin sheen of oil or melted duck fat on the bottom of the casserole, then place the duck legs close together, but not overlapping. If the legs are skinny, add enough fat to come about 1/4 inch up the sides of the dish.

Put the casserole in the oven and turn it to 300°F; if you have a digital oven, you could even go down to 285°F. Do not preheat the oven. Every duck has a different level of fat, so doneness is more an art than a science. But it will take at least 90 minutes, and probably two hours, and even 3 or 4 hours won't hurt them. After 90 minutes, check the duck: It should be partly submerged in melted fat and the skin should be getting crispy.

When the skin is starting to look crispy, turn the heat to 375°F. Check after 15 minutes. You're looking for a light golden brown. Remove the casserole from the oven and let cool for 10 to 15 minutes before eating. Save the accumulated fat for cooking vegetables, other meats or for keeping your skin shiny. I strain the fat through a paper towel, but you really only need to do this if you are saving the fat for several weeks or months; strained, it will keep for 6 months tightly covered in the fridge. Well wrapped, the duck meat itself will last up to 2 weeks in the fridge.
Notes
Keys to Success
You need the meat to swim in fat. It won't work otherwise. If the notion of that much fat frightens you, you can use chicken or duck stock in a pinch. Not as good, but it will keep the legs from drying out. 
Once made, any of the sauces on this page will work well with your duck legs. Or go simple with black pepper and citrus. 
Your duck legs will keep a week in the fridge, and freeze well. 
To reheat, set them under a broiler or toasted oven to re-crisp the skin. The meat is perfectly good at room temperature, so you'll only really want to get that skin nice again. No need to overcook the legs on reheating. 
Nutrition
Calories:
250
kcal
|
Protein:
31
g
|
Fat:
13
g
|
Saturated Fat:
3
g
|
Cholesterol:
131
mg
|
Sodium:
127
mg
|
Vitamin C:
2
mg
|
Calcium:
12
mg
|
Iron:
2
mg
Nutrition information is automatically calculated, so should only be used as an approximation.