Chipotle Deer Jerky
February 17, 2014 | Updated July 27, 2022
As an Amazon Associate I earn from qualifying purchases.
Jerky, the ultimate meat snack. Beef leather. Chewy, savory, spicy, sweet, it's my favorite thing to gnaw on when I'm on the road. Making your own deer jerky at home is a snap: Slice, marinate, dry, eat. You're going to love this venison jerky recipe, which was praised as the "One Jerky to Rule Them All" by Petersen's magazine. It's won lots of awards.
Here are a few tips and techniques for making really good deer jerky.
I've made venison jerky a lot in recent years, and I've come to learn that nuances matter. How thick do you slice the meat? Across the grain or with it? What do you marinate it in? Or do you do a dry cure instead? How long is enough? How long is too long? Dry in an oven, smoker or dehydrator? Again, how long?
This deer jerky recipe is the culmination of those years of tinkering.
Tips for Better Deer Jerky
Use hind leg roasts that are mostly free of sinew for a nicer venison jerky. If you use gnarlier cuts, you will be chewing a long time.
Slice thickness determines whether you will have chewy jerky or the really brittle stuff you need to moisten with your saliva before you can even begin to eat it; this latter stuff will last forever at room temperature. The thicker jerky is more fun to eat, but doesn't last as long.
Either way, if you can slice your venison partially frozen, it will make things easier.
Slicing your venison across the grain makes it easier to tear with your teeth, but the shorter strands are a little less satisfying as you gnaw them. Slicing with the grain can make for a challenging chew, but the fun lasts longer this way; African biltong is cut with the grain.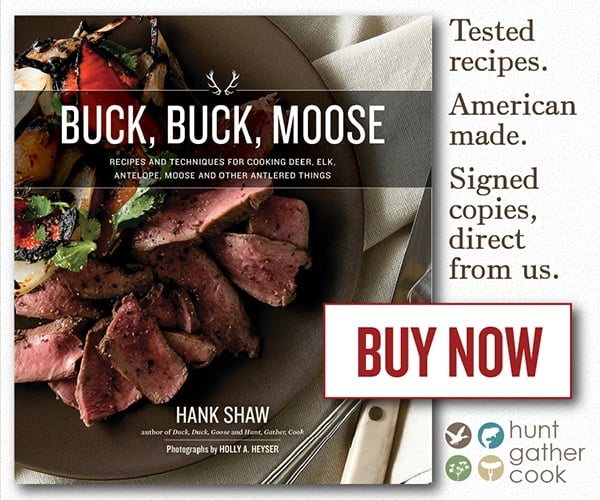 Venison Jerky Marinades
Pretty much every deer jerky recipe uses a marinade of some sort; the exception is the simplest of all jerkies, Mexican carne seca. Brining, marinating or dry curing is virtually freestyle. So long as you have ample salt (or something salty, like soy or Worcestershire) you're in business.
Long-time readers of this site know I am not normally a fan of marinating meats because marinades penetrate only about 1/8 inch into the meat per day. See my article on venison marinades for more on this. (Most of those marinades will work for jerky, incidentally.)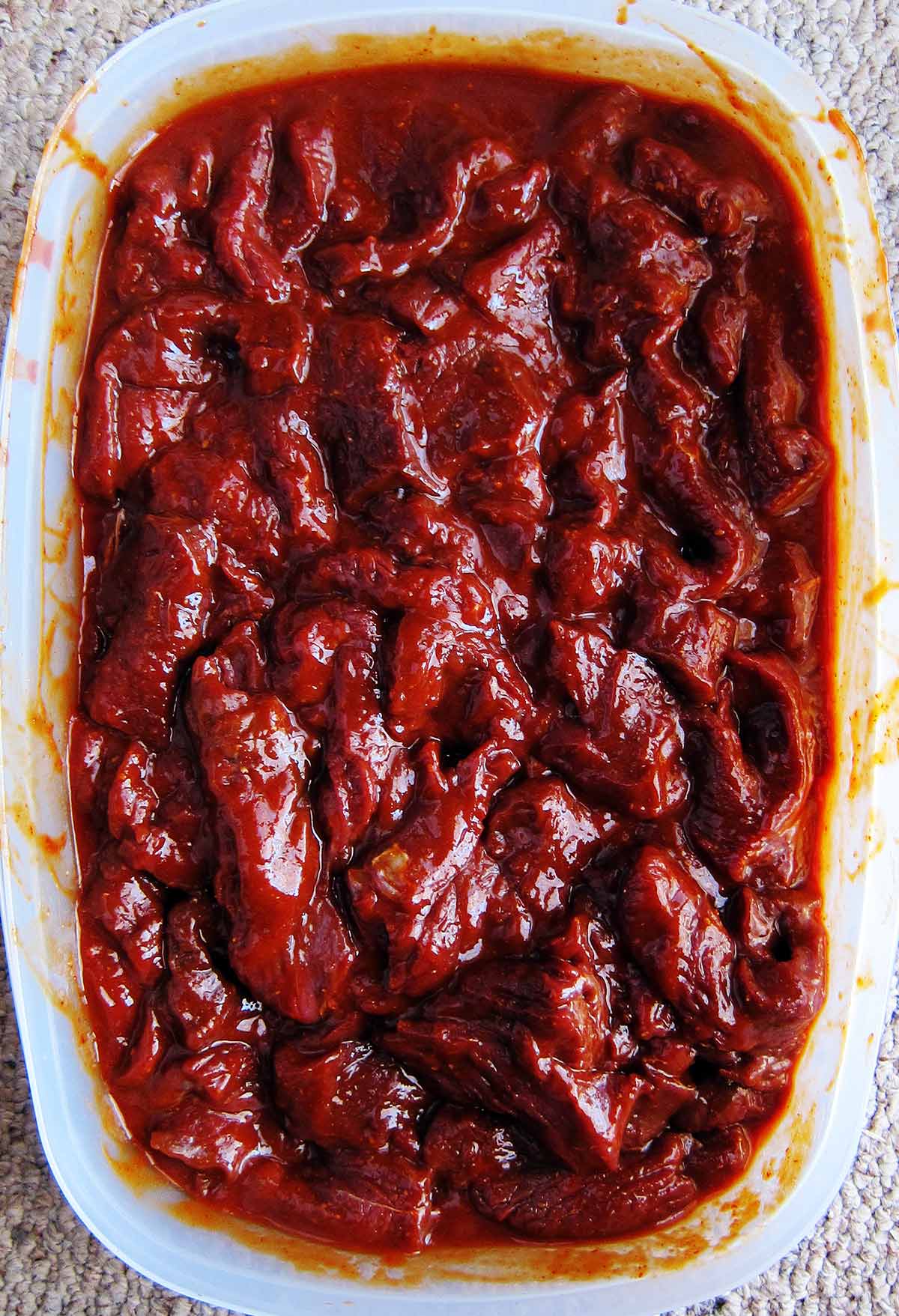 But considering that I slice my venison jerky thin anyway, marinating works here. How long? Longer than you think you might need. Seasonings in jerky tend to fade a lot with the drying process, so you really want them to get in there.
Drying Venison Jerky
As for the drying process, a dehydrator beats an oven hands down. Even a low oven cooks the meat a bit too much, leaving it crispy. Of course, if you like crispy, go for it.
I prefer to dehydrate my deer jerky at about 145°F to 155°F. This leaves the meat in the danger zone for bacteria at the outset, so I use Instacure No. 1
, which protects the meat as it slowly cooks in the dehydrator. You don't need this if you use an oven. And you can skip the curing salt if you dehydrate hotter, at about 160°F.
You can also dry your venison jerky in a smoker. Set it as low as it will go, 165°F in my Traeger, and use whatever wood makes you happy. For this recipe, I prefer mesquite. (I also have a smoked venison jerky recipe specifically designed to be smoke-dried.)
Chipotle Deer Jerky Recipe
Through a lots of trial and error I've come up with this, my favorite deer jerky recipe. It's not complicated, which is a bonus, and it really packs a lot of flavor into the meat.
The key to this is the chipotle in adobo. Don't worry, it sounds more esoteric than it really is. It's basically smoked jalapenos canned in a rich, spicy adobo sauce. There are several makers of this magical stuff, and the little cans are widely available in Latin markets and in really any supermarket that has a "Hispanic" section. If all else fails, you can buy chipotles in adobo online.
You mix them with soy sauce, onions and garlic, a little sugar and let it sit in the fridge for up to two days. The longer the venison marinates, the spicier and saltier it will be. I let the deer jerky marinate for a day.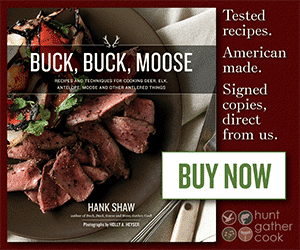 Don't rinse off the marinade, just wipe it off with a paper towel, then dehydrate or smoke until it's dry, but still bendable, usually about 6 hours.
The end result is a chewy, slightly thick deer jerky loaded with an almost "spicy BBQ" flavor. It's an addicting flavor — I ate three pieces one after the other, unconsciously, as I was trying to evaluate the flavor. That instinctive taking another bite is always a good sign.
Want to do a different route? Use my duck jerky recipe and substitute venison. Works great.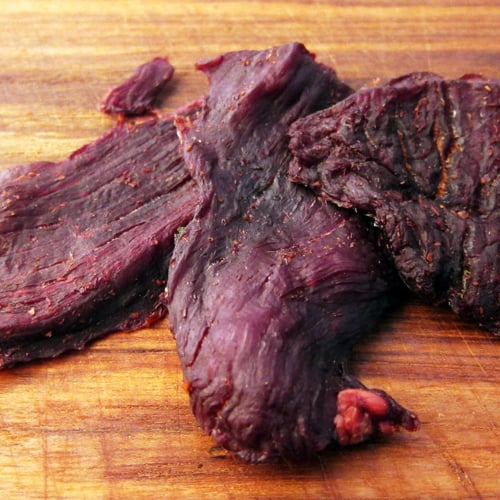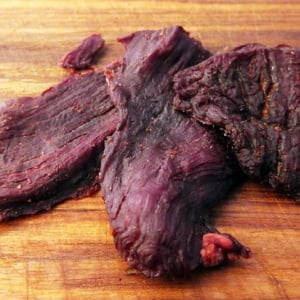 Chipotle Deer Jerky
Obviously this recipe can be used to make virtually any sort of jerky, wild or domesticated. Duck or goose jerky spring to mind, but this would also be great with turkey, as turkey and chipotle seem to go so well together. Use hind leg roasts in deer, elk, pronghorn, etc.
Ingredients
5

pounds

venison roast

1

cup

soy sauce

2/3

cup

sugar

1

cup

chopped onion

1

head garlic,

peeled and roughly chopped

7

ounce

can of chipotles in adobo

Juice of 2 limes

1

teaspoon

of Instacure No. 1

(optional)

2

tablespoons

salt
Instructions
Put the soy, sugar, onion, garlic, chipotles and the adobo sauce, lime juice, curing salt and enough water to fill the can of chipotles into the blender and blend until smooth. Taste it (it will be a bit zippy), and add salt if you need it -- the marinade should taste pretty salty.

Cut the venison roast against the grain into roughly 1/4 inch slices.

Mix the marinade into the meat really well. The slices are going to want to stick to each other, so you need to use your hands (wear gloves if you are very sensitive to chiles) to make sure each side of every slice gets well coated with this marinade. It's enough for a full 5 pounds of meat. Pack the mixture into a non-reactive (plastic, ceramic, stainless steel) container, cover and refrigerate for at least 24 hours, and up to 48 hours. How long you take it depends on your personal salt tolerance and on whether you plan on storing the finished jerky for months or not. If not, go less salty.

When you are ready, lay the meat on dehydrator trays in one layer. Don't let the slices of meat touch. Set the dehydrator to 160°F for 2 hours, then drop the temperature down to 145°F until the jerky is ready. You know this because the jerky is still sorta pliable, but when you bend it, the meat starts to fracture and crack a little -- this is how I like my jerky. All told, the jerky should be ready in about 6 hours. You can, if you are planning to store this at room temperature for a long time, dry it until the meat is brittle.

If you are using an oven, set the oven as low as it will go and use something to prop open the door, which lets air circulate inside the oven. If you have a convection oven, use it.

Store it in the fridge for uh... a long time. Or freeze it until the Second Coming. I vacuum seal packages of it and take them on road trips. They've been fine for weeks at room temperature this way.
Nutrition
Calories:
237
kcal
|
Carbohydrates:
13
g
|
Protein:
36
g
|
Fat:
4
g
|
Saturated Fat:
1
g
|
Polyunsaturated Fat:
1
g
|
Monounsaturated Fat:
1
g
|
Cholesterol:
128
mg
|
Sodium:
2039
mg
|
Potassium:
527
mg
|
Fiber:
2
g
|
Sugar:
10
g
|
Vitamin A:
662
IU
|
Vitamin C:
1
mg
|
Calcium:
14
mg
|
Iron:
6
mg
Nutrition information is automatically calculated, so should only be used as an approximation.