Venison Carne Seca
January 14, 2019 | Updated October 15, 2020
As an Amazon Associate I earn from qualifying purchases.
Carne seca, machaca, cecina, tasajo… all these names for Mexican dried meat had me all balled up, confused. I did a lot of reading and a fair amount of asking in both English and my broken Spanish, but I finally managed to navigate my way through the ins and outs of Mexican jerky.
Let's set aside cecina and tasajo for the moment, as they are hybrid jerkies that aren't supposed to be dried hard. Carne seca, literally dried meat in Spanish, is. It's Mexican jerky. (Incidentally, you make machaca from carne seca.)
So how to make carne seca at home? Couldn't be easier. It's sliced meat, salt, spices, and one of the following: blazing sun, a dehydrator, or a smoker.
What meat? Normally beef, but I see carne seca de venado — venison jerky — all the time when I am in southern Arizona, which borders Sonora, Mexico. Sonora is where carne seca is a big deal, being a desert and all… So this recipe is for venison jerky, Mexican style. I've seen it done with pork, goat and mutton, too, for what it's worth.
I used a hind leg roast, which is what I recommend. You could use backstrap, but it seems like a waste.
Basically the process is this: You take a big piece of meat and slice it thin. I like to do this when it is partially frozen. In Mexico, they are damn good with a knife and slice long, thin sheets of meat from larger cuts the same way the Chinese do with daikon radish, which is to say a continuous cut round and round. I'm not that good, so I cut my venison they way I would with any jerky.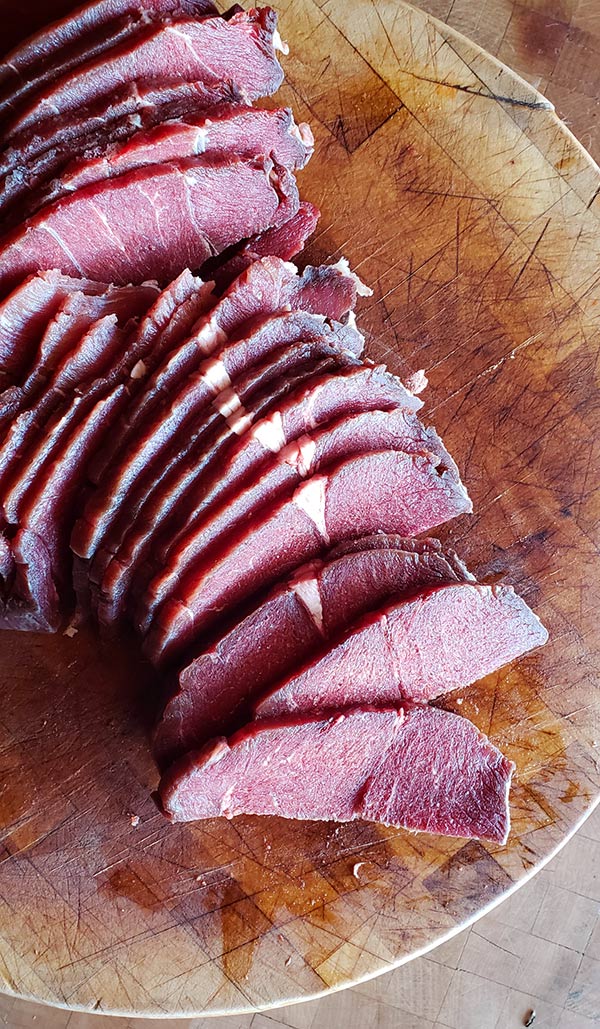 You then moisten your meat with lime juice. Not a ton of it, just enough to get the spices and salt to stick. You then mix fine-grained salt and ground chiles together, and massage that into the meat.
I used a crazy mix of various chiles given to me by my friend Jim Millensifer out in Kansas. His wife raises lots of peppers every year and makes this concoction. It's really good, if picante.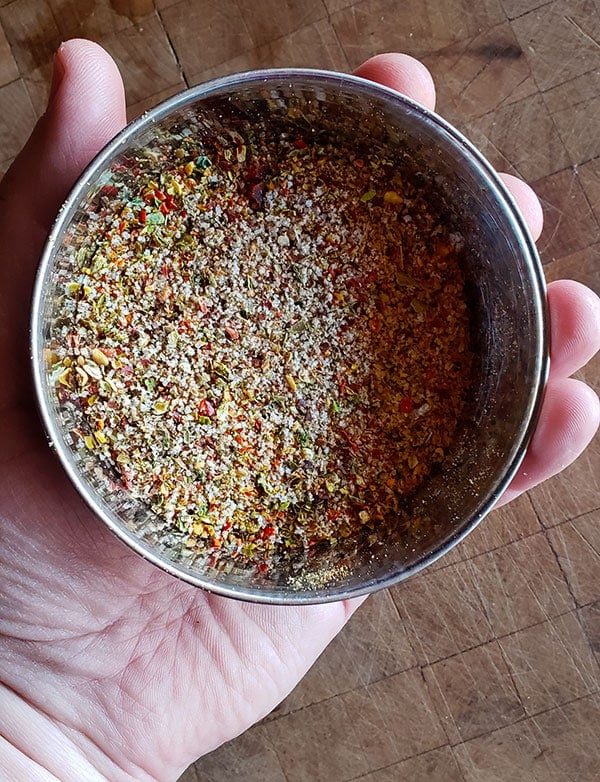 You can use whatever ground, dried chiles that make you happy. Don't want any heat? Use paprika. Or skip it. Lots of carne seca has only salt.
Let all these ingredients get to know each other in the fridge for a day or three.
Now, time to secar your carne, or dry your meat. Traditionally in Arizona and Sonora you'd lay it on a clothesline and let the desert sun do its thing. I can do this in Sacramento in the summer, too. But equally traditional is to dry your meat over a smoky fire.
I prefer this, so I used my smoker set at 165°F for a few hours. I chose mesquite, as it seemed appropriate. You can use whatever wood floats your boat.
Your carne seca is ready when you think it is. Leave it leathery and pliable if you are going to eat it within a week or so. Dry it brittle for long keeping, and if you are going to make machaca later.
Machaca is carne seca pounded into filaments with a mortar and pestle, often a basalt molcajete — the kind you see in pretty much every Mexican market. It's great in a breakfast burrito. More on that in another post.
That's it. ¡Buen provecho!
Mexican Carne Seca
This is basically Mexican jerky. I make mine with venison, but you can use beef, lamb, goat or pork. It's often made with dried, ground chiles, but you can skip that if you want. It's better when smoke dried, but you can use a dehydrator set at 145F or an oven set on "warm."
Ingredients
2

pounds

venison

Juice of 3 to 4 limes

2

tablespoons

fine-grained salt

1 to 2

tablespoons

dried, ground chiles or paprika
Instructions
Slice the meat to about 1/8 to 1/4 inch thick. Remove any excess fat.

Moisten the meat with the lime juice. Mix the salt and chiles together and coat every slice of venison with it. Press the mixture into the meat. Let this set in the fridge for at least 8 hours and up to 3 days.

Lay the meat out in one layer on the grates of a smoker or dehydrator. Smoke at 165F or dehydrate at 145F until the meat is dry, about 2 to 4 hours. Pull it when it's pliable if you want to eat it within a week or two, and dry it brittle if you want it to keep for a long time, or make machaca.
Nutrition
Calories:
143
kcal
|
Carbohydrates:
1
g
|
Protein:
26
g
|
Fat:
3
g
|
Saturated Fat:
1
g
|
Cholesterol:
96
mg
|
Sodium:
1804
mg
|
Potassium:
420
mg
|
Fiber:
1
g
|
Sugar:
1
g
|
Vitamin A:
1295
IU
|
Calcium:
12
mg
|
Iron:
4.4
mg
Nutrition information is automatically calculated, so should only be used as an approximation.