Dan Dan Noodles
July 23, 2020 | Updated March 25, 2021
As an Amazon Associate I earn from qualifying purchases.
Dan Dan noodles are likely one of the few Sichuan dishes many Americans know about. Wheat noodles, tossed with sesame paste, soy and chile oil, topped with ground pork or some other meat. But this dan dan noodles recipe is a little different.
No matter which of the many variations you find, they are all street food, named for a shoulder pole used to carry the pots and ingredients for the noodles, and while its origins are in Sichuan, there are versions of it all over China, as well as here in the U.S.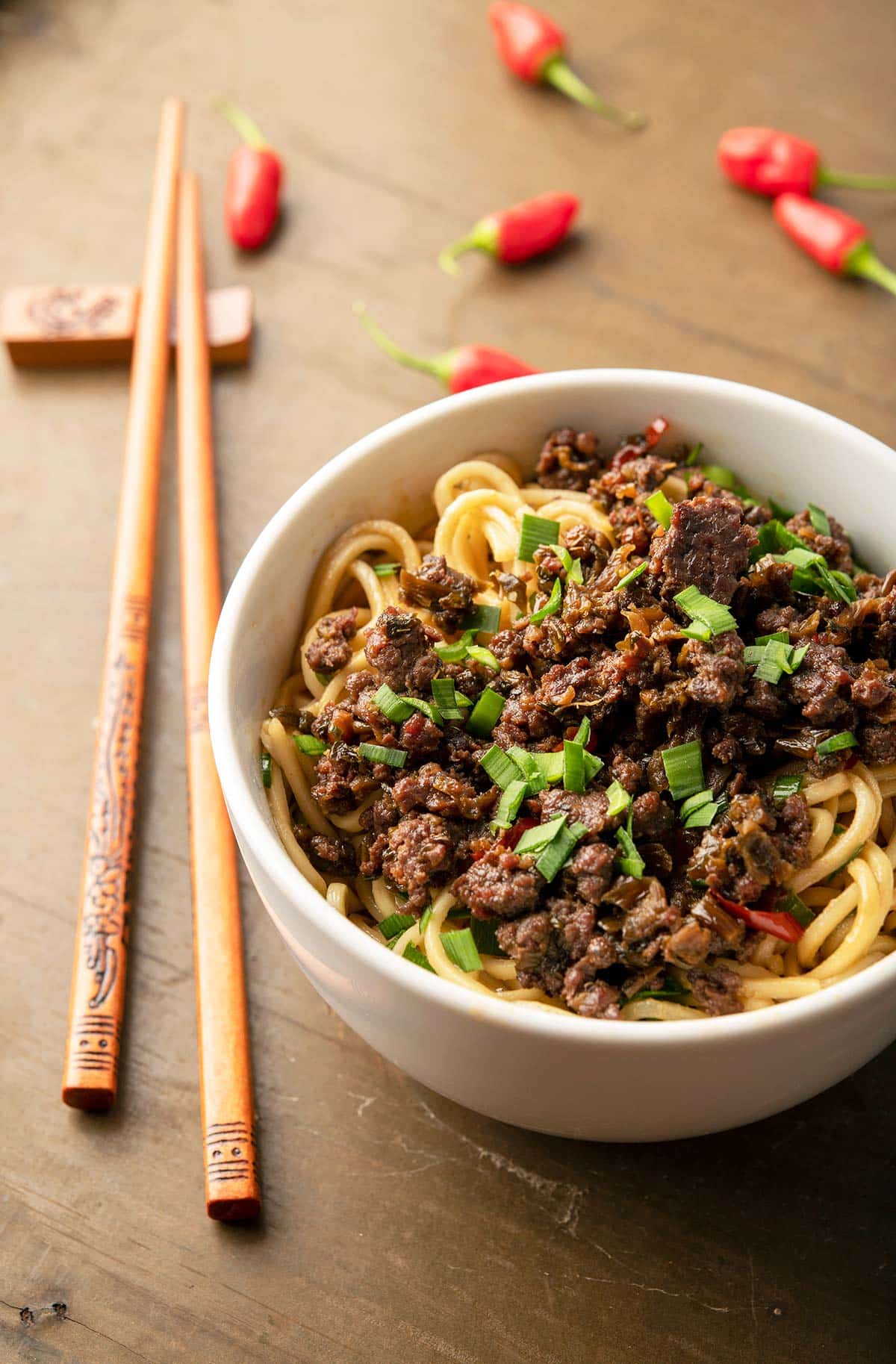 So, I have to tell you that the first time I ate dan dan noodles, they were gross. It was like eating sweet peanut butter noodles. I swore off them as some nasty side note of Chinese cuisine, until I bought Fuchsia Dunlop's book The Food of Sichuan. Dunlop, an Englishwoman, graduated from culinary school in Sichuan and is generally considered the authority on that province's food in the English language. The book is amazing.
And in it are two dan dan noodles recipes, neither of which were sweet or peanut buttery. I later learned that what I disliked about what I'd eaten here was something Chinese chefs did to the dish to make it appeal to American palates. Go figure. Guess I don't have a typical American palate.
I was especially struck by Mr. Xie's dan dan noodles, which in Dunlop's book use ground beef and not pork. The thought struck me immediately. Hey, I happen to have a lot of ground venison and duck in the freezer, and this would be awesome! For those of you squinching your noses, know that once you grind meat, it pretty much tastes like any other red meat.
Neither of the versions Dunlop includes in her book are soupy, which I like. American Chinese versions are often soupy, and it's not my favorite with this flavor combination.
What are those flavors? Meaty, spicy but not overly so, rich from the sesame paste, a bit salty from both the soy, and the preserved mustard stems that are part of the traditional minced pork topping.
If you want to make this dan dan noodles recipe the way Dunlop does, you will need to get yourself to an Asian market. There are several unusual ingredients in it that are all vital to the flavor. That said, I will give you rough alternatives that are easier to find. It'll taste different, but will be more accessible to most of you reading this. I'll also link to online sources of these ingredients if you want to go that route.
Chief among the special ingredients is Chinese preserved vegetable. Tianjin preserved vegetable or its cousin, yibin yacai. Both are long fermented mustard stems that, when you take them out of the packed or jar, look, well, not like mustard stems. But they are a great source of salty, savory flavor and are worth trying to get. Here's where I found Tianjin Preserved Vegetable, and I bought Yibin yacai here. If you want to make real dan dan noodles you need one of these. But if you don't feel like buying them, minced sauerkraut or kimchi will get you into the same galaxy, although they are not really that similar.
Sesame paste. I know, you're immediately thinking about buying tahini. And yes, if you have no Asian markets around, go for it. But the Chinese sesame paste doesn't taste the same. but Dunlop gives us a recipe for making your own by toasting 2/3 cup of sesame seeds until nicely nutty and tan, then grind them well. Bring 5 tablespoons of neutral oil to 355°F and pour that over the ground, toasted seeds. You'll be good to go.
Chile oil. You can buy this in most supermarkets, or make it by pouring hot oil over ground hot peppers, with a spoonful of toasted sesame seeds. The general ratio is 4:1 oil to ground chiles, plus a small amount of toasted sesame.
Sichuan peppercorn. No substitute. You need this. Asian markets all have it, and I buy my Sichuan peppercorns from Penzey's. Yes, you can skip it, but there is no real alternative ingredient.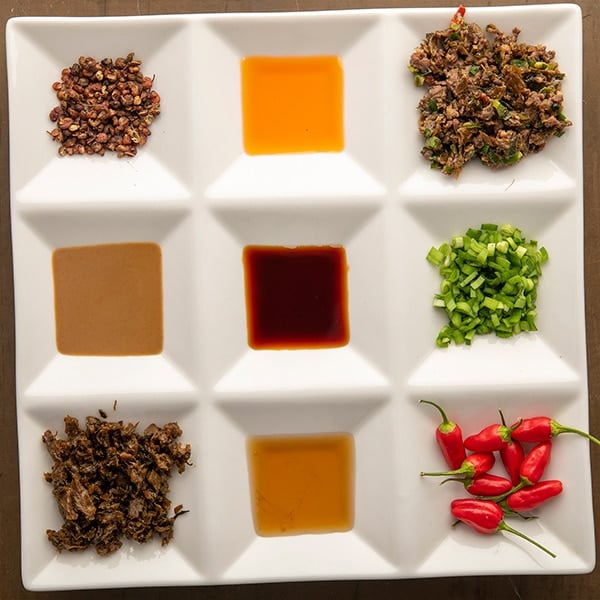 Everything else is easily obtainable from a supermarket. As for the noodles, you want Chinese wheat noodles, but Italian vermicelli is a decent substitute. Definitely check your supermarket's Asian aisle, though, as they often have the Chinese noodles there.
Putting together an authentic dan dan noodles recipe requires a bit of forethought, but the cool thing is that once you have the ingredients and have made the topping, you are ready to make the noodles whenever you want for about a week, which is how long the topping will keep in the fridge.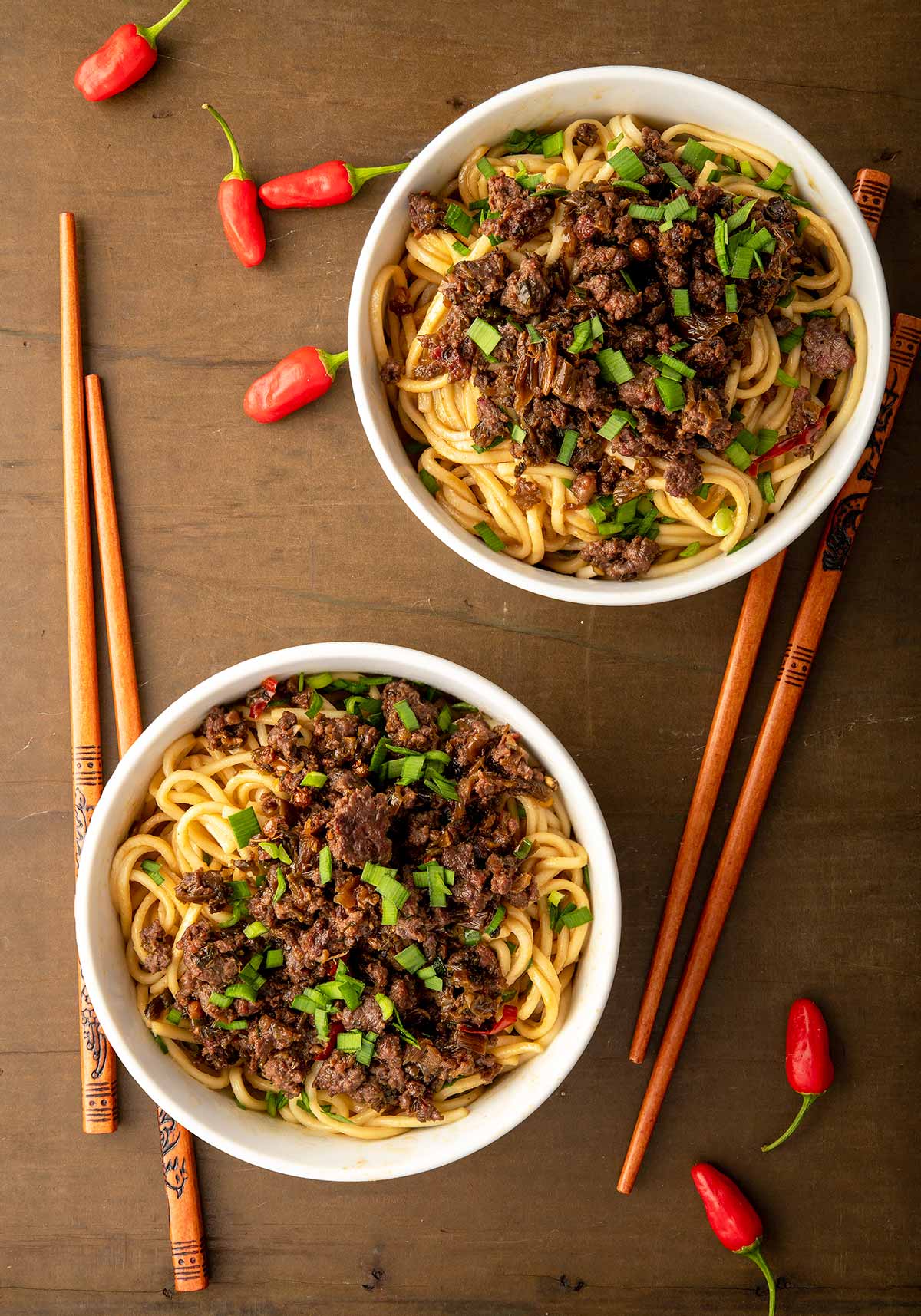 When it comes time to serve, the idea is to boil your noodles, make the topping while the water is heating, put a little of the sauce ingredients in each bowl, top with the meat, then let everyone mix and eat as they want.
If all this sounds like a long walk for a cup of coffee, keep in mind that I was skeptical, too. But once I made real deal dan dan noodles recipe, I was convinced. I think you will be, too.
Incidentally, I cook a lot of Sichuan food. You might want to try my recipes for fish fragrant chicken (or pheasant, or whatever), Sichuan rabbit with peanuts, or twice cooked pork.
Mr. Xie's Dan Dan Noodles
This recipe is a fairly faithful rendition of Mr. Xie's Dan Dan Noodles, from the excellent cookbook The Food of Sichuan, which I highly recommend if you like the food from that region. You'll see all the notes on special ingredients and substitutions above.
Ingredients
TOPPING
1/4

cup

peanut oil

3 to 10

small, hot chiles, fresh or dried, sliced or crumbled

1/2

pound

finely ground duck, pork, beef or some other meat

1

teaspoon

ground Sichuan pepper

(optional)

2

ounces

Tianjin preserved vegetable or yibin yacai,

rinsed off and squeezed dry

3

teaspoons

soy sauce
NOODLES
1

pound

Chinese wheat noodles or vermicelli

4

teaspoons

sesame paste

2

teaspoons

sesame oil

4

tablespoons

chile oil

4

tablespoon

soy sauce

1

teaspoon

ground Sichuan pepper

(optional)

1/4

cup

minced chives
Instructions
TOPPING
Heat the peanut oil in a wok or heavy frying pan over high heat. When it's hot, add the chiles and stir fry about 30 seconds, until you can smell them. Add the ground meat and stir to combine. Stir fry over very high heat until the meat has browned, then add the remaining topping ingredients, toss to combine and cook for another minute or so. Turn off the heat.
NOODLES
Before you even start the topping, get a large pot of water over a burner set over high heat. You want it to be boiling when you are done with the topping, although it's not critical that both are done at the same time.

After the topping is ready and the water boiling, add the noodles and gently stir them so they don't stick to each other. These typically only need maybe 3 minutes or so to be ready, but follow the directions on the package.

While the noodles are boiling, divide all the other noodle ingredients - except for the minced chives - among four deep bowls. To serve, give everyone some noodles over the sauce ingredients, add some topping and some chives, and let everyone stir and mix and eat!
Nutrition
Calories:
598
kcal
|
Carbohydrates:
39
g
|
Protein:
20
g
|
Fat:
40
g
|
Saturated Fat:
8
g
|
Cholesterol:
37
mg
|
Sodium:
1489
mg
|
Potassium:
253
mg
|
Fiber:
3
g
|
Sugar:
2
g
|
Vitamin A:
135
IU
|
Vitamin C:
7
mg
|
Calcium:
17
mg
|
Iron:
4
mg
Nutrition information is automatically calculated, so should only be used as an approximation.