Pozole Rojo
February 25, 2019 | Updated January 22, 2021
As an Amazon Associate I earn from qualifying purchases.
Pozole rojo, red pozole, is about as Mexican a dish as you can get. It is an ancient soup — long predating the conquistadors — and has even been said to have been made with human meat for certain Aztec religious ceremonies. I'll stick to pork.
Real-deal, authentic pozole hinges on just three ingredients: Chiles, pork and corn. Everything else is jazz. Depending on where you go in Mexico the chiles change, as does the color of the corn. But almost everywhere you will find that pozole hinges on not just pork, but a pig's head.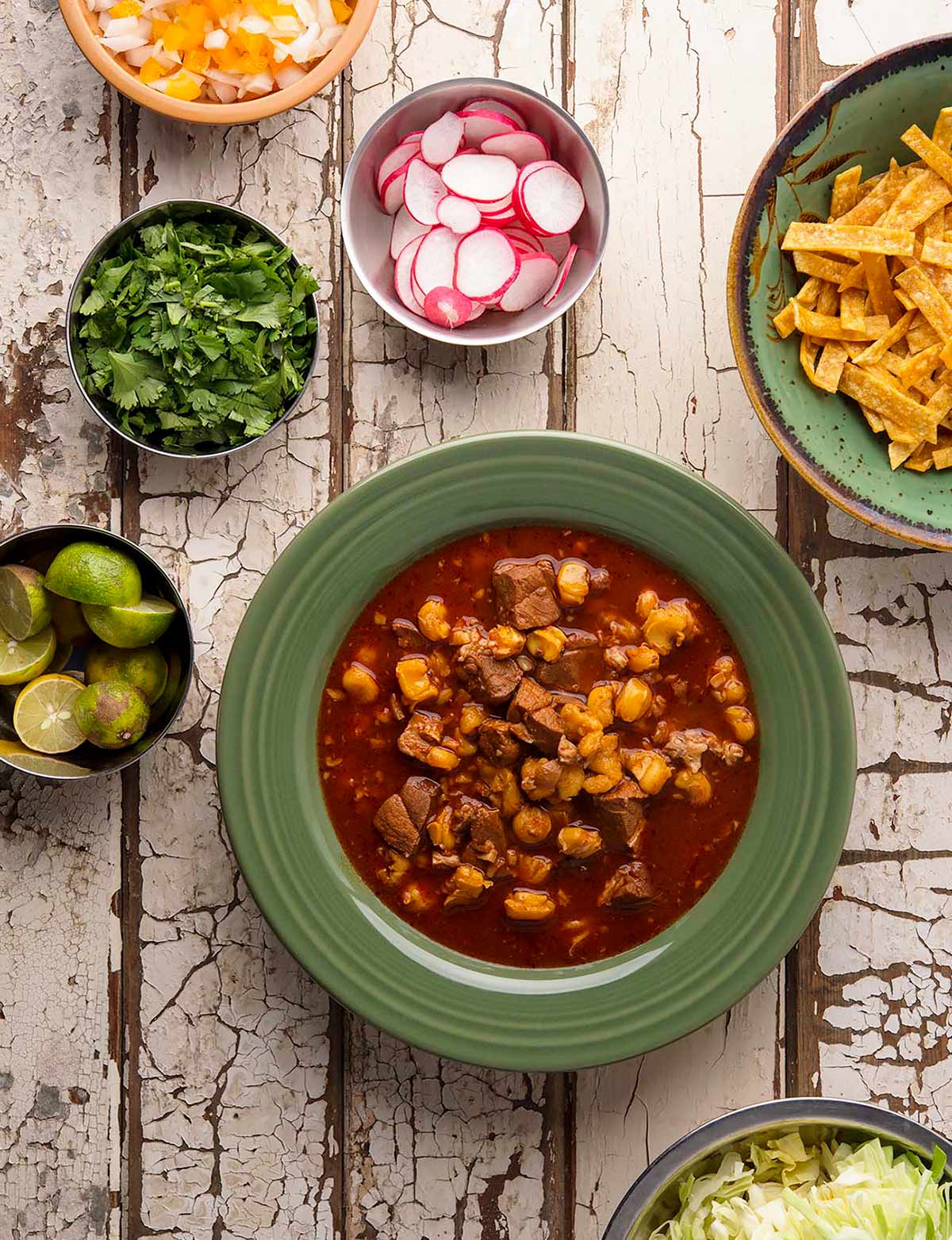 Yep. That fantastic pozole you had on vacation in Guadalajara, or Mexico City or Michoacan probably was made with, among other things, a pig's head. Good, wasn't it?
Of course you don't absolutely need a pig's head to make pozole, but it sure helps. In an ideal world, you'd use half a head for a typical batch of pozole rojo. Lacking this, you really do need to try to find at least some pig's feet to go with shoulder meat, which is what is in these pictures.
Oh, and yes I know that pigs were brought to Mexico by the Spaniards. I am willing to bet you $100 that pozole was made with javelina before pigs showed up.
What's with the head? Good pozole rojo, or really any color — pozole comes in all three colors of the Mexican flag: red, white and green — should be entirely solid in the refrigerator. Only with all that collagen from the head or feet will this incredibly simple broth have the body to remain interesting among all the other things you dress pozole with.
(I have a great recipe for pozole blanco, too, if you are interested.)
You also need good corn. I once had a "pozole" with frozen sweet corn. Ack. Please, for the love of God, don't do this. At the very least use dried field corn, but you really need hominy, maiz para pozole.
You can buy cans of white or yellow hominy in many supermarkets, and yes, they're OK. I've made pozole with them. But, as you might suspect, doing it yourself is a million times better. Also as you might suspect, making your own nixtamal, maiz para pozole, is a bit involved, thus the popularity of those cans.
First you need the corn. Mexican markets will have it, in white and purple kernels, dried in plastic bags. Choose the white ones, or yellow if they have them. While you're there, you'll need to pick up some "cal," calcium hydroxide or "slaked lime." This is what turns corn into nixtamal or hominy, and you need hominy for pozole.
You weigh your corn in grams, weigh out 1 percent of that weight in slaked lime. In a large pot, cover the corn with water by an inch or so — a traditional measure is water equal to twice the volume of corn — add the slaked lime, stir well, and bring to a boil. Boil for 30 minutes or so, then turn off the heat, stir one more time, and leave overnight.
The next day, you rinse the corn, which will have changed color and feel slimy, until the slimy seed coat is all washed away. You now have maiz para pozole. Want to really have great corn though? And hell, if you've gone so far as to make your own nixtamalized corn, you might as well. Then nip off the dark end of each kernel where it was attached to the cob.
Why? So that after the corn has cooked for hours and is ready to eat, it will open up into a sort of flower shape. Pretty, and it will impress your Mexican friends. Not 100 percent necessary, but I do it most of the time.
Want the best corn for pozole? Get heirloom corn, ideally from Mexico. I buy mine from Masienda.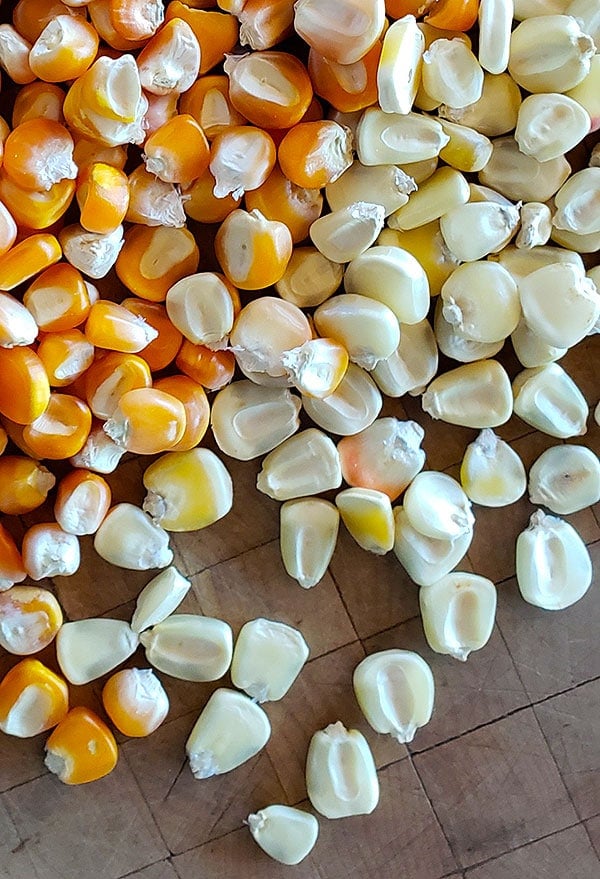 As for the chiles, they're easy. Almost every authentic pozole rojo recipe I've ever read in English or Spanish uses dried guajillo chiles, dried ancho chiles or a combination of both. Only rarely will you see other chiles used.
Note that both guajillo and ancho chiles are super common even in regular supermarkets. And furthermore, neither is terribly picante, so you won't be blowing people's heads off with the broth.
Start by simmering the corn in a large pot, add the pork, then seed-and-stem the chiles. Ladle off some broth to rehydrate the chiles, buzz into a puree and add to the broth. Let this simmer until the corn and pork are tender. If you are using the head or feet, fish them out, discard any bones, and chop everything up fine.
There's a rule when chopping up a pig's head: The more recognizable the meat, the larger you leave it. Have no idea what that funny looking bit is? Chop it fine. No one will notice or care.
I know, I can't believe I just wrote so much about a three-ingredient soup, either. But those three ingredients are the soul of pozole.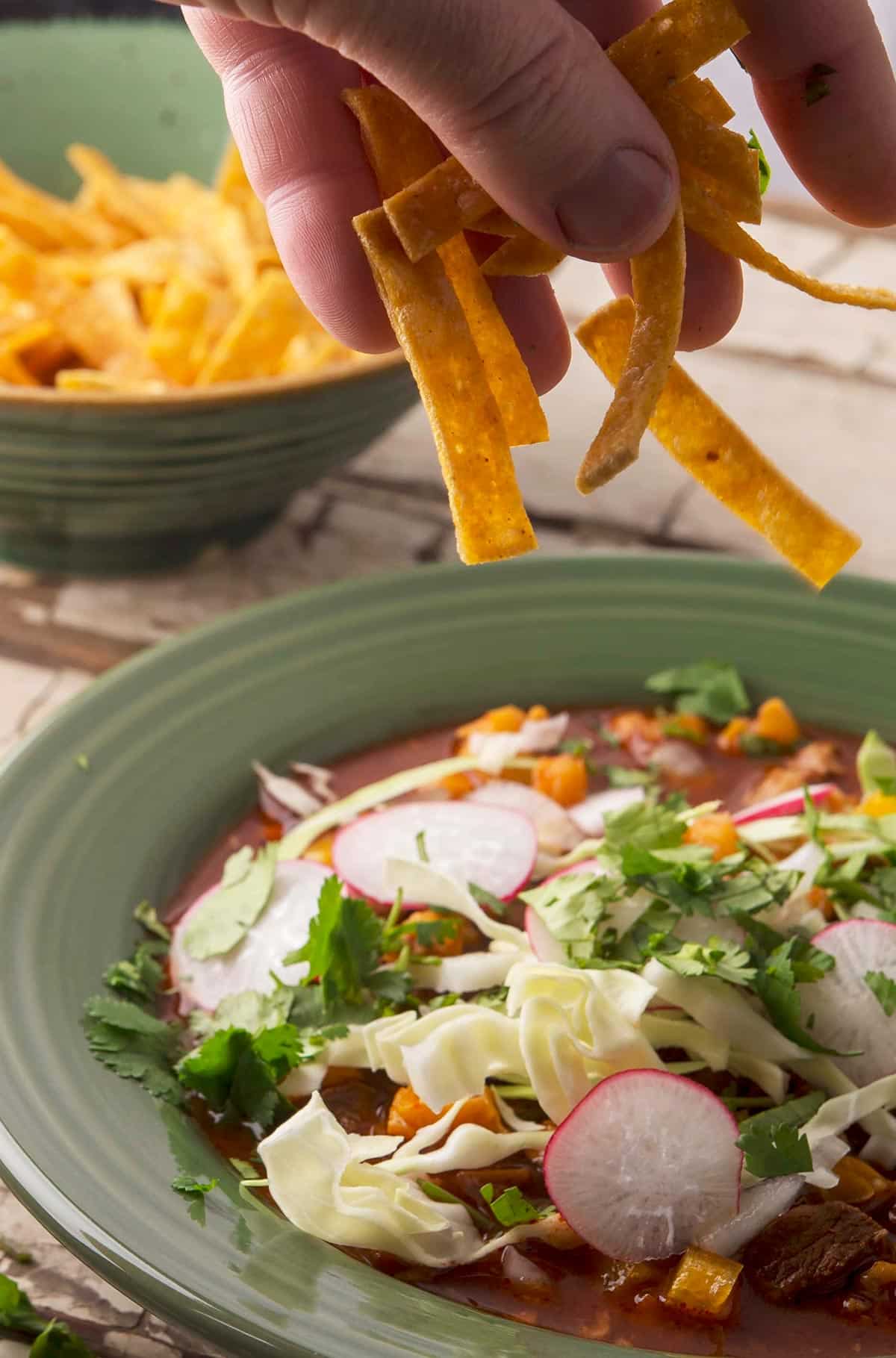 The fun in pozole is choosing your own adventure in terms of toppings. Almost anything goes. You definitely want cilantro, limes, radishes and corn chips — ideally stale tortillas you've fried crispy — but avocado, hot chiles, and shredded cabbage are also great additions.
Pozole rojo keeps well in the fridge for a week or so, just so long as you store it before you add your toppings. It also freezes well for up to a year. And incidentally, for those of you wondering, it is pozole in Mexico, posole in New Mexico.
I can hear some of you saying, "But I don't like pork. Can I use another meat?" Yes, you can. Any meat you feel like, actually. But honestly? It's not as good without that collagen. It really isn't.
You can do a poultry version so long as you added a ton of chicken feet (fish them out later and discard), a beef version with a calf's foot, or you could cheat and add a sheet of unflavored gelatin.
But, as I said at the start, for red pozole, I'll stick to pork.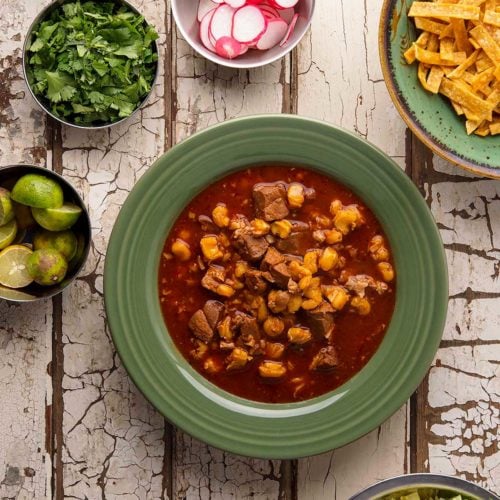 Pozole Rojo, Red Pozole
This is a real-deal, authentic pozole rojo, with no shortcuts. That said, I will offer you substitutions and shortcuts if you want to take them. The singular ingredient you can't be without for pozole is corn, and it can't be sweet corn. No hominy or dried field corn? Don't make this recipe.
Ingredients
POZOLE
3 to 4

cups

dried corn for pozole,

or 2 30-ounce cans hominy

1

tablespoon

slaked lime if using dried corn

6

quarts

water

1/2

pig's head, or 3 pounds pork shoulder, cut into chunks

1 or 2

pig's feet

4 to 6

dried guajillo chiles

4 to 6

dried ancho chiles

Salt

1

tablespoon

dried oregano, Mexican if possible
TOPPINGS
3 to 6

key limes, halved, or 3 regular limes, quartered

1/2

cup

chopped cilantro

6

radishes, sliced thin

1/2

head

cabbage, sliced thin

1/2

cup

diced hot fresh chiles, or have dried hot chiles at the table

1/2

cup

chopped white onion

2

avocados, diced

Tortilla chips

More dried Mexican oregano, to taste
Instructions
PREP THE CORN
Cover the corn with 6 cups of water, add the slaked lime and bring to a boil. Simmer for 20 minutes, and see if you can bite a kernel in half. If not, keep simmering until you can. When the corn is ready, turn off the heat, stir the pot, cover it and leave it to rest overnight.

The next morning, drain and rinse the corn under cold water, rubbing the kernels with your hands to remove the slimy seed coat. This should take about 5 to 10 minutes.

Optional Step: Use a paring knife or your fingernails to nip off the dark bit of each kernel where it attached to the cob.
COOK THE SOUP
Cover the corn with the 6 quarts of water and bring to a simmer. Let this simmer for 1 hour. Add the pig's head or other pork bits and bring to a full boil. Skim any scum that collects on top of the soup. When you've skimmed it all off, drop the heat to a simmer.

Stem and seed the dried chiles and tear into large pieces. Put in a bowl and ladle some of the soup over the chiles. Cover the bowl and let sit for 30 minutes. Put everything into a blender and puree. Pour all this into the soup, and clean the blender bowl by ladling more broth into it, so you get every bit of chile goodness. Stir in the oregano.

Simmer everything until the pork is falling off the bones. Fish it all out and chop. Regular meat you can dice or chop coarsely, but skin, fat and random bits you'll want to mince. It's your call if you want to keep the eyes. I toss them.

Add salt to taste and simmer until the corn is ready. This process takes quite a while, typically 4 to 6 hours once the pozole hits a simmer.

To serve, ladle some soup into bowls and have everyone put whatever toppings they want on top.
Notes
NOTE: Prep time does not include the overnight rest for the corn. 
Nutrition
Calories:
389
kcal
|
Carbohydrates:
59
g
|
Protein:
20
g
|
Fat:
13
g
|
Saturated Fat:
3
g
|
Cholesterol:
37
mg
|
Sodium:
331
mg
|
Potassium:
1396
mg
|
Fiber:
18
g
|
Sugar:
22
g
|
Vitamin A:
9720
IU
|
Vitamin C:
63.5
mg
|
Calcium:
99
mg
|
Iron:
4.5
mg
Nutrition information is automatically calculated, so should only be used as an approximation.