As an Amazon Associate I earn from qualifying purchases.
It's taken me a long time to post a venison casserole recipe, and for good reason. I wanted to find a recipe I really, truly loved. This is it.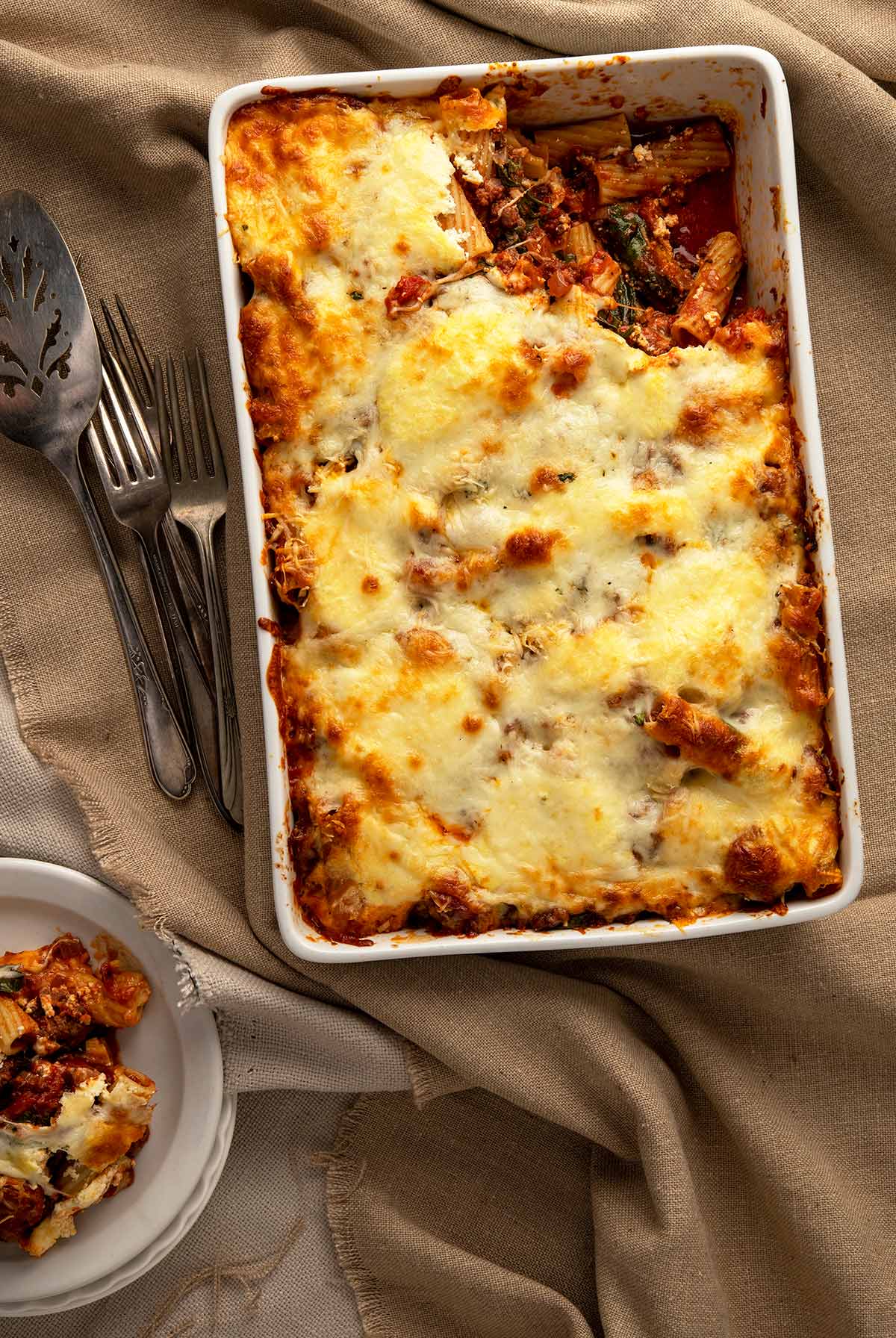 I thought about all the variations on venison casserole out there: ones with tater tots, scalloped potatoes, potato chips, macaroni. None really spoke to me. Then I realized that hey, the baked ziti I grew up with is really a casserole! Doneski.
Once I made the decision to recreate something like the baked ziti of my New Jersey youth, everything fell into place.
One of the truisms of Italian American food, or at least its most popular dishes, is that they share many of the same ingredients: tomatoes, cheese (usually a lot), pasta, meat (usually a lot), and a splash of wine. Oregano plays a role in many dishes, as does spinach.
All of those are in my venison casserole. If you've ever seen the movie Big Night, they make a dish called timpano, which is a kinda-sorta casserole. In it are, as Primo says, "all of the most important things in the world." Those things are in this recipe, too.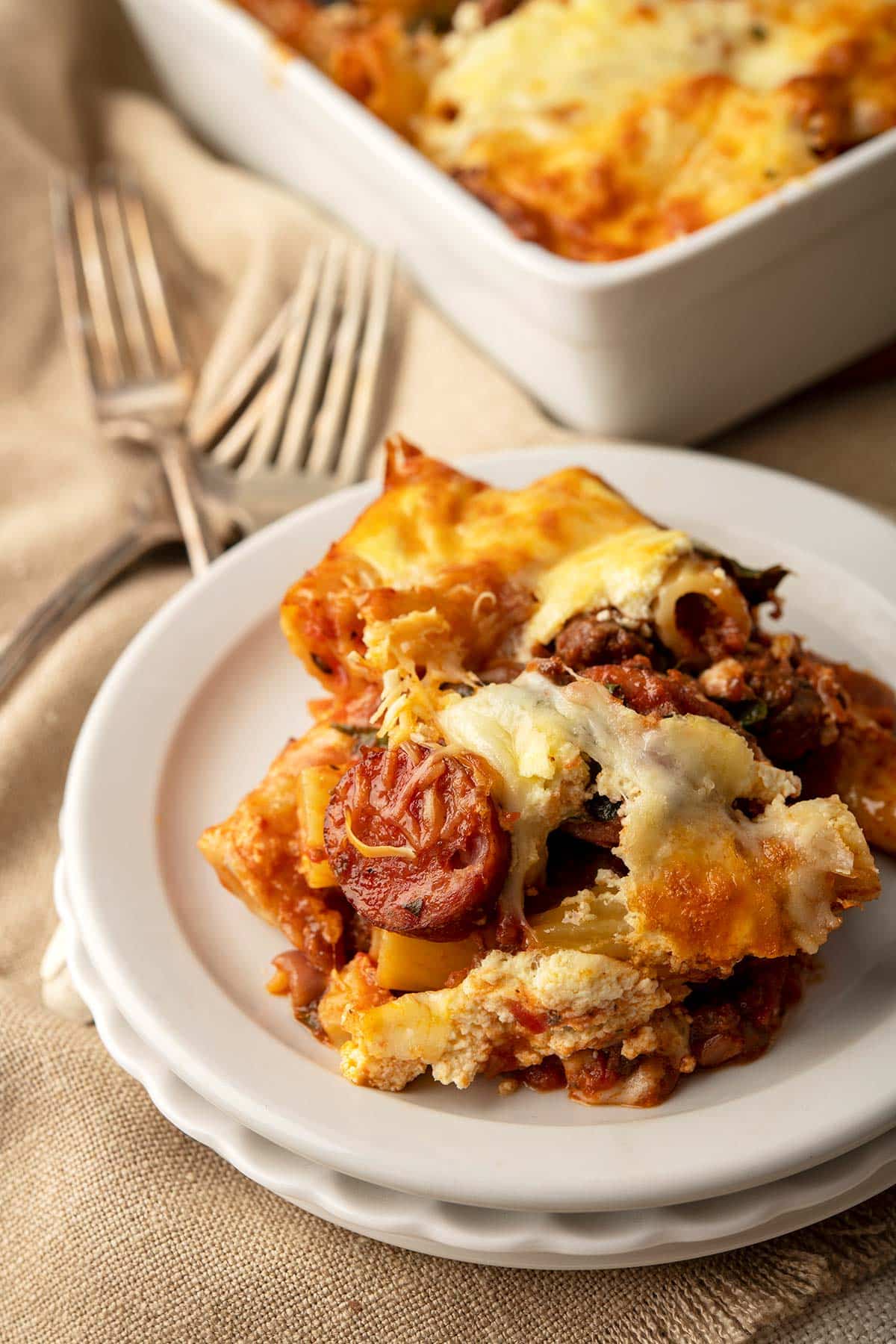 Before I get too far into it, you should know that what follows is malleable. You can play with the pasta, alter it if you want, or use potatoes or root vegetables. You can use diced venison instead of ground venison, or use leftover shredded venison from, say, a pot roast.
Don't love ricotta cheese? Skip it and use more mozzarella. Prefer parmigiano-reggiano to pecorino? Go for it. Hate green things? Skip them, too. Or use a leafy green that makes you happy.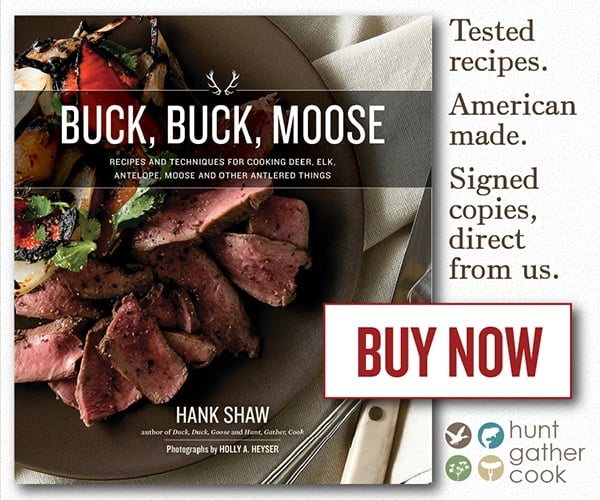 Pasta
I use rigatoni in my venison casserole because it's sturdy and has ribs on it, which catch sauce. Ziti is traditional, but penne is a good option. Paccheri is a another nice choice. Sturdy, short pasta is what you want.
Yes, you will notice that the ingredients in this are similar to my venison lasagna, but this dish eats differently. It's looser, and meatier.
Don't want to use pasta? Use cooked potato, or uncooked potato cut to pieces about the size of last digit of your thumb and they'll cook fine. Ditto for vegetables like parsnips, rutabagas or the like.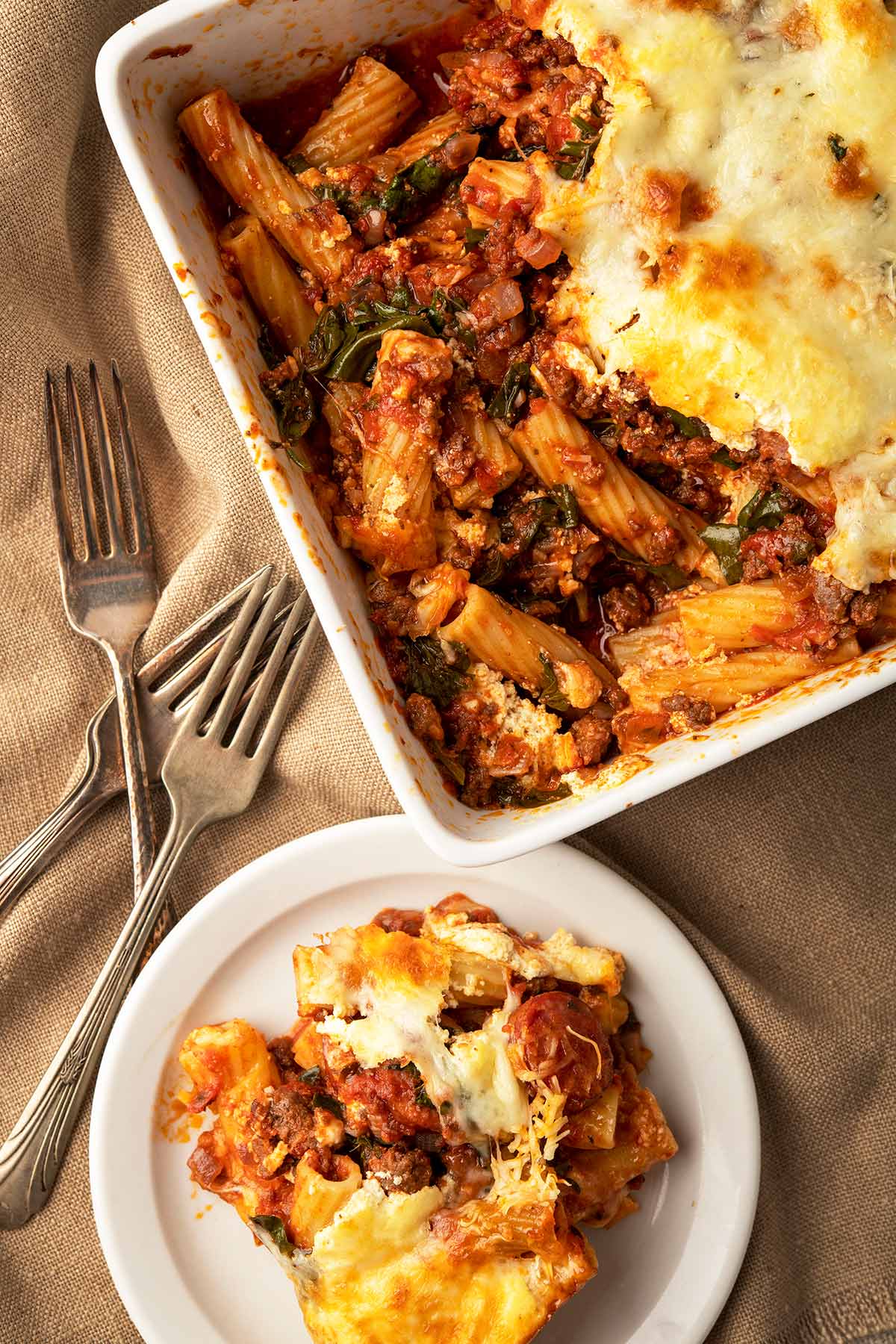 Meat for Venison Casserole
Obviously this is a venison recipe, but only because that's what I use in my house. Beef is fine, as is pork. And when I say venison I mean any red meat, big game animal, from elk to moose, pronghorn to caribou to wild sheep or nilgai.
I use a combination of ground venison and venison sausage. I'm partial to my recipe for spicy Italian sausage, made with a mix of venison and pork. Cased or uncased is fine.
As I mentioned, leftover shredded venison, or diced venison would work equally well.
Casserole Jazz
One of the beauties of a casserole as a type of dish is that you can, within reason, put whatever you want in it. I strayed from classic baked ziti by adding lambsquarters, a kind of wild spinach. Why? I like it, and it was growing in my garden at that moment. Any leafy green will work in its place.
Other fun options include:
Fresh mushrooms, wild or store-bought, browned in butter beforehand.
More meat! Can't go wrong with adding chunks of ham (prosciutto would be awesome), shredded chicken, turkey or pheasant, maybe some duck confit.
Zucchini, broccoli raab, roasted red peppers or some pickled things like pickled ramps.
Leftovers and Storage
Chances are you will have leftover venison casserole, which is a good thing. It's great reheated at about 350°F for 30 minutes or so. Makes for super easy lunches and work night dinners.
The casserole will keep a week in the fridge once cooked, and you can freeze it either cooked or uncooked — although that would take up quite a lot of space in your freezer, which is likely stuffed with venison…
Venison Casserole
This casserole is roughly in the style of baked ziti, and is loaded with meat, cheese, pasta and tomato sauce. I like to add some leafy greens, too.
Ingredients
1

pound

rigatoni, ziti, penne or paccheri pasta

Salt

2

tablespoons

olive oil

1

pound

ground venison

1/2

pound

sausage

1

large onion,

chopped

4

cloves

garlic,

minced

2

tablespoons

tomato paste

1

teaspoon

dried oregano

1

teaspoon

red pepper flakes

1

cup

red wine

A 28

ounce

can of crushed tomatoes

1/4

pound

chopped leafy greens

(spinach, lambsquarters, chard, etc.)

1

cup

ricotta cheese

1/2

pound

grated mozzarella cheese

1

cup

grated pecorino cheese
Instructions
Boil the pasta in salty water until it just starts to soften. You want it tougher than you'd want to eat it, but soft enough to bite through. Drain, toss with a little olive oil, and set aside.

Preheat the oven to 375°F and get a 9×13 casserole dish ready.

Heat the olive oil in a large saute pan over medium-high heat. Add the ground venison and brown it well, stirring often. Salt it as it cooks. If you are using uncased sausage, add it now and brown that, too. If you are using cased sausage, slice it into disks and wait to cook it for a moment.

Stir in the chopped onion and cook until it softens, stirring often. Stir in the garlic and cook that for a minute or two, then mix in the tomato paste. Let this cook a few minutes.

Add the oregano, red pepper flakes and wine and stir well. Everything will thicken as the wine and tomato paste mix. Let this cook for a minute or two, then add the crushed tomatoes. Stir this in with the cooked pasta and the the leafy greens and turn off the heat.

Put about half of the mixture into the casserole dish. Dot with about half the ricotta, then sprinkle about half the mozzarella and pecorino over it. Add the rest of the meat mixture, then top with the rest of the cheese. Bake at 375°F for 35 minutes.
Nutrition
Calories:
675
kcal
|
Carbohydrates:
56
g
|
Protein:
40
g
|
Fat:
30
g
|
Saturated Fat:
14
g
|
Polyunsaturated Fat:
2
g
|
Monounsaturated Fat:
11
g
|
Trans Fat:
1
g
|
Cholesterol:
117
mg
|
Sodium:
752
mg
|
Potassium:
876
mg
|
Fiber:
4
g
|
Sugar:
8
g
|
Vitamin A:
916
IU
|
Vitamin C:
15
mg
|
Calcium:
411
mg
|
Iron:
5
mg
Nutrition information is automatically calculated, so should only be used as an approximation.