Venison Lasagna
October 03, 2013 | Updated October 21, 2020
As an Amazon Associate I earn from qualifying purchases.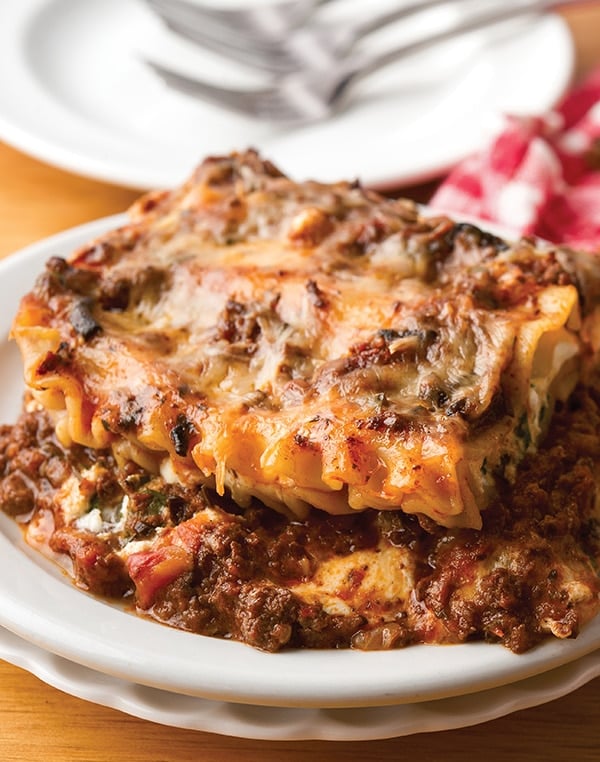 Lasagna is a bedrock staple of my childhood in New Jersey. I grew up around a lot of Italians, and everyone's mother or nonna made lasagna for special occasions, like a Sunday night. Or one of the many saints' days I cannot keep track of. I've eaten more versions of lasagna than any man has a right to.
Even my own decidedly non-Italian mother had her own lasagna recipe. And it was good. Really good. It hinged on mom's meat sauce, which cooked all day on the stove while I was at school and she was at work. Other than that, it was pretty standard: lotsa meat, lotsa cheese and those wavy noodles that seem to serve no other purpose.
Of course mom's lasagna is the best in the world. How could it not be? That's the thing about lasagna. It is one of those classics everyone makes that are so evocative of warm moments in our past.
I asked mom for the recipe. She'd lost it, sadly. "It was really nothing special," she said. I still wanted it. "Can you look for it?" I asked. She agreed. But a few months later she called up and raved about a new lasagna recipe she'd developed and how everyone loved this one far more than the last and yadda yadda yadda. Sure, mum. But it's still not THAT recipe. "I still can't find it," she said.
So it seems my memory of that lasagna will remain just a memory. Then mom sent me her "new" recipe. Looked pretty similar to the one I remembered, only maybe with some nutmeg and parsley in the ricotta. But as I read it, I realized that even armed with mom's old recipe, it still wouldn't be the same.
Food is more than a conglomeration of ingredients. Like wine, it is the punctuation mark, the highlight, of a gathering of people — old friends, new lovers, family. I could make mom's lasagna, but it would be my dish, not the one I remembered so much on those cold nights in New Jersey.
So I decided to use her new recipe to make my own venison lasagna, mixed with a bit of stray wild hog sausage I had in the freezer. I also like meaty rather than tomatoey sauces, so I shorted the tomato in mum's recipe. I also have more of a taste for spice so I added more oregano, nutmeg and garlic than she does. If this were to be my lasagna, I might as well go all the way.
The ingredients in this are similar to my venison casserole, but that dish eats differently – looser, and meatier.
Lasagna seems like such a commonplace. Lunch in a cafeteria. But think for a moment: It is loaded with cheese and meat, making it deceptively expensive. I spent $12 just on the cheese, and I already had pecorino at home. All told, the recipe had three pounds of meat and two pounds of cheese. This may be a familiar form, but lasagna New Jersey style is festival food, make no mistake.
And there is all sorts of room for jazz to creep in. We know the standard, but what is your riff? Homemade noodles? A unique blend of spices and herbs in the sauce or in the ricotta? A layer of spinach? Maybe you use a different array of cheeses? Different meats? A combination of ground beef, pork and veal was common back home.
I've thought about making a meatless lasagna loaded with mushrooms, not venison. And what about presentation? Can a lasagna still be a lasagna if it is not a layer cake?
I suspect mom would like my venison lasagna. It would be different enough to know that they are not the same dish, but I am sure she could see hers in my dish. As it should be. I am her son.
Looking for a different spin on lasagna? Check out this Mexican lasagna called pastel azteca.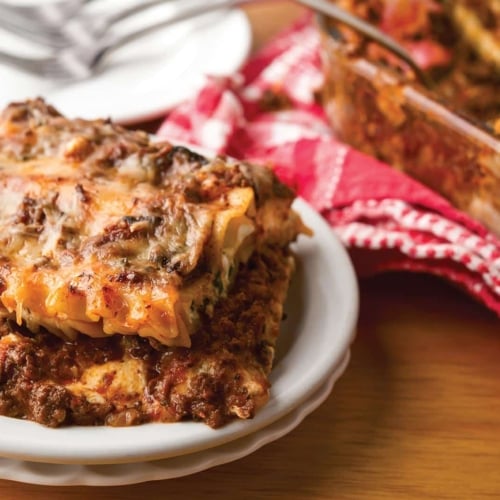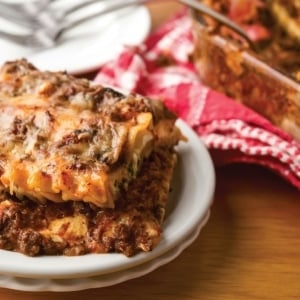 Venison Lasagna
This is a riff off my mother's lasagna, and of course, everyone's mother makes the best lasagna, right? This one is supremely meaty, supremely cheesy. There's something like 3 pounds of meat and 2 pounds of cheese in this bad boy. But it makes 8 to 10 servings, so don't worry about it. This lasagna, like most, reheats well, too.
Ingredients
1

pound

ground pork or wild boar

2

pounds

ground venison or ground beef

1

chopped onion

1

head of garlic,

chopped

1 28-

ounce

can of crushed tomatoes

1 8-

ounce

can of tomato sauce

1

can of tomato paste

1

cup

red wine

1

teaspoon

fennel seeds

1/2

teaspoon

fennel pollen

(optional)

2

teaspoons

sugar

(optional)

1/4

cup

chopped fresh basil leaves

2

tablespoons

dried oregano

1 15-

ounce

container of ricotta cheese

1

pound

mozzarella cheese,

shredded

1

cup

grated pecorino or parmesan cheese

1/2

nutmeg

1/2

cup

chopped parsley leaves

12

lasagna noodles

Salt and pepper
Instructions
Make the sauce. Brown the meat in a large, heavy pot like a Dutch oven. Take your time and do this in batches. It could take as long as 20 minutes. Put all the browned meat back in the pot and then add the chopped onions and cook for another 4 to 8 minutes, then add the garlic and cook for another 2 to 3 minutes. Add seasonings – fennel seeds and pollen if using, oregano, basil, maybe a little cayenne if you want — and mix well.

Mix the wine and tomato paste and pour in the pot. Bring to a boil over high heat, stirring often. Add the tomato sauce and can of crushed tomatoes and mix again. Bring to a simmer and taste it: If it's too acidic, add the sugar. Cook slowly for 1 to 2 hours. This can be done as much as two days ahead of time.

Prepare the lasagna. Soak the lasagna noodles in hot water for 15 to 20 minutes. Preheat the oven to 350°F.

Meanwhile, mix the parsley with the ricotta cheese in a bowl. Grate the pecorino or parmesan and shred the mozzarella. Grate 1/2 a nutmeg into the ricotta. If you can't find whole nutmegs, use 1 teaspoon.

To assemble, spread a good amount of the meat sauce on the bottom of a standard 9-inch by 13-inch casserole pan. Remove the lasagna noodles and lay on the meat sauce. Spread half the ricotta cheese mixture on the noodles, then half the mozzarella cheese, then 1/2 the pecorino.

Add another layer of meat sauce — you will have one final layer after this — then the rest of the noodles. Add the remaining ricotta and mozzarella, plus 1/2 of the remaining pecorino. Spread the remaining meat sauce on this, then sprinkle with the last bit of pecorino.

To cook, cover the lasagna with foil. You might want to spray the underside first with non-stick spray so the cheese doesn't stick to it. Bake covered for 25 minutes. Carefully take off the foil and bake for another 25 minutes. Let the lasagna rest for 10 to 15 minutes before serving with a strong red wine.
Nutrition
Calories:
892
kcal
|
Carbohydrates:
51
g
|
Protein:
65
g
|
Fat:
45
g
|
Saturated Fat:
23
g
|
Cholesterol:
218
mg
|
Sodium:
981
mg
|
Potassium:
1245
mg
|
Fiber:
5
g
|
Sugar:
12
g
|
Vitamin A:
1423
IU
|
Vitamin C:
18
mg
|
Calcium:
645
mg
|
Iron:
8
mg
Nutrition information is automatically calculated, so should only be used as an approximation.