Polish Venison Pot Roast
November 20, 2017 | Updated July 27, 2022
As an Amazon Associate I earn from qualifying purchases.
I have a lot of venison recipes that work well with a Crock Pot or slow cooker, but this venison pot roast is actually designed for one.
What you see is my version of the good ole' pot roast pretty much everyone ate while growing up. What makes it Polish? Only that I found a similar recipe in a book called Polish Heritage Cookery
by Robert and Maria Strybel. I like the use of flour and paprika, and the overnight wine marinade, each of which add a layer of flavor to the final dish.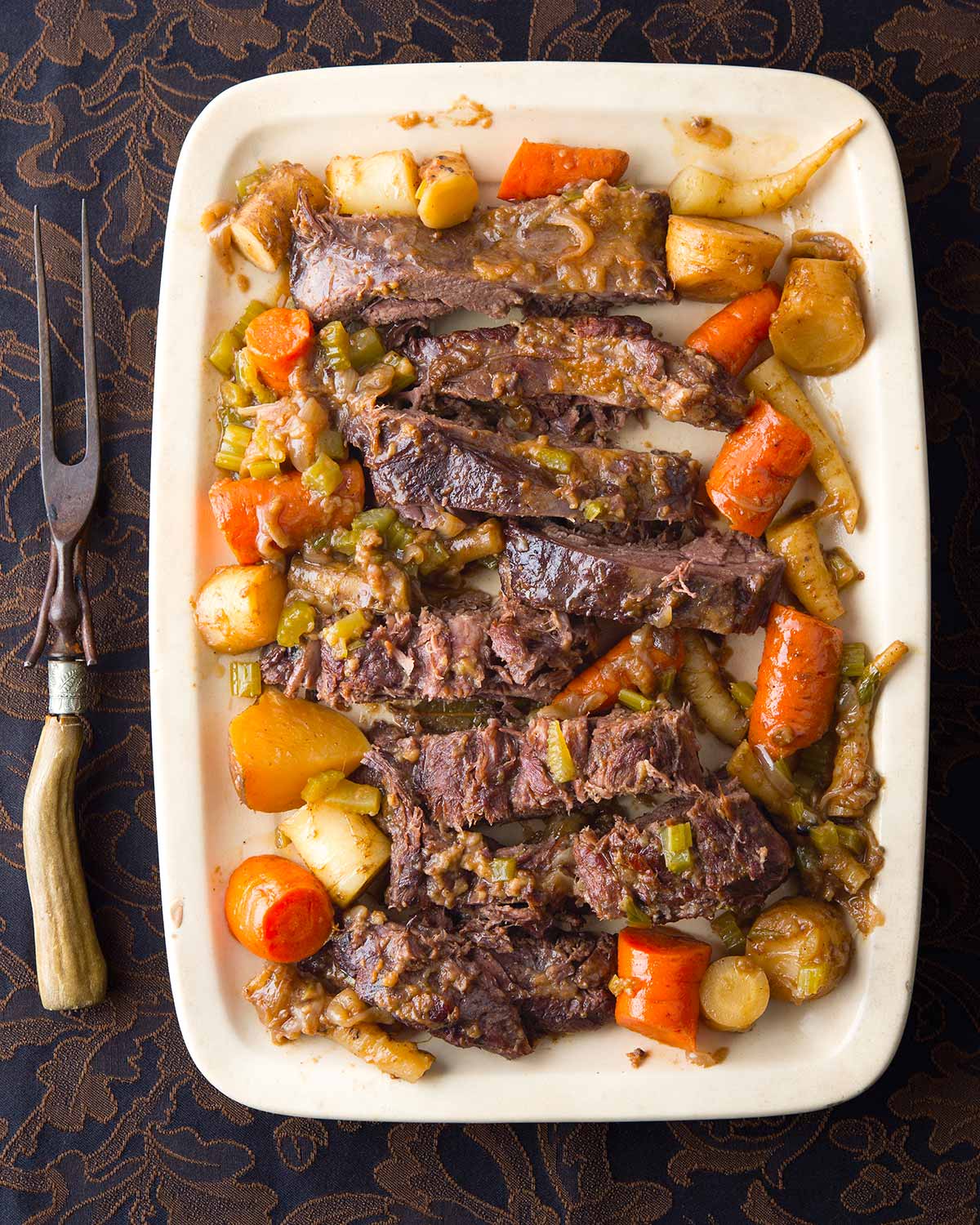 A venison pot roast is a bit different from the classic Jewish pot roast I ate as a kid. That pot roast was always made with beef brisket, a luscious, fatty cut that lends itself to slow and low cooking. Just ask the Texans about that one. Try to make a pot roast from a deer, elk or moose brisket and you'll run up against its leanness. It will still be OK, but lack that lush texture of beef brisket.
And if you try to make a venison pot roast with a hind leg roast you will be super sad. Why? No internal fat, not enough connective tissue. It'll be dry as hell. Really unpleasant. Hind leg roasts are best done as single-muscle roasts, ideally smoked, and cooked to a finishing internal temperature of about 135°F, which is medium-rare.
Nope, you need another cut for a good deer pot roast. And the best cut of all is the neck. Yes, you read that right. Either pot roasted whole and bone-in, which I do for smaller animals, or cooked as a boneless venison neck roast, which I do for elk. You will find that this is the finest cut for slow, low, moist cooking.
Why? Because a neck is the opposite of a hind leg roast. It's loaded with connective tissue. And in the absence of internal fat, connective tissue, which melts when cooked slowly under moist conditions, provides that luxurious texture you want in a good pot roast.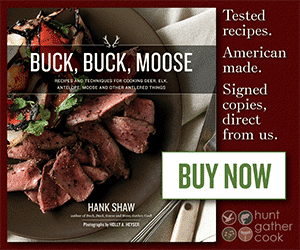 Other good candidates for pot roast are whole deer shoulders, big shoulder roasts from larger animals, or shanks. All have lots of connective tissue. I have a cool deer shoulder pot roast recipe here.
I prefer bone-in venison pot roasts for the most part, but then I don't live in an area with chronic wasting disease. If you do, bone out the neck. It is true that CWD has never crossed the species barrier to humans, but better safe than sorry. Ditto for the shoulder.
You will see in the instructions that I don't use a Crock Pot or slow cooker, largely because I work from home and can monitor a slow-cooking pot roast all day. If you use a Crock Pot, you will need to brown the meat and onions before you put things into your slow cooker. Once everything is all settled into the pot, turn it on "high" and your slow cooker will do its thing all day while you are at work.
Crock Pot Venison Roast
If you are using an Instant Pot or a similar pressure cooker for venison pot roast, you will want to set it for about 80 minutes, more or less. Since it is wild game, cooking times will vary, but that should get you close.
One important thing to remember, whether you are using a Crock Pot, Instant Pot or are cooking things normally, is that it takes time for a venison pot roast to get tender. Tough meat is simply not ready yet: Period, end of story. Keep cooking it.
Needless to say my choice of root vegetables is my own. Feel free to play with it to suit your own tastes. Just remember: Don't skimp on the marinating time or on the onions. They make a big difference.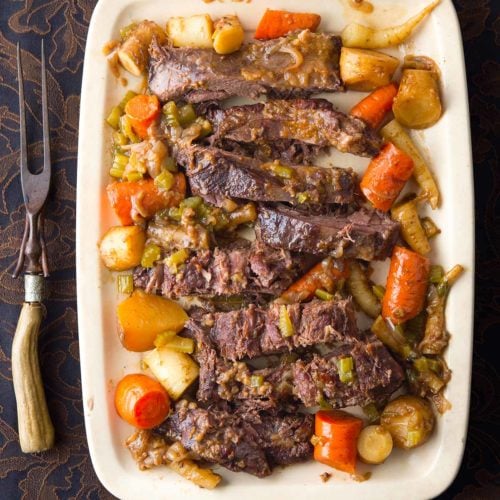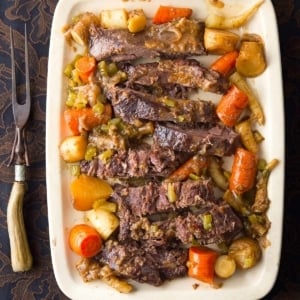 Venison Pot Roast, Polish Style
I prefer to use a large neck roast for this recipe, but you could of course use other cuts, like a shank or a shoulder or even a hind leg roast. The long slow simmer melts all the connective tissue in the neck and gives you an intensely flavored, yielding piece of meat to either tear apart roughly or slice thick and serve. Note that a boned-out neck will be sliceable, but not in clean cuts unless you chill the meat overnight before slicing. Why bother with that, though? Eat it messy.
Ingredients
1

bottle of red wine

6 to 10

allspice berries,

cracked

6 to 10

black peppercorns,

cracked

3

bay leaves

A 2 ½ to 4 pound neck roast,

boned or bone-in

Salt

1

cup

flour

3

tablespoons

paprika

1

tablespoon

cayenne

(optional)

¼

cup

lard,

bacon fat or cooking oil

2

onions,

sliced root to tip

2

celery stalks,

diced

3

carrots,

cut into large chunks

2

parsnips,

cut into large chunks

3

Yukon Gold potatoes,

cut into chunks

1

rutabaga or 2 turnips,

peeled and cut into chunks

Black pepper to taste

Sour cream,

for garnish
Instructions
Bring the wine, allspice, black peppercorns and bay leaves to a boil. Turn off the heat and let the marinade cool to room temperature. When it's cool, submerge the venison neck in the marinade and keep in the fridge overnight, or up to 4 days.

Mix the flour, paprika and cayenne (if using) together in a large bowl or shallow container large enough to hold the neck roast. Pat the meat dry with paper towels and salt it well. Coat it in the flour-paprika mixture. Heat the lard in a large Dutch oven or other heavy, lidded pot and brown the meat. With a typical neck roast you will need to cut it into two pieces to get it to fit the pot. Brown one piece and then remove while you brown the other. If you are using a bone-in neck, just turn the meat to brown all sides. When the meat has browned, remove it from the pot and set aside for a moment.

Preheat the oven to 325°F. Add the sliced onions to the pot and brown them well, stirring occasionally. This should take about 8 minutes. Add 2 cups of the marinade and bring it to a boil. Add the venison back to the pot, along with 2 cups of water. Bring to a simmer, cover the pot and cook in the oven for 1 1/2 hours.

After 1 1/2 hours have elapsed, add the root vegetables and celery and continue to cook for another 1 ½ hours, or until the meat is falling apart and the root vegetables are tender.

Remove the meat and set on a cutting board. Slice roughly or pull the meat off the bones. Taste the sauce and add salt if it needs it. Add black pepper to taste and serve with the meat and vegetables, with a dollop of sour cream alongside.
Nutrition
Calories:
418
kcal
|
Carbohydrates:
58
g
|
Protein:
7
g
|
Fat:
9
g
|
Saturated Fat:
5
g
|
Cholesterol:
20
mg
|
Sodium:
122
mg
|
Potassium:
1052
mg
|
Fiber:
10
g
|
Sugar:
10
g
|
Vitamin A:
7462
IU
|
Vitamin C:
47
mg
|
Calcium:
94
mg
|
Iron:
3
mg
Nutrition information is automatically calculated, so should only be used as an approximation.