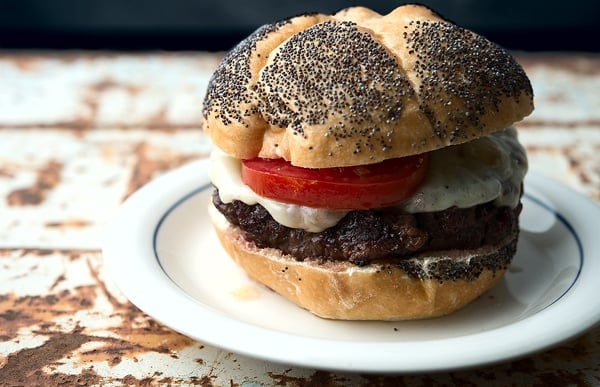 It has occurred to me that the single most consistent ingredient in the Great American Hamburger is testosterone.
The chest-thumping surrounding the making and cooking of burgers is matched only by that of chili in winter or barbecue in the South. This is especially true of men who have grown up eating wretched fast-food patties or had mothers who made, as Eddie Murphy so memorably put it, "brontosaurus burgers."
There is something validating about being able to rectify a childhood wrong, as a bad burger seems to be in America.
Ideas about the "perfect burger recipe" are as varied as there are minds to contemplate such weighty matters.
I've seen complicated equations involving exact percentages of this cut of meat or that one, including such horrors as including hanger steak or skirt steak in a burger. These are noble cuts, not something to be ground into a Wednesday gut filler. Might as well grind a ribeye. And yes, I am certain at least one person reading this has done so.
Meat-to-fat ratio is a big area of contention, too. So is the timeless debate over whether to salt the meat as you make the patty or just on the outside. A few errant souls even add things to the meat itself, which to purists is anathema. (I am one of those souls: My venison burgers with mushrooms recipe includes powdered, dried mushrooms in the patty itself. So there.) To flip once or many times? Toast the bun or no?
Get into the Toppings War and you can have some fun, too. Cheese or no cheese? Cooked or raw onions? Is it nobler to use hothouse tomatoes on your burger in winter or not to do so, and by opposing this outrageous arrow against seasonality, end the debate forever? (Sorry, Hamlet. Had to.)
Well, here is where I stand.
I will preface all this by saying that this is, to me, a perfect burger. To you, it may not be. And you are free to believe so. That's why this is America (or Canada, or wherever it is you happen to be reading this).
First: All burgers, venison or no, need fat. Period. My preferred ratio is 80 to 85 percent meat, 15 to 20 percent pork fat. I dislike beef tallow; it's too waxy for me. Ditto for lamb fat, although that is a step up in my book. Bacon is perfect, as it has both lean and fat so if you use 20 percent bacon you get to that magic 15 percent, more or less.
Second: Grind your own if at all possible. This is the secret to virtually every great burger joint's meat. Grinding your own takes less than 10 minutes (unless you are feeding an army), and gives you ultimate control over texture and composition. And in the world of venison burgers, this is what I've come to like best: Venison meat from the shoulder, ribs, neck or hind leg, ground with bacon ends. If you've never tried this, do it. It's amazing. What's more, I vary my grind. (Exact proportions are in the recipe below.) Why? Because it makes the burger taste more interesting.
Third: Gently patties must you make, young padawan. So Sayeth Yoda. These aren't meatballs, folks. Think of a burger like a you would a crabcake, which is supposed to just barely hold together. It's a fine line between perfect and too crumbly, but a dense, packed patty is depressing and somehow un-American.
Fourth: Salt only the outside of the burger, right before you cook or even when you flip the patty. This one matters. Salt denatures proteins, which is why sausage binds so well and, incidentally, has a very different texture from a good burger. Add salt to the meat mixture and you have a sausage patty, not a hamburger. And yes, people have done experiments proving this. (As for my bacon ends, which contain salt, I use them only when I grind and cook, not when I grind lots of burger in advance and freeze it.)
Fifth: Grilled burgers are only better when there's wood or charcoal involved. Yes, I cook burgers over gas grills, and they are nice, but not qualitatively better than those done in a pan inside. Unless of course you add smoke chips to your gas grill. Meat + woodsmoke = awesome.
Sixth: Flip once, or several times. It apparently doesn't matter in the final judgment. And again, yes, people have done experiments proving this. I flip only once because I want a hard crust on the outside of the burger, which I find helps hold it together.
Seventh: Rest thine burgers. It's the little-known 12th Commandment, lost in the making of Mel Brooks' History of the World Part I. (The 11th Commandment has something to do with Republicans…) Why? Remember the original name of a hamburger: hamburger steak. You rest steaks right? Right? Please tell me you do…
Eighth: Let all else be free. Let your burger freak flag fly when it comes to toppings. Just let the meat be the star, OK?
I know many of you get your venison pre-ground from the butcher shop. Go ahead and use that for your venison burgers this season, but next time make sure that the butcher either a) grinds your venison with pork fat or, better yet, bacon ends; and/or b) ask him for just more stew meat so you can grind the meat yourself.
Oh, and obviously all this applies to burgers made from any other sort of meat.
Venison Burgers
Keep in mind that what's important here is the technique and the grind, not so much my additional ingredients. Of course, I love my venison burgers like this, so I am biased. But so long as you follow general guidelines on toppings: mix something rich (cheese) with something sharp (tomato) and something slightly bitter or cleansing (lettuce or sorrel leaves) and a touch of sweet (ketchup) and you will be in good shape.
Ingredients
1 1/2

pounds

venison

1/2

pound

bacon ends or regular bacon,

chopped roughly

Salt (smoked salt if you have it)

Freshly ground black pepper

3

tablespoons

butter,

lard or vegetable oil

1

large or 2 medium onions,

thinly sliced

Burger buns

Something green

like bibb lettuce, arugula, sorrel or spinach

Slices

of fresh tomato,

or canned, fire-roasted peppers (winter), summer

Slices

of cheese of your choice

Condiment of your choice (ketchup

mustard, remoulade, mayo, etc)
Instructions
Make sure the meat and bacon are cold. Cut the venison into chunks that will fit into your grinder. Do the same for the bacon. Mix the two together roughly so you can add a bit of each into the grinder as you go. Grind 1/2 to 2/3 of the mixture coarsely and the rest with the fine die. NOTE: If you are grilling your venison burgers, flip this so you grind 2/3 of the mix fine and only 1/3 coarse -- the reason is because grilled burgers tend to cook better and stay juicier when the grind is fine.

Make between 4 and 6 patties, depending on how large you want your burgers. Form the patties with only as much force as absolutely needed -- you want the patties to hold together only loosely. Make them about 1/2 to 1 inch thick. Use your thumb to press an indentation into the center of each patty: This prevents the burgers from turning spherical when you cook them. Set the burgers aside.

Heat the butter in a frying pan over medium-high heat. When it's hot, add the sliced onion and cook until it's done to your liking. Some people like juicy onion with a little char on the edges, some people prefer to go the full caramelized onion route. When finished, put the onions in a bowl so you can have them ready.

I prefer grilled burgers, so I'll go through that method. Heat your grill on high and be sure to scrape down the grates with a wire brush. Only salt your burgers right before you cook them, and if you are salt-sensitive you might not need to with these because of the bacon. Place the patties on the grill and cook them without disturbing them (with the grill cover open) for 3 to 5 minutes, depending on how well done you like your burgers. Flip and cook for the same amount on the other side. I prefer 3 minutes per side with a really hot grill.

When you flip the burgers, grind some black pepper over them, then spoon a little caramelized onion on each one if you'd like. With about 90 seconds to go on the second side, lay the cheese on top of the onions and cover the grill until the burger's ready. If you like toasted buns, toast them on the grill in this last 90 seconds. When everything's done, move the burgers and buns to a sheet tray or plate so the meat can rest for 5 minutes, while you build the burgers.

You can do this any way you want, but I start with a green thing, then some ketchup or mayo or whatever, then the burger patty that has the onions and cheese already on it, topped with a slice of tomato (or roasted red peppeand finally some more of whatever condiment I happen to be using. My method is just how I do things; you can do anything you'd like.
Nutrition
Calories:
527
kcal
|
Carbohydrates:
3
g
|
Protein:
47
g
|
Fat:
35
g
|
Saturated Fat:
15
g
|
Cholesterol:
205
mg
|
Sodium:
538
mg
|
Potassium:
693
mg
|
Fiber:
1
g
|
Sugar:
1
g
|
Vitamin A:
283
IU
|
Vitamin C:
2
mg
|
Calcium:
20
mg
|
Iron:
6
mg