As an Amazon Associate I earn from qualifying purchases.
Thai green curry can be as easy or as hard as you want it to be. Yes, you can make your own green curry paste, and it's amazing, but there are several store-bought curry pastes that are very good, allowing you to make this dinner in less than 30 minutes. Great for a work night.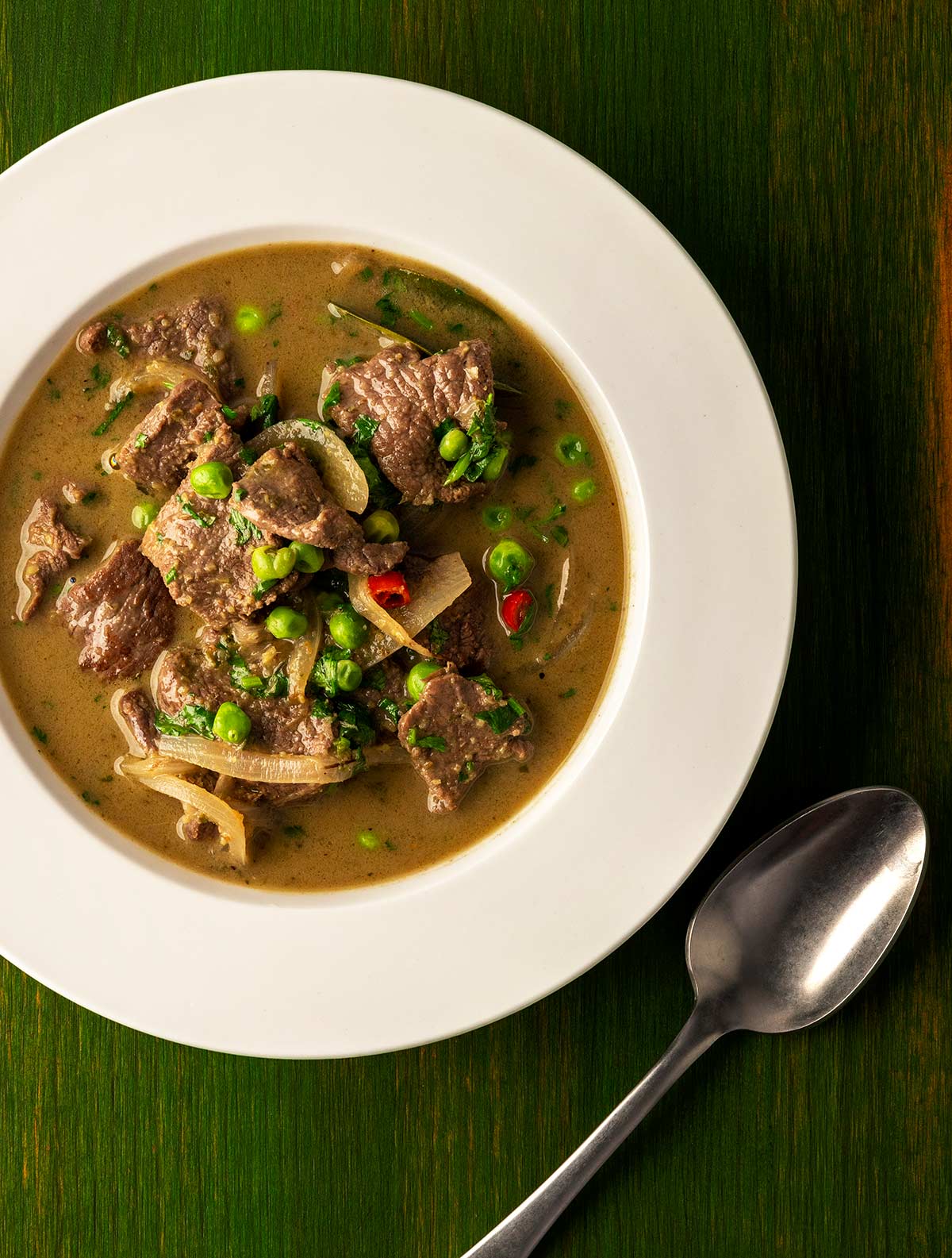 Anyone who has ever eaten at a Thai restaurant has been faced with an array of curries, from massaman to red coconut curry, to panang curry. But there's always green curry. It's a go to in every Thai restaurant, and is usually offered with a variety of proteins.
It's the same deal here on Hunter Angler Gardener Cook. I have recipes for Thai green curry with fish, and a pheasant green curry, too. This one uses venison, which is my wild stand-in for beef.
As I've learned more and more about Thai food, my curries have improved. So this latest one is my new favorite. Yes, it uses a premade paste, but in this case it was a handmade one, not store-bought. If you like Thai green curry, you will want to learn how to make the green curry paste; here is a recipe I like a lot.
Until then, use good store-bought curry paste. The two I prefer are either Mae Ploy or Maesri. Both are available online, and pretty much all Asian grocery stores carry them. In a pinch you can use the rather bland Thai green curry pastes you get at standard supermarkets.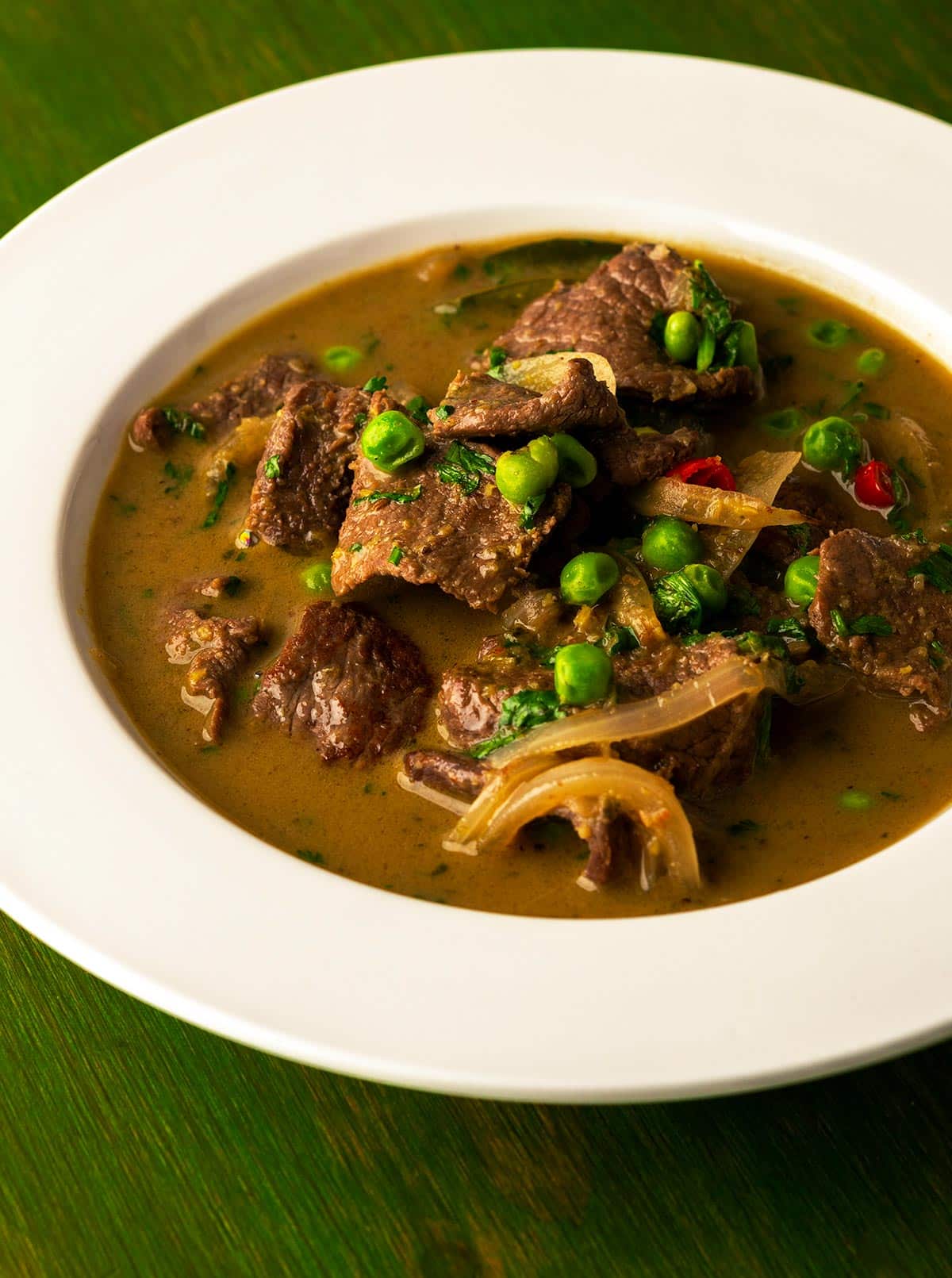 At it's core, Thai green curry is curry paste, coconut milk, fish sauce, the main ingredient — usually a protein of some sort — and then associated vegetables. You will most often see little Thai eggplants, regular peas or snow peas, chiles, lots of Thai basil leaves or cilantro (or culantro for that matter) plus, sometimes, green beans, red bell pepper, cherry tomatoes or onions.
Yes, you can skip fish sauce if you must, but I wouldn't. It adds a savory, funky note to the dish that any good Thai green curry must have. I make my own, but any clear fish sauce will work; I am partial to Three Crabs or Red Boat. Avoid the fish sauces with lots of debris in the bottle.
Lime leaves, also called makrut or kaffir lime leaves, are used the same way you would a bay leaf in Western cooking. I grow lemons and limes in my yard, so I just use them. They are a good touch, but don't sweat it if you can't find them. Lime juice is a must.
For the meat here, I used thinly sliced venison backstrap, but beef sirloin is another great cut. Goat is used a lot in Thailand for green curry. Cut the meat across the grain so it stays tender.
Serve your Thai green curry with jasmine rice.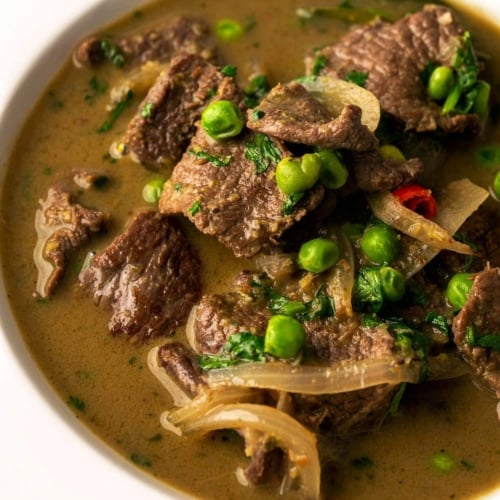 Thai Green Curry
I use venison backstrap here, but any tender cut of really any meat, or shrimp, will do.
Ingredients
1

tablespoon

coconut oil or vegetable oil

1

white or yellow onion,

sliced thin

2 to 5

tablespoon

Thai green curry paste

(add as much as you can take, heat-wise)

4

lime leaves

(optional)

1

can

coconut milk

(about 14 ounces)

1

cup

coconut water,

or regular water

2

tablespoons

palm sugar,

or brown sugar

1

pound

venison or beef,

thinly sliced across the grain

2 to 4

tablespoons

fish sauce

1

cup

peas,

fresh or thawed

1/2

cup

Thai basil or cilantro,

roughly chopped

5

sliced Thai chiles

(optional)

Lime juice, to taste
Instructions
Heat the coconut or vegetable oil in a pot over high heat. When it starts smoking, add the onion and stir fry until the onion is soft, and slightly browned on the edges.

Add the curry paste -- start with 2 tablespoons -- and the lime leaves if using, plus the coconut milk and coconut water or plain water. Bring to a boil. Dissolve the palm or brown sugar into this, then taste. Add more curry paste if you want. Add the venison and stir to combine. Let this simmer a minute or two.

Stir in the fish sauce, peas, chiles and Thai basil and let this cook about 5 minutes. Add lime juice to taste. Serve with jasmine rice.
Notes
Keys to Success
Use full fat coconut milk. You need it. Lowfat ones lack flavor.
Do try to get Maesri or May Ploy curry pastes, or make your own. This is the soul of your curry. 
Fish sauce matters. Use as much as you can stand, up to the full 4 tablespoons. It should be noticeable, but not overwhelming. 
Thai green curry is supposed to be a little sweet, not sickly sweet. 2 tablespoons is for palm or coconut sugar, which isn't as sweet as brown sugar. Use only 1 tablespoon if that's what you are using. 
This is a fast meal, so make sure your venison or beef or whatever is a tender cut, sliced across the grain. 
Pretty much not possible to use too much cilantro or Thai basil. Go for it. 
Nutrition
Calories:
399
kcal
|
Carbohydrates:
17
g
|
Protein:
31
g
|
Fat:
24
g
|
Saturated Fat:
19
g
|
Polyunsaturated Fat:
1
g
|
Monounsaturated Fat:
2
g
|
Cholesterol:
96
mg
|
Sodium:
793
mg
|
Potassium:
747
mg
|
Fiber:
3
g
|
Sugar:
8
g
|
Vitamin A:
1663
IU
|
Vitamin C:
28
mg
|
Calcium:
59
mg
|
Iron:
8
mg
Nutrition information is automatically calculated, so should only be used as an approximation.