Venison Curry Thai Style
March 15, 2012 | Updated August 25, 2021
As an Amazon Associate I earn from qualifying purchases.
I love curries in all their forms, which means that venison curry is on the menu all season.
This is a Thai-style massaman curry, which normally uses beef, and you can do the same if you are not a hunter. But I do prefer this with venison.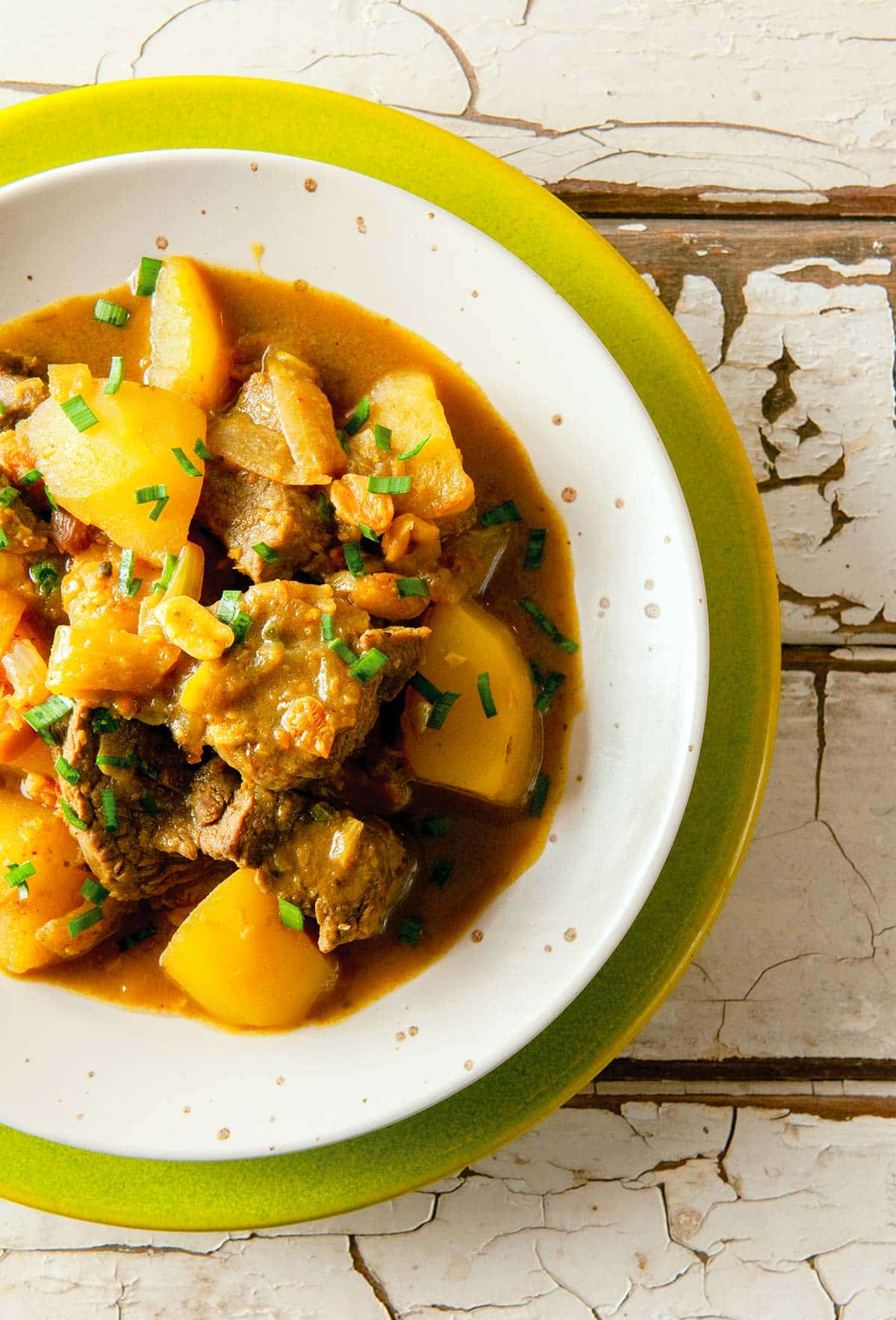 For most of my cooking life, curries have been something I've enjoyed in restaurants, not at home. Part of the reason is all those exotic ingredients. Part of it is the notion that a truly great curry surely must come from fresh ingredients, just like truly great Western food does.
Turns out most curries aren't in fact made with fresh ingredients. Most are made from Byzantine spice mixes, cooked in unusual oils and simmered with vegetables I am not too familiar with. And, more specifically to my purchase, there are lots of curries that don't use turmeric at all.
As it happens, this Thai-style massaman curry is one of them. So my addition of fresh turmeric is, while not crazy — I've seen it used in some recipes — apparently not traditional. Oh well. Why this curry then? Well, it goes especially well with venison.
Massaman curry is a Thai version of the curries further west, in Muslim Pakistan and the like. Massaman is, scholars believe, a corruption of "Muslim." It is a yellow curry, often with potatoes and is not typically incendiary like most Thai curries. And unlike green curries, which are awesome with fish, this yellow curry is tailor-made for beef, lamb… or venison.
Trolling for recipes, I ended up adapting a classic: The massaman curry recipe in what may be the first Thai cookbook in English, Jennifer Brennan's Original Thai Cookbook. Since Brennan first wrote that book in 1981, the ingredients required to make a good Thai curry have become easy to find: galangal and turmeric (both relatives of ginger), lemongrass, coconut milk, fish sauce, and premade curry pastes.
I've used these premade pastes before; they're pretty good, actually. Everything in them must be antibacterial or otherwise antiseptic, because they last in the fridge for more than a year. But making curry from scratch make me feel more like a real cook.
(Looking for a different venison curry? Try my Thai green curry venison.)
I have to admit I was a little nervous making this. I can whip up all sorts of Western food without a recipe. I understand these cuisines deep in my bones. Asia is not so second nature for me. So I hewed pretty close to Brannan's recipe, adding a bit more chile and the turmeric, a few more potatoes. And of course, I used venison, too.
Ever worked with fresh turmeric? Um, I have some advice for you: Wear rubber gloves, and have hot, soapy water at the ready. Most of us know that powdered turmeric stains like a sonofabitch, but fresh is just as bad. It will even stain the allegedly stainless steel, albeit temporarily. My mortar and pestle is yellow now. I am hoping that too will be temporary. (it was)
Because this venison curry does not stew for hours and hours, you need to treat the venison or other meat in a special way.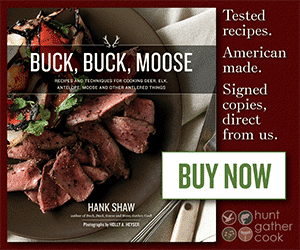 First, make sure the meat is completely free of all silverskin or connective tissue. Second, drop it into the curry maybe 5 minutes before you serve — just enough time for the chunks of meat to cook through, yet still be pink inside.
I am happy to report this recipe tastes like restaurant curry. And while I loved the massaman curry paste I made, I must admit that the store-bought, premade ones I've bought in the past were just as good. Maybe when I get more skilled at this I can surpass them, but not yet.
Meanwhile, you're going to love this venison curry. Exotic without being overly spicy, yet it is still, at its core, a meat-and-potatoes meal. Give it a go.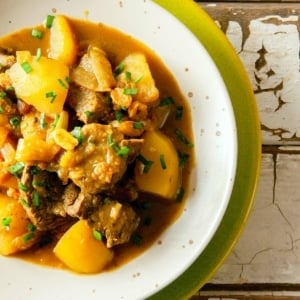 Thai Massaman Curry with Venison
This is a great curry for people who don't normally like curry: It is a stolid, meat-and-potatoes meal that doesn't taste as exotic as it really is. And if you use a premade curry paste, available online or in many decent supermarkets, you can make this in the time it takes to cook the potatoes. I made this with venison, but you could use any meat, really. I've seen massaman curry served with everything from tofu to beef to chicken to pork.
Ingredients
CURRY PASTE
7-10

dried hot chiles

2-

inch

stick of cinnamon

12

cardamom seeds,

or 1/2 teaspoon ground

1/2

teaspoon

ground nutmeg

4

bay leaves,

crushed fine

1

teaspoon

salt

8

garlic cloves,

minced

1/2

cup

onion,

minced

1

tablespoon

lard or vegetable oil

1

tablespoon

minced galangal,

fresh or pickled

2-

inch

piece of fresh turmeric

or 2 teaspoons powdered

1

lemongrass stalk,

minced
CURRY
1

tablespoon

lard or vegetable oil

1

large onion,

sliced

1

pound

potatoes,

peeled and cut into 2-inch chunks

1 14-

ounce

can coconut milk

3

tablespoon

fish sauce or 2 tablespoons soy sauce

A 2-inch piece of cinnamon

4

tablespoons

yellow curry paste

(if not using the curry paste above)

2

pounds

venison,

trimmed of fat and silverskin and cut into 1-inch cubes

Chives or cilantro for garnish
Instructions
If you are making your own curry paste, heat the tablespoon of lard and sauté the onion and garlic until soft and translucent. Let cool a bit and put into a bowl. While the onions are cooking, grind the chiles, cloves, cinnamon, cardamom, nutmeg, bay leaves and salt into a powder. Put the spice mix into the bowl with the onions and garlic. Add the galangal, turmeric and lemongrass and mix everything well. Pound everything into a rough paste and set aside.

In a large sauté pan or wok, heat the other tablespoon of lard or vegetable oil and sear the onions over high heat. Toss well to combine, then don't move the onions for a minute or two -- you want some char on them. Toss again and let sear one more time.

Add the potatoes, coconut milk, fish sauce, cinnamon and enough water to just barely cover the potatoes. Mix in the curry paste one tablespoon at a time and stop when it is spicy enough for you. Cover and simmer until the potatoes are tender, about 30 minutes. When the potatoes are tender, mix in the venison and cook gently for 5 more minutes.

Serve at once with chives or cilantro, rice and a cold beer.
Notes
I normally make this curry with chunks from the hind leg, but any sinew-free meat works here. 
Nutrition
Calories:
437
kcal
|
Carbohydrates:
13
g
|
Protein:
38
g
|
Fat:
27
g
|
Saturated Fat:
21
g
|
Polyunsaturated Fat:
1
g
|
Monounsaturated Fat:
3
g
|
Cholesterol:
129
mg
|
Sodium:
1185
mg
|
Potassium:
820
mg
|
Fiber:
4
g
|
Sugar:
5
g
|
Vitamin A:
1737
IU
|
Vitamin C:
8
mg
|
Calcium:
72
mg
|
Iron:
7
mg
Nutrition information is automatically calculated, so should only be used as an approximation.