As an Amazon Associate I earn from qualifying purchases.
Thai red coconut curry is a bedrock recipe you will want to know if you are at all interested in Thai food. It can be made with pretty much any meat or fish, and you can of course make this vegetarian, too.
While it can be incredibly spicy, red curry doesn't have to be. It all depends on the curry paste. But it is always exotic tasting, at least to most American palates. Slowly fried onions and garlic, red chiles (hot or mild), lemongrass, citrus leaves, ginger and/or its cousin galangal, all mashed into a paste that is the soul of a good red curry.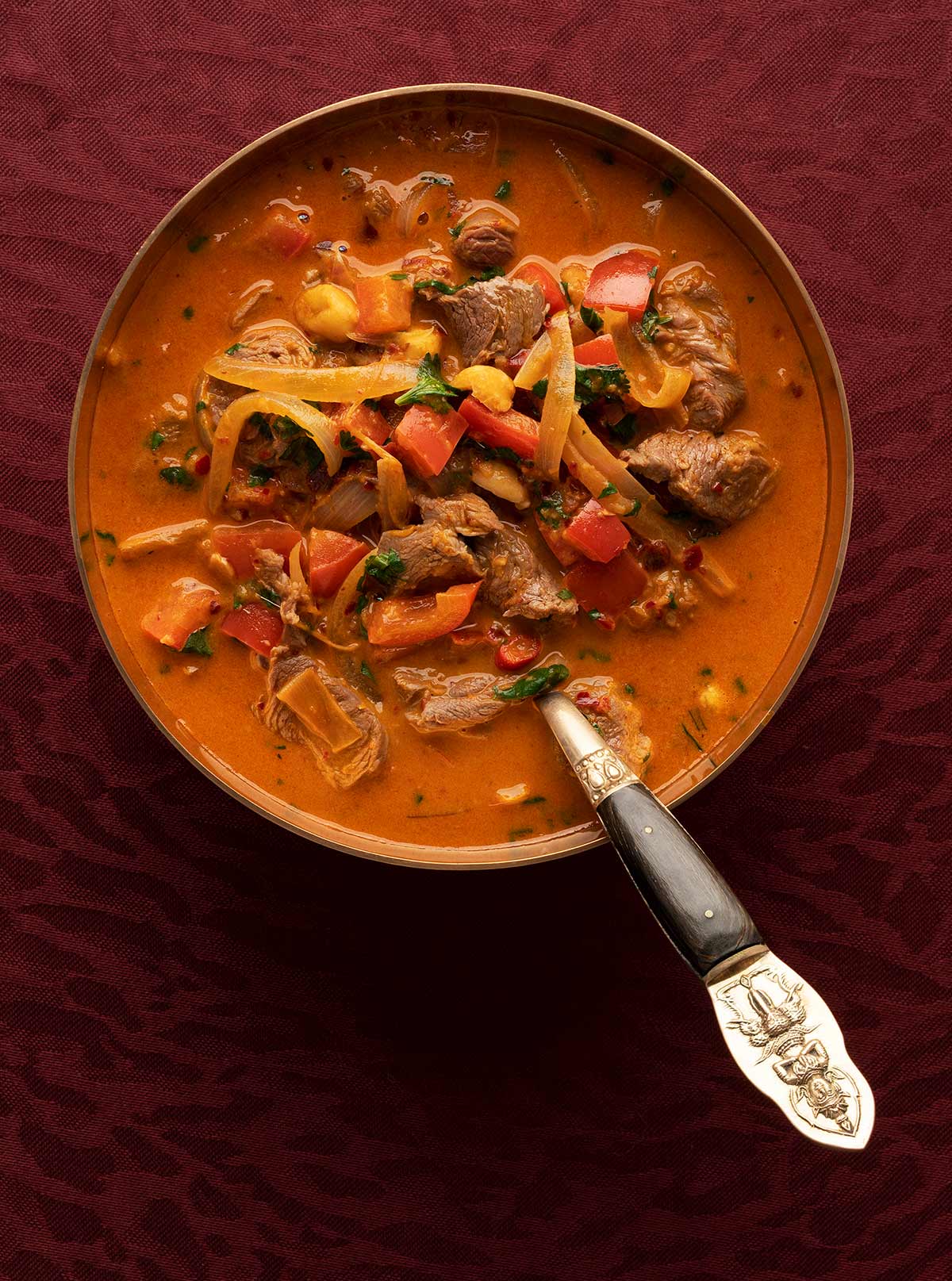 Of course, to be a proper red coconut curry you need coconut, too. And there are several ways to get there, as with the curry paste.
The easiest for both, the weeknight meal rendition, would be to use a can of coconut milk and premade curry paste. If you have these on hand, you can literally make a red coconut curry in the time it takes to cook some jasmine rice, which, incidentally, is the rice you want with this curry.
I have gone this route many times, and it makes a good dinner. As a hunter and an angler, chunks of fish or seafood, or thin slices of duck, goose, venison or pork (wild or store-bought) are all great options. Chicken is a go to for many Thai restaurants, and slices of pheasant, grouse or turkey breast are all good wild options.
(My recipe for red curry duck is here.)
My recommendations for red curry paste are, in order: Mae Ploy, Maesri, and then the more commonly found Thai Kitchen. All are fine, but the only one I really like is the Mae Ploy. All can be found online or in Asian markets, and the Thai Kitchen can often be found in mainstream markets, too.
Ditto for coconut milk. Any sort will do, just don't get "lite" coconut milk. You need that fat.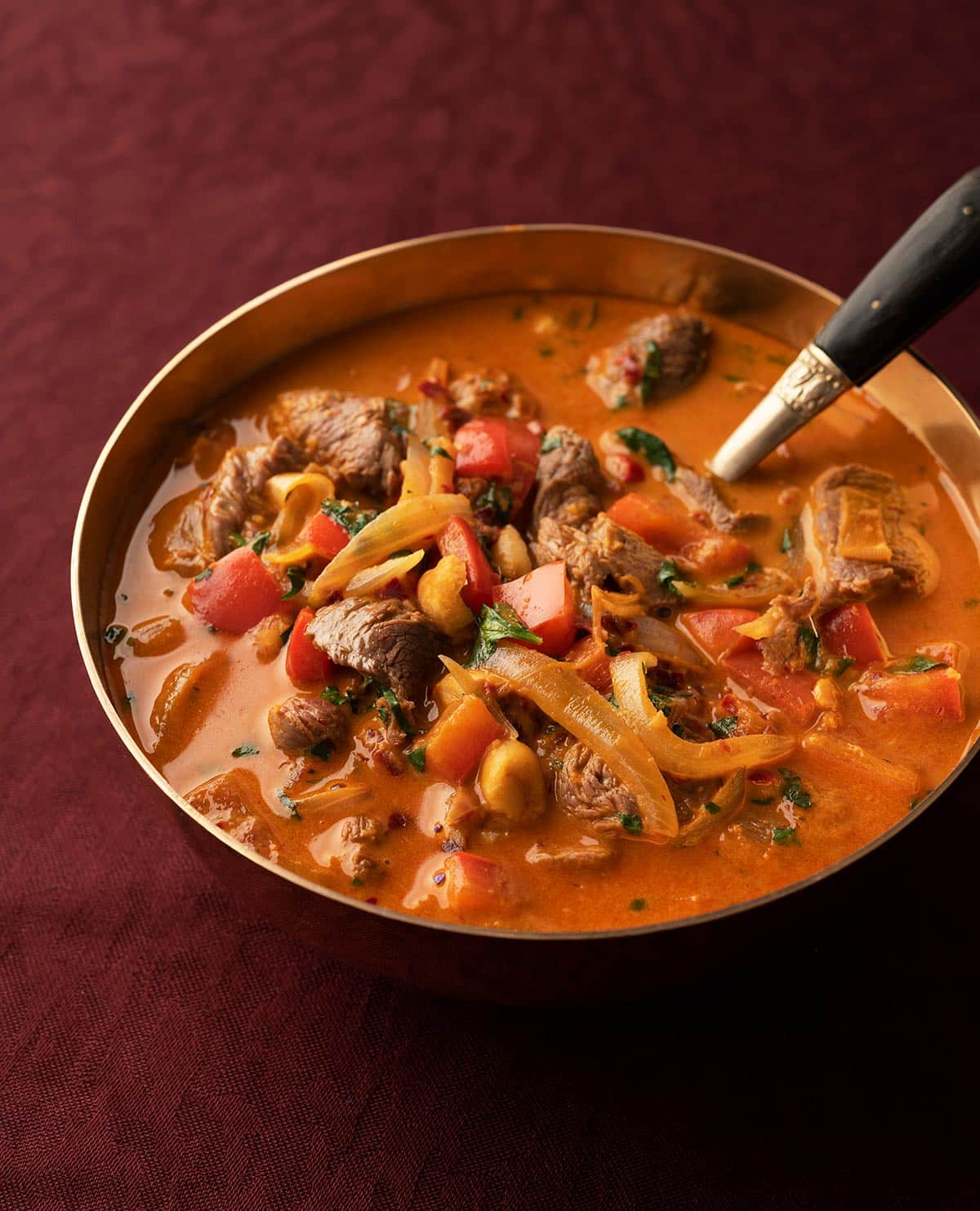 You can also make your own fresh coconut milk, which is pretty cool, but I honestly don't find it to be so revelatory that it is worth the extra work. Making your own red curry paste, however, is worth it.
There are lots of recipes out there for homemade Thai curry paste, and the beauty of them is that you can alter the ingredients to meet your needs, and for most of you reading this that means making it less fiery so you can use more in your red coconut curry. I'll post mine soon.
There are two ways to cook a Thai red coconut curry: With or without an added fat. You technically don't need one, and in many cases, you just boil the fatty coconut milk until its fat separates, and then you add the remaining ingredients to cook.
I prefer to use coconut oil or unrefined red palm oil, which can now easily be found in supermarkets, to sauté the onions and aromatics first, then adding the coconut milk after. Red palm oil is less traditional, but it adds a nice color. Refined palm oil, which is used a lot in Thai cuisine, is very harsh on the environment, and I don't recommend it.
What you put in your curry is kind of up to you. You can make it barebones, with just the aromatics (ginger, garlic, hot chiles, maybe lemongrass), protein and fresh herbs, or you can load it up. I prefer the loaded version. Onions for sure, but bell peppers and peanuts are other great choices.
Snow peas or green beans are good options, too, and I've seen things like bok choy and chickpeas in there as well. No curry police will come to your door if you put other things in there, though. You do you.
One other ingredient you really need for a legit Thai curry is fish sauce. It's salty and funky, and really makes the curry. Buy the cleanest, clearest one you can find; Red Boat is a great one in supermarkets. Three Crabs is a great fish sauce, too. I make my own from anchovies.
Once made, red coconut curry needs to be eaten. It will store a day or two in the fridge, but it's best made and eaten fresh.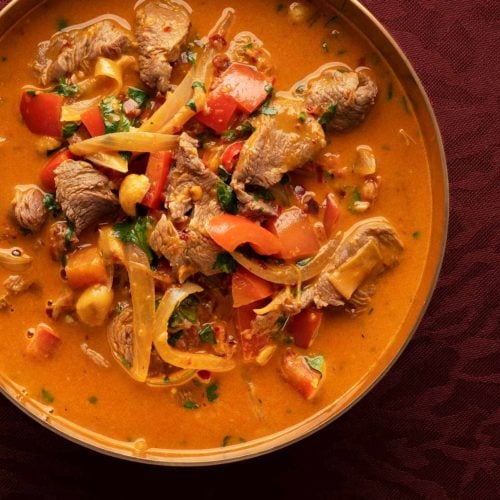 Thai Red Coconut Curry
As I mention above, this can be made with pretty much any meat, fish or vegetable.
Ingredients
2

tablespoons

coconut oil, red palm oil or vegetable oil

1

small onion,

sliced root to tip

1

clove

garlic,

minced

A 2-inch piece of ginger,

finely grated

1 to 6

Thai chiles,

chopped

2

Citrus leaves

(optional)

1

red bell pepper,

diced

1

pint

coconut milk

3 to 5

tablespoons

red curry paste

2

tablespoons

fish sauce

1

pound

tender meat, sliced thin

(venison or pork loin, duck breast, chicken breast)

1/4

cup

roasted peanuts

(optional)

1/2

cup

chopped cilantro or Thai basil
Instructions
Heat the oil in a wok or large pan over medium-high heat. Sauté the onion for 2 minutes, then add the garlic, hot chiles and ginger. Cook another minute or two.

Pour in the coconut milk, then add the fish sauce and curry paste. Stir well. Bring to a simmer and add the bell pepper and citrus leaves, if using. Simmer 10 minutes.

Stir in the thinly sliced meat and peanuts, and let this cook until the meat is done, maybe 5 more minutes. Mix in the chopped herbs and serve with jasmine rice.
Notes
NOTE: If you are using fish, cut it into chunks. 
Nutrition
Calories:
502
kcal
|
Carbohydrates:
9
g
|
Protein:
38
g
|
Fat:
36
g
|
Saturated Fat:
30
g
|
Cholesterol:
90
mg
|
Sodium:
789
mg
|
Potassium:
855
mg
|
Fiber:
2
g
|
Sugar:
4
g
|
Vitamin A:
2872
IU
|
Vitamin C:
45
mg
|
Calcium:
63
mg
|
Iron:
9
mg
Nutrition information is automatically calculated, so should only be used as an approximation.