Thai Fish Curry
June 15, 2012 | Updated June 16, 2021
As an Amazon Associate I earn from qualifying purchases.
While Thai fish curry takes many forms, for me it's almost always a green curry. It just seems to suit fish and seafood better.
What's more, if you use a pre-made green curry paste — and I'm giving you a recipe for one here — or a good store-bought one, your Thai fish curry will come together in about the time it takes to make the jasmine rice you'll want to serve it with.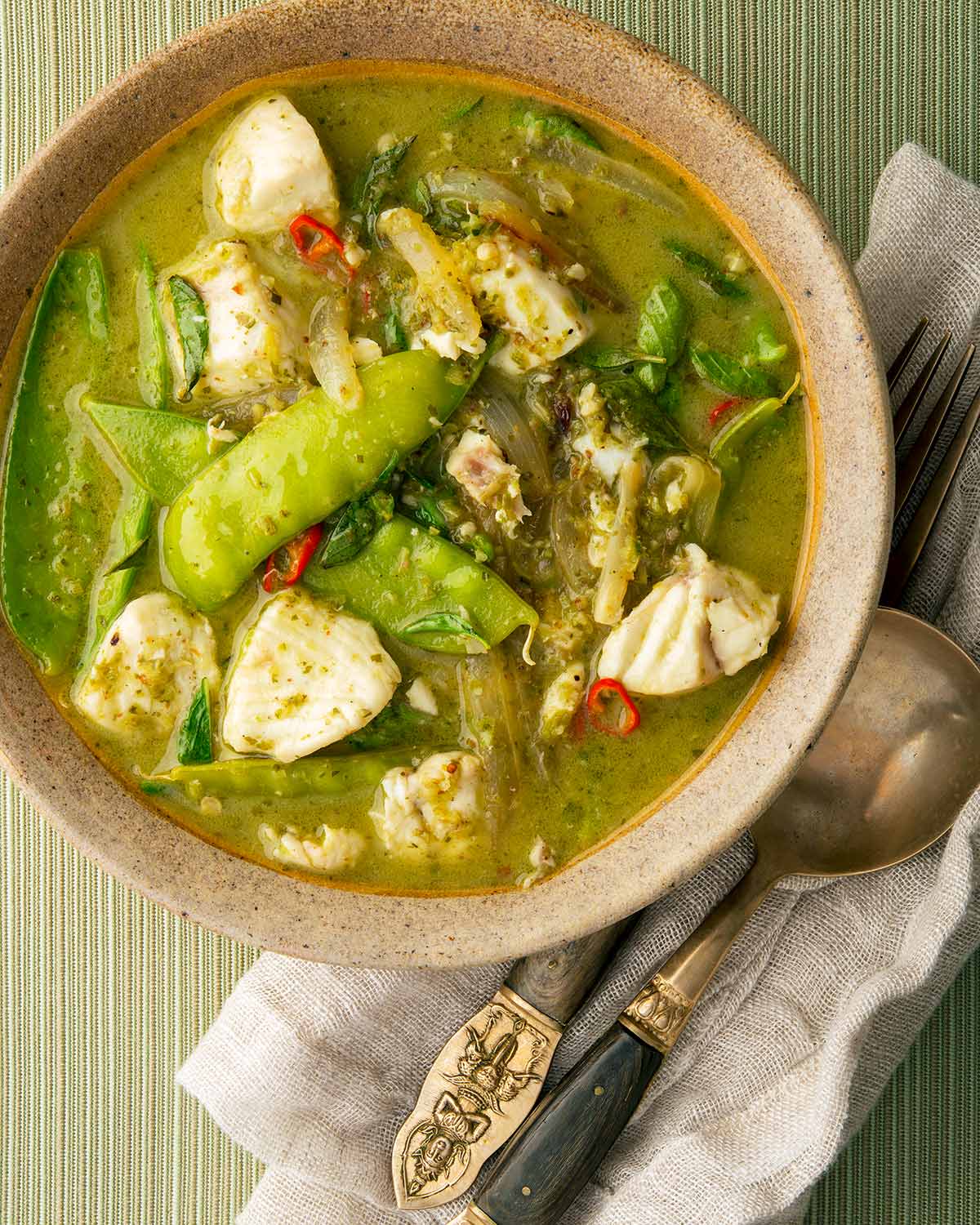 I am giving you a recipe for homemade curry paste because I prefer it that way – and I have Asian markets near my house. If you don't, many supermarkets sell Thai green curry paste in little jars, and the Mae Ploy and Maesri brands are especially good. You can buy that in Asian markets or online.
This recipe makes more curry paste than you need, but it keeps in the fridge for several months.
If you do use a store-bought curry paste, especially one from a supermarket, doctor it up with a extra lemongrass and/or galangal, which is a rhizome a little like ginger. You can buy little plastic tubes of minced lemongrass in the produce aisle in many markets. a minced garlic clove helps a lot, too.
What fish to use? Pretty much anything goes with Thai fish curry. I am hard-pressed to think of a creature that won't taste good swimming in this sauce. I typically use California halibut, rockfish, lingcod or leopard shark, all white meat fish local to me. But I've made it with oily fish and salmon, too. And shrimp, crab and lobster are classic. So have fun with it.
The only sorts of fish I'd avoid would be those that would dissolve in a curry, or the little fish like sardines or herring. In general, go for anything firm, or shellfish, or squid.
And keep in mind that Thai green curry works with lots of proteins, not just fish. I have a pheasant green curry that you could also use chicken or grouse or turkey with, and you'll see green curry beef and other red meats, too.
(Want a change of color? Try my red coconut curry with fish or seafood.)
For the vegetables, snow peas are the norm, as are those little Thai eggplants. But green beans, little Thai chiles and herbs like Thai basil, cilantro or culantro are also very common. Go ahead and play with it.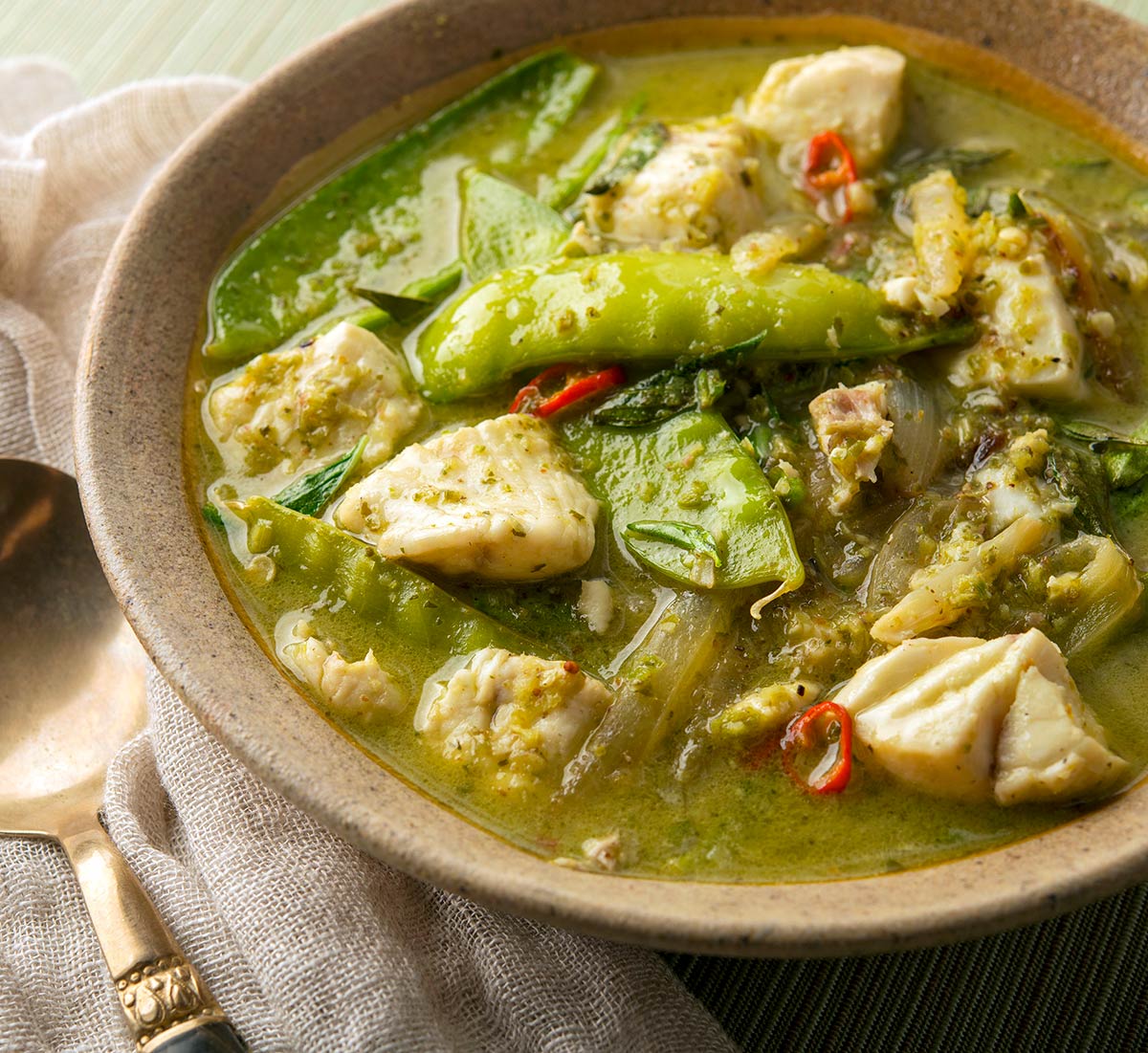 A couple other pointers: Use full fat coconut milk, and a good fish sauce with no weird, floating debris in it. If you can find it, palm or coconut sugar are better than regular brown sugar, and if you use coconut water instead of regular water, you'll get one more layer of flavor.
The result? A Thai fish curry that is sour, salty, spicy and sweet. Restaurant worthy, and, dare I say, quick and easy — two words you don't always see on this site.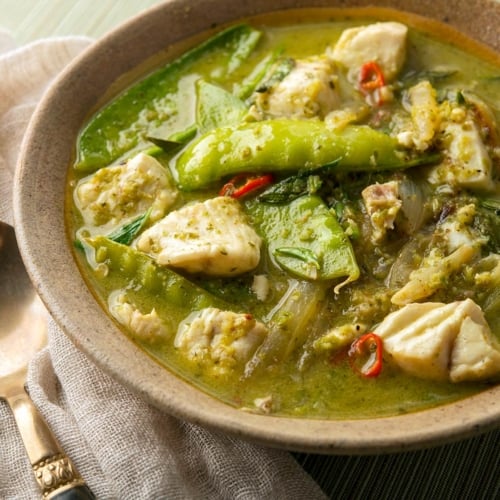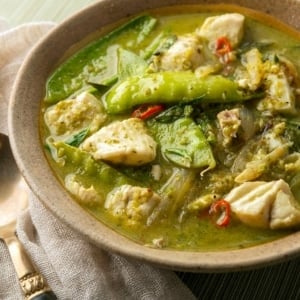 Thai Fish Curry
This curry comes together pretty quickly, so have everything cut and ready before you start. You can make the paste ahead and store it in the fridge for months, or just use a good store-bought green curry paste.
Ingredients
OPTIONAL CURRY PASTE
1

teaspoon

ground cumin

1

teaspoon

ground coriander

1

teaspoon

black pepper

1

teaspoon

white pepper

4

cloves,

or ¼ teaspoon ground cloves

1

teaspoon

salt

5

garlic cloves,

roughly chopped

½

cup

minced shallot

1

bunch of rau ram or cilantro,

about 1 cup chopped

Juice and zest of 2 limes

2

medium dried shrimp,

or 1 tablespoon shrimp paste (optional)

3

tablespoons

minced galangal or ginger

1

stalk lemongrass,

white and light green parts, minced

1

tablespoon

fish sauce

Lots of green chiles

see below
CURRY
2

tablespoons

peanut or coconut oil

1

white onion,

sliced thin

6

ounces

snow or sugar snap peas

4

tablespoons

green curry paste

1

cup

coconut milk

2

tablespoons

palm or brown sugar

3

tablespoons

fish sauce

1 ½

pounds

skinless,

boneless fish, cut in chunks

Some chopped red chilies for color

½

cup

Thai basil leaves
Instructions
CURRY PASTE
To make the curry paste, put everything in a food processor and buzz to combine. A word on the chiles, however. They give you a lot of the color in the paste, so you will want a fair number. I've made this with about ½ cup of roughly chopped green Thai chiles and it's fantastic, but very hot. If your heat tolerance isn't quite there yet, use a similar amount of Anaheims, serranos or jalapenos. Typically, you will need to add around ¼ cup of water for the paste to come together fully. As I mention in the headnotes, this can be made well in advance.
CURRY
To make the curry, heat the coconut oil in a pan over medium-high heat and sauté the onions until slightly browned on the edges, about 6 to 8 minutes. Add the snow peas, curry paste, coconut milk, sugar and fish sauce and mix well. Simmer this gently for 5 minutes. Add 1 cup of water or coconut water, the fish and red chiles into the pan and simmer another 5 minutes. Turn off the heat, mix in the Thai basil and serve over jasmine rice.
Nutrition
Calories:
429
kcal
|
Carbohydrates:
24
g
|
Protein:
36
g
|
Fat:
22
g
|
Saturated Fat:
13
g
|
Polyunsaturated Fat:
3
g
|
Monounsaturated Fat:
4
g
|
Cholesterol:
79
mg
|
Sodium:
2121
mg
|
Potassium:
1163
mg
|
Fiber:
4
g
|
Sugar:
13
g
|
Vitamin A:
3098
IU
|
Vitamin C:
36
mg
|
Calcium:
130
mg
|
Iron:
5
mg
Nutrition information is automatically calculated, so should only be used as an approximation.