As an Amazon Associate I earn from qualifying purchases.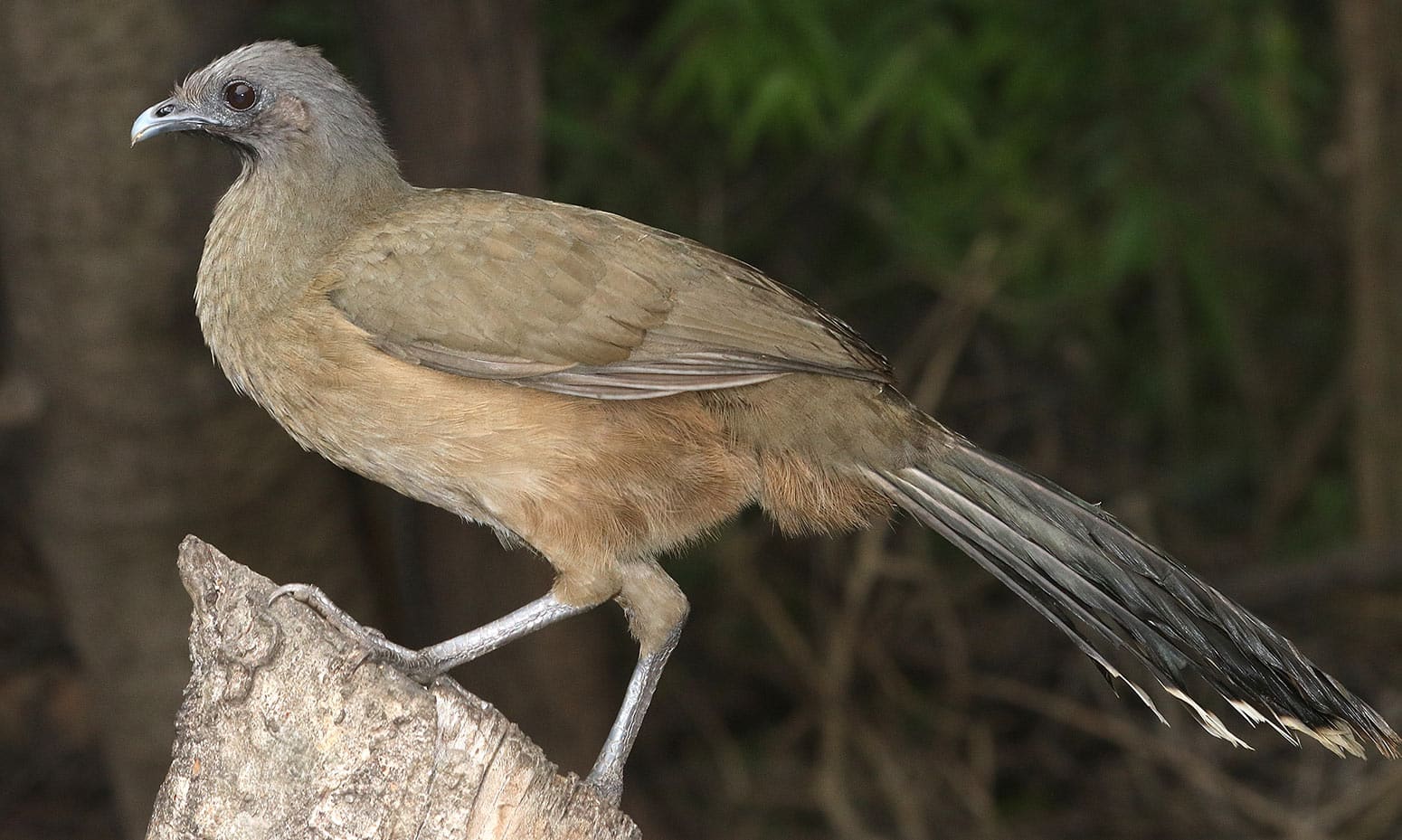 Chachalaca. Even the name is exotic. I developed an obsession for this relative of the chicken as soon as I learned you can hunt them in a couple places at the southernmost tip of Texas.
Turns out that chachalacas are common, only not here. An array of species live all the way down to Argentina, and they have embedded themselves in Latin culture as the region's noisy, half-wild, half-tame yardbird par excellence.
If someone calls you a chachalaca in Spanish, it means you talk too much. Just give this a listen and you'll get the idea.
Yet when I finally made it down to Brownsville a year ago, they were nowhere to be found. Alas, I arrived in time for a Polar Vortex to hit the center of the country, and even in semi-tropical Brownsville it was about 43°F and drizzly. Not good for a bird that likes it hot.
My friends Jesse, Miguel and Mike — both are actually Miguels, but calling one by his English name made things easier — and I tromped around Mike's farm for several days, through insanely thick brush studded with every sort of thorn, to no avail.
We left, defeated.
Flash forward to this year. Jesse couldn't join us, but the The Mikes and I decided to have another go. This time the weather was far warmer, in the 70s, but one of the days would feature sustained winds of 35 mile per hour. Perfect…
Mike owns a farm very near the Mexican border, where he grows organic vegetables, among them lots and lots of artichokes. Surrounding his farm is that thorny, nasty, impenetrable brush: Chachalaca heaven. This time we had a plan.
This time we'd wait the birds out. Listen for them, then try to get a shot if they ventured near the edges of the brush. Mike said they fly over various parts of his farm. Mike and Miguel knew chachalacas because they grew up together in Brownsville. I had never laid eyes on one.
So, what we have here in Texas is the plain chachalaca, Ortalis vetula. They are not terribly large, about the size of a bantam chicken. A really big one is two pounds. But they have incredibly long tails, as do their distant cousins the pheasant. For the most part, plain chachalacas are social, although we did see singles once in a while.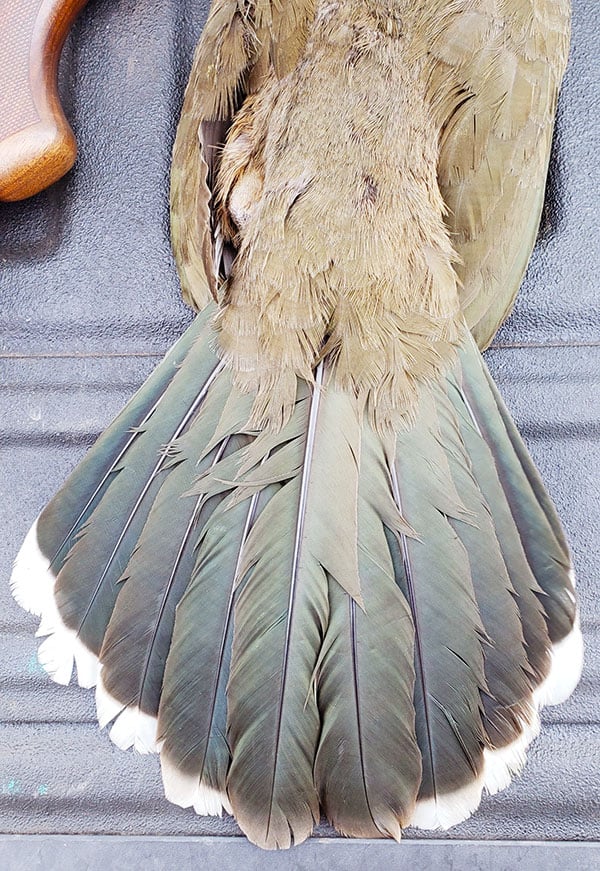 Unlike almost all other chicken-like birds, chachalacas prefer to spend most of their time in trees, giving them the nickname Mexican tree pheasant. They mostly eat seeds, fruits and green things in the winter, bugs in spring.
Listening to them talk you are immediately struck by how much they sound like the velociraptors in Jurassic Park; this is probably not by accident. Additionally, since they can flock in large numbers, they really do look and act like those teeny raptors that ate that guy in Jurassic Park: Lost World.
If you do hunt them in Texas, your limit is 5 birds a day, but that might be a tall order. Most of the hunting is on private land, but there is actually public land chachalaca hunting on 5 units of the Las Palomas Wildlife Management Area: the Baird, Anacua, Carricitos, Longoria, and Tucker Units. Here's some more information about the bird in Texas.
I have to admit that our hunt was not the most adventurous I'd ever been on — nothing like our ptarmigan trek in the Rockies — but it was interesting, nonetheless.
We basically posted up where some farmworkers had seen birds recently, at the edge between brush and farm. Morning farmwork hummed behind us, as it was time to weed plots of kale and broccoli, and harvest cilantro.
Birds were everywhere. Brownsville is renowned for its bird watching because it's a stopover for many migrators, and the farthest north that many other birds reach. I got to see a bunch of peewees, a vermillion flycatcher, cardinals, an unusual Altamira oriole, a bunch of white-tipped doves — one of which I shot, since doves were in season. (It was tasty, much like a regular mourning dove.) We also saw lots and lots of green jays.
Green jays seem to travel with chachalacas, so if you see them, the chachalacas could be close by. Ultimately, they were.
Now I need to tell you something: If you are hoping for that glorious shot at a rising chachalaca over pointing dogs, forget about it; at least in the United States. It simply doesn't happen. There are two ways to kill a chachalaca: As it flies between two patches of brush… or in the trees. So yeah, I shot mine in the trees because we never saw any flying.
Es lo que hay, it is what it is. Everyone I've ever talked to about chachalaca hunting told me to take whatever shot presents itself, immediately. It's just not normal wingshooting because of the thickness of the brush and their reluctance to fly.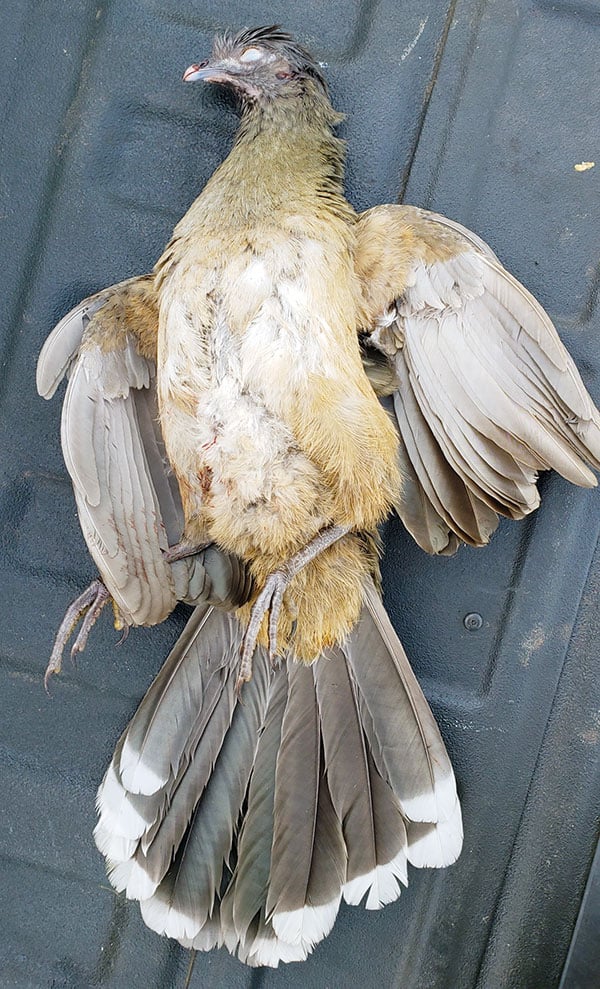 So yeah, not the most thrilling hunt. But, with birds in hand, I was giddy as a schoolgirl. A new species to play with in the kitchen! What would they be like?
Obviously, me being me, I plucked the three that I had. I kept them whole and in the feathers for three days, at refrigerator temperature. As it happens, they pluck easily. More like a chicken than a grouse.
A lot like a chicken. Amazingly like a chicken, in fact. The skin is even yellowish, not pale like a grouse; it's about as thick as a chicken's, too. Chachalacas, like old-school chickens, also have very narrow breasts. The thighs are the prize. And what a prize!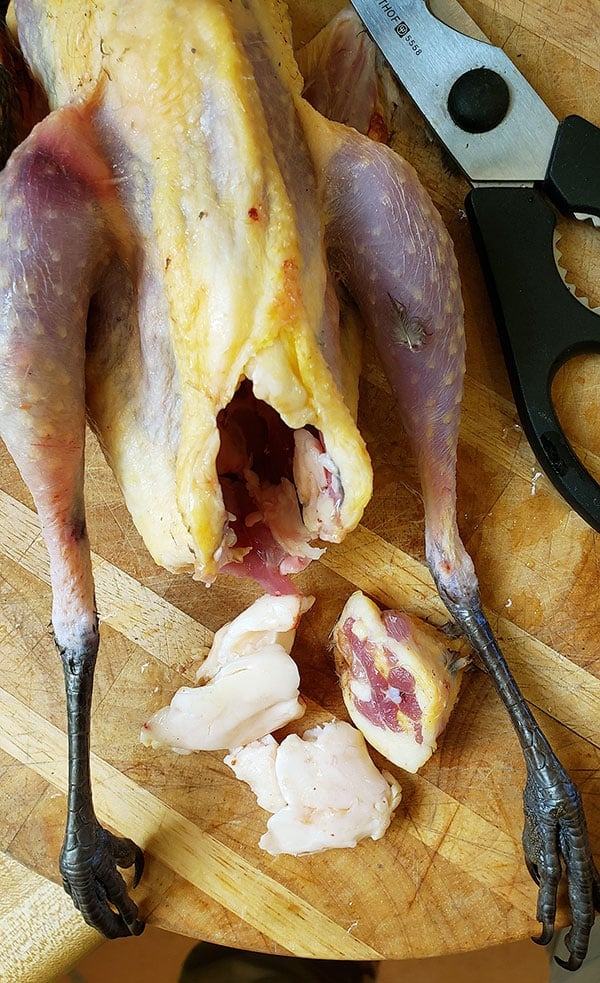 When I plucked the bird fully I was astonished — gobsmacked, really — to see just how fat they were. These birds were as fat as rice-fed pintails back home in California! I'd never, ever seen any upland bird like it, and I have hunted and eaten pretty much every species in North America.
First thing I made was arroz con pollo. Why? Because Miguel's dad made that when he shot his first chachalaca, on a Super Bowl Sunday some years ago. Seemed fitting. I'll post that recipe soon.
Second thing? Sopa de lima. I chose that because it's a light, bright soup from the Yucatan, where chachalacas are common, and where you can hunt them, an also because this soup lets you taste the bird. And I here to say that chachalaca tastes like a wild chicken. Mild, dense, flavorful in a way that a pheasant or even a ruffed grouse is not. I'll post that recipe soon, too.
Finally, I had rendered chachalaca fat. Yes, you read that correctly. Chachalaca lard. Manteca de chachalaca. There's really only one thing to do with it. Texas, as well as Tamaulipas just yards from where we hunted, is the home of the flour tortilla. And flour tortillas need fat. Normally pork lard. But these would be the rarest, most special flour tortillas — made with chachalaca lard.
I definitely need to hunt this bird again. Next time in Mexico!