Lowcountry Shrimp Perloo
June 25, 2018 | Updated June 06, 2022
As an Amazon Associate I earn from qualifying purchases.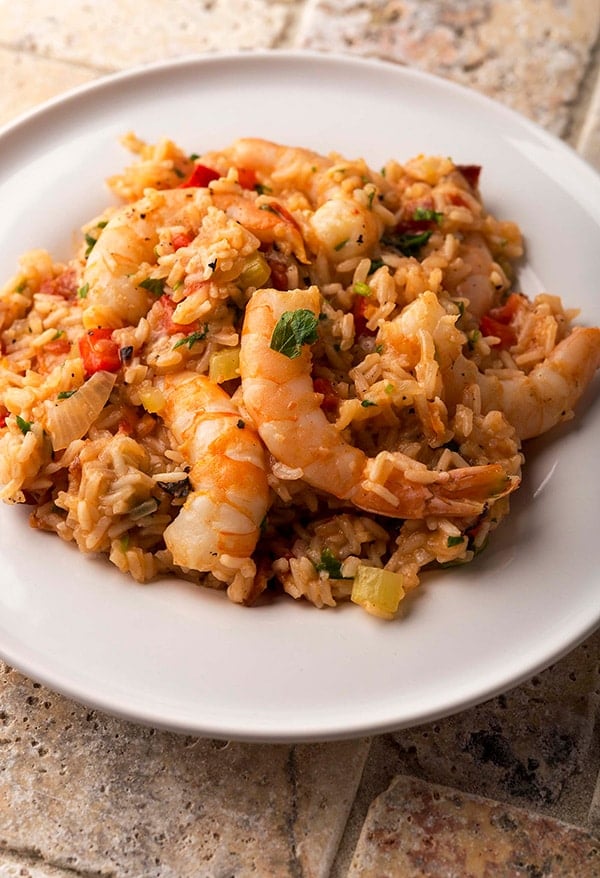 In Charleston, South Carolina, rice was once king. And this Lowcountry perloo was once one of that region's crowning dishes.
Perloo. Such a strange name, and spelling. It gets even stranger when you see it spelled purloo or perlo. But if you say it, and you've been exposed to the cooking of certain parts of the Middle East, India or East Africa, you'll recognize that this is a version of pilau.
And if you eat it, you will taste echoes of its more famous cousin, Louisiana jambalaya.
Perloo's origins lie in Africa. West Africa, to be exact. The concept of a one-pot, rice-and-whatever dish exists wherever rice is grown, and in Senegal there is a dish known as jollof rice, with its own variations throughout that part of Africa. Two centuries ago, Charleston was the entry point for roughly 40 percent of all African slaves to this country, and the city's cuisine reflects those African roots.
Even the rice is African, Oryza glaberrima, which is a different species than the Asian rice we all buy today. And while African rice hasn't been grown commercially in the Lowcountry since the 192os, it's recently been revived as Carolina Gold rice, which is a hybrid between the old African rice and Asian varieties. (You can buy buy Carolina gold rice
online.)
Many varieties of perloo exist. I've seen them loaded with pig parts, with chicken, rabbit, or game. But mostly perloo is about seafood, and mostly that seafood means shrimp, crab and oysters.
Mine just has shrimp, but you can add the other seafood if you'd like.
What shrimp? Well, American shrimp, of course. I strongly urge you to seek out real American, usually Gulf, shrimp. Our shrimp industry is as sustainable as any in the world, it doesn't destroy the environment the way Southeast Asian shrimp farming does, and, importantly, supports American jobs. Any size shrimp will do.
Me? I catch my own. My friend Joe Baya of the magazine Great Days Outdoors has a recreational shrimp net we haul around when I visit him on Dauphin Island, south of Mobile, Alabama. Dauphin Island is just down from Bayou la Batre, of "Forrest Gump" fame. So the shrimp in the picture are Gulf shrimp, not South Carolina shrimp.
Some sort of smoked pork is vital to a good perloo. Bacon is what I use, but salty country ham or salt pork will also work. Jowl bacon is ideal. And yes, I've seen sausage in perloo, too, but to me that tips it a bit too close to jambalaya.
When you make this, it makes enough for a crowd. So if you're not a crowd, reheat your perloo in a microwave for 30 seconds or so, or do what I do and reheat it on the stovetop in a covered, non-stick pan over very low heat for about 20 minutes.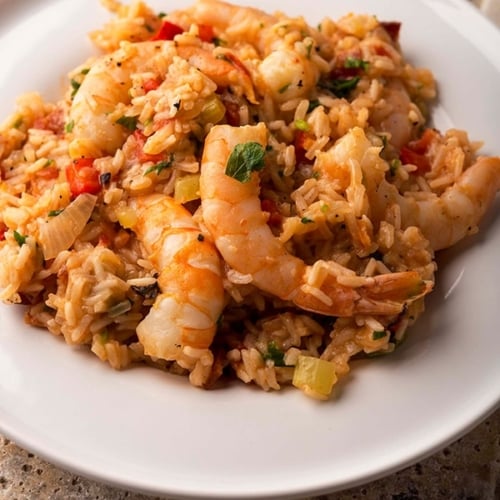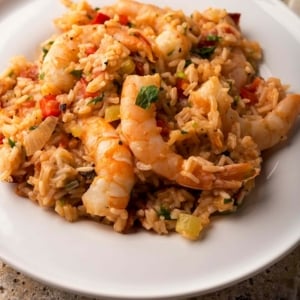 Lowcountry Perloo
Perloo, perlo, purloo or pilau, however you spell it this one-pot rice dish is fantastic. I urge you to use American shrimp when you make this recipe, and if you can, use Carolina Gold rice, which cooks a little differently from regular long-grain; but definitely use a long-grain rice if you can't find Carolina Gold.
Ingredients
2

pounds

shrimp, with shells (and heads if possible)

2

bay leaves

1

onion, chopped

1

large carrot, chopped

2

celery stalks, chopped

1/4

pound

thick-cut bacon

2

cups

chopped white or yellow onion

2

cups

chopped celery stalks

1

yellow bell pepper, diced

2

large garlic cloves, minced

2 1/2

cups

rice

1/2

cup

white wine

1 14.5

ounce

can fire-roasted tomatoes

1

datil, fish or habanero chile, minced

(optional)

1/3

cup

chopped parsley

Black pepper to taste
Instructions
Peel all the shrimp and put the shells, and heads if you have them, into a pot with the bay leaves, onion, celery and carrot. Cover with 7 cups of water and bring to a simmer. Simmer gently for 30 minutes while you chop everything else for the perloo.

As the stock is simmering, slowly fry the bacon in a large, heavy pot. When it is crispy, remove the bacon (eat a slice) and chop roughly. Set the bacon aside.

Saute the 2 cups chopped onion, 2 cups chopped celery and the diced yellow bell pepper in the bacon fat until soft but not browned. Add the garlic and rice and cook, stirring often for 3 minutes, until the rice turns translucent.

Add the white wine, tomatoes and chile pepper to the pot and stir well.

Set up a fine-meshed strainer with a paper towel in it. Ladle two or three ladles of the shrimp stock through this strainer into the rice pot. Stir well. Cook, stirring often, until the liquid is absorbed. Repeat this process until the rice is tender.

Add one more ladle of shrimp stock to the pot, along with the shrimp and the parsley. Mix to combine, cover the pot and turn the heat to its lowest setting. Cover for 5 minutes to let the shrimp cook, then mix in the bacon and black pepper and serve.
Nutrition
Calories:
594
kcal
|
Carbohydrates:
77
g
|
Protein:
41
g
|
Fat:
10
g
|
Saturated Fat:
3
g
|
Cholesterol:
393
mg
|
Sodium:
1468
mg
|
Potassium:
581
mg
|
Fiber:
4
g
|
Sugar:
6
g
|
Vitamin A:
2539
IU
|
Vitamin C:
58
mg
|
Calcium:
312
mg
|
Iron:
5
mg
Nutrition information is automatically calculated, so should only be used as an approximation.