As an Amazon Associate I earn from qualifying purchases.
Caldo de camaron is one of those quintessential Mexican seafood dishes that most Americans don't even know about.
It is a Mexican shrimp soup, sure, but, when done well, it is a bowl of soul — with a depth of shrimp flavor that I've rarely tasted anywhere else.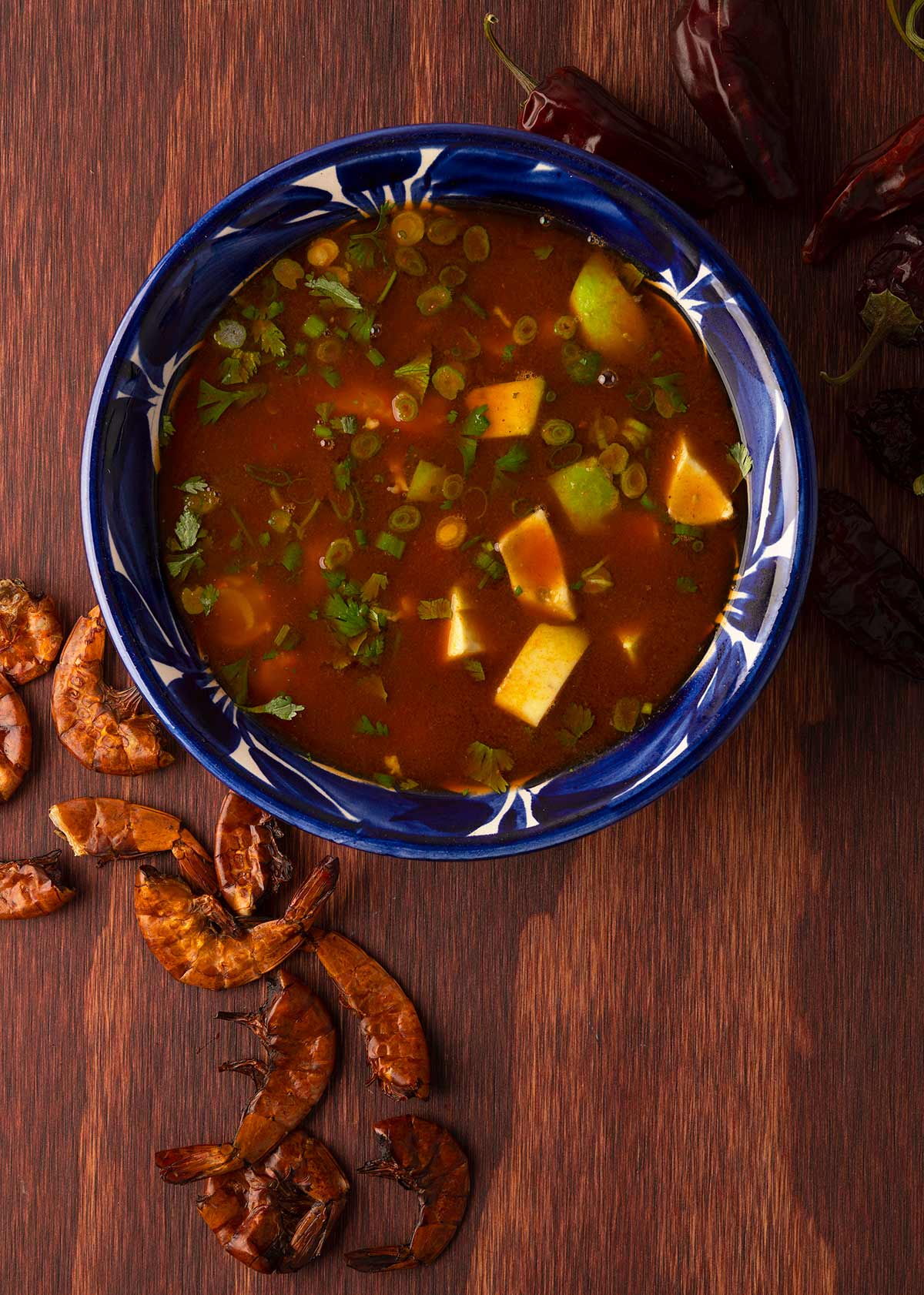 Let me say at the outset that you can make this soup as easy or as hard as you want. The more extra steps you take, the better the soup will be. I've had everything from crappy caldo de camaron made from stinky shrimp bouillon cubes and no actual shrimp, to those using the whole shrimp, heads and all, for the broth, with the tails in the soup, and even a little ground, dried shrimp tossed in for good measure.
This version is the shrimp soup I want to show you how to make. I developed it from several I've eaten here in Sacramento made by Jaliscans, as well as recipes from throughout the Mexican Pacific regions: Sinaloa, Jalisco, Colima, Nayarit and Baja.
Let's start with the shrimp. My advice is to buy Gulf shrimp, or some other American (or Mexican) shrimp for this recipe. They are simply better than the awful Southeast Asian farmed shrimp. But if that's all you have available, you can make a passable caldo de camaron with them.
Step one is to make a shrimp stock. This is the soul of any Mexican shrimp soup, and you don't want to rely on bouillon cubes here. So that means buying shell-on shrimp.
If you are lucky enough to find shrimp with their heads on, this is the gold standard. In fact, if you find head-on shrimp that should be your cue to make caldo de camaron, because adding the heads to the broth turns a good shrimp stock into a great one. But like I mentioned, it's still very good with a broth made from only shells.
Do you need dried shrimp for a proper Mexican shrimp soup? I think so, but I like strong flavors. I happen to make my own dried shrimp, using a smoker, and they are fantastic. You can, too, if you follow the recipe I just linked to. But you can buy dried shrimp in Asian or Latin markets. Buy whole ones, not the pre-ground shrimp — they will smell and taste nicer when you grind them yourself.
Finally, you make a puree, a salsa, that flavors your amazing shrimp broth. Fire is key here. And when I mean fire I mean fire, not spicy chiles — although if you want that you can add it. You will want to char some garlic and tomatoes (or use fire-roasted tomatoes), and you will want to toast the dried chiles, too.
There's an herbal element in a good caldo de camaron, too. Normally it's epazote, one of my favorite, albeit polarizing, herbs. Cilantro works fine, too. Or leave it out if you hate both.
You add your own toppings to this Mexican shrimp soup, too, just like you do for pozole. A good assortment would be chopped green onions and cilantro, chopped white onion soaked in lime juice, and chunks of avocado. A hot sauce is always welcome for those who want things un poco mas picante.
Keep in mind that this is just one version of caldo de camaron. Many others exist. In San Luis Potosi and Aguascalientes, for example, they make theirs with milk and butter; it's more of a chowder.
In Sonora, there's a version based on bacon (yum!) that adds carrots and potatoes. A Sinaloan rendition is a mash-up of my recipe and the Sonoran one, with a splash of Worcestershire sauce added, which they call salsa inglesa. The state of Puebla has a soup very much like mine, only with crawfish tails.
My point is that you can play with this general structure to make this recipe your own.
Typically you'd serve caldo de camaron as one course in a multi-course meal, maybe alongside albondigas de camaron and some tacos gobernador if you want to go all-in on Mexican shrimp recipes. If you're interested in trying other Mexican soups, check out caldo de pescado, a simple Mexican fish soup.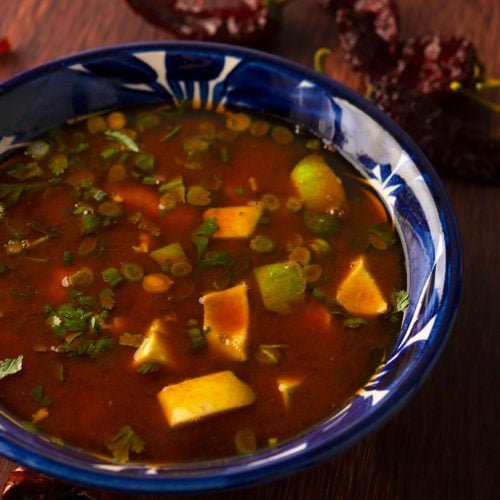 Caldo de Camaron
Make sure you read the headnotes above for variations and substitution options. Serve your soup as a first course in a larger Mexican meal, or with tortillas on the side as a main course. It reheats well if you do so slowly on the stovetop.
Ingredients
2

quarts

shrimp stock

(see notes for recipe)

1

pound

shell-on shrimp,

with heads if at all possible

4

dried guajillo chiles,

seeded and stemmed

2

dried ancho chiles,

seeded and stemmed

1

cup

fire roasted tomato puree,

or 3 plum tomatoes, sliced in half

2

cloves

garlic, skin still on

6 to 10

dried shrimp

(optional)

2

tablespoons

chopped epazote or cilantro,

or 1 tbsp dried
GARNISHES
1/4

cup

chopped green onions

1/4

cup

chopped cilantro

Juice of 2 limes

1

white onion, chopped

2

avocados, diced
Instructions
Chances are you will be peeling your shrimp first to make the shrimp stock recipe. Chop the shrimp into bite-sized pieces and set aside for now.

While the stock is simmering, get a comal or heavy frying pan hot. Boil a pint or two of water and have that ready. Quickly toast your dried chiles -- just a few seconds on each side -- and then toss them into the boiling water. Once you start doing this, turn the heat off the boiling water. When you have toasted all the chiles, put a lid on the pot to let them soften.

If you are using them, grind the dried shrimp in a spice grinder. Set that aside, too.

While to comal or pan is still hot, char the garlic until the skins blacken a little, and char the tomatoes until the cut side is wholly black, which will take about 3 to 5 minutes. Use a spatula to move the tomatoes to a blender. Peel the garlic and put that in a blender, too.

Put the softened chiles, epazote and dried shrimp (if using) into the blender, and puree this with a splash or two of the chile soaking water, and, if you need more, some of the shrimp stock.

Once your shrimp stock is ready, strain it into a soup pot and add the contents of the blender. Bring this to a gentle simmer and add salt to taste. It might not need it. Add the chopped shrimp and cook 5 minutes, then serve with all the garnishes.
Nutrition
Calories:
304
kcal
|
Carbohydrates:
23
g
|
Protein:
26
g
|
Fat:
14
g
|
Saturated Fat:
2
g
|
Cholesterol:
202
mg
|
Sodium:
1658
mg
|
Potassium:
1150
mg
|
Fiber:
9
g
|
Sugar:
9
g
|
Vitamin A:
3601
IU
|
Vitamin C:
21
mg
|
Calcium:
253
mg
|
Iron:
4
mg
Nutrition information is automatically calculated, so should only be used as an approximation.