Crab stock is a mainstay in my kitchen during Dungeness crab season, which in California runs from November through June.  But you can legally catch red and rock crabs all year long, and they make a fine stock, too. After picking the meat out of the crabs, I use the leftover shells to make this rich broth.
Use this stock in Crab Risotto or in Crab Curry.
Obviously you can make a crab stock out of any crab. I've done it with pretty much every species of crab in North America, including the shells from snow and king crab legs. You can also substitute lobsters or shrimp for this recipe, too.
Crab Stock
The vegetables in here are what I use, and are open to substitution: The only ones you really need are the onions (or leeks), celery and fennel. Fennel adds a lot here. If you can't find it, add fennel seeds, or even a shot of ouzo or other anise-flavored liqueur. Use any crabs you have available: Dungeness, blue crabs, stone crabs, rock crabs, snow or king crabs, really anything works. A couple of pointers: Don't let this boil (just a gentle simmer is all you need) and don't be tempted to simmer it for more than 2 hours or it will lose flavor and get cloudy. I typically go for 90 minutes.
Ingredients
Bodies and shells from 3 to 4 Dungeness crabs or 6 to 12 smaller crabs

4

tablespoons

olive oil

1

large onion,

chopped

4

garlic cloves,

chopped

3

celery stalks,

chopped

2

carrots,

chopped

Tops from 1 fennel bulb

chopped

1/2

pound

mushrooms,

or a handful of dried, chopped

2

tablespoons

tomato paste

1

cup

white wine

3

bay leaves

2

tablespoons

black peppercorns

1/2

cup

chopped parsley

Salt
Instructions
Heat the olive oil in a large stockpot and saute the vegetables over high heat for 5 minutes, stirring often, until the onions are translucent. Add the tomato paste, stir well and cook over medium heat for another 2 or 3 minutes, until it darkens.

Add the crab shells and bodies and smash them all with a potato masher. Mix well to coat with the tomato paste and to disperse the veggies. Cook for another 2 to 3 minutes, stirring a couple times.

Add the white wine, bay leaves and peppercorns and bring to a boil. Let this cook for a minute or two, then pour in enough cold water to cover everything by about an inch; normally this is about 10 cups. Let this simmer very gently for 90 minutes to 2 hours. Add salt to taste.

Turn off the heat. Set up another large pot or bowls and put a fine-meshed strainer over it. Line the strainer with a plain paper towel or cheesecloth and ladle the stock through this set-up into the large pot or bowls. Do not try to get the last dregs of stock, as this will be full of debris. Discard the shells, etc.

Let the stock cool for 15 to 30 minutes, then use or pour into quart jars. The stock will keep for a week in the fridge. It will freeze well for 2 months, but after that it deteriorates rapidly.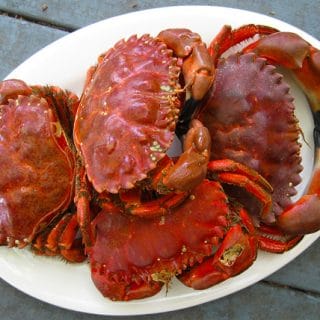 You can find all sorts of recipes for crabs and other shellfish right here on Hunter Angler Gardener Cook!