Salt Cod Fritters
July 22, 2019 | Updated January 22, 2021
As an Amazon Associate I earn from qualifying purchases.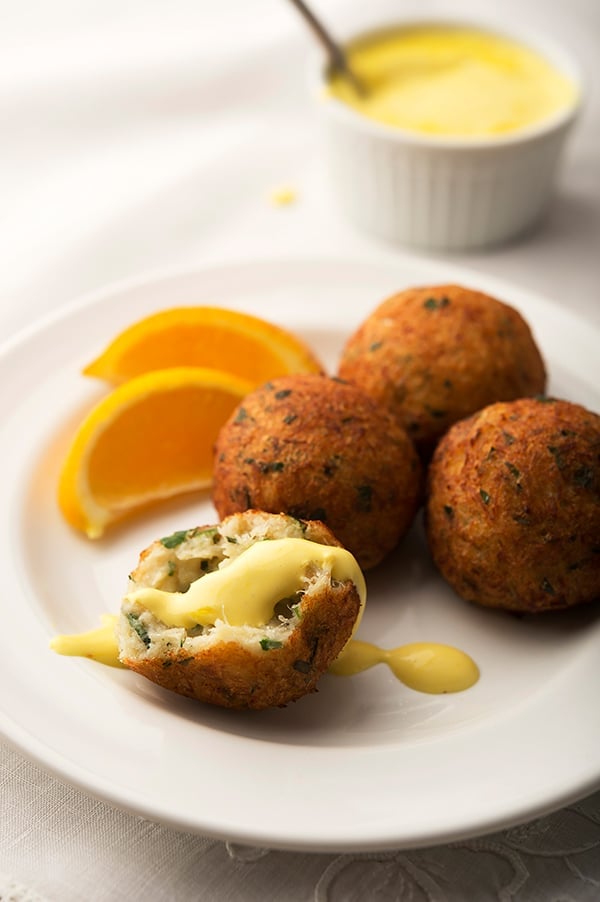 Salt cod, bacalao, baccala, or bacalhau, it's all the same. Codfish, salted down and air dried to make it invulnerable to decay. Salt cod and its cousin stockfish (cod dried without salt) have been so important to world history there's even been a book written about it.
Making salt cod is very easy: open up the cod to the salt, by filleting it or cutting it into a "kite" or butterflying it, salt the hell out of it, allow the moisture to drain off, and let it dry in a cool place until the fish is so hard you can use it as a weapon. I let mine dry in a spare refrigerator.
Oh, and any lean white fish works for this. I've done it with striped bass for years. Once dried and hard, your bacalao lasts forever. And yes, you can buy salt cod in many fish markets, especially if you live around Italians, Portuguese, people from the Caribbean, or New Englanders. You can buy bacalao online, too.
To actually eat salt cod, however, you must rehydrate it in many changes of water, which can take 2 days in the fridge. It will never fully rehydrate, but that texture change is what makes bacalao so special: Rehydrated salt cod has much more of a meat-like texture than fresh codfish.
My all-time favorite way to eat bacalao is as buñuelos, or fritters.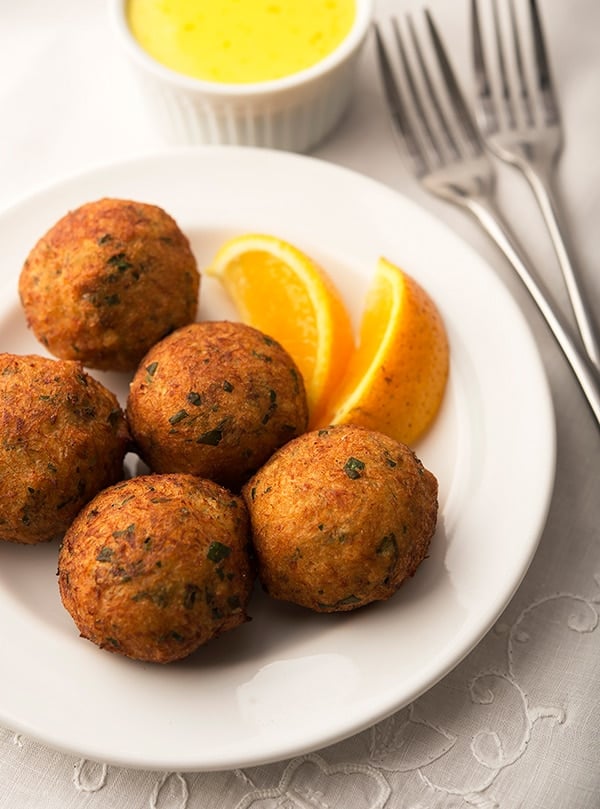 I have a history with salt cod fritters. Back in 2004, when I moved to NorCal, I was the Capitol Bureau Chief of the Stockton Record. As such, I hung around the political bars. A lot. My favorite haunt was a place in Sacramento called Spataro's, after the chef, Kurt Spataro.
Much to my amazement, I saw on the menu a little appetizer of salt cod fritters, for just $3 no less! At the time, this was exotic in Sacramento, but I'd eaten them before in New England and elsewhere. Salty, crunchy on the outside, pillowy inside, almost always served with some sort of aioli or mayo.
I don't know how many hundreds of salt cod fritters I ate while covering the political scene, but it was a lot. I started making homemade salt cod, too, although it was usually with striped bass.
Then, last year, I worked as a deckhand on a salmon boat in Alaska. In between salmon fishing, we'd do some hook-and-line fishing for halibut. A side benefit to that is that you will catch a fair number of Pacific cod. I knew the moment I landed one that I'd make salt cod.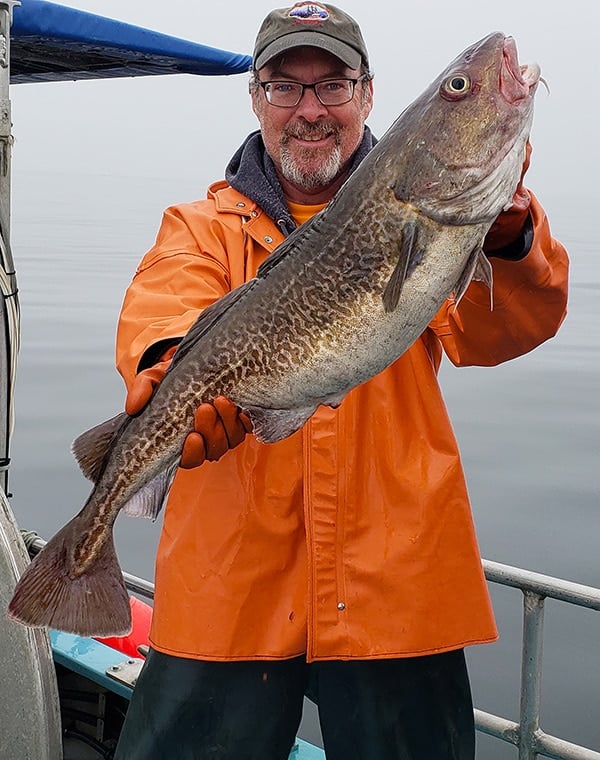 I kited the fish, salted them down and kept them in plastic bags for my flight back to California, then let them sit in my spare fridge until they were hard. They sat there almost a year before I decided to make these salt cod fritters.
It took a full 2 days to rehydrate the bacalao, changing the water twice a day. I then boiled the fish for about 5 minutes in water with a handful of bay leaves. This made it easier to pick out the meat from the bones and skin.
While the kited cod look cool, I have to say I think I prefer fillets — no bones and skin to deal with. Even skin-on fillets would be fine, but the bones got persnickety. Live and learn.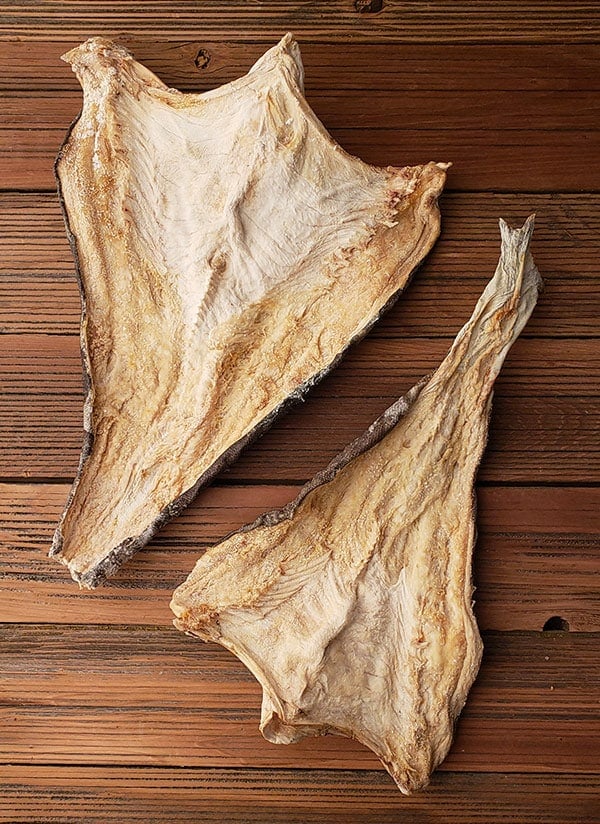 My salt cod fritters are potato-based, and are more herby than most. I like that hit of fresh herbs. I served them with a saffron aioli I like making, but really any sauce that makes you happy would work.
Once key to cooking your fritters is to have a cooling rack set on a baking sheet in the oven; set the oven to 225°F. Because the starches in potatoes brown quickly, you don't want to fully fry your fritters or they'll be unappetizingly dark. Better to fry until golden brown, set them on the rack in the oven to fully cook through.
They are crunchy on the outside, soft in the center, herby and meaty, and only vaguely fishy. Not bad for a slab of fish that sat uncovered in a fridge for almost a year, eh?
I like to make this the kickoff to a Spanish feast, followed by zarzuela de mariscos, then either fish with green sauce or the paella-like Spanish mushroom rice.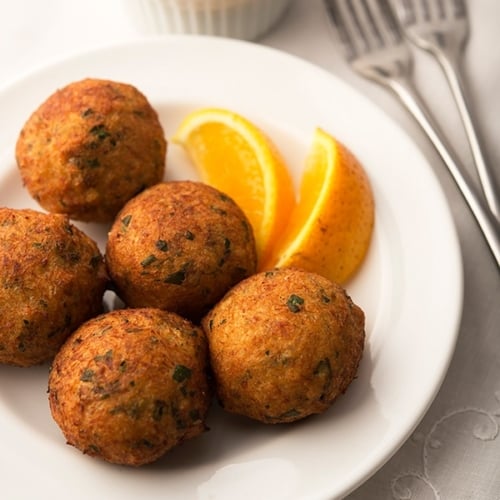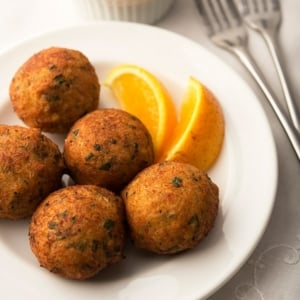 Salt Cod Fritters
In theory you can make these fritters from any cooked, flaked fish, but they are best with shredded, rehydrated bacalao. Once fried, these are great the next day, either fried again to reheat, or in a 350F toaster oven for about 20 minutes.
Ingredients
1/2

pound

flaked, reconstituted salt cod

1

russet potato, peeled and cut into 1-inch chunks

1/4

cup

minced fresh herbs,

parsley, chives, basil, etc.

4

cloves

garlic, minced

1

tablespoon

lard or butter

1

egg, lightly beaten

1/3

cup

flour

1/4

teaspoon

baking powder

salt and black pepper to taste

Oil for frying
Instructions
Pulse the salt cod in a food processor until it is finely shredded. Boil the potato in salty water until it's tender, about 15 minutes. Drain and set the pot back on the stovetop to keep heating. Return the drained potatoes to the pot and let them steam for a minute or so; this prevents you from getting wet mashed potatoes. Mash them very well. Alternatively, run the cooked potatoes through a ricer or a food mill.

Saute the garlic in the lard or butter until it just barely begins to color, about 2 minutes. Let this cool a bit and add it to a large bowl with the salt cod and mashed potatoes. Add in the herbs and flour and mix well.

Once the mixture is cool, mix in the eggs and baking powder, and add salt and black pepper to taste. If tasting a mixture with raw eggs freaks you out, taste before you add them. Let this mixture chill in the refrigerator for at least 30 minutes and up to overnight.

Get at least 2 inches of oil hot in a heavy pot, or use a deep fryer. You want the oil about 350F. As the oil is heating, scoop out a tablespoon of the salt cod mixture and roll it into a ball. Line these balls up on a cutting board so you have them ready to go. Set a cooling rack on a baking sheet and set that in the oven. Set the oven to 225F.

Fry the fritters for about 3 minutes each, or until they are a pretty golden brown. Move them to the rack in the oven to keep cooking a bit. Once your last fritters are in the oven, wait 5 minutes before serving.
Nutrition
Calories:
146
kcal
|
Carbohydrates:
10
g
|
Protein:
20
g
|
Fat:
3
g
|
Saturated Fat:
1
g
|
Cholesterol:
67
mg
|
Sodium:
2015
mg
|
Potassium:
567
mg
|
Fiber:
1
g
|
Sugar:
1
g
|
Vitamin A:
271
IU
|
Vitamin C:
5
mg
|
Calcium:
63
mg
|
Iron:
1
mg
Nutrition information is automatically calculated, so should only be used as an approximation.