Spanish Green Sauce for Fish
As an Amazon Associate I earn from qualifying purchases.
Merluza en salsa verde, or hake with a Spanish green sauce, is a quintessential — maybe the quintessential — Spanish fish dish.
I've eaten it dozens of times, and made it at home even more. It's a really very simple recipe, and it works with any firm, white fish, not just hake.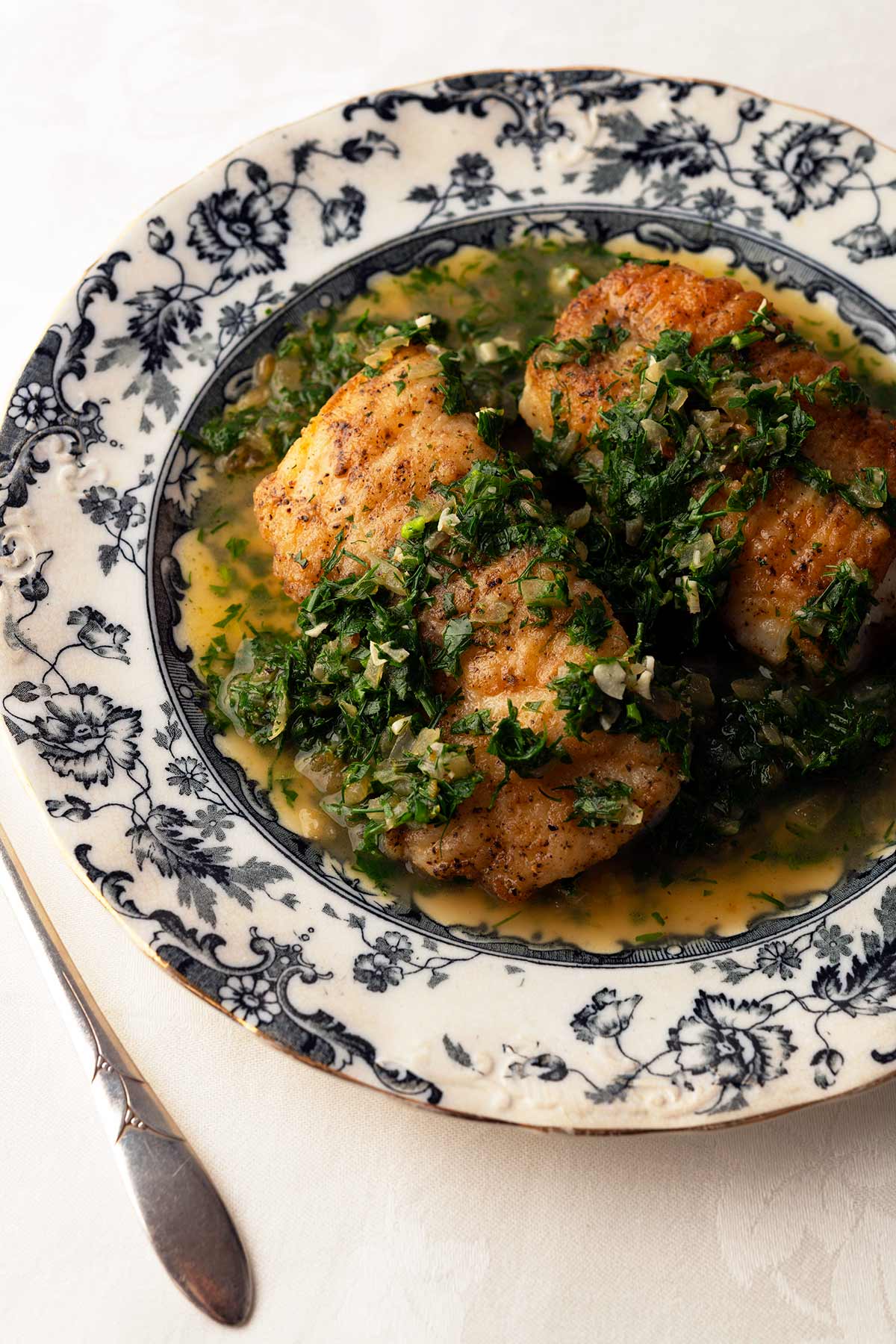 Hake, Merluccius merluccius, is a cousin of the codfish, haddock and cusk, and all are perfect substitutes for it, although if you are reading this anywhere New York or New Jersey, the fish you really want is what we call ling or red hake, Urophycis chuss.
Freshwater anglers will want to use walleye, burbot or small catfish, while Gulf anglers should look for whiting or speckled trout. Westerners? Well, there isn't much that fits the bill exactly, but Pacific rockfish will do. So will bass or big crappies, small snapper or black seabass.
Spanish green sauce, which is what I am calling it to distinguish it from Mexican salsa verde, is one of a family of green, herby sauces all over the world. I also have recipes for chimichurri, a German green sauce and and Italian salsa verde, too.
This is one of the simplest. Minced onion or shallot and garlic, sweated in olive oil, with a little flour added, some white wine and hot fish broth, sometimes a bit of chile, and lots and lots of parsley. Sometimes you will see other green herbs, too, and Penelope Casas uses chopped, hard-boiled egg in her version in the great book The Foods and Wines of Spain.
But no matter what, Spanish green sauce is heavy on the parsley.
A Basque variation on this recipe, called merluza a la vasca, uses the chopped eggs Casas uses, along with peas and little clams. Feel free to add them if you want.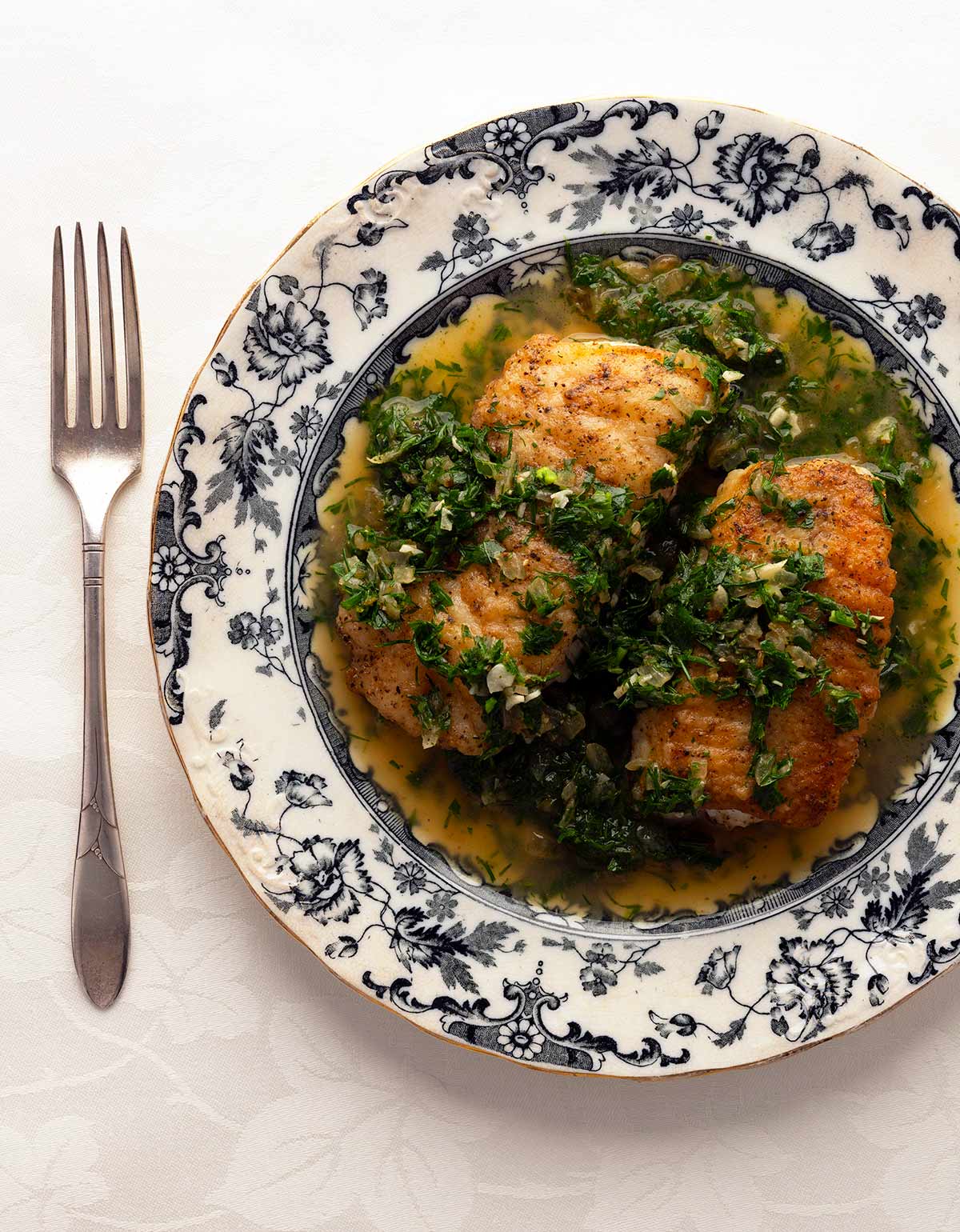 How you cook the fish is up to you. I've seen it baked, grilled or even broiled. Here I am sautéing the fish after it has been dusted in flour. I prefer this way, although with certain fish grilling would be great, too — like salmon or tuna or cobia. Regardless, you want to add the Spanish green sauce at the end, so it stays vivid. If you bake your fish with the sauce, it will turn dull.
Once made, the sauce will keep a few days in the fridge, and it's good on eggs, or warmed up as a dipping sauce for bread, which is what I serve this dish with.
I like to make this one of many courses in a Spanish feast. Serve this after a course of zarzuela de mariscos, and if you want a great appetizer, try making some salt cod fritters with saffron aioli. I also like incorporating the paella-like Spanish mushroom rice.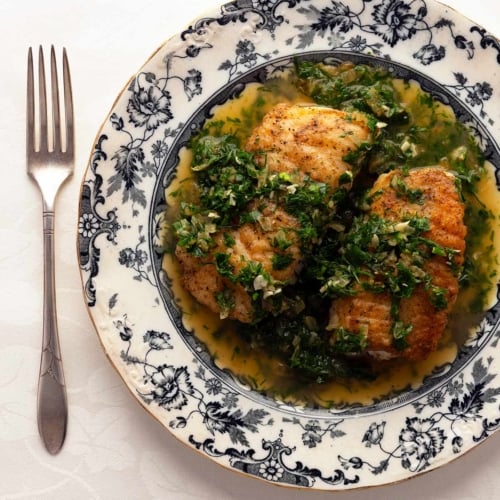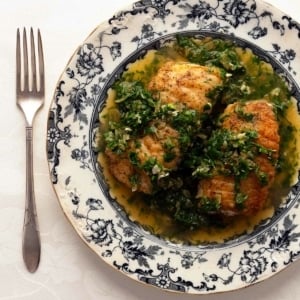 Fish with Spanish Green Sauce
I am using cusk, hake or cod here, but any fish will work, as would chicken or pork or other white meats.
Ingredients
1

pound

skinless, boneless fish

Salt and black pepper

Flour for dusting

1/4

cup

olive oil,

divided

1

yellow or white onion, minced

3

cloves

garlic, minced

1/4

teaspoon

cayenne

(optional)

3/4

cup

white wine

1

cup

fish stock or chicken stock

1

cup

finely minced parsley, fennel fronds, dill, chervil, or cilantro

Lemon juice to taste
Instructions
Salt and pepper the fish and set aside while you chop the vegetables and herbs.

Set a cooling rack over a baking sheet and put that in the oven. Set the oven to 200°F.

Heat 1 tablespoon of the olive oil in a small pan and gently cook the onion until it is golden and translucent. Don't brown it. Turn off the heat and let everything sit for now.

Heat the rest of the olive oil in a large sauté pan over medium-high heat. While it is heating up, dust the fish with flour. Press the flour in, then shake off the excess. Fry the fish in the olive oil until nicely browned on both sides, about four minutes per side. Move the fish to the rack in the oven as it browns.

When the fish is ready, move the onion and as much of the oil as you can scrape out of the little pan into the pan you cooked the fish in. Let this heat up, adding the garlic now. Let all this cook a minute or two.

Pour in the wine, bring it to a boil and let it roll a minute or two, then pour in the fish stock. Bring this to a boil and let it cook down for a couple minutes. Taste it for salt and add some if needed. Add all the herbs and cayenne and stir to combine. Let this cook 1 minute, then turn off the heat. Add black pepper and lemon juice to taste.

Pour some sauce over the fish on everyone's plate and serve with crusty bread, potatoes or rice.
Nutrition
Calories:
279
kcal
|
Carbohydrates:
6
g
|
Protein:
22
g
|
Fat:
15
g
|
Saturated Fat:
2
g
|
Cholesterol:
49
mg
|
Sodium:
268
mg
|
Potassium:
688
mg
|
Fiber:
1
g
|
Sugar:
2
g
|
Vitamin A:
1364
IU
|
Vitamin C:
24
mg
|
Calcium:
72
mg
|
Iron:
2
mg
Nutrition information is automatically calculated, so should only be used as an approximation.