Spanish Mushroom Rice
October 12, 2020 | Updated March 29, 2021
As an Amazon Associate I earn from qualifying purchases.
Spanish rice dishes are among the best in the world, none more famous than paella. Think of this as a mushroom paella, not the classic paella Valenciana. My recipe centers on the rice, yes, but also mushrooms, a little pork, and some shredded meat. If I had to be pinned down on what to call this, it is, primarily, a mushroom rice.
Autumn or winter is when you want to eat this dish. It's warming, the mushrooms are in season, maybe you're hunting. I've added shredded chukar to this dish — chukar is a species of partridge commonly hunted in Spain. You can use whatever white meat you want, from shredded chicken breast to rabbit or quail.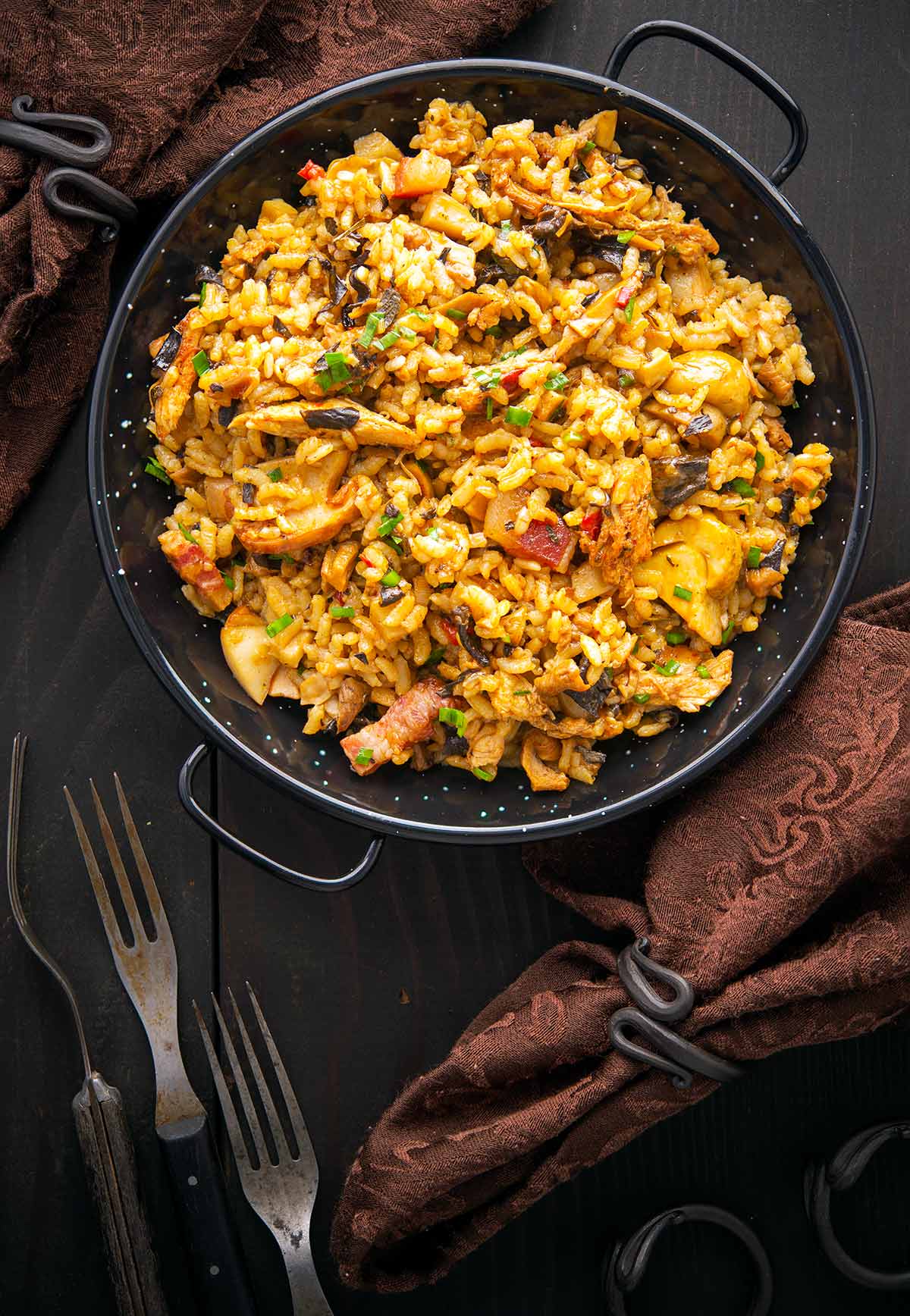 My version of mushroom rice really hinges on the combination of both fresh and dried mushrooms. Flavor is king here. No white button mushrooms! For the dried, any good selection of dried you can find. There are "forest blends" I like a lot, and if you are going for just one variety, black trumpets, morels or porcini would be my favorite. For fresh, I used porcini, but anything with flavor works: maitake (hen of the woods), other boletes, chanterelles, cremini, shiitake or those "chef blend" packets you can buy in the store.
I got the inspiration for this recipe from a fantastic book by Daniel Olivella called Catalan Food: Culture and Flavors from the Mediterranean, which I highly recommend.
His version is Hunter's Rice, which is, more or less, what this is: After all, you hunt both mushrooms and the birds that go into this.
To really make this recipe the way it ought to be you need a wide, shallow pan and Spanish rice. I prefer bomba rice, which you can buy online or in some specialty stores, but risotto rice works, too. Look for arborio rice. This will not work well with typical supermarket long-grain rice. But almost every supermarket I've ever been in at least has arborio risotto rice.
You'll also want to make a sofrito, which is a Spanish and Latin American base that many dishes are built on. I give you a recipe for it below, but the store bought sofrito from Goya or whomever is perfectly fine here.
All this sound too involved for mushroom rice? If you're looking for a simple side dish, maybe it is. This however is a meal in itself, something to drink wine and celebrate with. Something to show off your ingredients, because each plays a prominent role in the finished rice.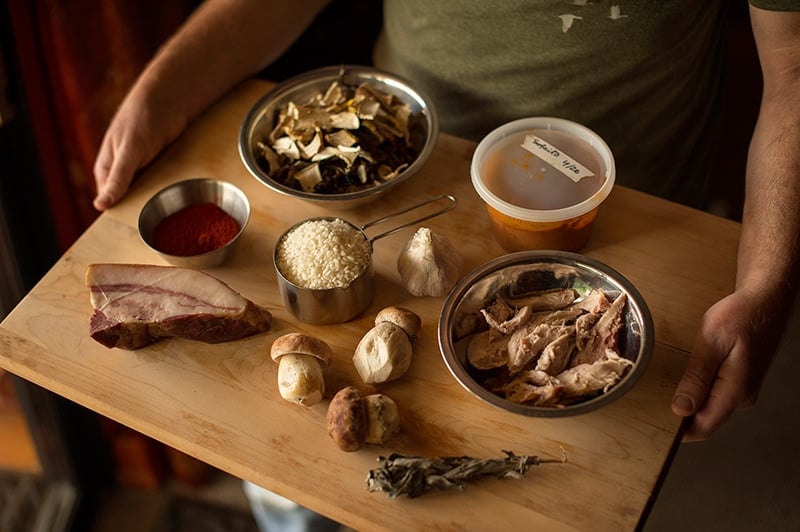 It really isn't very hard to make. You cook the dish in a wide, open pan, like a big frying pan, and you add the various liquids by pouring them around the edges of the pan, several times, to cook the rice while getting some crusty bits on the bottom that make paella so distinctive.
Should you have leftovers, they are phenomenal as breakfast the next day, bound with a few scrambled eggs.
Incidentally, the concept of mushroom rice is close to universal. I have a recipe for Japanese matsutake rice, as well as several different Italian mushroom risottos, from a porcini risotto to a morel risotto. I also use wild mushrooms with my wild rice pilaf.
I like to make this dish as one of many courses in a Spanish feast. Serve this after a course of zarzuela de mariscos, and if you want a great appetizer, try making some salt cod fritters with saffron aioli. I also like incorporating fish with green sauce.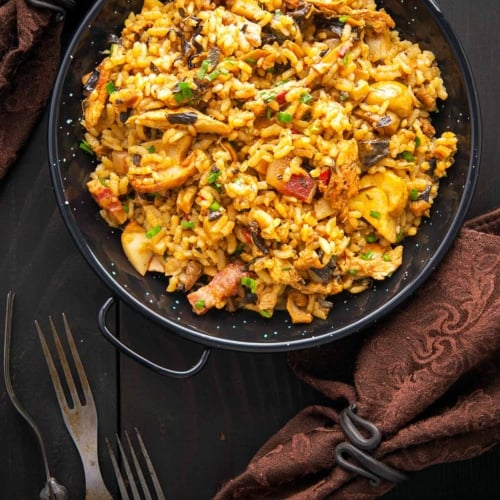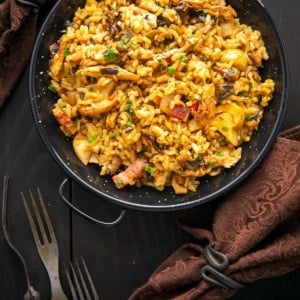 Spanish Mushroom Rice
A great many of these ingredients have substitutions if you can't find them, but I go through the most important ones above.
Ingredients
SOFRITO
1/4

cup

olive oil

1

yellow onion, minced

1

Anaheim or poblano pepper, minced

1

15-ounce can

tomato puree

Salt
RICE
2

cups

boiling water

1

ounce

dried mushrooms

3

ounces

bacon, chopped

3

tablespoons

olive oil

12

ounces

fresh mushrooms

2

cloves

garlic, minced

1/2

pound

shredded white meat

(chicken, rabbit, partridge, etc.)

1 1/2

cups

bomba or risotto rice

1

tablespoon

black sage or regular sage, chopped

1

teaspoon

smoked paprika

1/3

cup

sofrito

(see above)

1

quart

chicken or game stock

Salt and black pepper

2

tablespoons

minced chives

2

tablespoons

minced parsley
Instructions
SOFRITO
Heat the olive oil in a small pan over medium high heat. Sauté the onions and pepper until soft, stirring often. When they are soft, add the tomato puree and cook another 10 minutes on low heat. Add salt to taste. Ideally, you would wait for this to cool completely before pureeing it in a blender, but you can blend it right away; waiting will give you a darker, redder color.
RICE
Start by putting the dried mushrooms in a small bowl. Pouring the boiling water over the dried mushrooms and cover the bowl while you do the rest of the prep.

Remove the dried mushrooms from the water and chop. Strain any debris out of the soaking water and reserve the water.

In a wide, shallow pan heat the bacon and olive oil over medium heat. Chop up the mushrooms, separating stems from caps. Once the bacon starts sizzling, add the stems to the pan, and cook, stirring occasionally, until both the stems and the bacon are crispy.

Add the caps and garlic and continue to cook a few minutes, then add the shredded meat, chopped rehydrated mushrooms, smoked paprika, rice and sage. Mix well and cook for a minute or two.

Pour in the sofrito, the mushroom soaking water and 1 cup of stock, plus a pinch of salt. Mix well and let this cook over medium heat undisturbed until you hear it begin to sizzle a bit. This is the liquid boiling away. Pour 1 cup of the stock around the edges of the pan and let this boil until you hear the sizzle again. Do this 2 more times if need be. After the 3rd cup of stock is almost gone, taste the rice to see if it's done. You might not need the 4th cup, or you might even need a 5th cup, in which case you can use water.

Once the rice is done, grind black pepper over everything and sprinkle the herbs on top. Serve with a big white wine or a dry rose.
Notes
NOTE: The sofrito recipe makes more than you need, but it stores well in the fridge for a few weeks, and can be frozen. 
Nutrition
Calories:
509
kcal
|
Carbohydrates:
50
g
|
Protein:
20
g
|
Fat:
26
g
|
Saturated Fat:
5
g
|
Cholesterol:
38
mg
|
Sodium:
207
mg
|
Potassium:
583
mg
|
Fiber:
3
g
|
Sugar:
3
g
|
Vitamin A:
336
IU
|
Vitamin C:
6
mg
|
Calcium:
27
mg
|
Iron:
4
mg
Nutrition information is automatically calculated, so should only be used as an approximation.