Pickled Cauliflower, Italian Style
May 16, 2015 | Updated August 24, 2022
As an Amazon Associate I earn from qualifying purchases.
This is a classic, Italian-American style of pickled cauliflower. It's super easy to make, keeps for months and will brighten up your antipasti plate.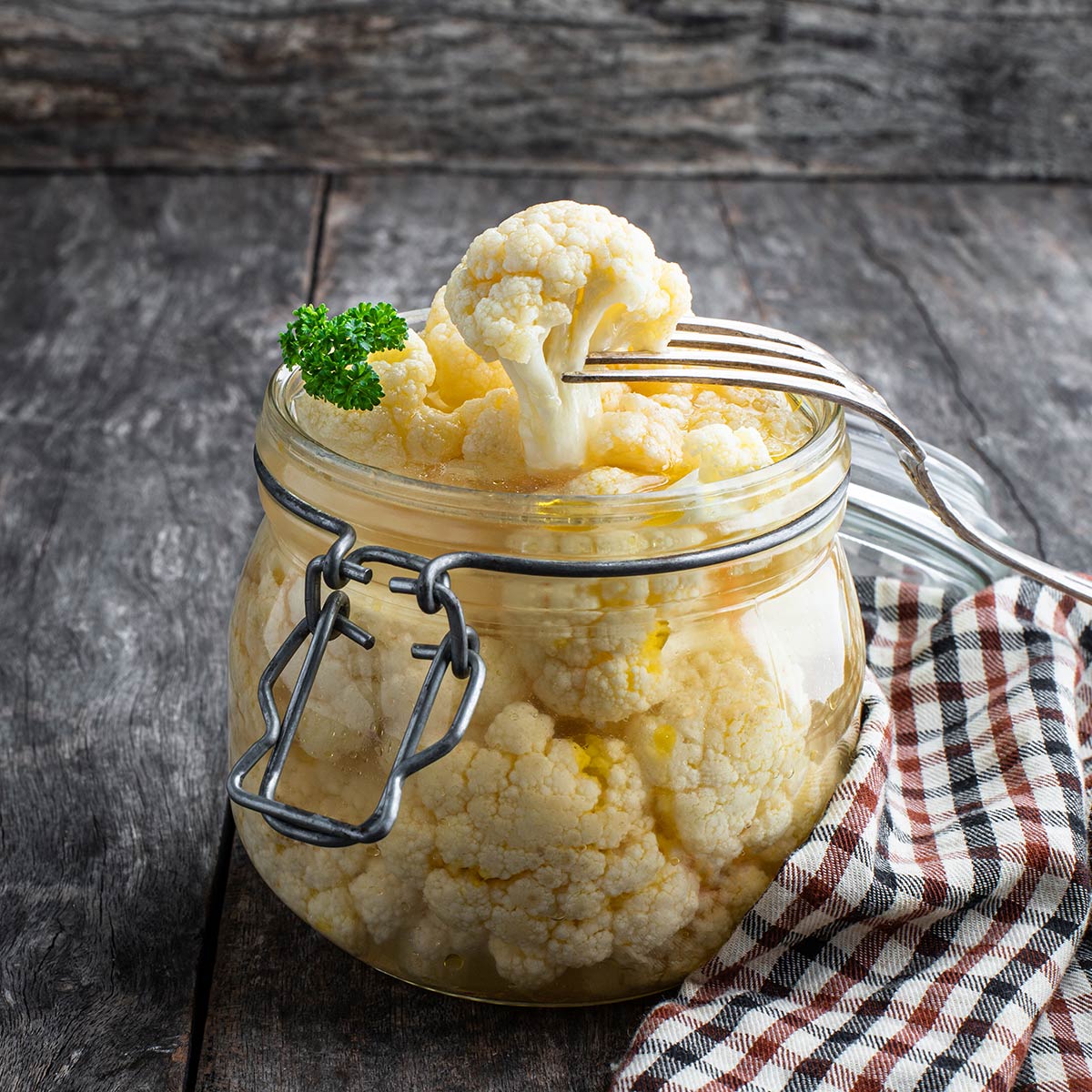 When I was growing up in New Jersey, every Italian restaurant had a jar of pickled vegetables somewhere around the counter, and for long years I thought "antipasti" specifically meant the combination of pickled cauliflower, carrots and onions that always appeared whenever you ordered "antipasto" at these red-sauce joints.
And in many places, they just set it out on the table the way a Mexican place sets out chips and salsa. Sometimes there were skinny breadsticks alongside, sometimes garlic knots, sometimes garlic bread.
The real name for this mix of pickled cauliflower and other vegetables is giardiniera, or garden pickles, and they are, apparently, a Southern Italian thing. Makes sense since this is where most Italians in my town came from. The mix also often has pickled green peppers and celery in it, too, and some can be wicked hot.
Cauliflower isn't my favorite vegetable to eat normally — it bores me — but I do like pickled cauliflower. Its firm texture and form really lend themselves to pickling. So I make these every year as a hat tip to my New Jersey childhood.
How to Pickle Cauliflower
It's crazy easy. There is no need to blanche cauliflower before pickling. Just break the florets into pieces you'd want to eat, pack them into jars, boil the vinegar with the spices, and pour that over the cauliflower. Done.
That's a refrigerator pickle. If you want to keep pickled cauliflower in the pantry, water-bath can it for 15 minutes per pint. Either way, they will keep a year or more.
Variations
Below is an Italian recipe for pickled cauliflower, but some fun variations would be:
Adding turmeric or saffron to the vinegar to turn it a bright yellow.
Including beets to stain it pink.
Actually making giardiniera, by adding sliced carrot, onion, garlic and peppers.
Go Asian by adding a tablespoon of soy sauce instead of salt, a few slices of fresh ginger, skipping all the spices below except for the chiles, and adding some sliced garlic.
You can make your pickled cauliflower as a refrigerator pickle, as I mostly do, or you can water-bath can it, following these safety guidelines.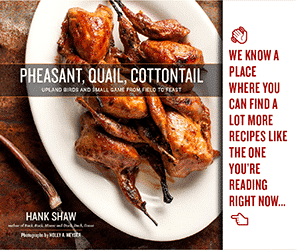 Serving Pickled Cauliflower
Obviously, I serve it at the start of an Italian meal. Maybe before linguine with white clam sauce or venison ragu. I normally serve an array of pickles with bread and olive oil and home cured olives, such as pickled ramps, brine pickled carrots and sweet-and-sour pickled fennel.
Whatever you choose, choose a variety you like. Cheese is another good thing to have on the table, too.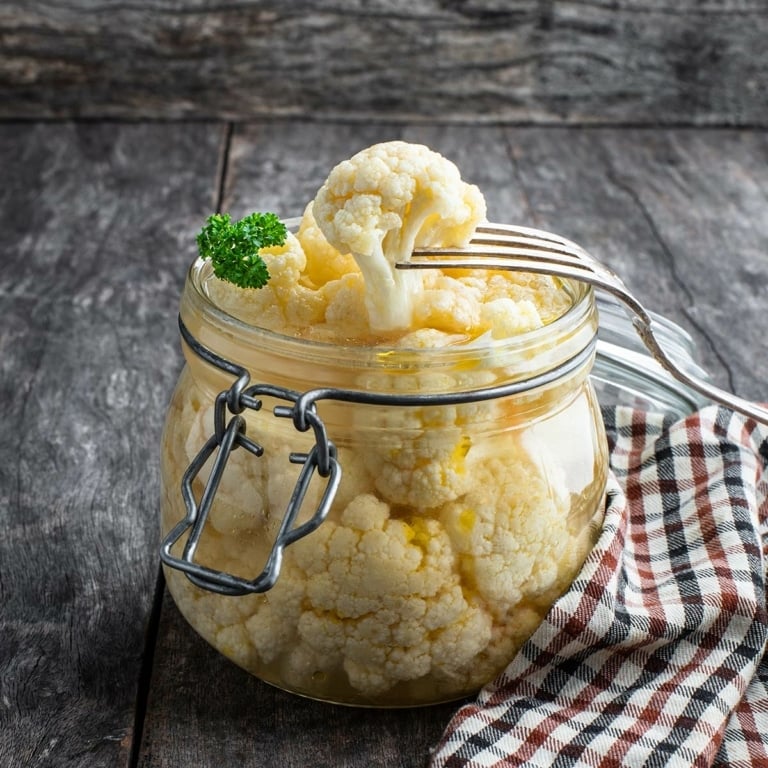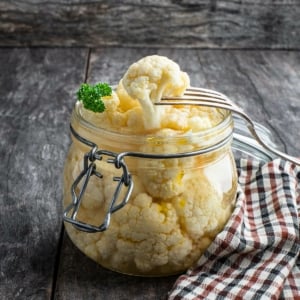 Pickled Cauliflower, Italian Style
This is as close as I've gotten to the classic pickled cauliflower of my youth. You can also use this recipe for carrots, broccoli and other hard vegetables. And if you don't feel like canning, you can keep the pickles in the fridge for several months. The general method for this recipe is inspired by The Joy of Pickling, although I have changed the flavors around.
Ingredients
1

large head of cauliflower

4

teaspoons

coriander seeds

4

teaspoons

fennel seeds

4

teaspoons

mustard seeds

(optional)

4

dried hot chiles

2

teaspoons

dried thyme

7

cups

white vinegar

7

cups

water

5

tablespoons

pickling or kosher salt
Instructions
Get a large canning pot full of water hot. Be sure it has a rack or a metal steaming insert to keep the bottom of the glass jars from touching the bottom of the pot. Get out 4 clean pint jars with new lids.

Toast the coriander, fennel and mustard seeds in a dry pan until they smell fragrant. Stir or toss occasionally. As soon as you hear the first seed pop, turn off the heat.

Meanwhile, break the cauliflower into pieces you'd want to eat as a pickle — neither too big nor too small. Do this by cutting down around the stem, then breaking the clumps of florets into smaller pieces. You may want to trim the stem pieces as you go.

Divide the toasted spices, thyme and chiles into the jars. Pack the cauliflower into the jars, leaving 1/2 inch headspace.

Boil the vinegar, salt and water and ladle into jars. You might have some left over, depending on how tightly you packed the cauliflower.

Wipe the rims before you put on unused lids — you must use new lids every time, otherwise you might not get a proper seal; you can reuse the metal lid rims, though. Submerge in simmering water for 15 minutes, then let cool on a cutting board or rack. Wait at least a week before eating. These pickles will keep in the pantry for a year. Refrigerate after opening, though.
Nutrition
Calories:
49
kcal
|
Carbohydrates:
4
g
|
Protein:
1
g
|
Fat:
1
g
|
Saturated Fat:
1
g
|
Sodium:
25
mg
|
Potassium:
176
mg
|
Fiber:
2
g
|
Sugar:
1
g
|
Vitamin A:
50
IU
|
Vitamin C:
24
mg
|
Calcium:
42
mg
|
Iron:
1
mg
Nutrition information is automatically calculated, so should only be used as an approximation.