Linguine with White Clam Sauce
February 18, 2019 | Updated June 24, 2022
As an Amazon Associate I earn from qualifying purchases.
Red or white? That was always the question at the old Italian restaurants I used to hang out at. The question, of course, refers to red or white clam sauce. I prefer clams in white sauce.
Why? Because even as a kid, I thought the lighter white clam sauce highlighted the clams more than the red one. I still think so.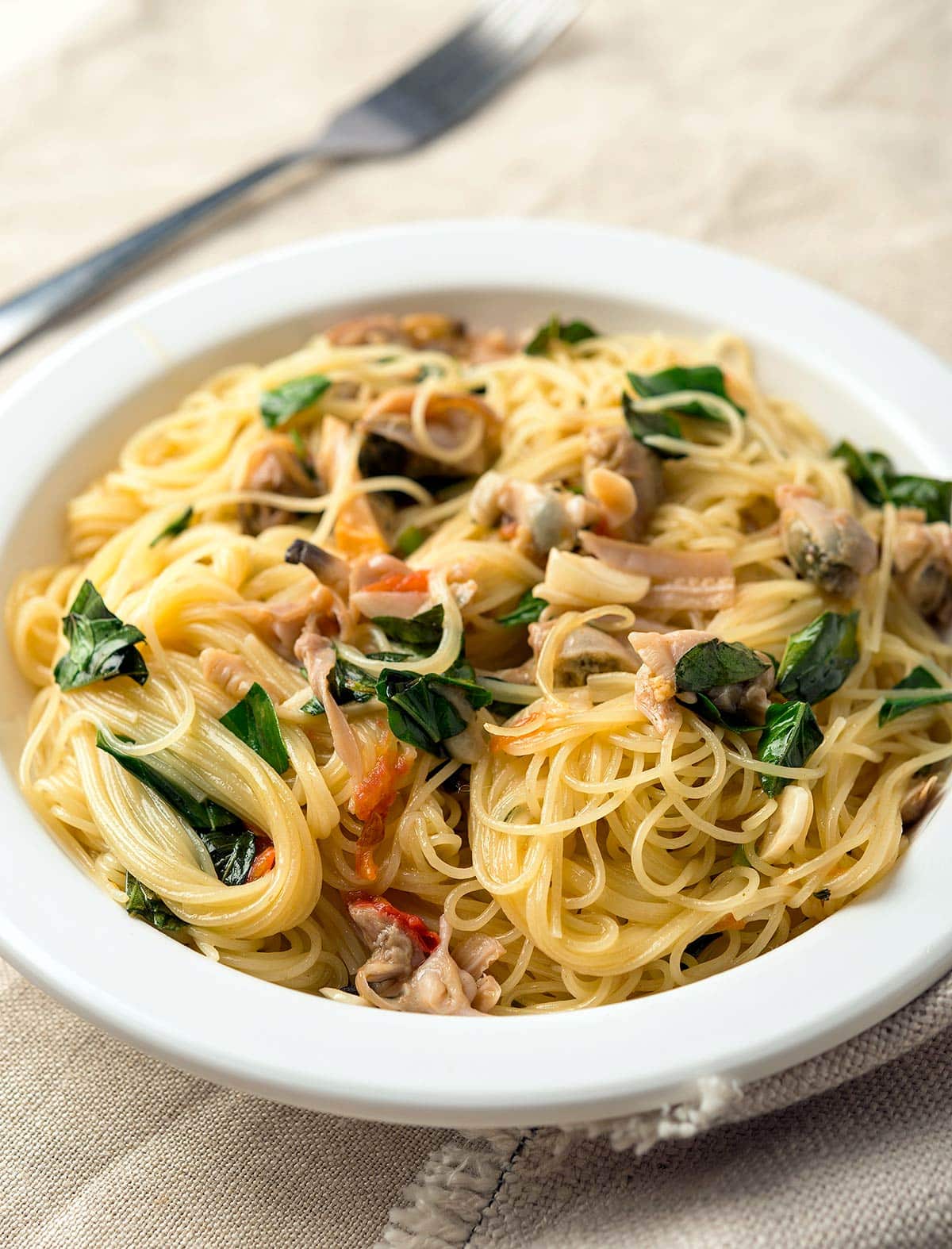 Clams in white sauce has its origins in Italy, but like many Italian-American classics, this rendition is very American. Heavy on garlic and white wine, the sauce is light… unless you get a version where the cook wants to drown everything in butter or olive oil. Meh.
White clam sauce is very similar to that other Italian seafood classic, shrimp or scallop scampi, in its reliance on garlic and oil or butter. I tend to be less restrained on the garlic, and more restrained on the butter or oil.
I'll typically use an ordinary olive oil to cook things, then drizzle a really good extra-virgin olive oil over everything at the end. No butter for me, but you can use some if you prefer.
Beyond the canons of garlic, white wine and olive oil, you have some leeway where you want to go next. Fresh herbs? Go for it. I like basil in summer and parsley in winter. Tomato? Sure, but only as an accent. Maybe a little spoonful of tomato paste, like a teaspoonful, but I prefer to toss in just a few cherry tomatoes or one plum tomato.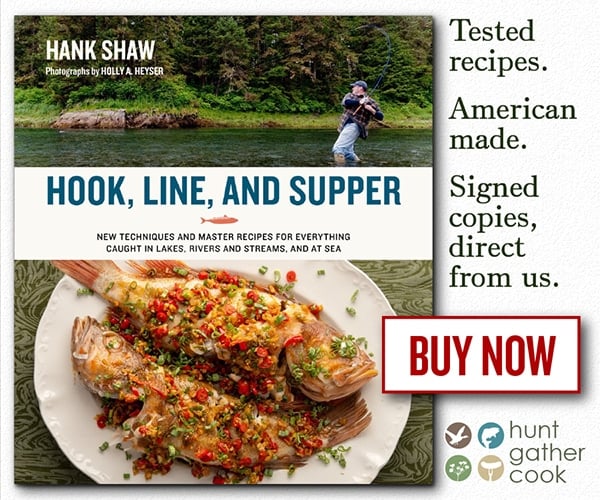 I got that tip from Marcella Hazan's recipe in her classic book Essentials of Classic Italian Cooking, which is to Italian food what Julia Child's Mastering the Art of French Cooking is to French food. As a New Jersey native, I was surprised to see tomato in Marcella's white clam sauce. But then it is only one large plum tomato, seeded and diced. More of an accent than the base of a sauce.
If you can, use fresh clams in the shell. Many restaurants like to keep the clams in the shell for presentation, but as pretty as that looks, it makes your white clam sauce harder to eat.
I use Western littleneck clams, Leukoma staminea, because that's what lives near me in California. Manila clams or Eastern littlenecks, which happens to have my favorite Latin name: Mercenaria mercenaria, are every bit as good. Whatever the species, littlenecks are gold in these parts: Hard to find but easy to dig, delicious, and living in spots that can be easily overfished.
Error, group does not exist! Check your syntax! (ID: 16)
No fresh clams? Sure you can use canned clams for your white clam sauce, and, I'll be honest, it's one of the better uses for them. The white wine tames any fishiness.
Linguine with white clam sauce is the classic, but I find that spaghetti, spaghettini, even angel hair is nice here, and there is no reason not to use a short pasta if that is what you like. Dry pasta is the norm here, not freshly made.
This is not a sauce that keeps well. Make it, enjoy it, and move on. You can freeze it if you must, but it won't be as good once thawed.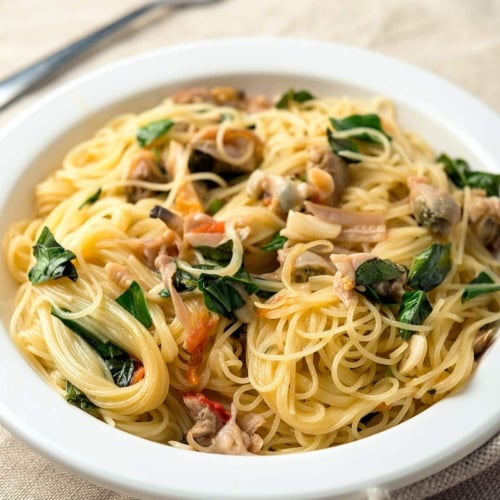 Classic White Clam Sauce
This recipe is traditionally made with linguini, but any pasta will do. I use Western littleneck clams for this dish because that's what I have around me. I've also used Manila clams and Eastern littlenecks. Any small, hard-shelled clam works here.
Ingredients
20

to 30 small

hardshell clams

1 1/4

cups

white wine,

divided

5

tablespoons

extra virgin olive oil,

divided

3

garlic cloves,

sliced thin

1/2

teaspoon

red pepper flakes

1

pound

linguine,

spaghetti or other pasta

1

large fresh plum tomato,

seeded and diced

3

tablespoons

fresh basil,

torn into pieces

Black pepper to taste
Instructions
Make sure the clams are clean; scrub them with a stiff brush under cold water if you need to. Lay them in a large, wide pot no more than 2 clams deep. Pour over 3/4 cup of white wine. Cover the pot and bring to a boil. Turn the heat down to a simmer and steam open the clams. Pay attention and pluck out each clam as it opens -- this prevents them from being overcooked. Remove the clams from their shells and cut large ones into 2 to 3 pieces. Put them in a bowl with a tablespoon of the olive oil and toss to coat. Set aside for now.

Discard the shells. Strain the liquid in the pan by pouring over a fine-meshed strainer with a paper towel set inside it that has been set over a bowl. Reserve the strained liquid.

Wipe out the pan and add 2 tablespoons olive oil. Turn the heat to medium-high and sauté the garlic for about 1 minute; don't let it brown. Add the red pepper flakes and the remaining white wine. Boil this for 1 minute, then add the reserved clam juice. Turn off the heat.

Boil the pasta in a large pot of salty water. When it is almost done -- very al dente, as in just barely crunchy in the center -- move the pasta to the pan and turn the heat to high. When it begins to boil, toss the pasta with the sauce constantly so the pasta is evenly coated. Add the reserved clams and the tomatoes while you are doing this. The pasta should be fully cooked in 30 seconds to 1 minute. When it's perfect, turn off the heat, drizzle over the remaining olive oil, and mix in the basil. Serve at once.
Notes
Keys to Success
Use the same white wine you are going to drink with dinner, like a pinot grigio, Sancerre, Albariño or Verdelho. 
If you only have large clams, you can finely chop them first. This will limit their chewiness and they'll still be nice. You can grind them, too. 
If you have some really good olive oil, use that for the final drizzle at the end. 
You can mince parsley, maybe 3 tablespoons, and add that to the pan when you add the cooked pasta. This is what I do in winter. 
I've done this exact recipe with little oysters, smoked mussels, crabmeat, small shrimp and crawfish tails. All are good. 
Nutrition
Calories:
435
kcal
|
Carbohydrates:
59
g
|
Protein:
11
g
|
Fat:
13
g
|
Saturated Fat:
2
g
|
Polyunsaturated Fat:
2
g
|
Monounsaturated Fat:
9
g
|
Trans Fat:
1
g
|
Cholesterol:
2
mg
|
Sodium:
53
mg
|
Potassium:
244
mg
|
Fiber:
3
g
|
Sugar:
3
g
|
Vitamin A:
209
IU
|
Vitamin C:
2
mg
|
Calcium:
29
mg
|
Iron:
1
mg
Nutrition information is automatically calculated, so should only be used as an approximation.