Fermented Carrot Pickles
May 20, 2012 | Updated August 24, 2022
As an Amazon Associate I earn from qualifying purchases.
Fermented carrots are essentially an ancient method of pickling, much like dill pickles: No vinegar, just lacto-fermented goodness. Here's how to make them at home.
Obviously you will need carrots to do this, and you can basically ferment any sort of carrot — except for those monstrous field carrots, which are too thick. About 1 inch in diameter is as wide as you want them. Try using different colors. It's fun.
You can make fermented carrots any time of year, but I find spring, late fall or early winter to be the best. The reason is because any sort of lacto-fermenting is best done when your house is coller than 70°F. The warmer the ambient temperature is, the harder it is to get the right mix of wee beasties to ferment your carrots.
So why ferment carrots? Other than the fact that you can make a tasty pickle with just salt and water, fermented carrots are better for you, nutritionally speaking, than vinegar-pickled carrots.
The same bacteria that make a tangy pickle help your digestive system, and lacto-fermented carrots are easier to digest (and tastier) than raw carrots.
Also, because fermented carrots are never boiled, the vitamins in them remain viable and available to you; vitamin C, for example, is notoriously volatile if heated.
Making Fermented Carrots
I've learned a lot about lacto-fermented pickles over the years from gurus such as Sandor Katz's Wild Fermentation. Katz's book The Art of Fermentation: An In-Depth Exploration of Essential Concepts and Processes from Around the World has become an object of obsession for me; it is the kind of book I wish I'd written, but am happy enough just to read.
The key to this kind of pickling is the proper ratio of salt to water and coolish temperatures: Hotter than 75°F or so and you enter the danger zone. This is why making fermented carrots is rarely a summertime endeavor.
You can use my recipe below, but for scale, shoot for about 2.5 percent salt by weight. And that is total weight, as in the weight of the water, herbs and carrots. You want 2.5 percent of that. Don't go lower than 2 percent or higher than 5 percent.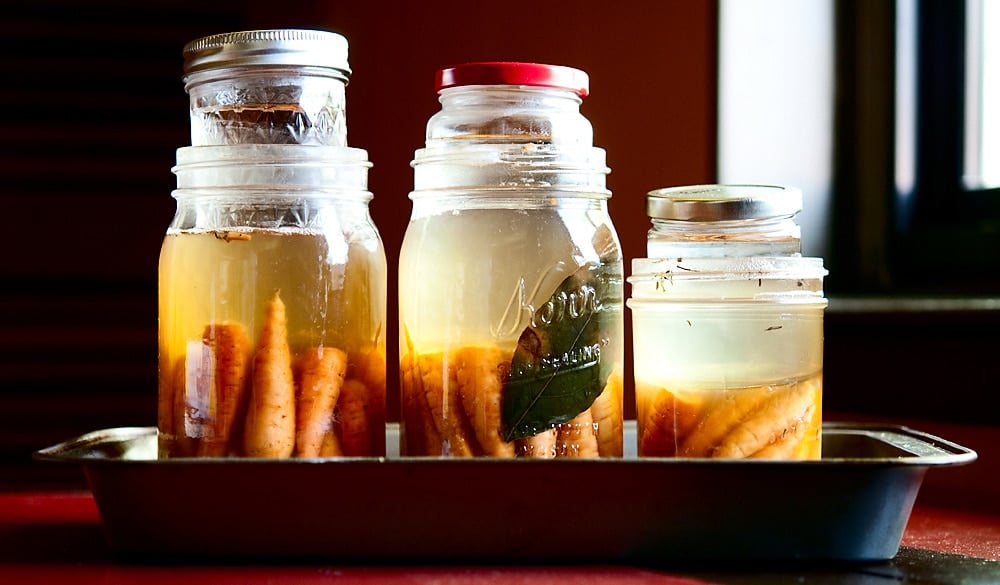 You'll notice that the carrots in the picture above are well submerged in the jars. This is vital. If the carrots breach the surface, they can get moldy and soft and gross. You keep them submerged with either a smaller glass container that keeps them all under, as I did in the picture, or with plastic bags filled with the same brine you are pickling in.
How long does it take to ferment carrots? At least a week, really at least two weeks, and I prefer really tangy fermented carrots, so I let it go a full month.
The longer carrots ferment, the more sour they will be. Temperature matters, too. If your room is warmer than 70°F, the carrots will ferment faster. Anything colder than about 50°F slows the process down drastically.
My personal sweet spot is about 65°F — not so cold that I am freezing in my own house, but cool enough for a nice, slow ferment.
Troubleshooting
Things can go wrong when fermenting carrots. And more often, things can look like they're going wrong when they are not. Cloudy brine is tops among them. The pickle brine will get cloudy as the fermentation continues. This is normal.
Another thing that happens is this wispy, white moldy thing shows up in the jar. That's usually kahm yeast, and it's perfectly harmless. You can pick it out if you want.
You can get real mold on the surface in long ferments. Spoon this off when you see it. This stuff you don't want.
Bottom line: If your fermented carrots look nasty and are stinky. Toss them. Your natural senses will serve you well here.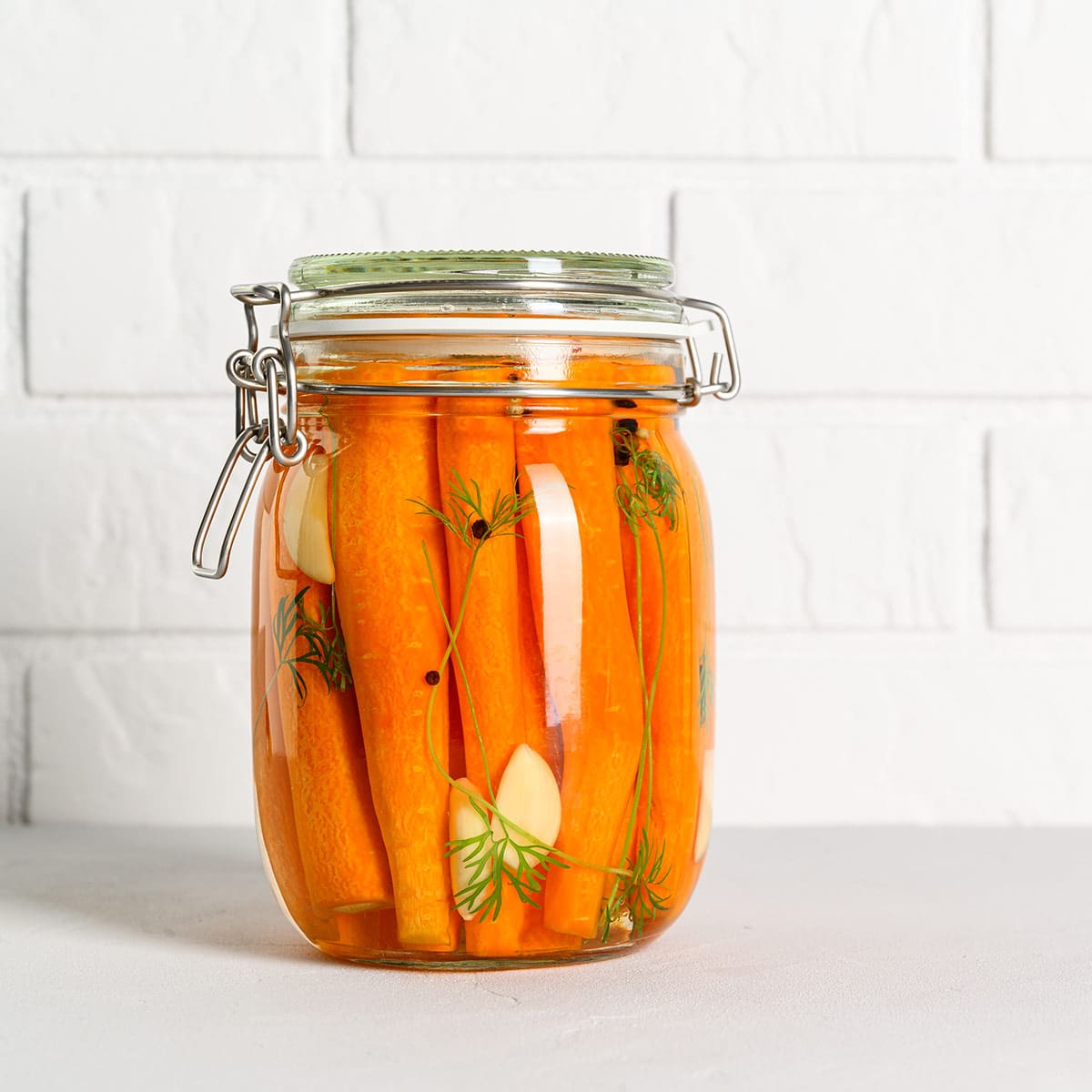 Storing Fermented Carrots
When the carrots are as sour as you want them, put the jar in the fridge. They will continue to ferment, very slowly, so you will want to eat them within a couple months.
Or, if you want to really stop the process, you can drain off the brine and simmer it for 5 minutes or so. This will kill the biological activity, but also deprive you of the good bacteria your innards are fond of.
If you are looking for more cool recipes for lacto-fermented vegetables, try my recipes for fennel sauerkraut, or pickled mustard greens.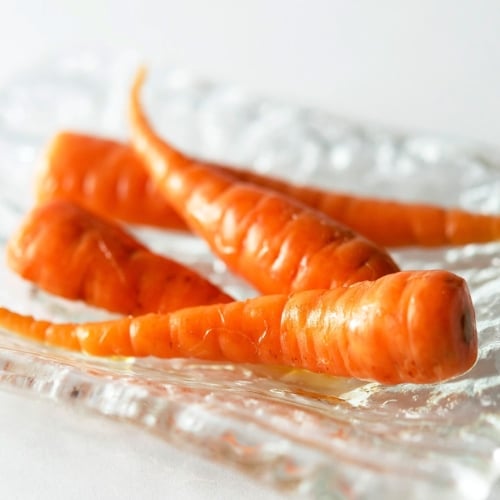 Lacto-Fermented Pickled Carrots
You can brine pickle, which is to say lacto-ferment, any crunchy vegetable. The general rule is that you want about 2 to 3 percent salt by weight of the vegetable. You don't need to be exact, but too little and the vegetables rot, too much and they are too salty.
Ingredients
2

pounds

small carrots,

peeled

4

cups

water

3

tablespoons

kosher salt

1

sprig of fresh thyme

2

bay leaves

1

dried hot chile

1

teaspoon

cracked black peppercorns
Instructions
Cut the carrots into discs the size you would want to eat at a cocktail party. Or leave them whole. Or split them in half lengthwise. The key here is to keep the thickest part of any piece no wider than about 1 inch.

Boil the salt, water, bay leaves, black peppercorns and chile for a minute or so, then turn off the heat and let this cool to room temperature. This gets the flavors melding. Once the brine has cooled to room temperature, pack the carrots and the thyme sprig into a clean Mason jar and pour the brine over them, making sure the jars all get some of the spices.

You will have leftover brine. Pour this into a plastic bag and tie it off. Push the bag into the jar — you want the carrots to be completely submerged in the brine. Alternately, fill a smaller jar that will just barely fit into the pickling jar with some water, screw on the lid and use that to prevent the carrots from contact with air. If the veggies hit air while fermenting, you get mold.

Put the jar into a cool, dark place for at least 4 days. What's cool? Cooler than 75°F. Like many things that ferment, 65°F is about perfect. Don't go colder than 45°F. You can leave the carrots in longer if you want — they will be saltier and tangier. I often ferment these carrots for a full month.

Remove the bag or small jar from your pickling jar. To store your pickles, either do as I do and simply screw the cap on the pickles and put them in the fridge, or you can pour the brine into a clean pot and boil it. When it is cool, pour it back into the jar with the carrots and seal it up. If you want your pickles to be shelf-stable, you must boil the brine and then process it for 15 minutes or so in a hot water bath. Kept in the fridge, these pickles will last up to 6 months.
Notes
Note that prep time doesn't include pickling time. This recipe makes about 1 quart of pickles. 
Nutrition
Calories:
32
kcal
|
Carbohydrates:
8
g
|
Protein:
1
g
|
Fat:
1
g
|
Saturated Fat:
1
g
|
Polyunsaturated Fat:
1
g
|
Monounsaturated Fat:
1
g
|
Sodium:
52
mg
|
Potassium:
248
mg
|
Fiber:
2
g
|
Sugar:
4
g
|
Vitamin A:
12648
IU
|
Vitamin C:
5
mg
|
Calcium:
27
mg
|
Iron:
1
mg
Nutrition information is automatically calculated, so should only be used as an approximation.