As an Amazon Associate I earn from qualifying purchases.
This is a rich venison ragu recipe that is, essentially, an authentic bolognese sauce. You can use any ground meat here if you don't have venison.
Have you ever had a real, authentic Bolognese sauce? I mean an actual, honest-to-goodness Bolognese? It's just different from a typical meat sauce for pasta: smoother, meatier, mellower and a lot richer than a typical ragu or sugo. A little goes a long way.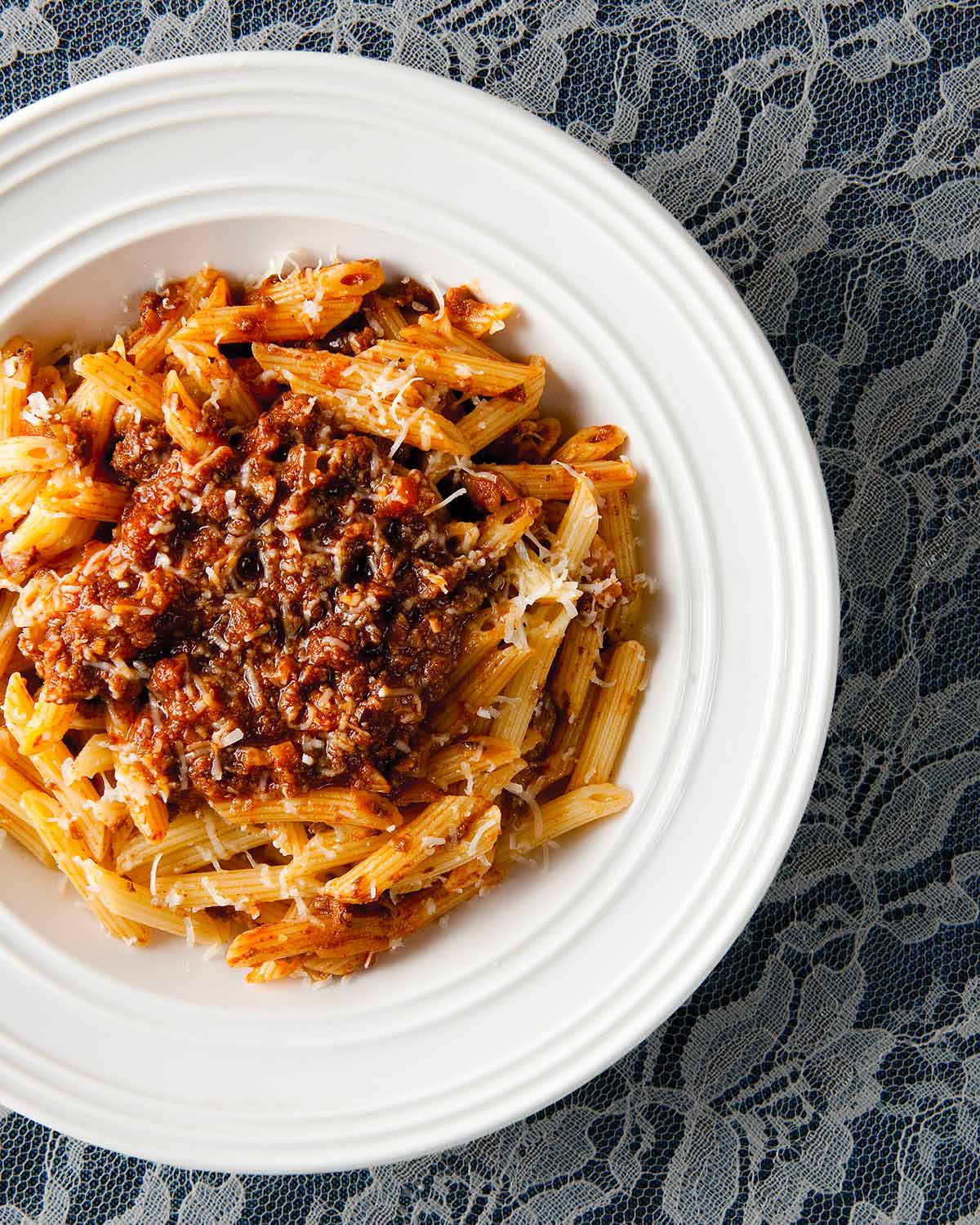 There is a reason that the guardians of this sauce are so strict about what is and is not an authentic Bolognese. And while there are other renditions of venison ragu, none are better than this one. Trust me on this.
Much of what makes Italian cuisine so special is its skill with poverty foods. Pugliese or Sardinians or the people of the Italian Alps must deal with a limited set of ingredients, and they do so with uncanny ability.
But there is no need for this in Emilia-Romagna, where Bologna lies. This region has everything. And it flaunts it. A Bolognese sauce is a crowning expression of the wealth of Italy's breadbasket, and some version of it has been made since the 1700s.
This is a sauce with rules. It is built on a base of onion, carrot and celery. No garlic. Nor does it have lots of herbs in it. I love lots of herbs in a meat sauce, but that's not a Bolognese. The sauce contains dairy products. Tomato, while present, is not the star of the sauce. Meat is. And to make a real Bolognese, it must cook a long, long time.
An authentic Bolognese sauce recipe is all about the meat. Emilia-Romagna is a rich region, and this is a rich sauce. Beef is king here, and the sauce is usually a celebration of the cow: beef, veal, milk and butter. But I am a hunter, so venison is the star here. Because of that, an Italian would call this a simple venison ragu, not an official Bolognese sauce. Oh well.
Every cook has a personal version. The few constants I've just mentioned above. Some have only beef. Some a mix of meats. Some pork. A few, like this one, wild boar. Some Bolognese recipes use a little pancetta, prosciutto or chicken liver, too.
One point of contention is tomato. I use just a little, but most American versions make this a tomato sauce with meat. That may taste nice, but it's not a Bolognese. I suspect Americans do this because we were first exposed to a sauce sorta-kinda like this by Italians from Southern Italy, where tomato-heavy meat sauces are more common.
(Looking for a more tomatoey ragu? My duck ragu works really well with venison, too.)
Mushrooms, usually porcini, do have a place in an authentic Bolognese sauce. I use dried ones here. Porcini powder is another good option. Broth is yet another debating point. Many recipes use beef broth, some use water. I used venison stock.
Wine? Yes, or no. Your choice. White or red both work.
What pasta you serve it on is also hotly debated. By far the most common is homemade tagliatelle, which is a little like linguine. But other pasta shapes are seen, too.
Curiously, spaghetti — the most common pasta used with Bolognese in America — is almost never used with this sauce in Italy. Again, I think using spaghetti is an influence from Italian-Americans from the south, where dried pasta is more commonly used.
Do you need to follow all these rules when you make your own venison ragu? I hope you do, because the result is unlike anything else you've ever tasted. Even if you use other meats, such as pork or hare or duck, following these guidelines will make an unforgettable venison Bolognese.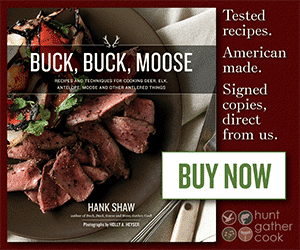 But the Italian Food Police will not come breaking down your door if you add a little of this or a little of that to your liking. Improvisation is, after all, very Italian.
Don't try to make this sauce on a weeknight. It takes a long time to come together, and the time spent slowly simmering really makes this sauce special. But fear not, it keeps in the fridge for up to 10 days, and freezes well.
It is a perfect sauce to make on a weekend and eat after work all week.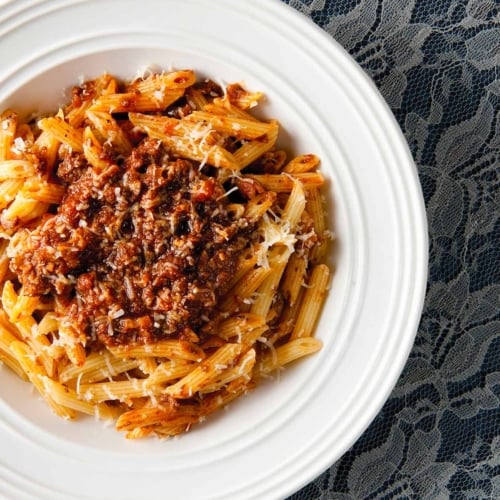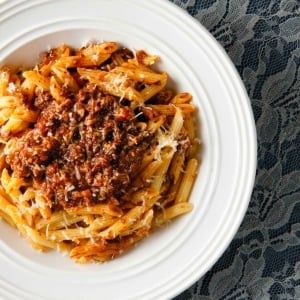 Venison Ragu
This is a classic bolognese sauce geared toward venison. It takes a while to come together, but it will keep in the fridge a week, freezes well and can be pressure canned.
Ingredients
4

tablespoons

unsalted butter

1

cup

minced onion

1

cup

minced carrot

1

cup

minced celery

2

pounds

ground venison,

or other meat

1

ounce

dried porcini,

reconstituted in 1 cup hot water and chopped

1 six-

ounce

can tomato paste

1

cup

venison stock,

beef broth or water

1

cup

red wine

1

cup

milk

1/2

nutmeg,

grated or 1/2 teaspoon ground nutmeg

Salt and black pepper to taste

Pasta

(tagliatelle, penne, etc)

Grated cheese for garnish
Instructions
Heat the butter over medium-high heat in a large, heavy pot like a Dutch oven. Add the onion, celery and carrots and cook gently for 5 to 8 minutes, stirring often. Do not brown them. Sprinkle a little salt over the veggies as they cook.

When the vegetables are soft, stir in the chopped porcini and tomato paste and allow everything to cook for 3 or 4 minutes, again, stirring often. When the tomato paste begins to turn the color of brick, add the ground venison, the porcini soaking water and the broth. Bring to a simmer.

Allow this to cook down over medium-low heat. Take your time here and resist the urge to do this over higher heat. Stir from time to time. When the liquid has mostly evaporated, add the wine and repeat the process. When that has mostly evaporated, add the milk, nutmeg and black pepper and stir well. Bring back to a simmer and add salt to taste. Let this cook until it is the consistency you want.

To serve, put the pasta in a large bowl and add a healthy ladle of sauce. Toss to combine. Give everyone their portion, then top with a small ladle's worth of sauce. Grate the cheese over the top and serve.
Video
Notes
If you want to pressure can this, you'll have to leave the milk out until you want to eat the sauce. But you can pressure can this at 10 PSI for up to 1000 feet of elevation for 1 hour. Follow your canner's directions. 
Keys to Success
Time. A real deal ragu takes time to make. You can rush things, but you will notice the difference. 
I make my own venison stock for this recipe, but you could use store bought, low-sodium beef broth. 
Use a food processor to finely mince the carrot, onion and celery. Way easier than by hand. 
If you can't find the porcini, skip it or use other dried mushrooms. I will often just use porcini powder. 
Nutrition
Calories:
441
kcal
|
Carbohydrates:
14
g
|
Protein:
22
g
|
Fat:
31
g
|
Saturated Fat:
13
g
|
Cholesterol:
100
mg
|
Sodium:
403
mg
|
Potassium:
808
mg
|
Fiber:
2
g
|
Sugar:
7
g
|
Vitamin A:
3340
IU
|
Vitamin C:
11
mg
|
Calcium:
78
mg
|
Iron:
2
mg
Nutrition information is automatically calculated, so should only be used as an approximation.