How to Cure Green Olives
October 11, 2009 | Updated May 31, 2021
As an Amazon Associate I earn from qualifying purchases.
Brining olives is the oldest way to cure olives, especially green ones. What follows are instructions and troubleshooting on how to cure olives with a brine. There are other ways I'll get to below.
This post assumes you have access to fresh, green olives off the tree, which are pretty but inedible — they are impossibly astringent. Olive trees can be found all over California, in many parts of Arizona, as well as Australia and, obviously, the Mediterranean, where they are native.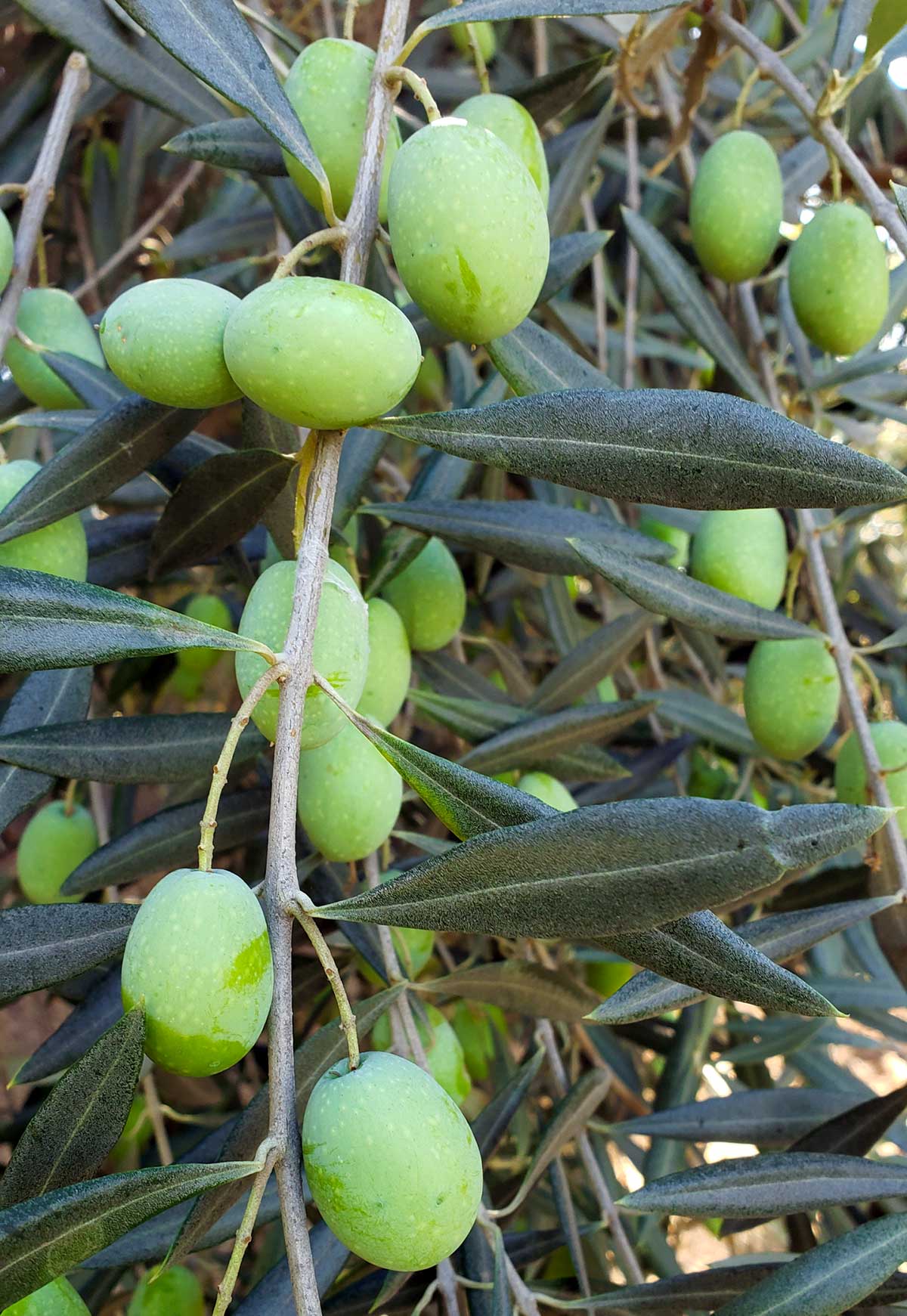 You can buy fresh olives online, and over the years I have provided links, but these companies seem to come and go quickly, so I don't do that anymore. Just Google "buy fresh olives" around September here in the United States, and I think March in Australia.
The timing is important because you want fresh green olives. And yes, like peppers, all olives start green and ripen to another color, usually black in the case of olives.
Green, unripe olives are firmer and way more astringent than ripe ones. Brining olives when they are green is a great way to cure them, and green olives are the only olives suitable for what, admittedly, is my favorite cure, which a lye cured olive. That process, believe it or not, has been used for 2000 years, and is not as scary as it sounds.
You can brine ripe, black olives, too, just so you know.
My general rhythm is to cruise my local parks in late September or early October; they are full of olive trees, remnants of pre-suburbia orchards around here. On some crisp autumn Saturday, I go picking. Look for pretty olives, with few or no blemishes, and which are not wrinkled.
Tiny dots on an olive are OK, but many may be rotten with olive fly, whose larvae burrow into olives and leave a beige scar where they entered. that telltale scar means there is a visitor lurking within your olive.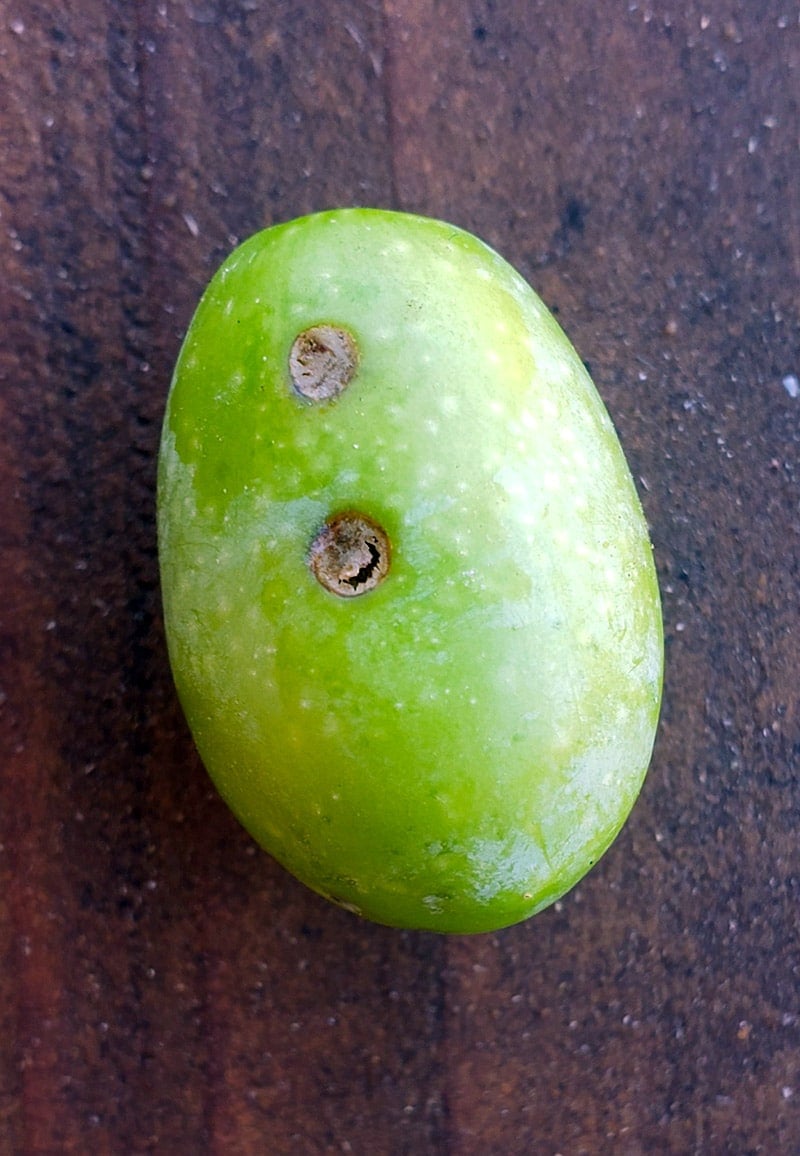 Another hazard are the dry olives. Trees forced to live by their own wits — away from regularly watered grass — are stressed, and their olives shrivel early. Shriveled olives are usable, but they bruise rapidly and don't make a clean green olive.
When you get home, separate your olives into small, medium and large olives — it doesn't matter what variety they are, as I don't know how to tell the difference. If you don't have enough large ones to make its own batch, mix them with the mediums.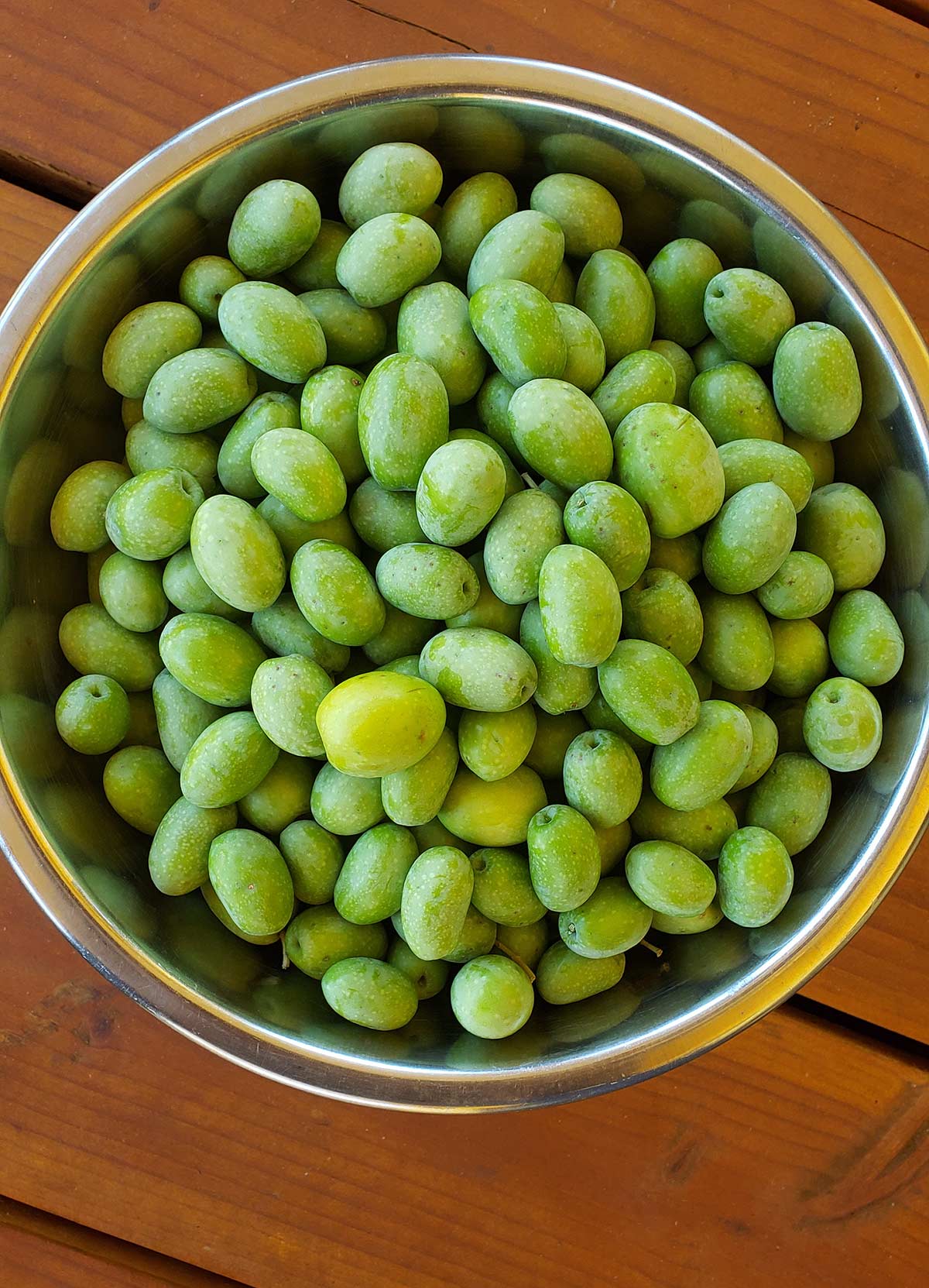 Unless I am doing the lye cure, brining olives is my preferred method, as it is low-maintenance and results in a super-tangy, salty olive that keeps for more than a year and cries out for beer or ouzo. And I like ouzo. A lot.
Brine-curing is easy, but takes a long time. You make a brine of 1/4 cup kosher salt (I use Diamond Crystal) to 4 cups water, plus 1/2 cup of vinegar: white wine, cider or simple white vinegar. Submerge the olives in this brine and top with cheesecloth or something else to keep them underwater. Do not cut them.
Cover the top of the container loosely (I use large, 1 gallon glass jars
) and put the jar in a dark, cool place. That's it. Check it from time to time — meaning every week or so at first. The brine should darken, and you might get a scum on the top. That's OK.
What's going on is that your olives are fermenting; it is the fermentation that breaks down the oleuropein over time. The what? Yeah, oleuropein is the astringent substance in an unripe olive. It needs to go if you are going to eat one. Fermentation is why I never wash my olives before curing — I want those natural yeasts on the outside of the olive to do their magic.
I change my brine every month or two, when it begins to look extra nasty. I don't re-rinse the olives, during changes, either, because I want the residue to act as a "starter" to get the next batch of brine going.
Keep in mind you will be in for the long haul: Olives picked in October are typically ready to eat in May or June. It's a lot like making wine.
Add seasonings after the New Year, or even later, otherwise you risk too much spice and not enough olive flavor; this is especially true of chiles. If you find you've gone too far, change the brine and don't add new seasonings, and let it steep for a few weeks. That should calm things down a bit.
Once the olives are finished, there is a certain show-off factor when you pull out a plate of olives you cured yourself. "These are your olives? Wow." Plus, you can flavor them any way you like, which is a bonus.
If you're too late for green olives, I really like salt cured black olives, which we all call oil-cured olives since that's how they are stored. If you want to cure black olives, my method is to oil-cure olives.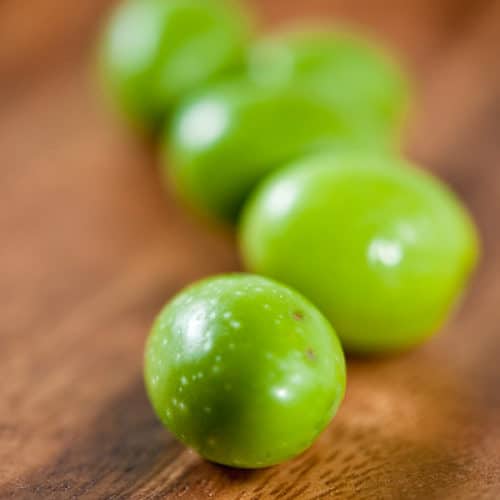 Brine Cured Green Olives
This is a long-term, brine cure for green olives. It is very traditional and only requires time and a cool place, under 75°F. Know that olives started in fall are not normally ready until spring. Mold is normal. Skim it off.
Ingredients
4

pounds

fresh green olives

1

cup

kosher salt

1

gallon

water

1

cup

distilled vinegar
Instructions
Assuming you've already checked your olives for worm scars (see headnotes), discard any with too many blemishes. Place the olives in a stoneware crock or large glass jar with a lid carefully. Fresh olives actually do bruise easily.

Mix the vinegar, salt and water together. No need to boil, as it will dissolve at room temperature. Pour this over the olives, making sure they are submerged by at least 2 inches. Add more brine in the same ratio if need be.

Chances are the olives will float. You need to keep them away from air, so I put a plate over them that is just about the size of the jar or crock. You can also use a plastic bag filled with water to keep the olives away from air. Once the olives are submerged, cover the jar or lid (lightly screw on the top if there is one) and place the container in a cool, dark place. A basement is ideal. You don't want them to ever get beyond 75°F if you can help it, because at higher temperatures the olives can go soft. Since this is a wintertime cure, it should not be a problem. Low temperatures are fine, just don't let them freeze. Let them sit for several months.

As time passes, you will see a scum of mold and weirdness form on the top. This is normal. Skim it off once a week and you'll be fine. At some point the brine itself will get pretty icky. I like to change the brine every month or so, but this is not strictly needed. The olives are done when they are no longer bitter, anywhere from 2 to 4 months.

Only now do you add other seasonings, like chile peppers, black peppercorns, herbs or citrus peel. Do this in a fresh brine, and let this new, flavorful brine sit 2 weeks before serving. Store the olives in this brine, in a cool place or refrigerator, for up to 2 years. I keep them in quart Mason jars.
Notes
Flavor Additions
dried chiles
bay leaves or similar aromatic leaves like citrus leaves
thyme, sage, oregano, rosemary 
allspice, black peppercorns, juniper berries
smashed garlic cloves
Nutrition
Calories:
132
kcal
|
Carbohydrates:
3
g
|
Protein:
1
g
|
Fat:
14
g
|
Saturated Fat:
2
g
|
Sodium:
1412
mg
|
Potassium:
38
mg
|
Fiber:
3
g
|
Sugar:
1
g
|
Vitamin A:
357
IU
|
Calcium:
47
mg
|
Iron:
1
mg
Nutrition information is automatically calculated, so should only be used as an approximation.