Pickled Artichokes
April 18, 2012 | Updated January 22, 2021
As an Amazon Associate I earn from qualifying purchases.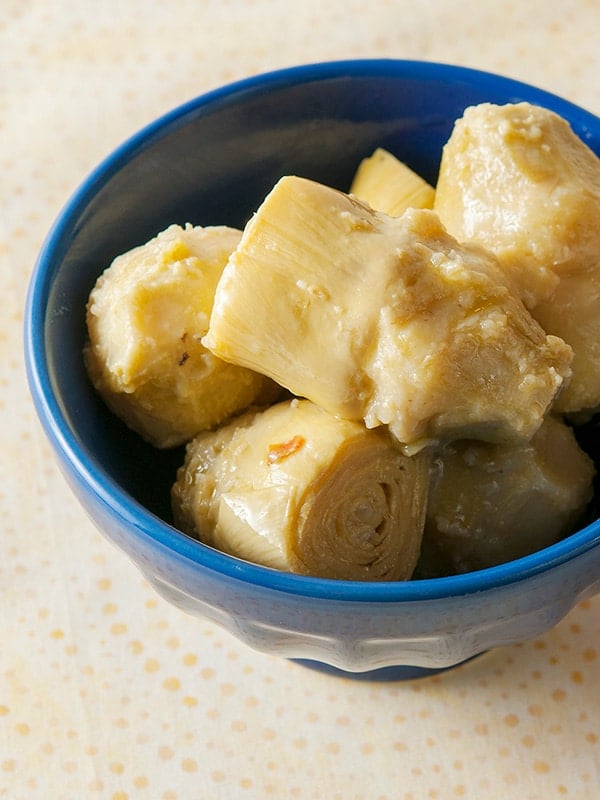 I've eaten a lot of preserved or pickled artichokes in my time, but this recipe is the best I've yet found. This is a riff off a recipe I found in Eugenia Bone's Well Preserved, one of the better pickling books to come out in recent years.
I've been known to cruise the farmer's markets late in the morning, eyeing the artichoke vendors. Why? Near the end of the day's market, the farmers are more willing to sell their stock at a discount. And since I eat a lot of these artichokes, I need to buy a lot. And even here in California, artichokes aren't cheap.
Why bother with these pickled artichokes? Because they are simply flat-out better than anything you can buy. I am not just saying that. You know when you buy pickled artichokes, and they're kinda squishy? Soft? These aren't. These stay firm for months in the jar.
They will soften eventually, though, so eat them within about nine months.
You will want to buy small artichokes for this recipe, and, thankfully, I am seeing packages of "baby" artichokes for sale in supermarkets now, so you have a store-bought option if your local farmer's market doesn't have artichokes, which is likely.
Processing all these baby artichokes will take some time, and, well, generate a lot of waste. What to do with all the artichoke leaves you have pulled off to get to the hearts? Make artichoke soup. There is an amazing recipe for this in one of my all-time favorite cookbooks, Cooking by Hand: A Cookbook by Paul Bertolli.
If you're interested in real-deal Italian cooking, not just for that artichoke soup but for all sorts of things, buy Bertolli's book. You won't be sad.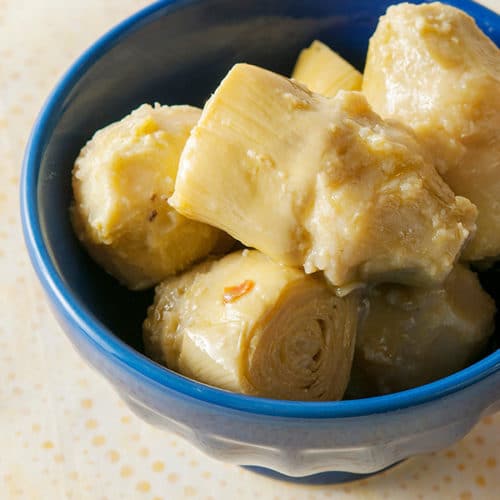 Pickled, Marinated Artichokes
The key here is to use small artichokes, babies really. You can use large 'chokes, but it is a lot more work and you will need to chop the hearts into three or four pieces. Small artichokes are a commonplace in California farmers' markets, but you might need to order them if you live in a colder clime. But it's worth it. These chokes are firm, fresh-tasting and absolutely delicious -- nothing at all like the preserved artichokes you get in the store.
Ingredients
40-50

baby artichokes

1

cup

lemon juice

2

cups

white vinegar

1

cup

olive oil

5

sliced garlic cloves

4

dried chiles

About a dozen juniper berries

(optional)

2

bay leaves

3

teaspoons

salt

4

lemons,

sliced in half
Instructions
Put everything but the artichokes in a large pot and bring it to a boil. Cover and turn off the heat.

Fill a canning kettle (I use a stock pot) with enough water to cover the quart Mason jars you will need to can these artichokes. You will need something on the bottom of the pot to keep the glass jars off the bottom. I use a steel veggie steamer with the feet pulled off, or you could use spare jar rims. Put it on medium heat.

Get a large bowl and fill it with cold water. Squeeze 2 lemons into the water and drop the lemons into the bowl. Pick off the tough outer leaves of the artichokes, leaving only the ones that are tightly attached and yellow at the center. Slice off the top of the artichokes, and trim the outer layer off the choke bottom, leaving as much as you can -- you need a sharp knife for this. Rub the artichoke all over with cut lemon and drop it into the bowl with the lemons. This prevents them from oxidizing and turning brown. Repeat until you are done.

Turn the heat back onto the pot with the seasoned vinegar and oil. Put the artichokes in that pot, stir around and bring to a boil. With a slotted spoon, fill the Mason jars 3/4 full with the artichokes. Ladle the vinegar-oil mixture over the chokes evenly. If you run out of sauce, you can add a little vinegar and oil to top off. Make sure the rims of the jars are clean and dry, and that you are using brand-new lids. Close the jars.

Submerge the two jars in the now-boiling water of the stockpot. Let this boil for 15 minutes. Let cool on a cutting board until the artichokes return to room temperature. They will keep a year. Refrigerate after opening.
Notes
This recipe makes 2 quarts. 
Nutrition
Calories:
233
kcal
|
Carbohydrates:
27
g
|
Protein:
8
g
|
Fat:
14
g
|
Saturated Fat:
2
g
|
Sodium:
704
mg
|
Potassium:
60
mg
|
Fiber:
12
g
|
Sugar:
5
g
|
Vitamin A:
1938
IU
|
Vitamin C:
25
mg
|
Calcium:
86
mg
|
Iron:
4
mg
Nutrition information is automatically calculated, so should only be used as an approximation.