Lowcountry Chicken Bog
February 10, 2020 | Updated June 06, 2022
As an Amazon Associate I earn from qualifying purchases.
Lowcountry chicken bog is one of those Southern rice-and-meat combinations that share origins in both West Africa and Spain. You may know chicken bog's more familiar cousins, jambalaya and perloo, and in their respective mother countries the dishes jollof rice and paella.
What makes chicken bog a bit different is hinted by the name: It's a wet dish, stewy rice as opposed to fluffy rice.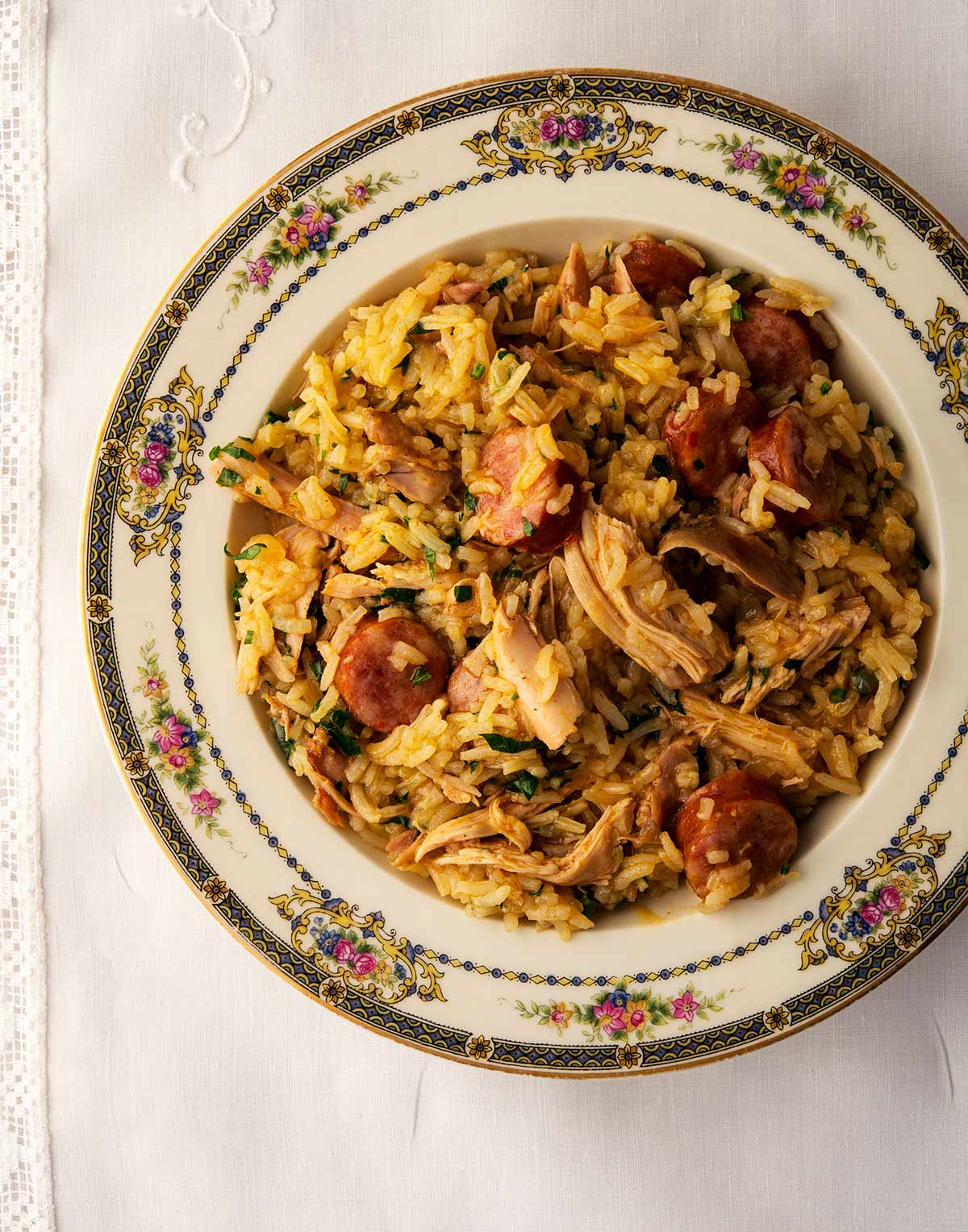 This is a very, very South Carolina dish. There is even a chicken bog festival in Loris, South Carolina every October. It's also much simpler to make than a jambalaya, or even a perloo.
My version of chicken bog uses a few more ingredients than the bare minimum of chicken, rice and sausage, but not that many more. The key here is the broth. You make a nice broth that you cook the chicken in — or in my case, pheasant — strain it, then use that to cook the rice in.
I also take the step of caramelizing onions before building the final bog. This adds a layer of flavor without being overly fancy. After all, chicken bog should be easy, Southern comfort food.
When you see my broth recipe, keep in mind that this is what I like, and it tastes amazing. I will note the ingredients you can skip if you don't have them handy. Also, if you use leftover, shredded meat and pre-made broth, the prep time for this recipe basically disappears.
And while yes, this is chicken bog, you can use pheasant, as I did, or grouse, rabbit, quail, or turkey, and it will still be excellent. Stick to white meats. As for the sausage, You want a smoked sausage of some sort. My favorite? Conecuh. It's not a South Carolina thing, it's from nearby Alabama, and it's wonderful stuff. Andouille, kielbasa or any other mild, smoked sausage will work.
One more note: Chicken bog doesn't keep very well. The rice gets even soggier, and while you can reheat it and it'll be OK, it loses something as time goes by.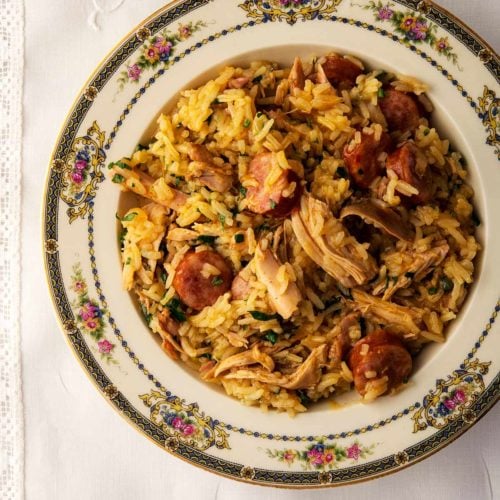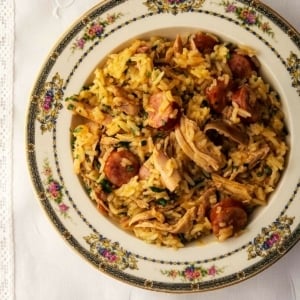 Lowcountry Chicken Bog
This is a cousin of jambalaya or perloo, and it should be fairly simple, with the chicken, sausage and rice as the stars. Any white meat works, and I used pheasant. This is a great one-pot meal for a Sunday supper, and you can make it a weeknight meal if you have leftover chicken and pre-made chicken broth.
Ingredients
OPTIONAL BROTH
1

whole chicken, or 2 pheasants,

about 3-4 pounds total

1

yellow or white onion, chopped

2

ribs

celery, chopped

4

cloves

garlic, smashed

1

sprig

rosemary

(optional)

1

sprig

fresh thyme

(optional)

1

teaspoon

smoked paprika

(optional)
CHICKEN BOG
2

tablespoons

butter

1

large white or yellow onion, chopped

2

cloves

garlic, minced

2

cups

long or medium-grain rice

1

quart

chicken broth

(homemade above, or store-bought)

1

pound

smoked sausage, cut into coins

3

tablespoons

chopped green onion

3

tablespoons

chopped fresh parsley
Instructions
BROTH
To make the broth, you can either cut the birds into serving pieces or keep them whole. Either way, submerge the birds in water and bring it to a simmer. Skim any scum that floats to the top. Add salt to taste, then the remaining broth ingredients. Simmer very gently for 2 hours.

Remove the chicken or whatever meat you are using, and strip the meat from the bones. Set aside. Strain the broth into a large bowl or pot, through a strainer that has a paper towel set inside it; this strains out debris. Reserve the broth.
CHICKEN BOG
Heat the butter in a heavy, lidded pot that can cook 2 cups of rice in it. Add the onion, cover the pot, and cook, stirring once in a while, until the onions are just turning brown -- about 10 minutes.

Add the rice, shredded meat and the garlic and stir to combine. Cook for about 2 minutes, stirring often. Add the smoked sausage and the broth you just made, or if you are using pre-made broth, add 1 quart now. Stir well, cover the pot and drop the heat to low. Cook gently until the rice is done.

When the rice is ready, add some broth to make the dish a bit soupy, then stir in the green onions and parsley.
Video
Notes
NOTE: The prep time reflects making your own broth. If you are using pre-made broth and leftover chicken, this whole thing takes only about 40 minutes. 
Nutrition
Calories:
806
kcal
|
Carbohydrates:
58
g
|
Protein:
41
g
|
Fat:
44
g
|
Saturated Fat:
15
g
|
Polyunsaturated Fat:
7
g
|
Monounsaturated Fat:
19
g
|
Trans Fat:
1
g
|
Cholesterol:
159
mg
|
Sodium:
814
mg
|
Potassium:
685
mg
|
Fiber:
2
g
|
Sugar:
2
g
|
Vitamin A:
668
IU
|
Vitamin C:
9
mg
|
Calcium:
65
mg
|
Iron:
3
mg
Nutrition information is automatically calculated, so should only be used as an approximation.